With over 7,600 islands, the Philippines is the perfect place to go island hopping! Of course, there's no way you could ever visit even a small percentage of so many islands, so you'll want to head for the best. El Nido is one of those places. Nicknamed Heaven on Earth, El Nido is famed for its gorgeous beaches, limestone cliffs and coral reefs, and has some amazing diving opportunities. Often ranked among the best beaches in the world, El Nido really is something special. And, when you're done here, head north east to Coron, another beautiful island destination that also features some spectacular dive sites, including Kayangan Lake and Barracuda Lake.
Read about:
• Flight from El Nido to Coron
• Fast Ferry from El Nido to Coron
• Slow Ferry from El Nido to Coron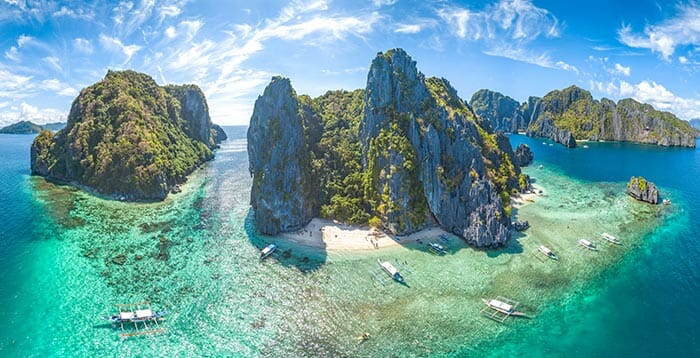 Options for Travel from El Nido to Coron
By air, the distance from El Nido to Coron is only about 130 kilometers (81 miles) because you can fly in pretty much a straight line! However, when going by ferry, the route is not as straight, instead having to navigate around other islands, and this can add a lot of distance and time to your trip. The good news is that you do have several options for traveling from El Nido to Coron, including a flight and two different ferry types, so you should be able to find something that suits both your budget and your timescale.
Flight from El Nido to Coron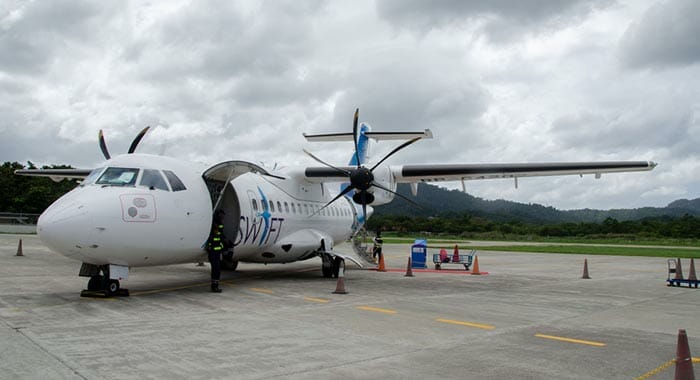 You could argue that catching a flight from El Nido to Coron would be the easiest way to get from one island to the other. It's certainly the fastest way to travel from point A to point B as the flight takes only about 40 minutes, but you do need to remember to add on the time it takes at either end, getting to and from the airport, and getting through check-in and security, then waiting for your plane to leave. Even with this extra time added on, you will still easily beat the slow ferry to Coron, and you'll probably get there quicker than the fast ferry too.
So, what flight options do you have? Well, you're limited to just one airline, AirSWIFT. This boutique airline operates only on a few routes within the Philippines, including from El Nido Airport to Francisco B. Reyes Airport on Busuanga Island, in the Coron area. Currently they operate this service four times per week, on Sunday, Monday, Wednesday and Friday, so you'd need to work that around your schedule, and be prepared to pay roughly double what you would pay for the fast ferry. With the extra cost, flying from El Nido to Coron won't be a viable option for everyone, but if you have the money it could save you a lot of time.
Fast Ferry from El Nido to Coron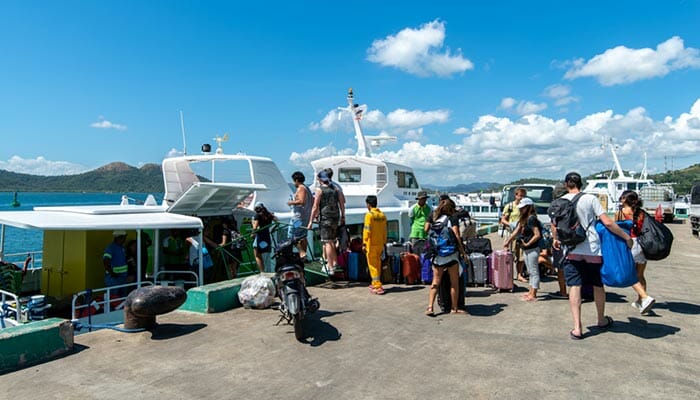 While flights from El Nido to Coron are a viable option, the majority of travelers prefer to travel by ferry. In the past there was only a slow ferry option (more on that below) but now there's a good fast ferry that could get you to Coron in almost half the time.
The service is operated by Montenegro Lines, and you can easily book your ferry tickets online through the travel company 12Go.asia. They offer instant booking and confirmation so you can book in advance and have the peace of mind of knowing you have your tickets arranged well before the date of travel. The high-speed ferry can carry up to 140 passengers and offers both inside and outside seating, with air conditioning and a TV inside. The posted crossing time is 4 hours, but it can be as quick as 3.5 hours, depending on sea conditions and weather. But, be aware, that it could also take longer if the water is rough, and that the scheduled departure time could be later if the ferry operator is waiting for better weather.
Montenegro Lines has one ferry from El Nido to Coron each day and while it's a good price (quite a bit cheaper than the flight) there is one drawback – the departure is usually at 6 or 6:30am so it's going to involve an early start which might not suit everyone.
There is another fast ferry from El Nido to Coron, and that's with a company called Phimal. Currently, their advertised departure time is at 8:20am, so although it's still early, it's a more sociable time than the Montenegro ferry from El Nido to Coron.
Slow Ferry from El Nido to Coron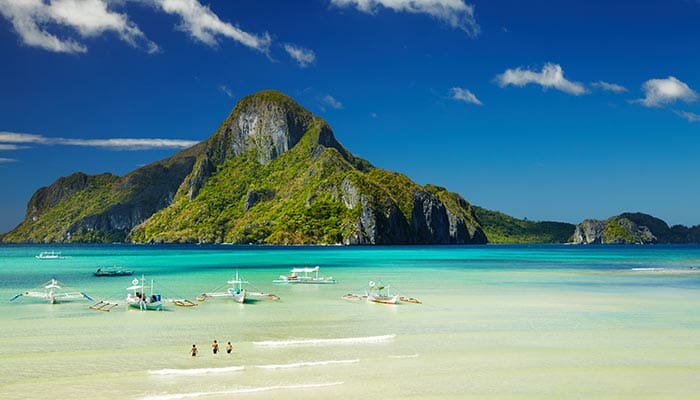 If you're hoping to save more money, take a look at the slow ferry from El Nido to Coron. These ferries are wooden longboats, called bangkas, which are far more rustic than the high-speed ferry and use a much smaller engine, so they take quite a bit longer. The journey time by slow ferry from El Nido to Coron could be anywhere from 6 – 9 hours depending on weather and sea conditions. But, do bear in mind that even when the water is quite smooth, the journey in these boats is going to be rougher because they're smaller and closer to the water than the high-speed ferries. So, if you're someone who is prone to sea sickness, the slow ferry probably would not be a good idea for you.
On the plus side, there are two companies to choose from so you should be able to find a seat on one of them, especially if you book it a few days in advance. The price is good – this is the cheapest way to travel from El Nido to Coron, and it's nice that it usually also includes a basic lunch to keep you going as you can't buy snacks or drinks onboard.
So those are the three options for getting from El Nido to Coron. Choose a flight if you want a fast and relatively comfortable journey but don't mind spending more money on the ticket. Catch a high-speed ferry from El Nido to Coron if you prefer to save some money but want a comfortable ride, or, opt for the slow ferry if you're traveling on a budget and don't mind a potentially long and uncomfortable journey.
Did you find this guide useful?
Click on a star to rate it!
Average rating: / 5. Vote count: