Gateway to Palawan Island, Puerto Princesa has scenery to rival some of the world's most beautiful destinations. Use it as a base for exploring national parks and their limestone caves and underground rivers, relax on its beaches, wander through its museum, or keep your eyes peeled for its abundant wildlife. Puerto Princesa has all this and more, but if its scenery, diving and beaches weren't enough for you, the Philippines has many other islands and cities to venture to next, such as Coron. Coron's scenery is just as beautiful, if not more so, than Puerto Princesa's. It's characterized by lakes and rugged cliffs and has some world renowned dive sites that include a fleet of sunken Japanese warships from World War 2.
Read about:
• Puerto Princesa to Coron by Flight
• Puerto Princesa to Coron by Bus and Ferry
• Puerto Princesa to Coron by Ferry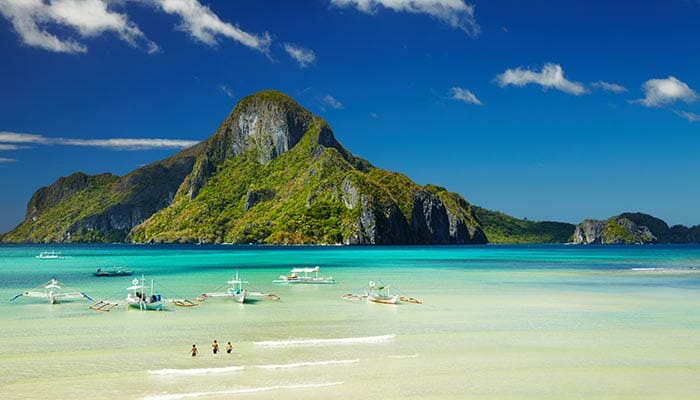 Options for Travel from Puerto Princesa to Coron
Being situated on two different islands, getting from Puerto Princesa to Coron is never going to be especially fast or straightforward, unless you choose to fly! The distance when flying is about 300 kilometers (187 miles), but if you go by bus and ferry, or by ferry alone, it's going to add around 100 kilometers (60 miles) extra to your trip. Flying is great to get you from Puerto Princesa to Coron as fast as possible, and while it's nice to be able to take your time and enjoy the scenery, not everybody wants to travel for an entire day or longer, which is how long it can take if going by ferry! But, there are plenty of transport options to choose from, so you should be able to find one that suits your schedule and your budget.
Flights from Puerto Princesa to Coron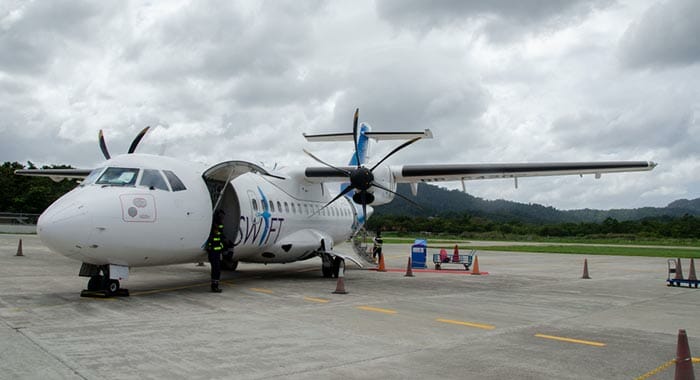 Let's start with the fastest and most convenient option, flying. You can get a direct flight from Puerto Princesa to Coron, so if you're looking to save time and get to Coron as fast as possible, this is easily the quickest way to travel. The Puerto Princesa International Airport is just a short distance south of Puerto Princesa City and from here there are direct flights to Francisco B. Reyes Airport, near Coron. A word of advice on the airport names – Francisco B. Reyes was previously called Busuanga Airport and it's still commonly referred to as that in many places, so if you see Busuanga and think it's the wrong place, it's not!
Francisco B. Reyes Airport is just a few kilometers outside of Coron, so it's quick and easy to transfer to the city once you arrive on one of the two airlines who offer this route from Puerto Princesa to Coron; Air Juan and AirSWIFT. The flight itself is only around an hour and ten minutes, and when you add on an hour or so getting to and from the airport, as well as some time that you'll have to spend in the airport itself, you're probably still only looking at a total journey time of no more than three hours, so flying really is quick.
Catching a flight from Puerto Princesa to Coron isn't for everyone though. If you're trying to watch what you spend, the higher cost of flying will likely have you looking at different options as this is the most expensive way to get to Coron. On the other hand, the time that you will save could be worth it, as you won't be wasting an entire day of your vacation just on traveling.
Puerto Princesa to Coron by Bus and Ferry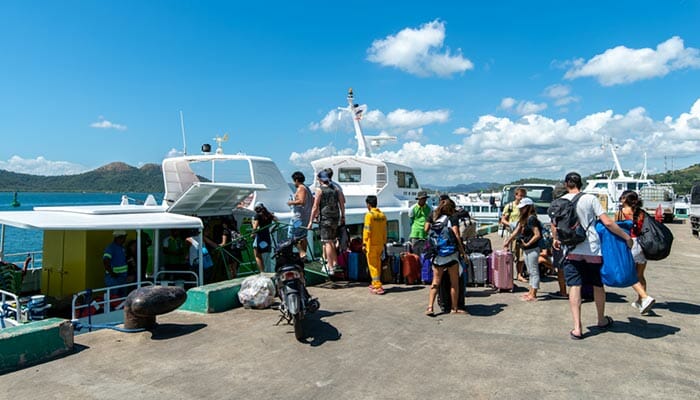 For some tourists, spending a day traveling from one place to another is all part of the experience! Catching a flight may be quick and easy but it doesn't allow you to immerse yourself in the culture of a country, or to get to see scenery that you may never have the chance to see again. Catching a bus and a ferry from Puerto Princesa to Coron does allow you to do both of these things. Locals are far more likely to use the ferries than they are to catch a flight, so it's your chance to meet some of the incredibly friendly Filipinos and to see some beautiful scenery along the way!
There are two ways to travel by ferry – this first option is to take a bus to El Nido and then hop on a ferry from there to Coron. The second option is the get a ferry all the way from Puerto Princesa to Coron, but more on that below.
If you want to reduce the amount of time you spend on the sea, especially useful if you're not good on the water, then taking a bus or van first to El Nido will help. You can book combined tickets through the travel website 12Go.asia so you get your bus ticket and ferry ticket together, saving you the bother of having to book both legs of the journey separately. You can opt either for a general shuttle that will depart from Puerto Princesa to El Nido at 7am or at 2:30pm, and the drive to El Nido takes around 5.5 hours. This is an affordable option, but there is a big downside to going this way – you will have a very long wait at the ferry pier before you can catch the ferry to Coron Port. The ferry departs at 6am the next morning, so you will have a shorter wait with the later shuttle bus but still, the entire trip with the 4 hour ferry ride, will take 19.5 hours.
A more convenient way to do this is to get a private taxi to El Nido. The benefit with this is that they will pick you up direct from your hotel in Puerto Princesa at whatever time suits you, meaning you can choose a time that fits in with the 6am ferry departure. And if you time it right, traveling this way could take less than 10 hours altogether. The bad news is that this is considerably more expensive.
Puerto Princesa to Coron by Ferry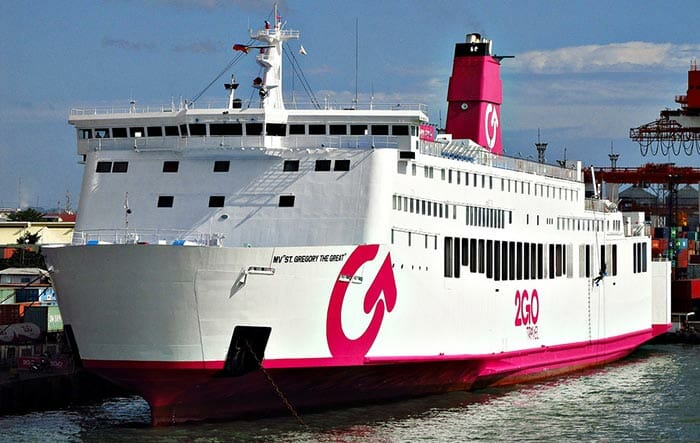 If you're okay with long ferry crossings, then the direct ferry from Puerto Princesa to Coron may be better for you. 2GO (as opposed to 12Go!) operates ferries in the Philippines and they have a direct service every Sunday from Puerto Princesa to Coron. This direct ferry takes 11 hours, departing from Puerto Princesa at 7am and arriving at Coron by 6pm that evening. There's a good selection of ticket types for these ferries, so you can travel affordably, or spend more and travel in luxury in Business Class. As you're traveling through the day you don't really need much other than a seat but if you do book a cabin it will give you more personal space.
As is usually the case, there are lots of options for getting from Puerto Princesa to Coron. The fastest and most convenient are usually the most expensive, but if you want to travel on a budget this is also possible if you go most of the way by bus.
Did you find this guide useful?
Click on a star to rate it!
Average rating: / 5. Vote count: