When you're planning a visit to Thailand from overseas, the chances are pretty strong that you'll be arriving at Suvarnabhumi Airport. Also known as Bangkok Airport, make sure you don't get this one confused with the other airport serving Bangkok, which is Don Mueang as it mainly deals with more local flight traffic.
From Suvarnabhumi Airport, you can get pretty much anywhere in Thailand, and we recommend Hua Hin. Thailand's first beach resort, Hua Hin developed once the railway reached it from Bangkok and the Thai royal family built summer homes here. Today it provides a city atmosphere combined with the beach so it's lively with plenty to do, but not too lively!
Read about:
• Bangkok Airport to Hua Hin by Bus
• Bangkok Airport to Hua Hin by Taxi
• Bangkok to Hua Hin (Guide)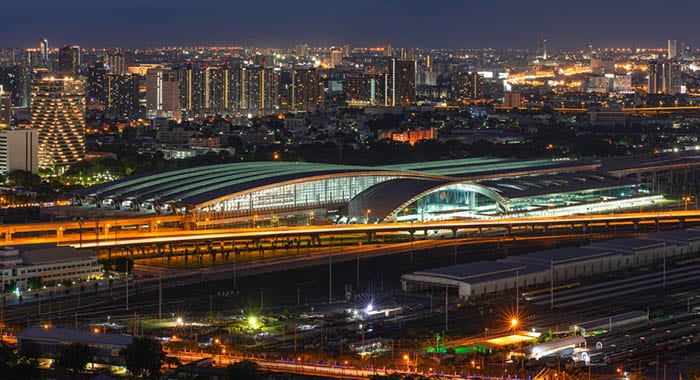 Options for Travel from Bangkok Airport to Hua Hin
If flying from Bangkok Suvarnabhumi Airport to Hua Hin was an option, the distance is only 150 kilometers (94 miles) so it wouldn't take long at all. While there is an airport at Hua Hin, it currently only handles flights from Kuala Lumpur, so flying from Bangkok is not an option unfortunately. However, even the distance by road is not too far, so you can travel by bus or by taxi and it will take somewhere between 3 and 4 hours to cover the 222 kilometers (139 miles).
Bangkok Airport to Hua Hin by Train
If you want to be adventurous, there is another way to get from Suvarnabhumi Airport to Hua Hin and that's by train. Going this way is a bit more complicated as you'll have to first get to the new Krung Thep Aphiwat Central Terminal, and then buy a train ticket to Hua Hin Railway Station. There are buses and taxis to get you into Bangkok, which should take about half an hour by taxi, and then the train will take around 4 hours, so considering you won't be saving yourself any time or money going from Bangkok Suvarnabhumi Airport to Hua Hin by train, we wouldn't recommend this route.
Bangkok Airport to Hua Hin by Bus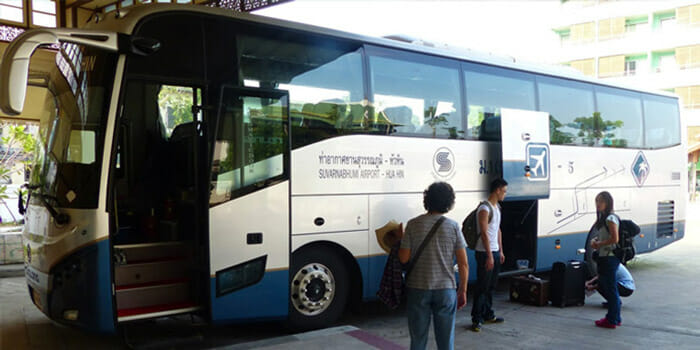 Traveling from Suvarnabhumi Airport to Hua Hin is a popular tourist route so this means there are plenty of bus departures throughout the day that you can choose from. This makes it easy to catch a bus, and should mean that you won't have to wait too long for a departure after your plane arrives.
Bus Is the Cheapest Option From Bangkok Airport to Hua Hin
As always, the best thing about traveling by bus from Suvarnabhumi Airport to Hua Hin is the cost. Buses are affordable, and easily the cheapest way to get from the airport. Buses leave every hour on the half hour, starting from 6:30am, and the last bus departs from Suvarnabhumi Airport at 6:30pm. Although there are ample departures throughout the day, we would always recommend booking your bus tickets in advance, just in case. If it's a weekend or a Thai holiday, the buses could get fully booked up days or even weeks in advance, so buying your ticket in advance, online, is always a good idea.
Bus Ticket for Bangkok Airport to Hua Hin Bus Station
You can easily buy tickets through the travel website 12Go.asia. They sell tickets for Bell Travel, using VIP 24 type buses which are very comfortable. There are just three seats per row and they're seats that will recline, giving you a comfortable ride and a chance to catch up on some sleep if you've already had a long flight to Bangkok. The buses also have washrooms onboard, TV's, air conditioning and a steward, and the journey from Suvarnabhumi Airport to Hua Hin takes around 4 hours. The buses arrive at the New Hua Hin Bus Station which is centrally located, making it easy to get a taxi or van to your accommodation.
Bangkok Airport to Hua Hin by Taxi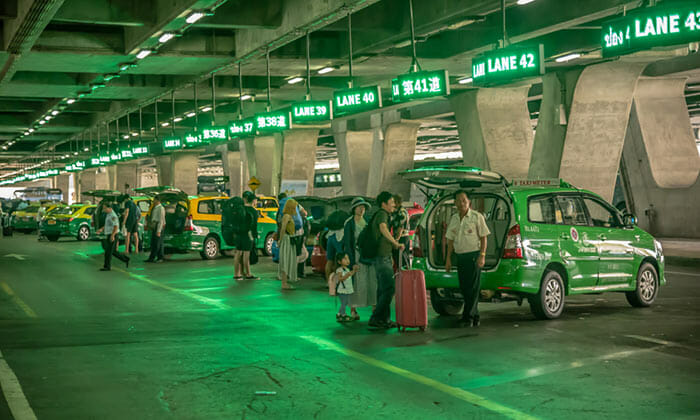 The biggest advantage to traveling by taxi from Suvarnabhumi Airport to Hua Hin is the level of convenience. Private taxis can be booked in advance, just like the buses can, and you can book them online through 12Go where you can compare prices and vehicle types before going ahead and booking.
Pre Book Private Taxi in Advance for a Convenient Ride to Hua Hin
When you book, you can specify the exact time that you want to be picked up from the airport, depending on when your flight is arriving. The best way to do this is to let the operator know which flight you're on (the flight number) and the expected time of arrival, and this way they can keep an eye on the arrivals and will see if it's delayed.
The added convenience of taxis is that they can drop you right to your hotel in Hua Hin, so this is a complete door-to-door service, unlike the buses, and avoids you having to find your own way to your hotel. Of course, there's also the fact that the buses stop operating at 6:30pm and this could be a problem if you're arriving on a later flight. Luckily, with taxis they can be booked to pick you up in the evening and well into the night.
The reason why more travelers don't choose to go by taxi is the cost. If you're traveling alone or with just one other person, the cost of the taxi can be high when divided between just two people, but, when you have more travel companions and you want to share a larger taxi, the cost gets divided between you all and can be quite reasonable, even when compared to the buses.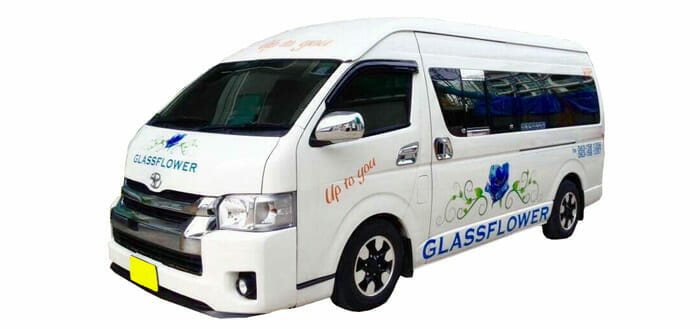 So, when booking online, do check the different vehicle types; they range from a 2-passenger economy sedan, all the way through to a 9-passenger van, but also be sure to check what's included in the price and what their policy is for waiting at the airport if you are delayed. Some companies do charge extra if you get to the taxi later than planned. There may be other costs too, such as road tolls and other fees – again, some companies will charge extra for these whereas others include it all in the price. Check the information icon beside each search result on 12Go and you can clearly see the policies for each taxi company.
If you're traveling from Suvarnabhumi Airport to Hua Hin between the hours of 6:30am and 6:30pm catching the bus from the airport is a good idea as there are regular departures, it's affordable, and it takes about 4 hours. However, if you're traveling as a group or with your family, a taxi can be an economical way to travel from Suvarnabhumi Airport to Hua Hin and it adds a whole new level of convenience to the journey!
Did you find this guide useful?
Click on a star to rate it!
Average rating: / 5. Vote count: