Characterized by beautiful long, soft sand beaches, with corals just off the shore and lush rainforest jungles just inland, Koh Lanta is another of Thailand's gorgeous tropical islands. One thing that really sets Koh Lanta apart from other islands is that it's so incredibly quick and easy to get to. You may think this would mean it's swarming with thousands of tourists and has been overdeveloped, but on the contrary, Koh Lanta remains relatively quiet; and while there are plenty of places to stay, restaurants to dine at, and bars to enjoy the nightlife in, Koh Lanta still has many serene spots that will appeal to families or couples looking for a tropical getaway where sun and sand are the main ingredient. Spend time admiring the scenery within the Mu Ko Lanta National Park, go scuba diving, take in some culture, or just relax on the beach – Koh Lanta has all this and more.
Read about:
• Best Times to Visit Koh Lanta
• How to Get to Koh Lanta
• How to Get Around Koh Lanta
• Top Attractions and Activities on Koh Lanta
• Best Places to Eat and Drink on Koh Lanta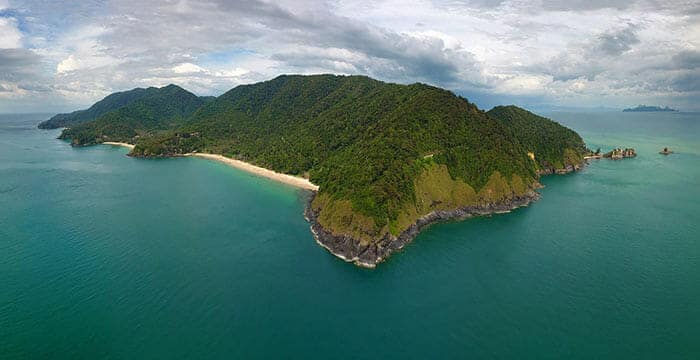 Best Times to Visit Koh Lanta
As with many of Thailand's islands, Koh Lanta has a wet, monsoon season, and a drier season. Usually in Thailand the drier season still sees a lot of precipitation, so don't expect days to be completely free of rain, however, the dry season here on Koh Lanta tends to have less rainfall than some of the other popular Thai islands, giving Koh Lanta a longer tourist season.
The busiest times on the island are between December and March although tourist numbers pick up from October right through to April. This is the dry season, when prevailing winds bring plenty of dry air with them resulting in sunny, hot and dry days with low amounts of rainfall. By the end of this season, Koh Lanta can actually be quite dry and dusty, so visiting in March or April isn't always the best time to come.
Heading into May is when the weather really changes. The winds change direction and bring plenty of wet weather with them, helping to return the island to its usual lush, tropical greenery. For this reason, May to October is often referred to as the Green Season, and while visitor numbers drop quite dramatically at this time of the year, more tourists are discovering that Koh Lanta is actually a great place to visit at any time of the year. Although rainfall is a lot higher and it will rain every day, rain storms usually only last a few hours and once they're done it takes no time at all for the streets to dry out.
Average temperatures across the year range between about 25 and 32°C (77 to 90F) with a slight spike in the daytime highs during February, March and April, while the sea temperature remains a lovely 29°C all year round.
Before we tell you how to get to Koh Lanta, you will need to know a couple of important things. Koh Lanta is the name of a district within the Province of Krabi, and it consists of three main islands. Although the islands themselves are about 70 kilometers (43 miles) from Krabi Town, the first island is barely an island at all as you just have to cross a river, via a road bridge from the mainland, to get to it. As the crossing is over so fast, many tourists aren't even aware that they have just driven onto an island! From here, the next island is not connected by road but there is a car ferry and other boat options to get you across this fairly small stretch of water.
The second island you come to is Koh Lanta Noi (the small one). There has not been much tourism development on this island, although there are some things to see and do, so most tourists head for the next island, Koh Lanta Yai (the large one) to find places to stay.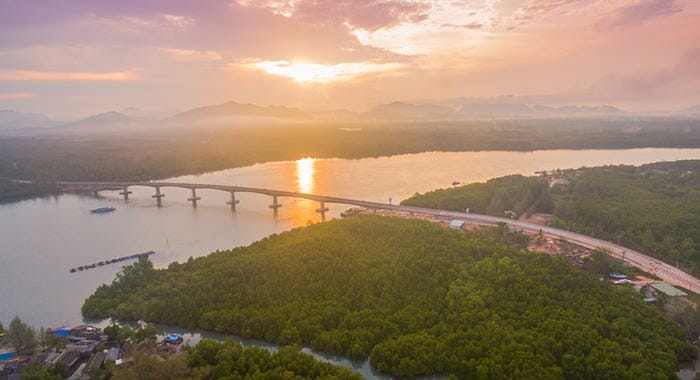 There is a road bridge that now connects Koh Lanta Noi with Koh Lanta Yai, so this makes getting to the island really easy. Because there really aren't any tourist facilities to speak of on Koh Lanta Noi, this guide will be focusing its information on Koh Lanta Yai.
So, now that you know about the islands and where they are, we'll tell you how to get to Koh Lanta from other popular places in Thailand.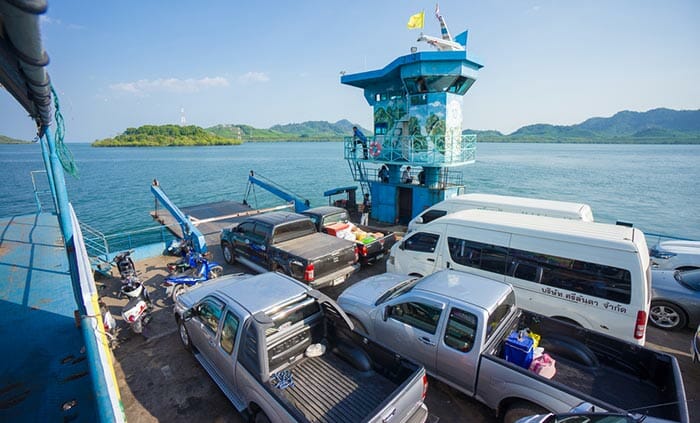 Krabi Town is a popular gateway to many parts of Southern Thailand. It's the closest major town to Koh Lanta and is home to the closest airport too. There are flights to Krabi International Airport from elsewhere in Thailand and Asia, as well as some seasonal charters from Russia and Scandinavia, so if you're heading straight to Koh Lanta for your vacation, you could fly direct to Krabi Airport.
You can book transfers from Krabi online with the travel booking website, 12Go.asia. Booking through them allows you to buy a ticket that covers the whole transfer, including the short ferry ride that is needed. If you're traveling to Koh Lanta from Krabi Airport you can go by van with Seatran Discovery to Saladan Pier on Koh Lanta Yai, or you can get a van with the Krabi Airport Shuttle. Their tickets are a little more affordably priced than Seatran, and have the advantage of including a hotel transfer to whichever hotel you're staying at. There are also private taxi services, which cost a lot more but give you a more personal and private service.
You can also get vans from Krabi Town which will take you to any hotel in Koh Lanta, and these are even cheaper than the first options. A final option, if you want to do something different and exhilarating, is to take a speedboat! You can get these from Ao Nang, a beach resort close to Krabi Town.
From Phuket to Koh Lanta

If you're traveling around Thailand and exploring some of its best islands, you'll probably be visiting Phuket at some point. Phuket and Koh Lanta are connected by ferry, as this is a popular tourist route, so there are several ferries to choose from as well as an exciting speedboat option.
As with transfers from Krabi, you can buy combined tickets through 12Go if you want to include a pickup from any hotel in Phuket. These are great for convenience, and can save you a little money over trying to buy all elements of your trip separately. There are ferries operated by Phi Phi Cruiser and Ao Nang Travel and Tour. These are reasonably priced compared to other options but do take a long time as they are regular ferries. The journey will be somewhere between 5 and almost 6 hours. The speedboats are faster, obviously! Tigerline Travel, Satun Pakbara Speed Boat Club, and Bundhaya Speed Boat are three options and you can get tickets for them traveling from Rassada Pier on Phuket to Saladan Pier on Koh Lanta. This journey takes only around 1.5 hours.
From Bangkok to Koh Lanta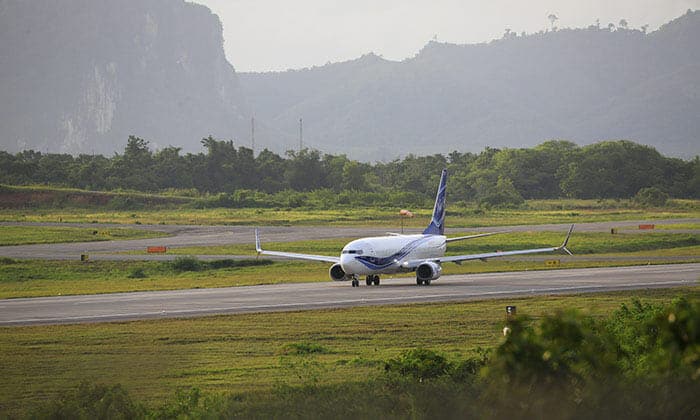 If you're looking for a nice island getaway from the bustling streets of Bangkok, Koh Lanta could be the perfect place. Getting from Bangkok to Koh Lanta is quite a long journey though – in a straight line it's around 700 kilometers (437 miles), but if you go by road it will be even further than that. Traveling by road is a possibility though, if you're keen to save some money and you have plenty of time to spare. There are several bus companies that can take you all the way from the heart of Bangkok to Koh Lanta, including that short ferry crossing. Book your tickets through 12Go where you can easily find schedules, check prices and read customer reviews before deciding whether traveling by bus is the right choice for you. It could take around 18.5 hours, so you do really need to be sure!
If you want to considerably reduce your travel time, flying is a far better option from Bangkok to Koh Lanta. You can catch a flight to Krabi and then book a transfer to Koh Lanta. Both parts of this journey can be booked online through 12Go.
How to Get Around Koh Lanta
Even the largest island, Koh Lanta Yai, isn't especially large. It covers an area of just 81 square kilometers (31 sq mi) and measures 25 kilometers (16 mile) long and 6 kilometers (3.7 miles) wide, so it's quite a long and thin island that looks interesting from above as it has a long line of hills through its center that look like the island's spine! The island doesn't have many roads on it, which isn't surprising really, considering there aren't many developments here. On the main roads a lot of it has a paved surface, but you'll also come across many that are not paved and are in pretty bad shape. If you're staying in an area where the roads aren't so good, you may find that taxis want to drop you at a resort nearby so that they avoid having to drive on unmade sections!
There are plenty of motorbikes on Koh Lanta as this is the vehicle of choice for many of the locals. Because of this you'll come across motorbike taxis that can drive you around, but if you don't fancy that there are also pickup trucks that serve as taxis too. Taking a taxi can be quite affordable, but as mentioned above, do be aware as to where you're actually being dropped off.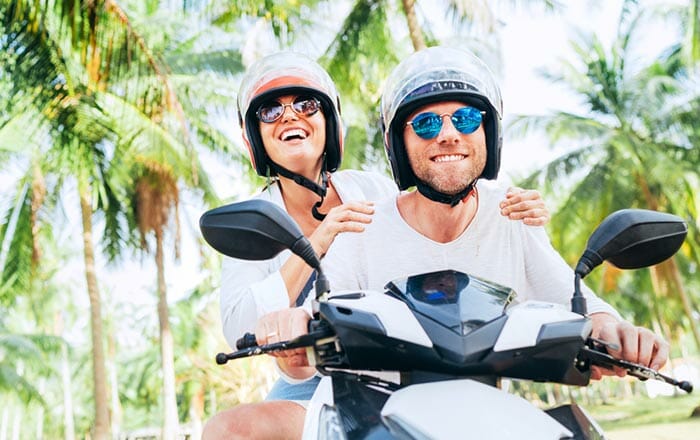 If you prefer to get yourself around Koh Lanta you can rent a motorbike yourself or opt for a more expensive, and possibly safer, jeep-like car. Either way, you need to drive slowly and carefully, especially on unmade roads, as their condition can deteriorate very quickly.
When you want to head to one of the other islands, the best way to go is by longtail boat. You can buy affordable tours that will take you out for an entire day to see the scenery from the water and to stop at places like Ko Rok to go snorkeling. There are several small companies who offer these tours, some by longtail boat, some by converted fishing boat, and others by speedboat.
Top Attractions and Activities on Koh Lanta
Koh Lanta has a surprisingly diverse range of attractions for such a small island. It's great as a sun and sand destination if you're looking for a place to just relax on the beach, and with quieter beaches than some of the other popular Thai islands, Koh Lanta is certainly a great place for relaxing days on the beach! There's beautiful scenery here too, but what makes Koh Lanta more diverse, is its cultural history.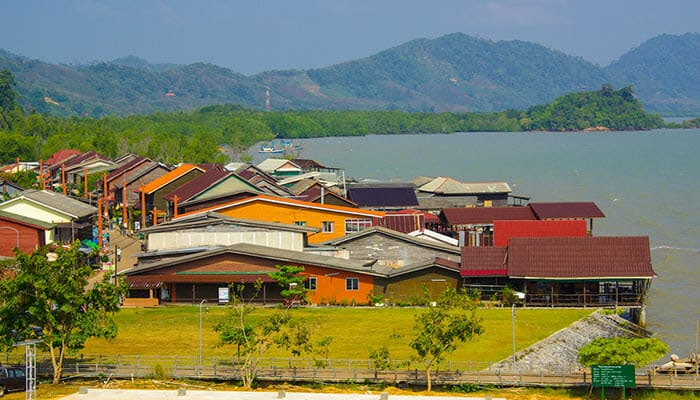 Lanta Old Town is one of the places where you can experience the island's cultural history. Originally named Ban Si Raya, it's known as Lanta Old Town today. Sitting on the east coast of the island, this small village was once the commercial hub and main port for Koh Lanta. It provides a very different atmosphere to the island's current main town, Ban Saladan, as there are hundred-plus-year-old stilt buildings, many now shops or quaint guesthouses. There's an eclectic mix here that comes from its ethnic history – you'll find Chinese merchants, Thai fishing families that have been here for generations, and a Sea Gypsy community that is believed to have been here since ancient times. There is a Buddhist temple, a Chinese temple, and some great restaurants overlooking the water too. Definitely a must-visit while on Koh Lanta.
As the main town for Koh Lanta, you're bound to pass through Ban Saladan or even to stay here. The town is home to the ferry pier so you'll be arriving here if nothing else. As the tourist center for the island this is where you'll find most of the shops geared towards tourists such as small grocery stores, banks, and tour operators, so head to Ban Saladan if you want to book a tour or arrange a diving trip.
Mu Koh Lanta National Park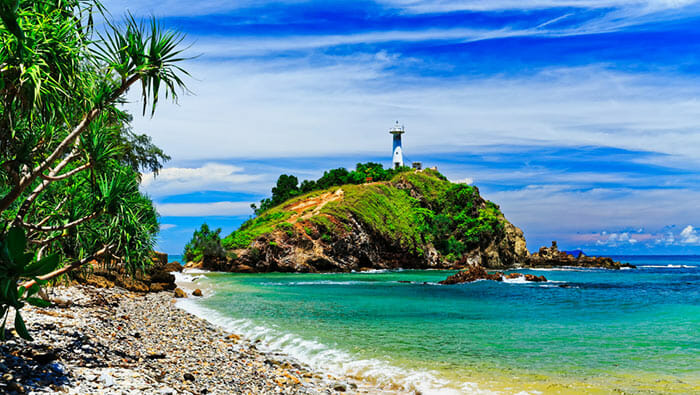 Mu Koh Lanta National Park incorporates both Koh Lanta Yai and Koh Lanta Noi as well as 14 other islands in the group. The national park was established in 1990 to protect the natural and cultural environment, which includes a clan of sea gypsies – called Chao Ley – who have lived on Koh Lanta Yai for hundreds of years. The uninhabited islands of the national park can be visited by sea kayaking tours or taking a boat tour, and you'll get to see some very unspoiled beaches and coves on these islands where tourism has not yet had an impact.
Found in the center of the island, these impressive caves provide an escape from the beach. Although not suitable for anyone with mobility issues and not recommended for young children, the caves are beautiful with their many stalactites and stalagmites, and massive chambers. But to get to these you need to navigate through narrow tunnels, and down slippery ladders. You will have a guide with you but make sure you are wearing sensible footwear for your visit.
Diving and Snorkeling on Koh Lanta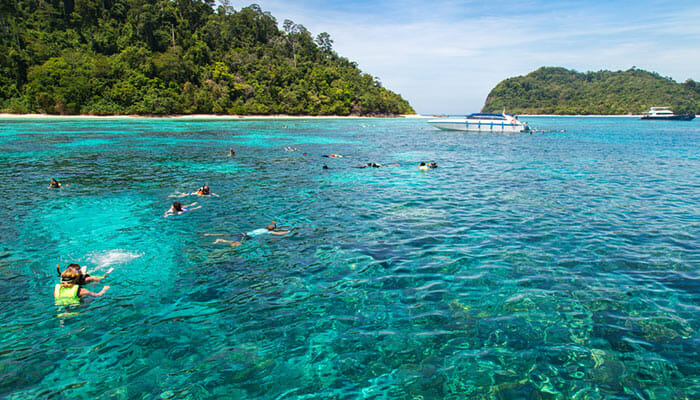 Some of the quieter coves and beaches of the islands within the national park provide great opportunities for relaxed snorkeling and diving if you don't want to travel far, like Koh Rok, but there are some good wrecks you can get to too. For the real scuba diving experience you'll want to travel further from Koh Lanta and enjoy a day trip, or even a several-day liveaboard trip. Prices will be higher than on some other islands, but that's because you're traveling farther to get to those excellent dive sites.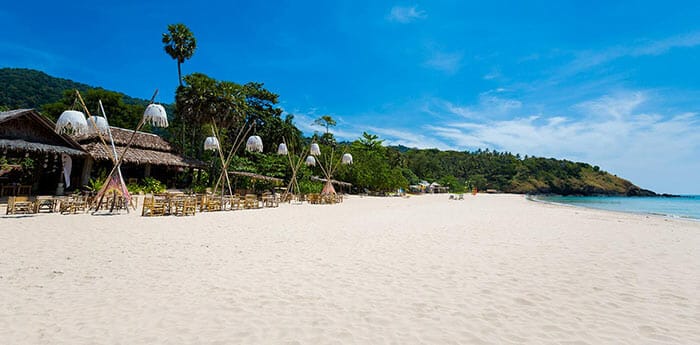 Koh Lanta Yai is well known for its beaches. On the west coast of the island the coast is like one long beach as there are miles of sand with one beach essentially leading into another. The closest to Ban Saladan is Klong Dao Beach with 3 kilometers (nearly 2 miles) of soft sand and many of the island's resorts and hotels lining it. Despite this, it still doesn't get crowded even in high season. Many of the beaches on this coast are a kilometer or more long, so it's often easy to find a quieter spot on them, but if you're looking for even quieter beaches, head to the southern end of the island where there are fewer hotels and resorts and the beaches are smaller. Klong Jark Beach and Bamboo Bay are two you could visit or even stay near.
Best Places to Eat and Drink on Koh Lanta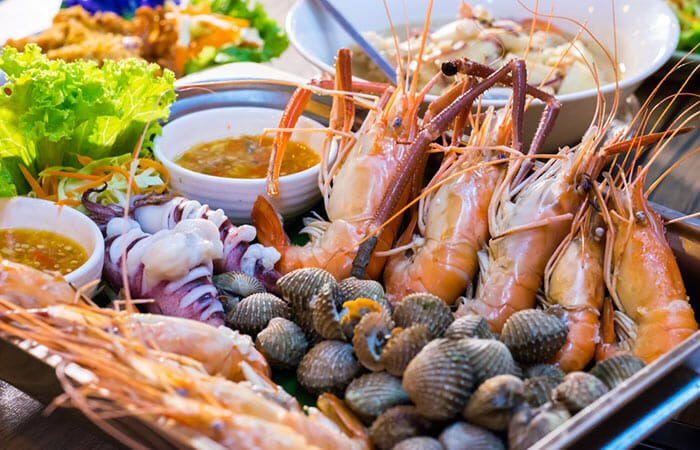 Much of the appeal for tourists coming to Koh Lanta is that it's far quieter than other Thai islands, and this applies to its restaurants and bars too. For backpackers and the younger crowd, there are ample bars here, they just don't have the club scene that other islands are famous for. Koh Lanta appeals more to couples and families, and so the restaurants and bars are geared towards them.
While you won't find quite the diverse mix of international restaurants here on Koh Lanta as you would on, say, Phuket, there's still an excellent variety of places to eat. People come to Koh Lanta for the more authentic Thai experience so there are lots of places serving more traditional Southern Thai cuisine and there are many excellent fish and seafood restaurants too. You can spend an evening dining at a fish restaurant right by the water, and spend a fraction of what you would in Europe, for example. If you enjoy fish and seafood, a popular Koh Lanta dish is 'wing shell' which is served with a spicy dip, and there are always catches of the day available as well as delicacies like crab, oysters, and lobsters.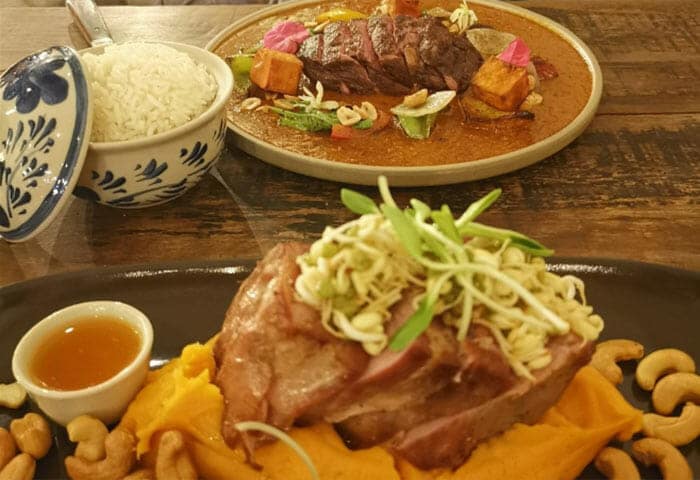 Just off Long Beach, Kindee Restaurant is a top-rated Koh Lanta restaurant that provides a welcoming upmarket feel with its fusion of Thai and Western foods, at a very reasonable price. You can get dishes like the regional specialty, Massaman curry, and finish with something unique for dessert such as chili chocolate ganache! This little place is always popular so if you're visiting Koh Lanta during high season you should probably reserve a table ahead!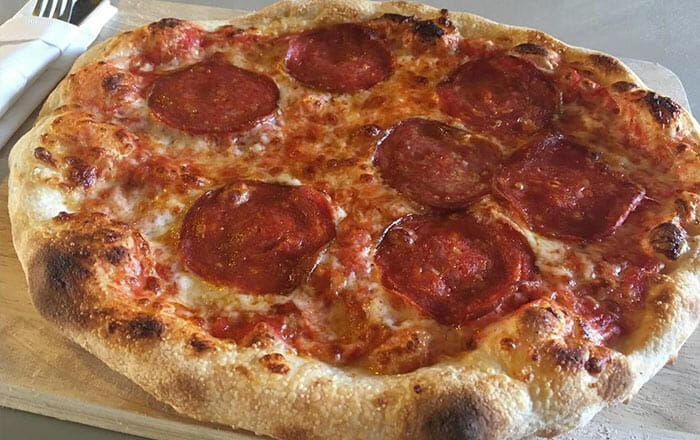 It can be nice to have a break from Thai food now and again, so when you want something different, French Bakery hits the spot! This cute place with thatched roof is one street in from the beach. They specialize in homemade pizza but also have all sorts of French bakery products plus burgers and an assortment of other faster foods. This is a great place to pop in for a quick bite or to grab something to take away or eat for dessert.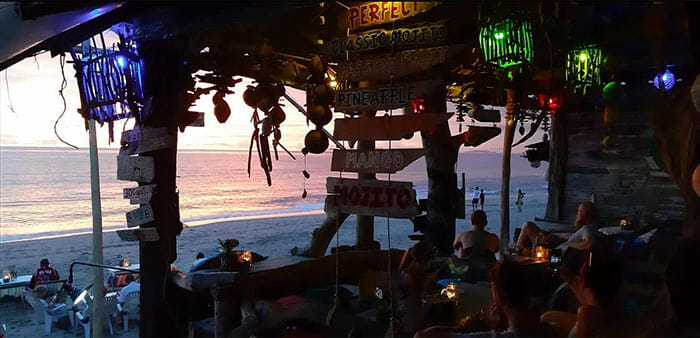 As we already mentioned, Koh Lanta is not your typical Thai island that's full of nightlife. On the contrary, the nightlife here is slow-paced and relaxed but there are still a few louder places to be found, if you really want to! The nice thing is the overall relaxed atmosphere on the island; because they don't have problems with thousands of drunk tourists every season, there's less of a police presence and crime rates are low; another reason why this is such a popular destination for families and couples. Pull up a chair at a beachside bar and enjoy a quiet night, or if you want something more lively head to Majestic Bar at Lanta Paradise Beach Resort which has great music and amazing sunset views or Cheeky Monkey Bar at Klong Dao Beach where there's live music every Friday. These are just two of the highly rated bars on Koh Lanta.