Thailand is brimming with amazing scenery, and there's something for everyone, whether you prefer to spend time on its beaches and coastlines, or you want to explore its lush interiors. Khao Sok National Park has a little bit of all these things. Set around Cheow Lan Lake, this park gives you water, limestone rocks, waterfalls, and rainforest, and is the perfect place to come to relax, or to enjoy plenty of activities, whether its kayaking or boating, exploring caves, watching the wildlife, or trekking. If you're heading to Khao Sok, the city of Surat Thani is a popular starting point. You may have flown from Bangkok to Surat Thani and are looking for ways to reach the national park. Getting from Surat Thani to Khao Sok is easy, and we'll tell you how!
Read about:
• Surat Thani to Khao Sok by Bus
• Surat Thani to Khao Sok by Taxi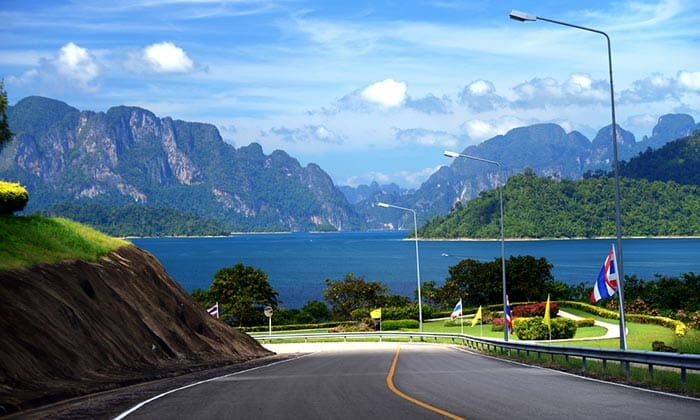 Options for Travel from Surat Thani to Khao Sok
By road, the shortest route from Surat Thani to Khao Sok is around 120 kilometers (75 miles). This may not sound like much but you will be traveling on winding roads through rural areas, so it's not going to be an especially fast journey. Roads are not always in the best of shape, so drivers need to take it slower, resulting in a journey time of at least a couple of hours. Even so, there are plenty of buses, vans and taxis that can take you from Surat Thani to Khao Sok, departing at different times of the day and from various different departure points in Surat Thani.
Surat Thani to Khao Sok by Bus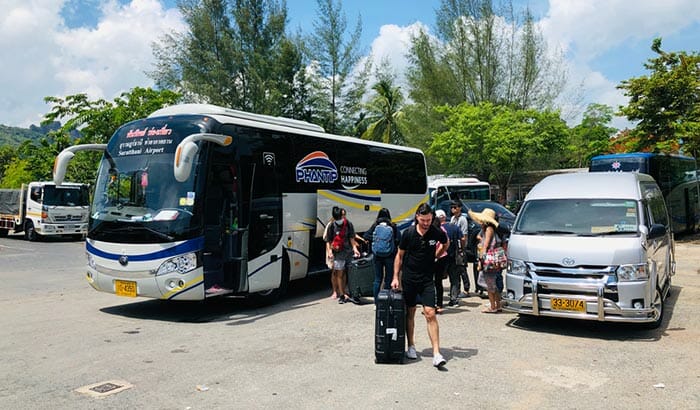 Buses are usually the first form of transport that many tourists think of when planning a trip in Thailand, and getting from Surat Thani to Khao Sok is no exception. There are plenty of buses making this trip every day, and they're always priced at a very affordable level, so traveling by bus from Surat Thani to Khao Sok is easy, convenient, and cheap.
You could book your tickets on or near your day of travel directly with the bus company, but for peace of mind we would always recommend buying your tickets in advance. Head over to the travel website 12Go.asia where you can search for all the travel options from Surat Thani to Khao Sok. Booking with them is easy and instant, so you know you have your bus tickets all sorted ahead of time. They sell bus tickets with Phantip, a reputable bus company. While the search results may indicate that you'll be traveling by bus, most of the departures from Surat Thani to Khao Sok are actually by minivan. Minivans are smaller, obviously, than buses so they may provide less legroom or luggage space but smaller vehicles can give you a more comfortable ride as you won't be bounced around as much as you would on a larger bus.
With Phantip there are several different departure points that you can choose from, and the ticket price varies by a few dollars, depending on which one you choose. If you've arrived into Surat Thani Airport and want to head directly to Khao Sok National Park from there, you can. There are departures every hour starting from 9:15am and the last one leaves at 4:15pm. Journey times are scheduled to be around 2 hours and 15 minutes, and you will arrive into the Khao Sok Van Station, in the heart of the national park.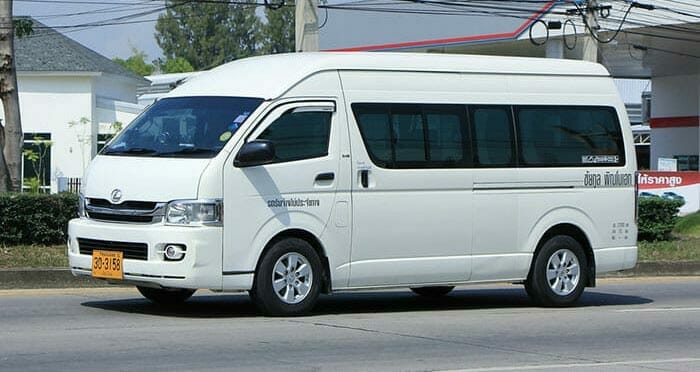 Buses or vans from Surat Thani to Khao Sok can also be caught from Surat Thani Town, so these would be convenient if you've been staying in Surat Thani. Journey times are similar, taking around 2.5 hours, and the vans will be of a similar size, but it's almost half the price if you get one from the center of town compared to the airport.
Another option with the Phantip buses is to buy a combined ticket through 12Go which includes taxi pickup from your hotel in Surat Thani Town. This does bring the ticket price up to the same level as the price of a bus from Surat Thani Airport to Khao Sok, but it adds extra convenience as you're picked up right from your hotel. There are fewer departure times to choose from but this extra convenience is great if you don't want the hassle of getting to the bus departure point yourself. Pickup is at 8:30am, 10:30am, 12:30pm, and 2:30pm.
Surat Thani to Khao Sok by Taxi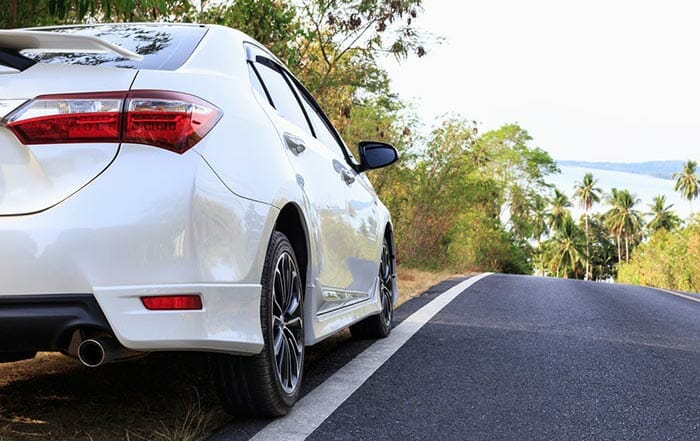 If you like convenience and don't mind spending more money, then taking a taxi from Surat Thani to Khao Sok could be the best option for you. Also bookable through 12Go, taxis add an even higher level of convenience and will usually get you to Khao Sok National Park faster than a bus or van would do.
There are a few different taxi companies you can choose from: Phantip Charter, Andaman Taxis, and Phuket Transfer Travel Andaman. You can choose pickup from any point in Surat Thani, such as your hotel, or from Surat Thani Airport, or Surat Thani Train Station, and all taxis can drop you right at your hotel within Khao Sok National Park.
The biggest advantage with taxis from Surat Thani to Khao Sok is that you can decide exactly when you want to be picked up, making it a flexible option if you have other plans. It's also a good option if you're traveling with a few other people, such as friends or family, as you can book a larger vehicle and split the cost between you. 9-passenger vans, for example, are a good choice for larger groups, or a 4-passenger SUV. Comfort and Economy taxis are also available for just a couple of passengers but when the cost is divided by just two people, these can be a more expensive way to travel from Surat Thani to Khao Sok.
Whether you choose to travel by bus, van or taxi will depend on what level of convenience you want. Taxis are the most convenient with door to door service available at any time of the day, but they're also the most expensive, and with plenty of departure points and times available for buses and vans, you may think it's not worth the extra expense.
Did you find this guide useful?
Click on a star to rate it!
Average rating: / 5. Vote count: