The small city of Ninh Binh is less than 100 kilometers (60 miles) south of Vietnam's capital, Hanoi, but the atmosphere here is a world away from the bustling capital. Set on the Red River Delta, Ninh Binh is best known for its stunning river and karst scenery, where you can tour caves and caverns in a small boat, or check out the local pagodas, scenic vistas and more. From here, continue your exploration of Vietnam by heading further south to the city of Hue. Here you'll find the impressive Imperial City and Forbidden Purple City, protected by the vast citadel that was built in the 19th century, but don't forget to check out Hue's markets with its wonderful foods, and take a trip to nearby beaches or to the Demilitarized Zone.
Read about:
• Flights from Ninh Binh to Hue
• Bus from Ninh Binh to Hue
• Train from Ninh Binh to Hue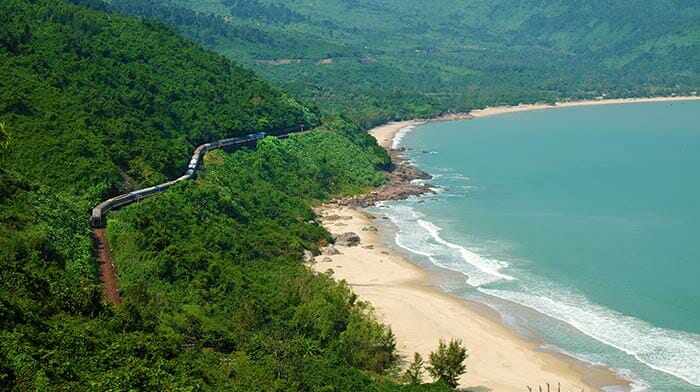 Options for Travel from Ninh Binh to Hue
Getting from Ninh Binh to Hue is by no means a quick journey. These two cities are separated by about 575 kilometers (359 miles) by road, but, don't let this put you off, as both Ninh Binh and Hue are highly recommended stops on your visit to Vietnam! You can travel by bus if you like saving money, but a bus journey of this magnitude is not for the faint-hearted! Another option is to catch a train – the train takes a long time also, but not as long as the buses do, and you can buy tickets for sleeper cabins, allowing you to get some rest along the way. A final option is to fly, but because there is no airport at Ninh Binh, you'll have to first make your way back to Hanoi and catch a flight from there.
Flights from Ninh Binh to Hue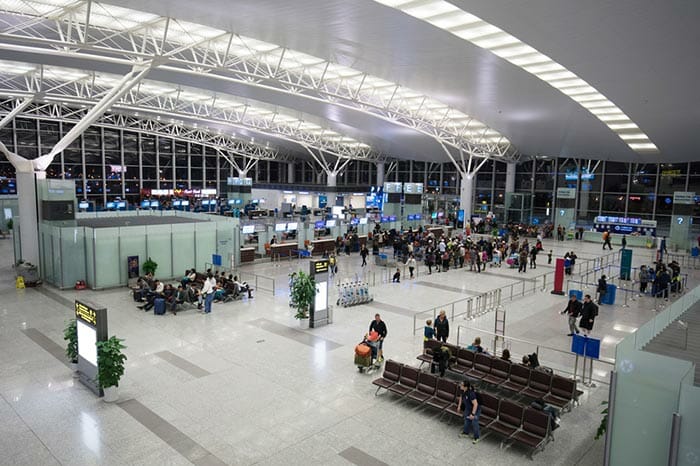 Let's start with the flight option because it's worth discussing this, even though we wouldn't necessarily recommend traveling this way! As mentioned above, you'll first have to find your way back to Hanoi and the airport. There are buses that regularly travel this route, so finding a bus won't be a problem, it's just the time and hassle involved. Buses will get you close to the center of Hanoi and you'll then need to take another bus or a taxi to Hanoi's Noi Bai International Airport, about 35 kilometers (21 miles) from the city center.
There are three airlines who fly between Hanoi and Hue: Bamboo Airways, Vietnam Airlines, and VietJet Air. Prices vary between them, but as a general rule, Vietnam Airlines will be the most expensive. The flight is only about an hour, so that's good, but, when you add up all the other journeys you'll need to take, traveling by flight from Ninh Binh to Hue is going to end up taking you all day and be the most expensive way to get there.
Bus from Ninh Binh to Hue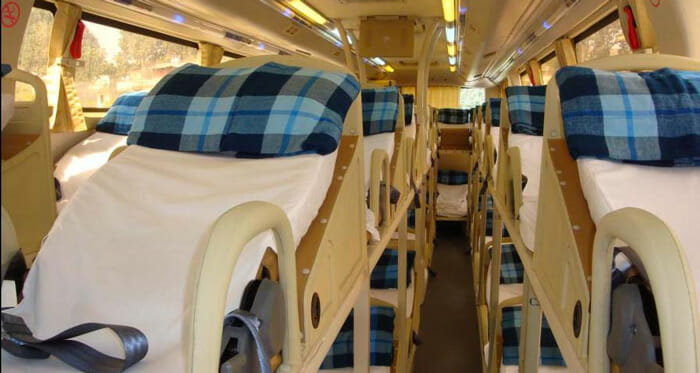 Flights are the most expensive, but buses from Ninh Binh to Hue are easily the cheapest way to travel. Unfortunately, cheap isn't good for everyone. The bus ride is very long, and even though the buses on this route do have reclined seats, you won't have a lot of personal space and you won't be able to get up and walk around whenever you want to. This means you'll be sitting in fairly cramped conditions, and although you can get up to use the washroom, the main chance you will have to stretch your legs is when the bus makes any scheduled rest stops.
The bus company, Hoang Long, runs buses from Ninh Binh to Hue with daily departures. Their buses are not full sleeper buses, but do have seats that resemble beds with a back so you're sitting upright but have your legs fully stretched out. The buses have three rows of these and are set up like bunks so there's a lower level and an upper level. Buses are also quite modern and well equipped, with a bathroom, air conditioning, TVs, and snacks, and you can book your tickets easily online through the travel website 12Go.asia.
Although the buses are fairly comfortable, it's still going to be tough as the seats can feel hard after a few hours. The quoted journey time with Hoang Long is 15 hours and 45 minutes, and there are multiple departures each day. For example, you could depart from Ninh Binh to Hue at 9pm and arrive in Hue at 12:45pm the next day, or there are morning departures is you prefer.
Train from Ninh Binh to Hue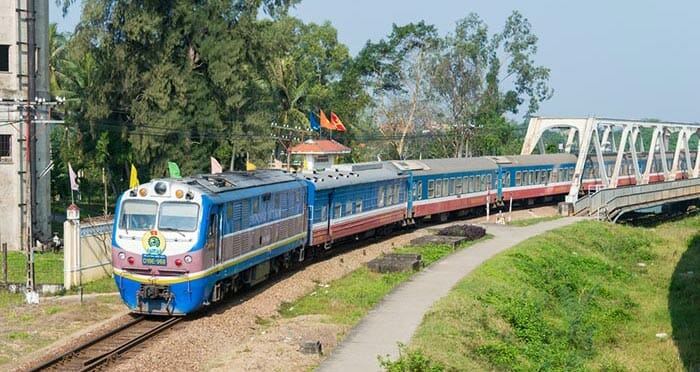 Many tourists traveling from Ninh Binh to Hue will decide that the flight is too expensive and too much hassle, and the bus is cheap but too uncomfortable – so this leaves the train!
Trains have several advantages over the buses… the greatest advantage, in our opinion, is that you can walk around whenever you want to, giving you the chance to stretch your legs when needed and to socialize with other passengers, if you want to do this! Depending on what type of ticket you buy, you will also have more personal space than you would on a bus, as well as a proper bed to lie on. We also like the fact that there are large windows on trains, so you can gaze out of the window at the passing scenery more easily than you can on a bus, and, the scenery is arguably more interesting from the train than it would be on a highway!
Trains are operated by Vietnam Railways and they have several departures per day, leaving at various times throughout the day. The entire journey from Ninh Binh to Hue by train takes about 11 hours, and the trains leave from Ninh Binh railway station in the center of town, arriving at Hue Railway Station, again in the center of the town. This makes getting to and from the railway station easy and quick.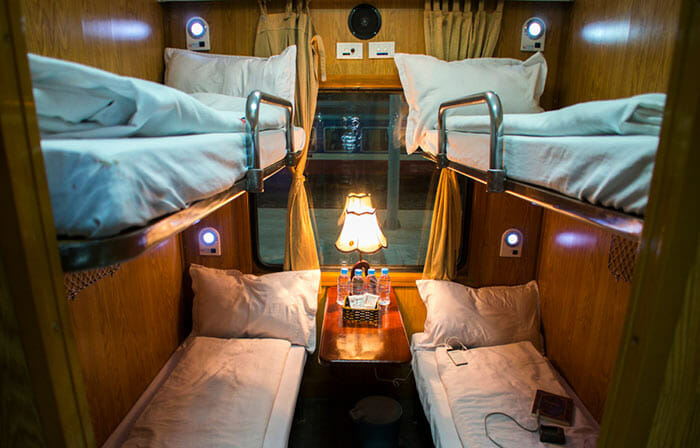 On Vietnam Railways trains there are often carriages that are operated by private companies. So, you can buy a ticket with Vietnam Railways if you want 2nd Class Seats, a 2nd Class Sleeper, or a 1st Class Sleeper, and for additional expense you can opt for a more luxurious trip and buy a ticket for a private 1st Class Sleeper or a VIP Sleeper. A 1st Class Sleeper cabin with Laman Express is the most expensive, but it's just for two people, while a VIP Sleeper sleeps 4. These tickets are not cheap, but for the extra comfort and privacy, you may decide it's worth the cost!
We would recommend traveling by train from Ninh Binh to Hue because the service is safe and reliable and also far more comfortable than traveling by bus. If you really want to save your money, the buses from Ninh Binh to Hue can be a good option too, while flights probably are not worth the extra cost or hassle that they incur.
Did you find this guide useful?
Click on a star to rate it!
Average rating: / 5. Vote count: