Bali's capital city and main gateway to the island is Denpasar. A popular destination in its own right, Denpasar boasts many lovely beaches, green spaces and beautiful temples, which, along with its museums add to its cultural appeal, making this a great place to base oneself when visiting Bali. If you prefer to leave the bigger city for a smaller town atmosphere, just a short distance north you'll find the town of Ubud. It's set in the uplands of Bali amidst the breathtaking scenery of rainforest and terraced rice paddies with gorgeous temples and shrines at every turn. Travel from Denpasar to Ubud for just a day trip, or stay for longer and enjoy the serene atmosphere, whatever you do, it's easy to get to Ubud from Denpasar.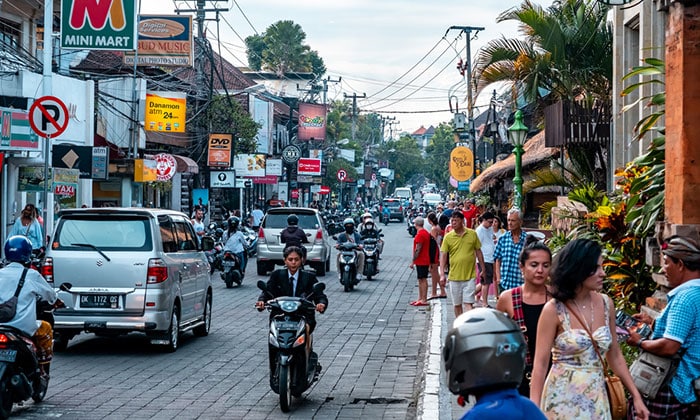 Options for Travel from Denpasar to Ubud
From the center of Denpasar it is only around 24 kilometers (15 miles) to Ubud, so it's really not very far to travel. If you were to go by car, depending on the traffic and depending on where you are starting your journey, you should expect it take around 30 to 45 minutes driving yourself. Renting a car is an option, but with affordable public transport options available too, most tourists would travel from Denpasar to Ubud by bus or by taxi, unless you were planning to drive on to other places after. Public buses are available, although these do tend to take an extra long time to go this short distance. Private bus / tour companies offer bus services too and would be a better bet if you just want to get there and start sightseeing. We'll give details of all these options below.
Public Bus from Denpasar to Ubud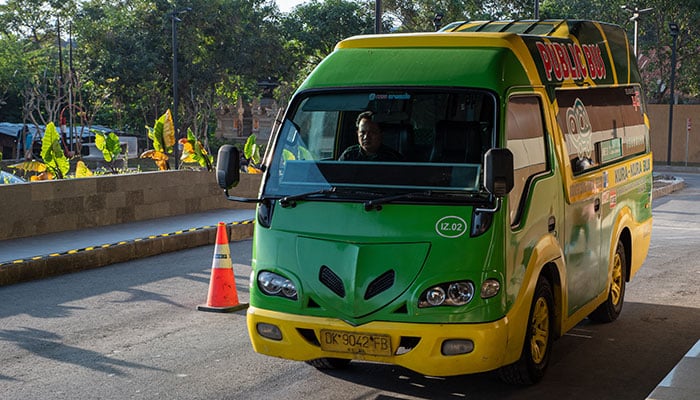 Always a great choice if you want to get around Bali as cheap as possible, public buses travel a variety of routes and are the most affordable mode of transport. The biggest problem with a public bus from Denpasar to Ubud is that they take a very long time to travel the short distance from the city. This is because, as you would expect, they have dedicated routes that include many different stops along the way, picking up and dropping off passengers all through Denpasar itself and then in the smaller towns and villages as it makes its way north. On the one hand, this makes traveling by bus an interesting experience as you will be sharing the bus with locals and getting to see parts of Bali that you might not otherwise see. If you enjoy getting to know people, traveling by public bus is also a great place to start up a conversation and to learn more about the people and their culture.
The public bus from Denpasar to Ubud starts in the Havaianas Outlet area of the city and meanders around, going close to the airport but not right into the airport, then north to the DFS Galleria shopping and bus bay. This initial part of the journey is on Line 4, and so you could pick up the bus anywhere along the route. If you start at Havaianas it should take around an hour and 45 minutes to the Galleria. These buses depart hourly through the day and they are easy to spot because they are bright green! You then switch buses at DFS Galleria and get onto Line 5. There are said to be five buses per day on this line heading to Ubud and it should take around an hour and 45 minutes to get there. So, depending on where you are starting in Denpasar, this will dictate how much the ticket costs and how long the journey will take.
Denpasar to Ubud by Private Bus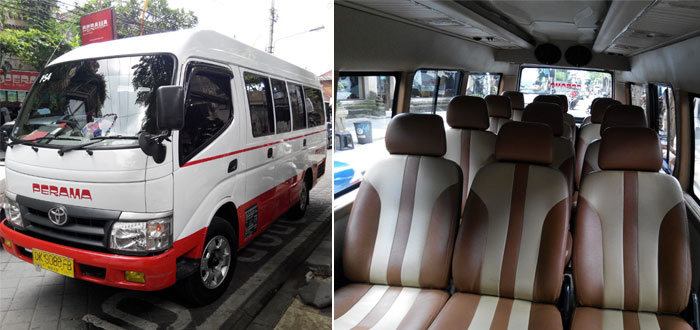 The benefit of a private bus company is that the drive is more direct and does not involve multiple stops along the way. Perama Tour operate a number of buses from Denpasar to Ubud every day. There are a few different points that you can catch their bus from and these are centrally located with tourists in mind to make it easy for you to get the bus and not have a long way to travel. One departure point is Kuta, close to Kuta Beach and many of the city's hotels. Another is Sanur, close to Sanur Beach.
Perama Tour has three buses from Denpasar to Ubud per day. They leave from Kuta at 07:00, 10:00 and 14:00, and then pickup at Sanur about half an hour later, so you can pick which of these pickup points suits you best. Because the distance is further to travel from Kuta, tickets are a little more from there than from Sanur, and the total journey time should be 90 minutes from Kuta and an hour from Sanur to Ubud.
The good thing with private tour bus companies is that you can book your tickets online in advance. Perama Tour tickets are available through 12Go where you can find more details and read reviews. The buses are minibuses with about 12 seats and they do have air conditioning, so although they may be a little cramped, the journey is comfortable enough. Tickets do cost more than the public buses but not so much more that you wouldn't want to travel this way. In fact, tickets are really quite cheap when you consider the added convenience of being able to book in advance and of having a more direct service that gets you to Ubud faster.
Private Taxi from Denpasar to Ubud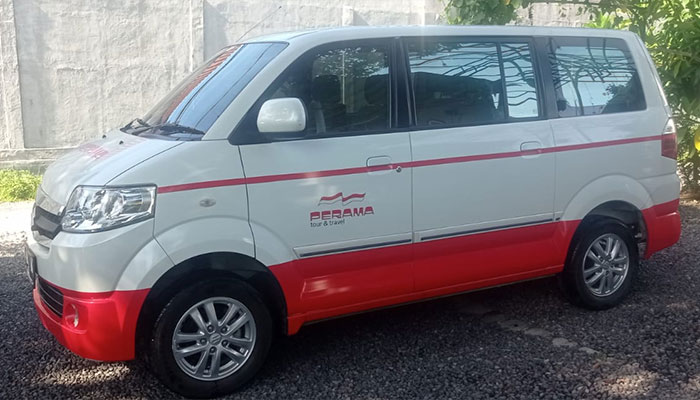 You could get a regular taxi from Denpasar to Ubud but this would cost a lot more money just picking one up on the street. A private taxi is a better option because it's affordable and you can book it in advance.
As with the private buses, you can book a private taxi online through 12Go with Perama Tour. Their taxis will take a maximum of three passengers and the price is the same regardless of whether you have one, two, or three people in the vehicle. If you divide the cost between three then it is very similarly priced to the private buses, per passenger, so definitely if you're traveling with a couple of other people the private taxi becomes a good and affordable option.
The cars are air conditioned and you should have more space than you would have in the bus, and the best part of it is that the private taxi from Denpasar to Ubud includes a pickup from your hotel in Denpasar and drop off to your hotel of choice in Ubud. This makes it a very convenient option as you don't first have to make your way to a pickup point and can simply wait at your hotel for the driver to arrive. One final good point about these taxis is that they work to your schedule, so you tell them when you want to be picked up rather than having to work around a bus schedule. The journey from a hotel in the Sanur area is scheduled to take an hour, while from Kuta it is an hour and 10 minutes, however, it's likely that it could be quicker than this.
So, as you can see, traveling from Denpasar to Ubud there are three very good options: the public bus takes the longest time but will be the cheapest, while a private bus is a good compromise, costing a little more but getting you to Ubud quicker. Private taxis offer the best convenience and are very affordable when divided between three passengers.
What is the distance between Denpasar and Ubud?
The distance between Denpasar and Ubud is about 24 kilometers (15 miles).

What is the distance between Ngurah Rai International Airport and Ubud?
The distance between Ngurah Rai International Airport and Ubud is 36 kilometers. The trip usually takes around 1 hour 20 minutes, depending on traffic. There are a few ways to get from Denpasar Airport to Ubud, but the most popular option is by taxi. There are also shuttle buses and private cars available for hire, but they can be more expensive.

How much is a taxi from Denpasar to Ubud?
The taxi fare from Denpasar to Ubud is 320,000 IDR ($21). This is a fixed price, so there is no need to haggle with the driver. The journey should take around 1 hour in good traffic conditions. Keep in mind that traffic can be quite heavy in Bali, so allow extra time if possible. If you are looking for a cheaper option, consider taking a local bus or hiring a scooter.

How much is a taxi from Denpasar Airport to Ubud?
The Denpasar Airport to Ubud taxi fare is 320,000 IDR ($21). This is a fixed rate, so there will be no meter in the taxi. The journey takes around 1 hour and 20 minutes.
How useful was this post?
Click on a star to rate it!
Average rating / 5. Vote count: