Known around the world for its stunning scenery, beaches, culture, spirituality and diving, Bali has been one of the best loved and most visited islands destinations for decades. Its ease of access, located just off the coast of Java, has always helped bring tourists to the 'Island of the Gods', while more recently, nearby islands have also benefited from a surge in popularity. The Gili Islands are a great example of this. Three tiny islands to the east of Bali, just off the coast of Lombok Island, the Gili Islands offer the simplicity that first attracted tourists to Bali and have become known for their amazing and cheap diving opportunities, their pristine beaches, coral reefs and wrecks. There's nightlife here too, but it's mostly low-key with the backpacking crowd who just want to kick back and relax. You can visit the Gili Islands for a day trip from Bali, or spend a little longer; whatever your plans, here's how you can get from Bali to the Gili Islands.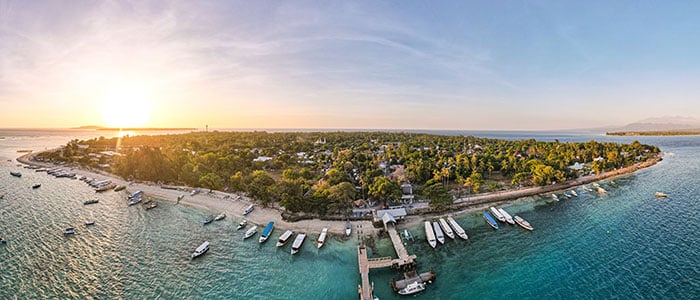 Options for Travel from Bali to Gili Islands
From the furthest eastern point on Bali, across the Bali Sea to Gili Trawangan (the largest of the Gili Islands), it is only about 35 kilometers (22 miles), so it's not far at all. The Gili Islands are even closer to Lombok, however, with the closest point between the two being less than 1.5 kilometers (under one mile), so getting from Lombok is incredibly quick and easy. That being said, Bali to the Gili Islands is a very popular travel route so there are always plenty of departures every day. Going by boat is the most popular as it's affordable and can get you to the Gilis fast. Choose from a public ferry (not fast at all!) or a number of speedy speedboat companies, or, if you want to reduce your time on a boat, flying to Lombok and getting a boat from there is also a possibility.
Flight from Bali to Gili Islands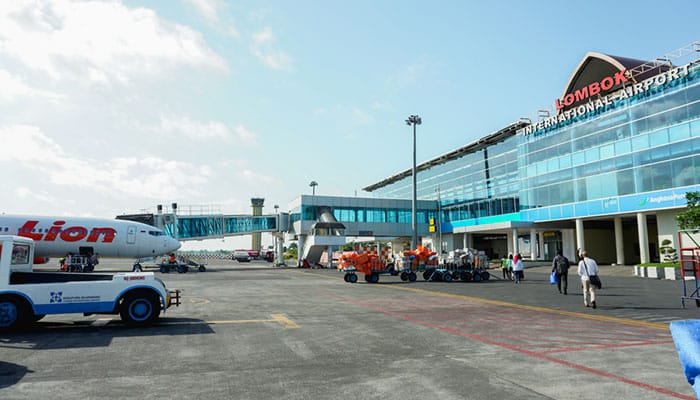 A flight from Bali to the Gili Islands is, strictly speaking, not actually possible as there are no airports on these tiny islands. This means you would be flying to Lombok and then taking a boat over to the Gilis. When you consider the time it would take to do this, and the cost, we wouldn't really recommend flying as you can probably get from Bali to Gili faster on a speedboat. However, if you happened to be flying in to Bali and were at the Ngurah Rai International Airport anyway, then it would make sense to hop on a flight to Lombok.
There are several flights per day, offered by a few different airlines, including Garuda Indonesia, Indonesia AirAsia, Lion Air, NAM Air, and Wings Air. So there's a good number of airlines and flights to choose from and tickets are quite reasonable, relatively speaking. Once at Lombok, you would need to make your way to the port and then catch a ferry from there. This adds time, money and some hassle to the journey, so, as we said, probably not worthwhile unless you already happened to be at Bali's airport.
Bali to Gili Islands by Ferry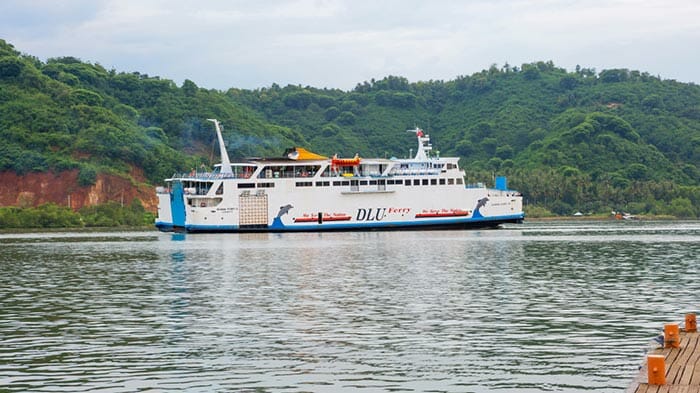 There are two types of boat that will take you from Bali to the Gili Islands: speedboat and public ferry. While the public ferry is an option if you're really stuck for choices, we wouldn't recommend traveling this way because it takes such a long time. The public ferry is slow and it first travels to Lombok before heading to the Gilis and this is why it's around 8 hours travel time in total. With so many different faster boats to choose from, and at reasonable prices, the public ferry should only be a last resort.
Speedboat from Bali to Gili Islands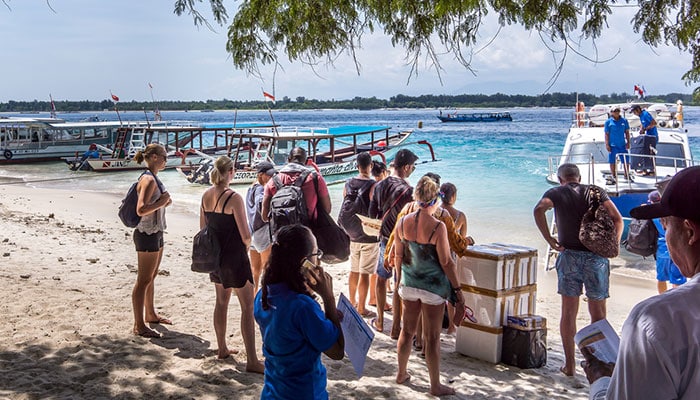 As there are so many speedboat operators to choose from, this is the recommended way to travel from Bali to the Gili Islands. There are many departures throughout the day, on a variety of boats that range in size and comfort levels. Prices do vary, with the more luxurious speedboats charging the most for a more comfortable ride. Schedules vary too, with the quickest travel times advertised as 1.5 hours, and most boats to Gili taking somewhere between around 2 to 3 hours.
Coming from Bali, the largest island of the group, Gili Trawangan, is the first island you will reach, followed by Gili Meno and Gili Air. Most boats will stop at all three islands but sometimes a boat will go via Lombok first, adding extra time to the trip, so do check this when booking. The majority of tourists will head for Gili Trawangan as it is the largest island with the most facilities, but don't disregard the other two as they have a lot to offer too.
You should also check the departure points on Bali as these vary and can add extra time to your journey. The closest port to the Gilis is Padang Bai, on the south east coast of the island. Another popular departure point is Serangan, near the southern tip of Bali, great if you're staying in this area but it is a longer boat ride from here. Some of the boat companies leave from other smaller ports like Amed, on the north-west coast, or Sanur Beach Port near the southern tip of Bali. We'll give details below about which speedboat companies go from which ports on Bali to the Gili Islands, so you can decide which departure point suits you best. It makes sense to choose the one closest to where you are staying so that you limit your journey time to the port and potentially save money on additional transfers.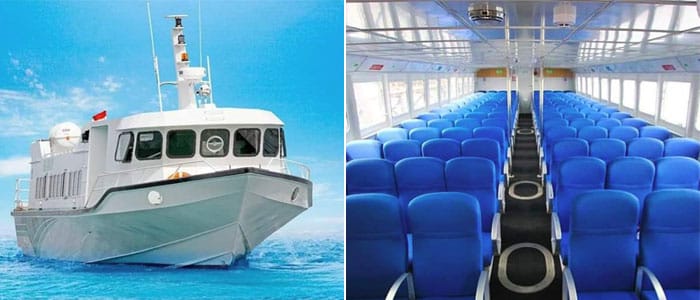 The best choice of departure times are for speedboats going Bali to Gili Islands from Padang Bai, as there are five different companies operating out of here; DPrabu Fast Boat, Semaya One, Kurnia Jaya Fast Boat, Ostina fast Boat, and Eka Jaya Fast Boat.
DPrabu Fast Boat has the first departure of the day, leaving at 9am and arriving at Gili Trawangan at 11:15am. A boat with Semaya One takes a little longer, leaving at 9:15am and arriving at Gili at 12:00. There are two departures at 9:30am – Kurnia Jaya Fast Boat is scheduled to arrive at Gili at 11:45, while Ostina Fast Boat is scheduled to take just 2 hours, arriving at Gili Trawangan at 11:30am. Semaya One has a later departure also, leaving Bali at 12:30 and arriving at 3pm, then there are two more speedboats from Bali to Gili operated by Eka Jaya Fast Boat. The first of these leaves at 12:30 but is not direct to Gili and hence takes 2.5 hours. The second of their speedboats is direct, leaving Bali at 1:45pm and arriving at Gili Trawangan just 1.5 hours later.
If you're someone who suffers from motion sickness, the size of the speedboat from Bali to Gili Islands can be a factor. The smaller the boat the less stable it will be as it cannot ride the waves as easily. The largest speedboat, and hence most stable in rougher conditions, is operated by Eka Jaya. They tend to charge a little more than the other companies, but it is certainly worthwhile spending more for a comfortable ride on a larger boat that will also have more facilities onboard than those smaller speedboats. Eka Jaya and all of the other aforementioned speedboat operators can be booked online through 12Go. You can check all available speedboats and compare sizes, reviews, timetables and more, and book confidently online.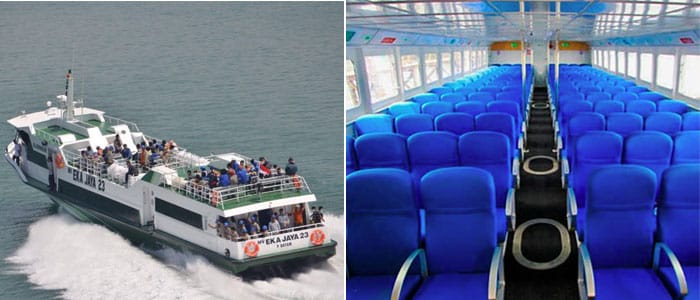 The other departure ports mentioned above can also be booked through 12Go. Ticket prices can be quite a lot more for speedboats departing out of Amed, Nusa Penida and Sanur Beach, but, if one of these is where you are staying, catching a boat from here will save you having to pay for transport to Padang Bai. Scoot Fast Cruises departs from Sanur Beach Port daily at 9:30am and takes 3 hours. Freebird Express operates out of Amed at 9:30am and takes 2 hours, and Caspla Bali Sea View leaves from Nusa Penida at 10am, arriving at Gili Trawangan at 12:30.
So, out of all these options, the Bali to Gili Islands speedboat operated by Eka Jaya is the fastest, leaving around the middle of the day and taking just 1.5 hours. It does cost a little more than some of the other companies but for that added cost you are getting a more stable ride on a larger boat and it's useful that you can get to Gili in the shortest time possible. If you really want to arrive in the Gilis earlier in the day, choose one of the morning departures with the other companies. The earliest you could arrive is at 11:15am with DPrabu Fast Boat.
So, with flights from Phuket to Surat Thani not being a viable option, the best way to travel between these two is either by bus or van. These direct services are the most affordable, although if you're traveling around Thailand with a few companions, private taxis can become an affordable option too when the cost is split between several people, and they may be the most convenient with their door to door services.
How long is the ferry from Bali to Gili Islands?
The ferry ride from Bali to Gili Islands takes around 2.5 hours. If you're looking to get there a bit faster, you can also take a speedboat. The ride is only about 1.5 hours, but it can be quite bumpy on the rough seas. Either way, you're in for an amazing time!
How long is the ferry from Bali to Gili Air?
The ferry journey from Bali to Gili Air takes around 3 hours. If you're looking for a faster option, there's always the speedboat ride that only lasts about 1 hour 45 minutes but can be quite bumpy so strap yourself in and enjoy!
How long is the ferry from Bali to Gili Trawangan?
The ferry from Bali takes around 3 hours, but if you're looking for an even faster option there's the speedboat. It only lasts about 1 hour 45 minutes though so make sure not miss out!
Bali or the Gili Islands?
It's a tough choice between these popular destinations, but we think the Gili Islands are the clear winner. These three beautiful islands offer something for everyone, from stunning beaches and crystal clear waters to lush jungle and vibrant nightlife. Whether you're looking to relax on a secluded beach or party until the sun comes up.
Can you do a day trip to Gili Islands from Bali?
Yes, you can do a day trip to Gili Islands from Bali. However, we recommend staying for at least a few days so that you can fully enjoy all that these amazing islands have to offer!
How much is the fast boat from Bali to Gili?
The fast boat from Bali to Gili Trawangan costs around 370,000 IDR or $25. With many different ferry operators to choose from. Ferry tickets can be bought with online bookings.
How do you get from Bali to Gili Trawangan?
The best way to get from Bali to Gili Trawangan is by taking a fast boat. The journey takes around two and a half hours. There are different fast boat companies offering ferry services, but most routes have fixed prices. Blue water Express is one of the most reputable companies to book with.
How many ferry ports are there on Gili Island?
The Gili Islands consist of three ports: Gili Trawangan, Gili Air, and Gili Meno.
How useful was this post?
Click on a star to rate it!
Average rating / 5. Vote count: