The island of Bali has long been an extremely popular destination, bringing tourists from around the world to its warm waters, beaches, and diving destinations, and to experience its culture and amazing scenery. Bali is, in fact, Indonesia's top tourist destination, attracting higher numbers of visitors every year. With Bali being such a popular place, it's surprising that just off the coast sits another island that is stunningly beautiful, yet still quiet in terms of visitor numbers. The island of Nusa Penida has very little in the ay of tourist infrastructure so it's largely a day-trip destination, but it's certainly worth that day trip! This hilly and rocky island is quite different to Bali, not least because it's quieter, with great beaches and places to dive away from the crowds.
Options for Travel from Bali to Nusa Penida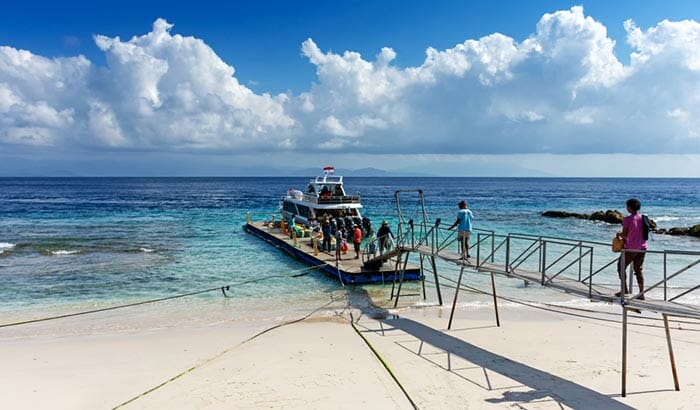 With Nusa Penida being situated just a short distance off the south-east coast of Bali, it doesn't take long at all to get from Bali to Nusa Penida. It's less then 30 kilometers (less than 18 miles) in distance, and although Nusa is still quite quiet compared to Bali itself, many tourists make the trip over the water every day to visit with Bali's little brother! The only way you can travel from Bali to Nusa Penida is by boat, and there are many ferry operators to choose from. Tour packages are also available from hotels and tour operators on Bali, but expect to pay a lot more for having a fully organized tour. These can be good in some situations, but if you're hoping to get to Nusa Penida for not much money, definitely go independently.
Bali to Nusa Penida by Ferry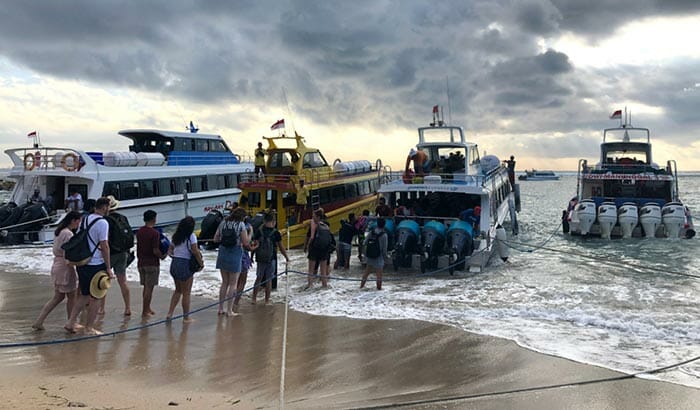 To name the boats traveling between Bali to Nusa Penida 'ferries' is a bit of a misnomer in the common sense of the word. Yes, the boats do ferry people from one place to another, but when you hear the word 'ferry' you're probably thinking of a larger boat, perhaps even one that can hold vehicles. Well, the ferries going between Bali to Nusa Penida are actually oversized speedboats that only hold a limited number of passengers. They travel at quite high speeds and the journey will be rougher than it would in a much larger boat, so if you think you're prone to motion sickness, you may want to take some medication before-hand!
Although the ride may be rougher than you're used to, it's over quite quickly. Most ferries from Bali to Nusa Penida take around 30 minutes to make the crossing, but do be aware that there are few different places that you can head off from on Bali, and a few different arrival points on Nusa Penida too, so journey times can vary.
It's good to know that because there are numerous different ferry operators, there are many crossings to choose from, however, they can still get booked up very fast on the day of travel. We recommend leaving Bali on one of the earliest boats so that you have a full day there, but these morning boats are the most popular, for obvious reasons. You can get to Sanur Harbor around 7am in the hope of buying tickets for the first ferry at 7:30am, but in order to make sure you get on that boat, why not book your tickets in advance rather than taking a gamble of the day you want to go?
Tickets for multiple different ferry operators from Bali to Nusa Penida can be booked very easily online with the travel website 12Go.asia. They will show you multiple ferry companies and many different ferry times, so you can choose which one is best for you, or just go ahead and book that earliest one in the morning!
Prices do vary across the different companies but there's really not much to separate the services. Look at reviews on 12Go to see what other travelers thought of each service, and make a decision from there. Nearly all of these companies offering ferries from Bali to Nusa Penida have instant booking on that website, so it's great for peace of mind, even if you end up booking just a day or so beforehand. Don't miss our guide: Bali to Lombok
How useful was this post?
Click on a star to rate it!
Average rating / 5. Vote count: