Established in 2002, Mekong Express is one of the leading private bus companies in Cambodia, offering daily services to and from some of the country's biggest cities and most popular tourist destinations, as well as international services into neighboring Vietnam. Their fleet of buses includes numerous different sized vehicles and comfort levels including VIP buses and vans, Sleeper buses, express buses, and minivans, and they boast amenities such as electrical outlets, Wi-Fi, onboard snacks, and extra legroom, although not all of these services will be available on every bus or every route. With around seven departures per day from Phnom Penh to Siem Reap, they could be a good alternative to other bus companies in Cambodia, and are similarly priced, but do they offer a good service? Our Mekong Express company review aims to find out.
About Mekong Express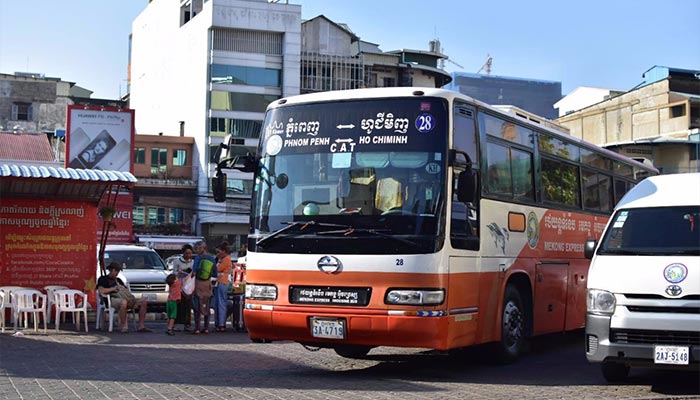 Officially named Cambodia Asia Travel Co Ltd, but more commonly known as Mekong Express or Mekong Express Limousine Bus, this private bus company started operating in 2002 across Cambodia. Their website states that Mekong Express is the leading and fastest growing passenger bus company in Cambodia, although other Cambodian bus companies have also stated the same. Whether true or not, Mekong Express is certainly one of the best-known bus companies and they do have a relatively good schedule and competitive pricing.
Mekong Express's vehicles are imported from Japan, and are regularly maintained and inspected to a high safety level and rigid maintenance standards, according to their website, which also states that as a company they are interested in conservation. They have adopted the endangered Irrawaddy White Dolphin as their company mascot in an effort to raise awareness of this critically endangered animal.
In recent years their schedule has improved to provide more departures per day with a variety of different bus types being offered to suit a range of budgets. A few years ago, the company was subject to some criticisms because their schedules were a little more limited compared to some other bus companies, so they certainly seem to have taken that onboard to serve more customers with more routes and more services on those routes. Today, there are departures throughout the day from Phnom Penh to Siem Reap, with buses leaving between 7:30am and 11:30pm, and that last bus of the day is a Night Bus so it should have sleeper type seats available. Other routes to and from Phnom Penh offered include: to Sihanoukville, Kampot, Battambang, and internationally to Ho Chi Minh City. Mekong Express used to service Hanoi instead but now only currently has a service to Ho Chi Minh City in Vietnam. You can also travel from Sihanoukville directly to Siem Reap, avoiding having to travel back into the country's capital, Phnom Penh, as well as a few other routes from Battambang.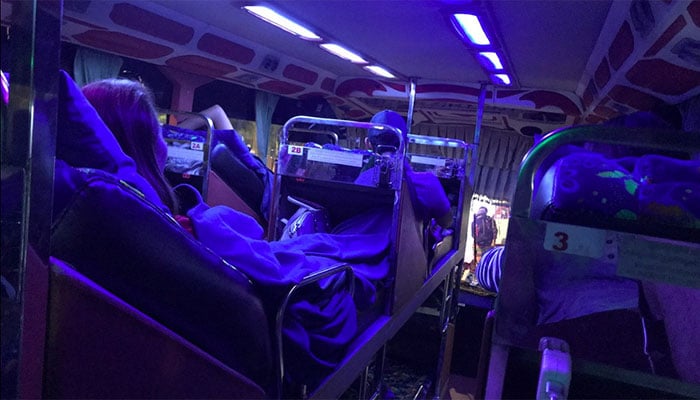 On their website, it says that Mekong Express buses have Wi-Fi, extra legroom, climate control, snacks, and chargers, although we do advise that these amenities are not guaranteed on every bus and route. Although there are a number of modern and well-equipped buses within their fleet, you may find on some routes that you're traveling on a cramped minivan rather than a full-size bus. If this is a deal-breakers for you, do some checking before you book your tickets to find out what type of bus you'll be on, and what amenities it has onboard. The type of bus should be clearly stated at the time of booking your ticket.
Another advantage that Mekong Express claims is that they always keep the phrase "on time" in their minds. This means they aim to depart and arrive on time, and they often claim faster travel times than other bus companies. However, this could be because they take fewer breaks and drive at faster speeds. This means passengers may not have many breaks on longer journeys, and the breaks may be quite short. Keep in mind that schedules can generally be quite lax in countries like Cambodia with delays and late departures a very common occurrence for most bus companies.
Mekong Express Customer Reviews

It sounds as though Mekong Express is certainly keen to have a good reputation and they're trying to provide a service that is better than some of their competitors, and that has been improved in recent years, but what's the reality? Previous passengers who have traveled with Mekong Express are the best placed to comment on their services, so what do the customer reviews of Mekong Express say?
There are over 400 Mekong Express reviews on the travel website, 12Go.asia. They sell tickets for most of their services, as well as tickets for several other Cambodian bus companies so this gives you the chance to compare schedules and prices, and read through reviews, before going ahead and making a booking. The overall rating is 3.4 out of 5 stars, with 26% of customers giving 5 stars, 28% giving 4 stars, 21% 3 stars, 11% 2 stars, and 14% just 1 star. Overall, this is a good rating, with the majority giving 4 or 5 stars.
Reading through reviews, those who did not give a good review of Mekong Express commented on the following: that the bus was very late; the bus left on time but had delays so arrived much later than scheduled; there was no wi-fi onboard; and the breaks were not very long and they stopped somewhere that wasn't particularly nice. From the positive reviews, passengers commented that the staff were friendly and helpful, and that the service was good.
You can also read reviews on the Mekong Express website. The worry with this is that reviews may have been doctored, but this doesn't appear to be the case with a wide range of star ratings and different comments provided by passengers.
Should You Travel with Mekong Express?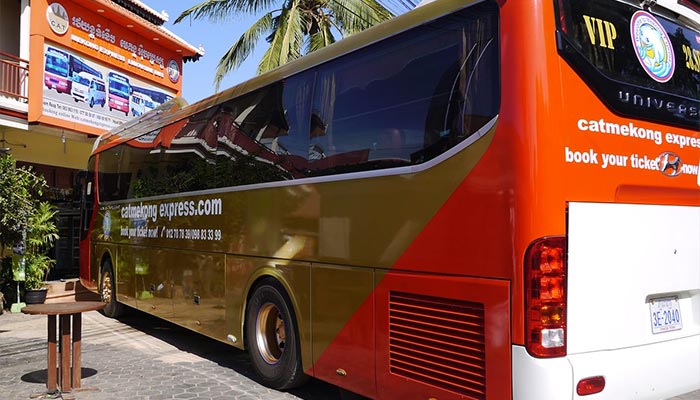 It seems as though Mekong Express has made efforts to improve their schedules and routes over the past few years, probably in an effort to keep up with the operations of its competitors. This means they now have more daily services available, running buses to a few more destinations as well. Having said this, compared to its main competitor, Giant Ibis, the routes covered by Mekong Express are still somewhat limited. They're great if you want to go to and from Phnom Penh to Siem Reap or Sihanoukville, but there really aren't many other destinations offered. This means that Mekong Express may not be a consideration for you if you're traveling around multiple cities in Cambodia. Even so, those major destinations are well covered and prices should be comparable to competitors so there's no reason why you shouldn't consider traveling with Mekong Express on those routes they do offer. Don't forget to check 12Go to compare ticket prices and book online.