2GO Travel is said to be the largest passenger ferry company in the Philippines, operating a fleet of 27 ships that travel on a number of inter-island routes around the Philippines. With their main hub in Manila, 2GO Travel is capable of transporting close to 7.5 million passengers a year, which is why this is often the go-to ferry company for both locals and tourists alike. Their fleet is among the most modern in the country too, with quality ferries that not only transport passengers but accommodate them too, with a good variety of berth options to suit many different budgets, from dormitory style bunks to fairly luxurious Suite Rooms that almost rival the cabins you would find on worldwide cruise ships. 2GO Travel is not the only ferry company in the Philippines, so how do they compare to their competitors? We aim to find out in our 2GO Travel company review.
About 2GO Travel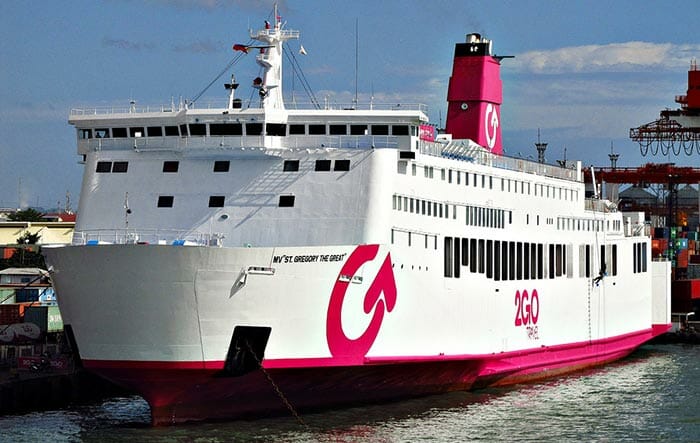 The brand, 2GO Travel, was established in 2012 but their routes go back long before that. Initially known as Negros Navigation, the ferry company was originally established way back in 1932 and was one of the oldest and largest shipping companies in the Philippines. Three of their rival ferry operators: SuperFerry, Cebu Ferries and SuperCat merged into SuperFerry which was then bought out by Negros Navigation in 2010. After a controlling interest was bought in Negros Navigation, the name was changed to the 2GO Group, with 2GO Travel being the operating name of its shipping company. Having purchased SuperFerry, Cebu Ferries and SuperCat previously, all of the vessels belonging to those companies joined the fleet, and although these brands are now part of 2GO Travel, you can still book ferry tickets under their original brand names for certain routes. For the purpose of this company review though, we'll focus on the ferries and the services operated under the 2GO Travel name.
Manila is their main port, with many ferry routes departing from here, including to: Coron, Puerto Princesa, Cebu, Manila to Cagayan de Oro, Dumaguete, Bacolod and Dipolog. On the longer ferry journeys, there tends to be just one or two departures per week as the journey takes over a day to get from one destination to the other. For shorter trips there can be daily departures because the turnaround is that much quicker. Batangas to Odiongan and to Romblon are both daily, for example, while Batangas to Boracay is daily expect Mondays. Of course, these schedules can be subject to change at any time, and departures can be affected by the weather if you're traveling at times when the seas can be rough.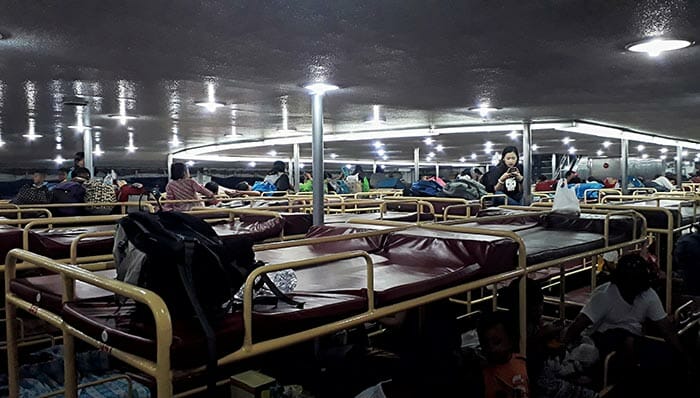 The size of ferry and what amenities it has onboard will obviously depend on the route you're traveling, with larger and better equipped ferries being used for those longer routes. On these bigger ships you'll generally have a lot of choice when it comes to accommodation types. Locals like using ferries to get from island to island in the Philippines because they tend to be more cost effective than flying (which is usually the only other option), so there are many cheap berths available that appeal most to locals and to tourists who are traveling around on a tight budget, wanting to limit their costs.
The cheapest accommodation will be in the Mega Value section of the ship. These are very large rooms (like dormitories) that are packed with bunk beds. They offer very limited privacy from one bed to the next, and anyone sleeping here would have to use communal bathrooms. One step up is Tourist Class. These are also bunks in a large room, but the beds are a bit more comfortable and do offer more privacy from one to the next. The main advantage is that you won't be sharing a space with quite so many people.
Cabins come next, and they can vary in size depending on the ship but you should expect a room with about eight bunks in it. These will again be more comfortable and offer more privacy, with curtains that you can close. Staterooms will appeal to couples and families who want their own space as it won't be shared with anyone else, while Suite Rooms are the most luxurious and expensive, rivaling hotel rooms for space and having a private ensuite bathroom. Some ships will also have smaller shared cabins and business cabins that sleep up to 4, but it does depend on the route you're traveling.
In terms of facilities, these will vary as well, but on the longer routes there are restaurants and cafés, a small convenience store, somewhere for entertainment, and even a salon and/or spa.
2GO Travel Customer Reviews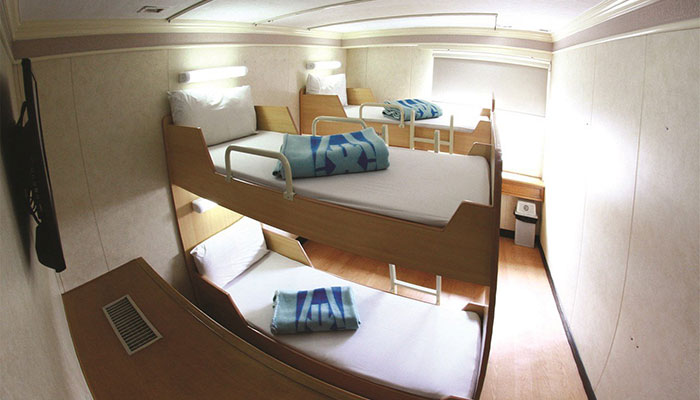 If you've heard horror stories about unsafe and dirty ferries operating in places like the Philippines, this may have been true in years gone by, but 2GO Travel certainly does not have this reputation. Their ferries are known for being safe and fully equipped when it comes to safety, with lifejackets for all passengers, and lifeboats. There are medical staff and security staff onboard in case of any problems, and passengers' luggage is screened before it's allowed onboard.
Customer reviews of 2GO Travel are good. You can read reviews on the travel agency booking website, 12Go.asia (not to be confused with 2GO itself, 12Go is a separate company!). On 12Go you can book tickets for 2GO Travel's ferries and other ferry brands, allowing you to compare ticket prices and schedules, and read reviews before you go ahead and book. At the time of writing, they had over 800 2GO Travel reviews, giving an overall rating of 3.4 stars out of 5 stars. 32% of customers gave a 5 star rating and 25% gave 4 stars. At the lower end, 20% gave just 1 star. While this is a fairly good overall representation of the company, do bear in mind that oftentimes customers are more inclined to leave a negative review if something went wrong than they are to give a positive review when they're very happy. This is definitely something to consider when looking at reviews on 12Go as they have sold 2GO Travel tickets to over 41,000 travelers, yet only around 800 of those have left reviews.
Reading through some of the recent reviews, several customers have stated that the ferry was delayed, departing later than scheduled and/or taking longer to arrive than scheduled. Several reviewers also commented that the toilets were not clean but we did note that they traveled in Tourist Class where toilets would be shared with many other passengers.
Positive reviews commented that the ferry was comfortable and the food and facilities onboard were good. Some passengers said the crew were rude and unhelpful, while others said the crew were great and helped a lot!
Should You Travel with 2GO Travel?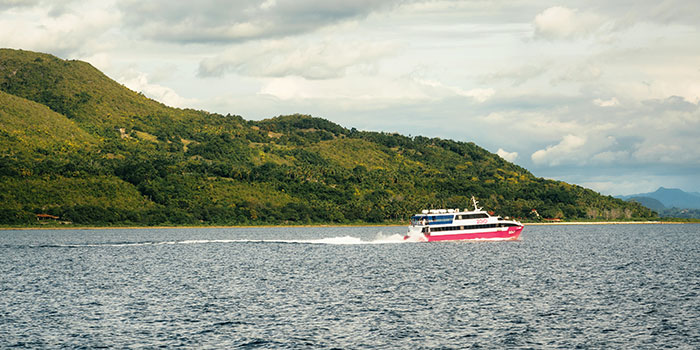 It seems that the passenger experience can vary a lot depending on which ship you're sailing on, and what type of accommodation you pay for. When staying in Mega Value or Tourist Class, travelers cannot expect privacy, or bathrooms that remain clean at all times simply because there are so many people using them, but you would expect dirty toilets to be cleaned at some point during a journey that's more than just a few hours long. Travelers also need to bear in mind that delays are commonplace in Southeast Asia, especially during typhoon season when a ferry could be delayed by hours, or even canceled if the weather is really bad. These circumstances are obviously beyond 2GO Travel's control. Generally speaking though, 2GO Travel does have good reviews and a very good safety record so if you're traveling around the Philippines and want to take your time getting from place to place, going by 2GO Travel ferry is a great idea and can be more economical than flying. Remember you can check prices, reviews and schedules, and book ferries online on the travel website, 12Go.