A little off the beaten track, Koh Chang is an interesting mix of traditional Thai with modern tourist destination. This paradise island is filled with lush jungles, pretty beaches and small villages that co-exist alongside the newly developed resorts and hotels. Hurry to Koh Chang now to enjoy its pristine character before the island becomes overdeveloped. Our list of top 10 things to do in Koh Chang will have you packing your suitcase!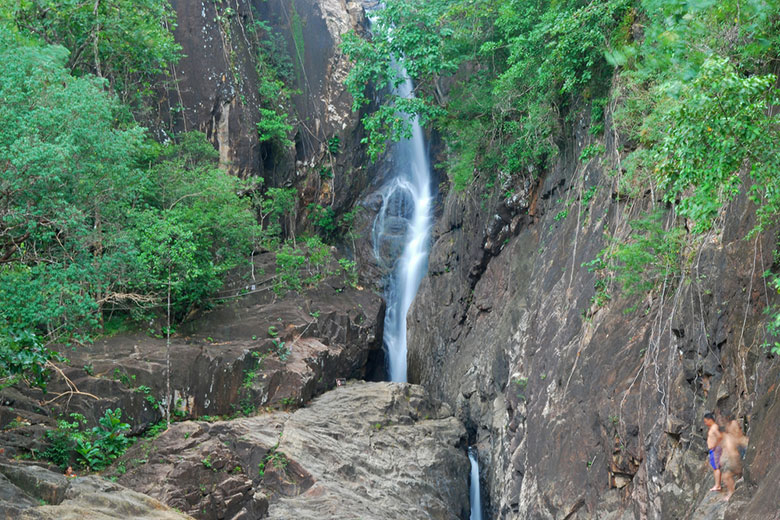 Koh Chang is blessed with some wonderful scenery and is well known for its waterfalls. The only waterfall on the west side of the island is Klong Plu, which also happens to be one of the most beautiful of Koh Chang waterfalls, and it's easy to get to, so there are three reasons why we chose to feature this particular waterfall on our list of things to do in Koh Chang! Klong Plu Waterfall is just a short walk (about 10 minutes) from the road and should be manageable by all levels of fitness, though do bear in mind that the trail can get muddy and slippery if it's wet. Another thing to point out about this waterfall is that there is an entrance fee to pay whereas some other falls on the island can be accessed for free. The fee is quite low so don't let this put you off. Finally, if you're visiting in the dry season the waterfall may not even be there and if you want to see it at its best, come during the rainy season or plan your visit for just after there's been rainfall. Bring your swimsuit as there are pools you can swim in, in the company of fish!
  Tripadvisor Reviews
  Google Maps
9. Tree Top Adventure Park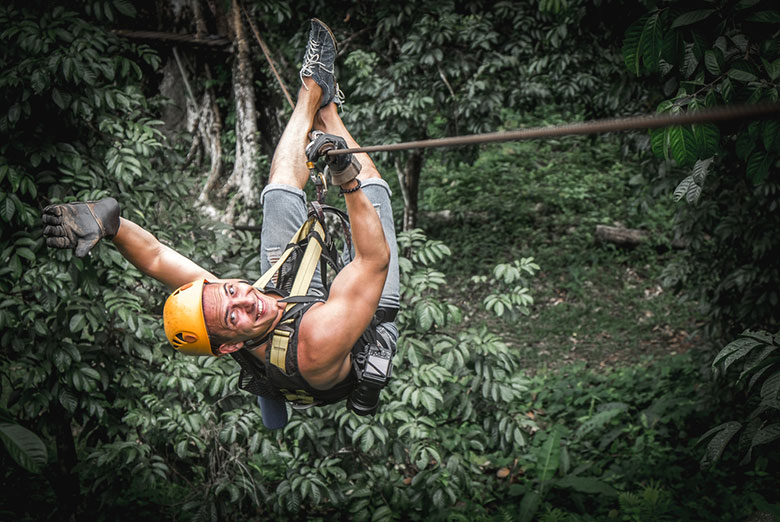 Spending time on the beach is great, but if you want a Koh Chang attraction that's a bit more adventurous head to Tree Top Adventure Park. You'll likely see monkeys on your way into the park and if you're feeling jealous of them swinging through the trees don't worry, you'll be flying, swinging and zipping in no time! Filled with zip lines, rope bridges and more, Tree Top Adventure Park is a great place to come with older kids who need to burn off some excess energy. You'll need to be over 10 years old and above 1.4 meters in height to participate, and it's better if you're not out of shape as you'll have to hold on tight and support your body weight during some of the activities. The nice thing is that the people working here are very friendly and helpful, giving a helping hand and advice when needed, but standing back and giving you space to enjoy when you're good to go. If you're looking for fun things to do in Koh Chang, visit the Tree Top Adventure Park, try the red or the blue course and unleash your inner monkey!
  Tripadvisor Reviews
  Google Maps
  Official Website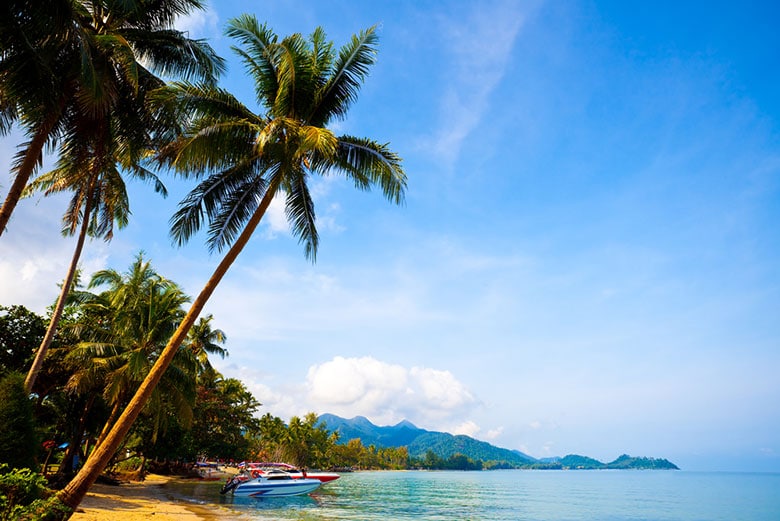 When deciding what to do in Koh Chang, days on the beach are sure to rank highly, but which beach do you choose? Each of the beaches on Koh Chang has its own advantages and disadvantages, depending on exactly what atmosphere you're looking for, whether it's the quiet or vibrant scene you want. Klong Prao Beach is such a popular place because it offers a little bit of everything. It's a quieter beach than some so it's not as busy, and it's not the kind of place that backpackers would come to spend time (Lonely Beach is for them!). At the same time, the beach is lined with a number of restaurants and hotels so it's not entirely deserted. There are places to buy a really tasty and affordable meal or sit and enjoy a few drinks while watching the waters lapping against the soft sand. Spend the day relaxing on the sand and swimming, and when you need a break from the sun there's a good amount of shade available at Khlong Phrao. At roughly 3 kilometers (1.8 miles) long, the beach is also very nice for walking along, and very beautiful at sunset.
  Tripadvisor Reviews
  Google Maps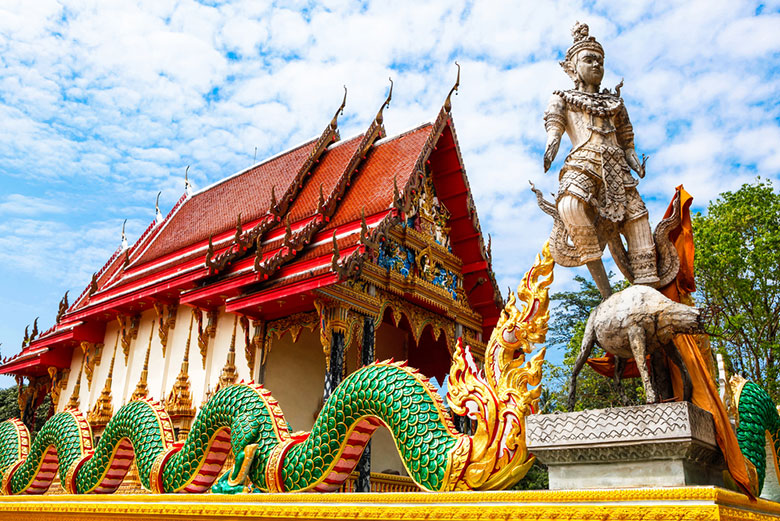 No list of things to do in Koh Chang would be complete without a temple. When you'd like a break from the Koh Chang beaches and the chance to sample some of the Thai culture come and visit Wat Salak Phet Temple. You could argue that this Koh Chang attraction is actually two temples in one because there is the original (which is now a museum) as well as a newer temple (built in 2014) just across the street. Both are lovely examples of a Buddhist temple with striking, ornate and colorful architecture on the outside and beautiful decorations inside.
The original temple was built during the reign of King Rama V during his visit to the island. Today this one is now used as a museum which commemorates the king's visit and the history of the village of Ban Salak Phet. The village and temples are located on the west coast of Koh Chang but are relatively easy to get to. The locals are very friendly and welcoming, and are proud of their village, the temple and the museum. There is an entrance fee, but considering the work that goes into keeping the attraction in such perfect condition, you won't mind having to pay to see it!
  Tripadvisor Reviews
  Google Maps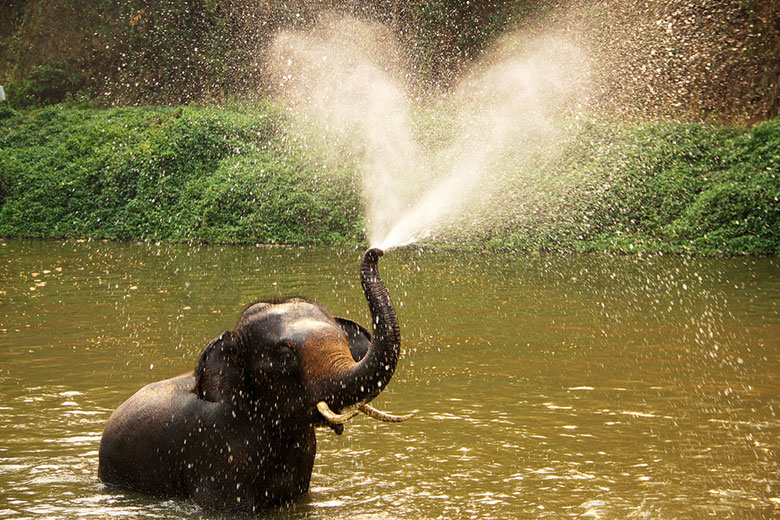 You can't visit Elephant Island without seeing any elephants! There are several elephant camps on Koh Chang and visiting the elephants, feeding them and going for elephant trekking through the jungle is a very popular thing to do in Koh Chang. Despite this, Koh Chang doesn't have its own indigenous herd of elephants – they were brought over here for the tourists to see, and the island was named Elephant Island (Koh Chang in Thai) because its shape resembles one of these majestic animals, not because they lived here.
Ban Kwan Chang is an elephant camp and sanctuary where the aim is to take care of the elephants while also educating visitors. If you're wondering what to do in Koh Chang, definitely pay a visit to Ban Kwan Chang as it's a memorable experience that you're unlikely to forget in a hurry. You have time to feed the elephants' bananas and other fruit and you get a one hour ride through beautiful scenery into Koh Chang's jungle areas. If you buy the upgraded experience you can also bath the elephants, which is so much fun! You may want to arrange to get here earlier in the day to beat the heat.
  Tripadvisor Reviews
  Google Maps
  Official Website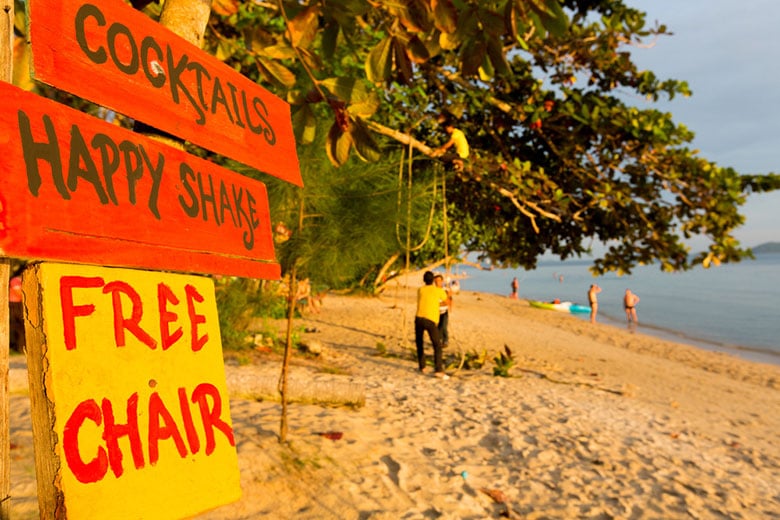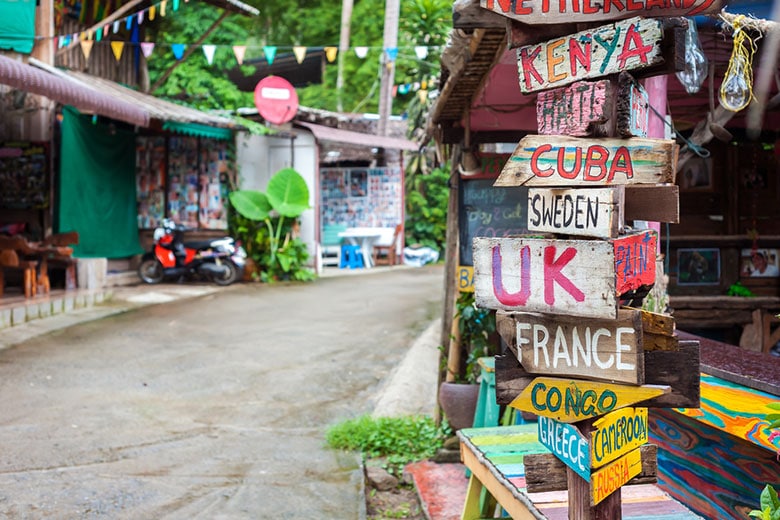 As soon as you step onto the sand at Lonely Beach you'll be wondering why they named it this because it's anything but a lonely place! Lonely Beach is actually known as being party-central for the island so if you're looking for great nightlife and an affordable party atmosphere, look no further. Originally popular with backpackers because of its affordability, Lonely Beach is now one of the top Koh Chang attractions, attracting tourists from all over the island who are looking for a fun place to spend the night. In fact, during the high season there's pretty much a party on the beach every single night and when you add this to the many restaurants and beach bars you're sure to have a fun night out.
If you're looking for an amazing beach on Koh Chang, Lonely Beach is not it. The beach itself is quite small with a sandy area and a pebbled section which, during the day can be a nice place to spend some time. Definitely the bars and restaurants are the most popular part of a visit to Lonely Beach, plus you'll find ample little shops selling souvenirs and clothing, tattoo and thai massage parlors, and coffee shops to spend time in.
  Tripadvisor Reviews
  Google Maps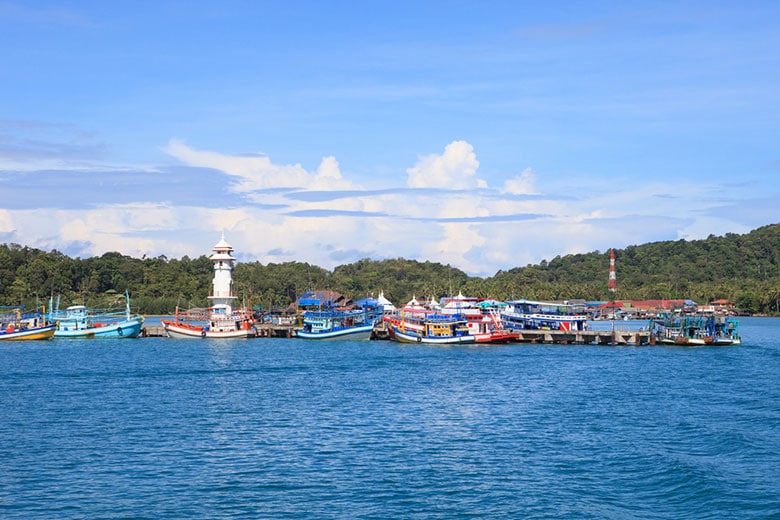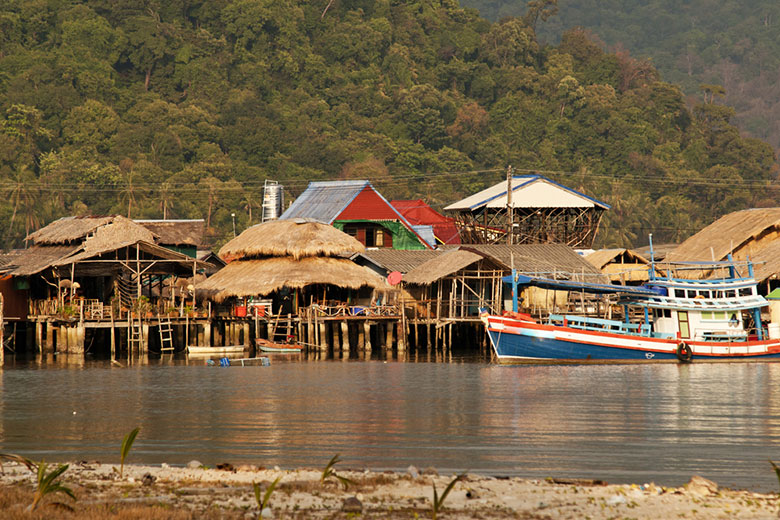 Considering that Koh Chang is rising in popularity with tourists from around the world you may think it's already lost its traditional feel, but this isn't the case. The sleepy fishing villages dotting the coast of the island do still exist and while facilities to serve the visiting tourists have been added to most of them, you can still get a sense for the traditional Thai fishing villages if you know where to look. And Bang Bao is arguably the best of them.
Located on the south west coast, Bang Bao has embraced the tourism industry and may, at first glance, look just like a tourist trap and nothing else. But this isn't the case. The Bang Bao pier jutting out into the sea does have souvenir shops and restaurants but it still retains the traditional feel. The most pleasing thing about the Bang Bao pier and the homes is that they stand on stilts built into the sea which is quite the sight. The restaurants are renowned for their excellent seafood, and you can walk all the way to the end of the pier to see the white lighthouse and the views out into the Gulf of Thailand. As fishing villages go, Bang Bao is the best Koh Chang attraction.
  Dive Trip
  Tripadvisor Reviews
  Google Maps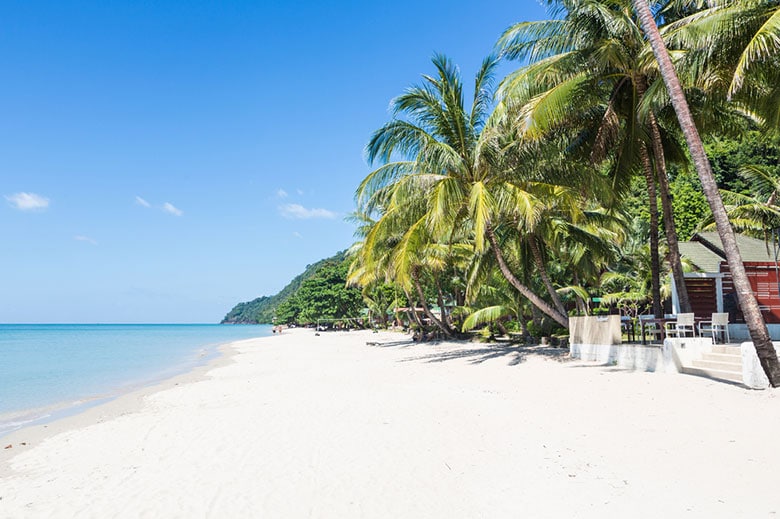 If a beach with a family friendly and vibrant atmosphere is what you're looking for, White Sand Beach will suit you perfectly! Often the first beach that tourists get to when visiting Koh Chang, White Sand Beach is popular and busy because of its easy access and the fact that it has everything you need. Lined with resorts, hotels, restaurants, shops and bars, White Sand Beach is one of the busiest beaches on the island as well as being very picturesque. Fine white sand is perfect for relaxing on and the water is lovely and crystal clear making for great swimming or snorkeling opportunities. You can easily head off the beach back to your hotel or grab lunch in one of the restaurants when you want a break from the sand, and if you don't like traveling around or you're here with family, White Sand Beach would make a great place to stay for your entire vacation.
Of course, the fact that there are resorts, hotels and restaurants here won't appeal to everyone. You can find more peaceful sections of the beach and times when it's not so busy, but if you're looking for peace and quiet this probably isn't the right Koh Chang beach for you!
  Tripadvisor Reviews
  Google Maps
2. Mu Ko Chang National Park Viewpoint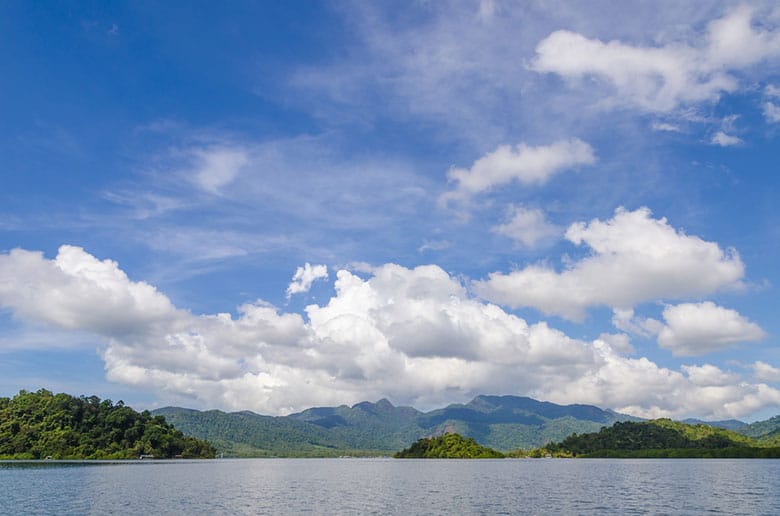 Mu Ko Chang National Park is a marine park that covers an area of 650 square kilometers (250 sq mi) and includes over 50 beautiful Thai islands in the Koh Chang archipelago. Koh Chang is by far the most significant of those islands and the park lands include large areas of Koh Chang's interior. If you're exploring the island of Koh Chang then the chances are you'll be within the park boundaries without even realizing it, but for an excellent overview of the park head to Mu Ko Chang National Park Viewpoint. Often rated as the top thing to do in Koh Chang, this attraction rates highly on our list of attractions too because it features breathtaking views of parts of the island and of the Gulf of Thailand. The viewpoint area has a parking lot and there are trails to walk on as well as an for children to play. The views are great whatever the time of day, but if you can be here for sunset you'll get some really impressive photos. Sunset is also a popular time for couples to visit. Come here for a romantic evening picnic or to take a walk around sunset.
  Tripadvisor Reviews
  Google Maps
  Official Website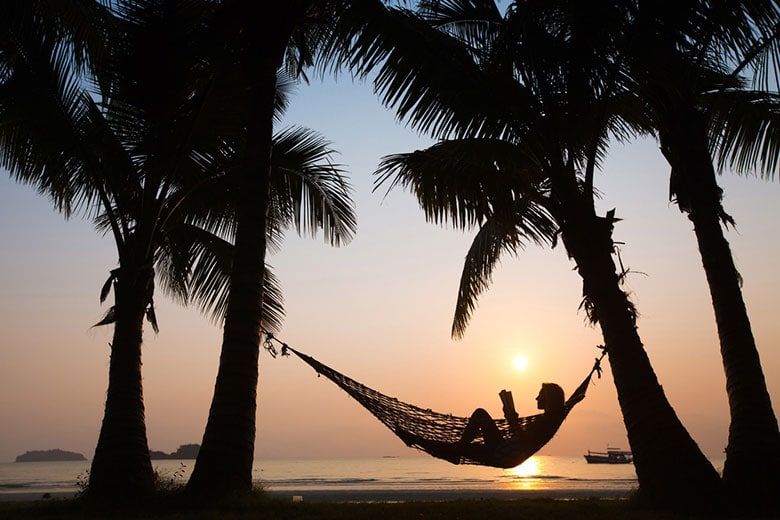 Known as Kong Koi or Kong Kloi this beach is set on the south coast of Koh Chang. We've already featured several beaches on our list of what to do in Koh Chang but this one is different because it's a nice, quiet alternative to the others, far from the busy beaches of the west coast that the majority of tourists and backpackers spend their time on. This is because Kong Koi Beach has not yet been developed. Just a decade ago this section of the coast was deserted; now there's a small community that includes some beachside cottages and bungalows to stay in, several bars and restaurants and even a minimart, but compared to other beaches, development has been very minimal so you're sure to have a peaceful and relaxing time if you visit for a day or stay here for longer.
Getting to Kong Koi Beach is not as easy as others on the island. The road becomes unmade and full of potholes especially on the last kilometer or so, but this is one reason why it's quieter and is well worth the journey if you're looking for a quiet place to spend some time on Koh Chang.
  Tripadvisor Reviews
  Google Maps
Travel to Koh Chang Island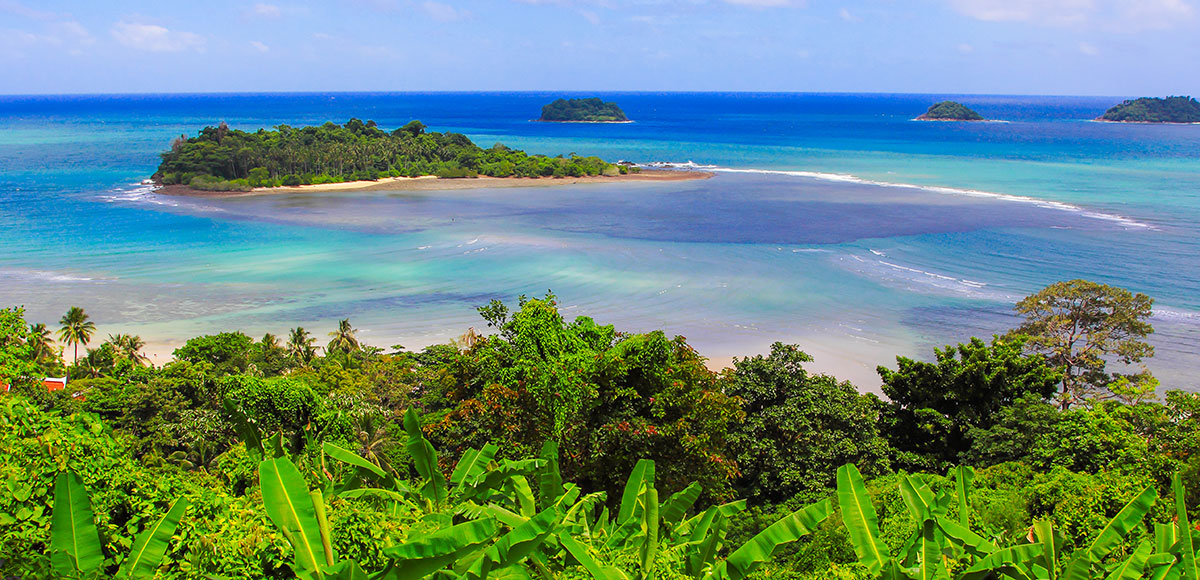 If you're looking for paradise you may have just found it on the island of Koh Chang! Filled with dense jungles rising steeply from the picturesque coastline, Koh Chang remains a relatively undeveloped and unspoiled island destination for Thailand, even though its popularity is on the rise. The third largest Thai island, Koh Chang is situated in the east of the Gulf of Thailand, close to the border with Cambodia and about 310 kilometers (194 miles) from Thailand's bustling capital city, Bangkok.
Meaning Elephant Island (because of its elephant shaped headland), Koh Chang is dotted with beautiful beaches, both sand and pebble, framed by lush and dense jungle and occasional villages. Despite it not being the easiest place to get to, Koh Chang is growing in popularity as more resorts and hotels are being constructed and, even though it is still a tropical paradise, Koh Chang does have a vibrant nightlife and party scene too.
Koh Chang's Relaxed Atmosphere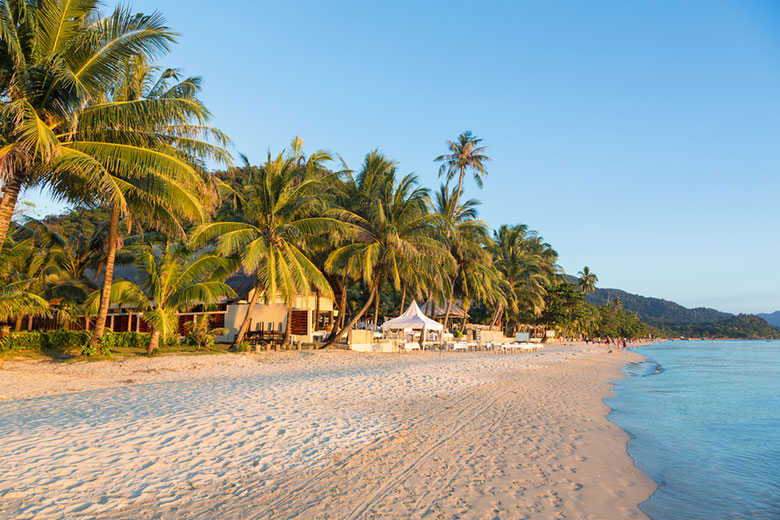 We could argue that you should visit Koh Chang Thailand today before it becomes the next Phuket, but development on the island has been relatively slow thanks in part to it being located within the Mu Ko Chang National Park which covers Koh Chang's interior as well as the beautiful coral reefs set just offshore. Mu Ko Chang National Park covers about 85% of the island and was designated a national park back in 1982. Definitely the western coast of Koh Chang has seen plenty of development including within the once tiny villages that are not growing to accommodate tourists and all their needs, but if you still want to experience the sleepy Koh Chang with its more traditional way of life, head to the southeastern coast and spend time in its little villages and jungles.
Things to Do in Koh Chang
Sandy beaches, parties and scenery are among the top things to do when you visit Koh Chang, but there's also culture in the shape of temples, and plenty of outdoor Koh Chang activities to try including jungle trekking, scuba diving and snorkeling, riding or even swimming with elephants, kayaking and boating to name a few, or you could just spend some time relaxing in a luxurious spa.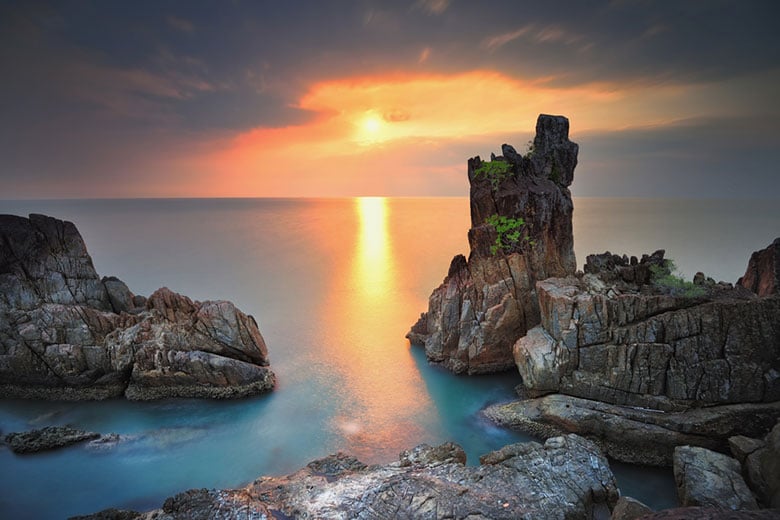 There are plenty of elephants on Koh Chang but despite the island's name they're not actually indigenous. Elephant trekking is a popular activity anyway, and being that there's such dense jungle and mangrove forest covering the interior of Koh Chang, seeing it on the back of an elephant is quite an experience.
Beautiful Islands Nearby Koh Chang
Tourists have been coming here since the 1970s but back then it was just a destination for mostly European backpackers who would arrive on a traditional thai boat and stay in very rustic accommodations. Today you still get here by boat as there's no airport, but the boats are a little more sophisticated – there are two ferry companies who transport both passengers and vehicles to the island from the mainland, running throughout the day. You can also take a passenger-only ferry for some island hopping during the high season (November to May) to some of the nearby islands in the Koh Chang archipelago for a change of pace and scenery.
How useful was this post?
Click on a star to rate it!
Average rating / 5. Vote count: