If you know much about Southern Thailand, the chances are good that you've heard of Surat Thani, but, have you really heard what this city has to offer? Surat Thani is famous as a transportation hub for the region, serving as a departure point for some of Thailand's most beautiful and best known islands: Koh Samui, Koh Phangan, and Koh Tao, to name a few, so while the city sees thousands of tourists pass through it, only a very small percentage of those thousands actually stay in the city and take the time to explore it. And that's a shame, because if you're looking for the more authentic Thailand and also want to enjoy temples, scenery, shopping, and some of the best food in the country, Surat Thani deserves your attention for more than just a few hours while waiting for your ferry! Come spend some time in the City of Good People and find out what working class Thailand is all about.
Read about:
• Best Times to Visit Surat Thani
• How to Get to Surat Thani
• How to Get Around Surat Thani
• Top Attractions and Activities in Surat Thani
• Best Places to Eat and Drink in Surat Thani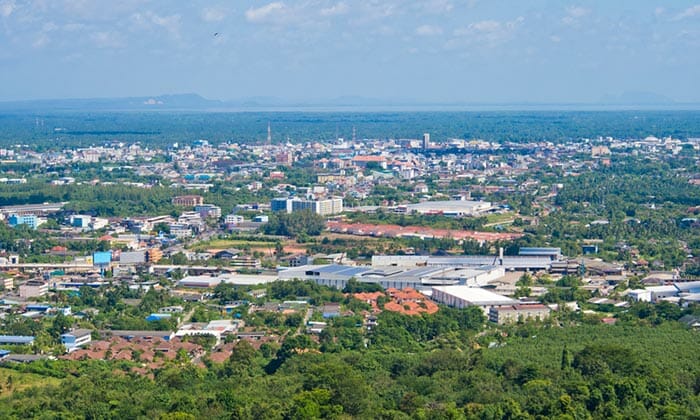 Best Times to Visit Surat Thani
Surat Thani has what's called a tropical savanna climate, but if you're not au fait with what that means, don't worry, we'll tell you! Basically Surat (as it's often abbreviated to) has just two seasons: a wet season and a dry season. Unfortunately, the dry season is very short, and even at this time of year, it's not completely dry. The dry season in Surat Thani is from January to April, then the wet season takes over from May to December. During that time, the wettest two months are October and November, with November being super wet, and probably best avoided!
The great thing about the weather in Surat Thani is that even during the monsoon season, the temperature stays quite constant. Average highs across the year vary only by a few degrees, from the low of 30°C (86F) in December to the high of 35C (95F) in April, while nighttime temperatures stay in the low 20's C (low 70's F) all year-round.
So, the best times to visit Surat Thani are in the dry season – from January to April – but December's rainfall is lower, and June, July and August have (on average) lower rainfall than the months around them too. You should also remember that even during the monsoon season, rain can fall heavily for only a few hours in a day, so you wouldn't be losing an entire day to rain if you visited in the wet season. Visiting Surat Thani during the wet season does have a number of advantages too – there are far fewer tourists around and so hotels may offer great deals on their rooms, and you're more likely to get to enjoy that authentic Thai experience when there are fewer foreigners in the city!
How to Get to Surat Thani
The City of Surat Thani is the capital of Surat Thani Province, in Southern Thailand. The city itself lies near the mouth of the Tapi River where it meets the Gulf of Thailand, so it's on the east coast of the Malay Peninsula, and on the western side of the Gulf. It is about 620 kilometers (406 miles) south of Thailand's capital, Bangkok, and with Surat Thani being situated on the mainland it's easy to get from the rest of the country.
From Bangkok to Surat Thani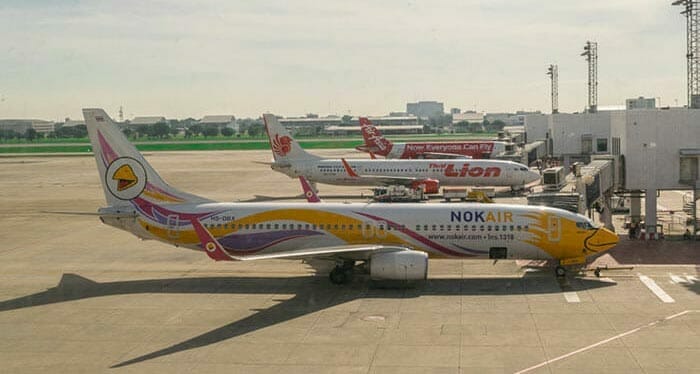 Because Surat Thani is the perfect gateway to the islands of Koh Samui, to Koh Phangan and to Koh Tao, this is a popular route so there are lots of ways to travel from Bangkok to Surat Thani. The fastest way is to fly – it takes just over an hour of actual flying time, and you can fly from either of Bangkok's airports: Don Mueang and Suvarnabhumi. From Don Mueang you have more choice of flights because Nok Air, Thai AirAsia, and Thai Lion Air all fly from there. With competition between the airlines you're more likely to find a good deal on the ticket price, and of course you'll have more options on flight times and days. From Suvarnabhumi, there's only Thai Smile flying to Surat Thani.
You can also catch a train from Bangkok to Surat Thani if you want to save some money. It takes a long time though, and varies depending on the exact train, but expect a journey time of anywhere between 8 hours and 12 hours. Sleeper trains are a popular choice because you can save the cost of a night in a hotel and sleep on the train.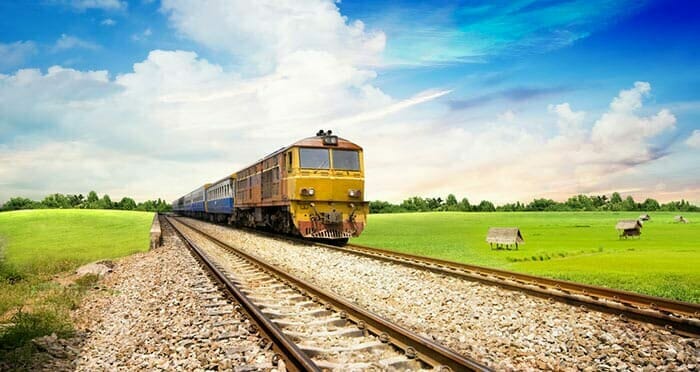 The final option, and cheapest, is to take a bus from Bangkok to Surat Thani. Like the train, it does take a long time but it's great if you want to save money as the bus is very affordable. Expect a drive of between 9 and 11 hours, and we would recommend that you buy a ticket for a VIP bus as you will have more space, reclining seats and extra comfort.
You can book your tickets for all of these different options online through the website 12Go.asia. Search for the date you want to travel and they show you search results for all the different forms of transport and different companies so you can compare their prices, the service, trip duration and customer reviews.
From Koh Samui to Surat Thani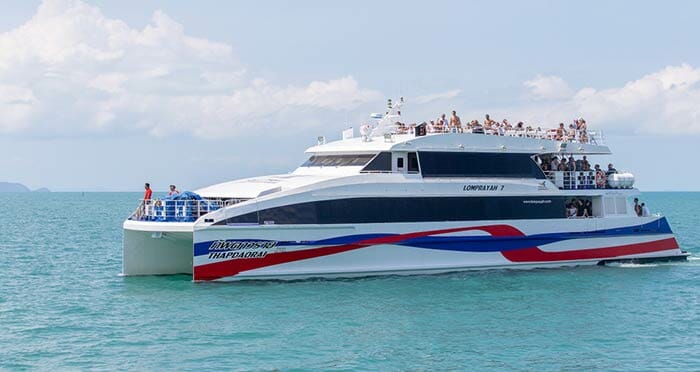 Getting to and from Koh Samui is a very popular tourist route also, so if you've been staying on Koh Samui and now want to travel back to Surat Thani, either to stay in the city itself, or to travel on to somewhere else, you can buy your tickets through 12Go.
Koh Samui does have its own airport, but being an island that is not too far from Surat Thani, you wouldn't fly between one and the other. Instead, you'll need to take a ferry, and you can get ferry tickets just on their own, or you can buy combined tickets that include a transfer from your hotel on Koh Samui to the ferry, and then once on the mainland, a transfer to Surat Thani Airport, if that's where you're going. Of course, there are also options to take you right into Surat Thani city or to the train station.
Look at the different ferry types when you're booking your tickets as the cost and the speed of the ferry does vary. Songserm, for example, operates modern high speed ferries, as does Seatran Discovery, and there are catamarans operated by Lomprayah. A more typical, slower ferry, is operated by Raja Ferry but these are slower and less comfortable, although cheaper.
How to Get Around Surat Thani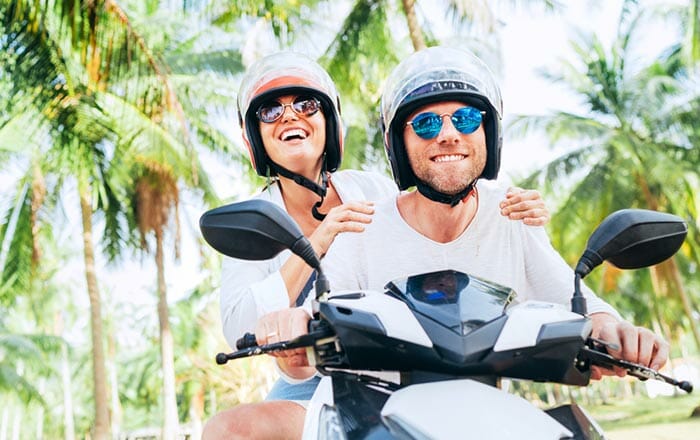 Although Surat Thani is about the fourteenth largest city in Thailand by population, it's really quite small and far less busy when compared to the capital, Bangkok. In terms of its actual size, Surat Thani spans both shores of the Tapi River, with most of the city development being on the southern side of the river including the busy city center. If you're staying in Surat Thani and want to explore the center of the city, you can mostly do this on foot as it's not too spread out when making your way between markets, restaurants, shops and attractions, and walking gives you a far better sense of the atmosphere of a city compared to flying around on a motorbike!
Motorbikes are an option though if you'd rather get around the city faster, or you want to venture a little further out. You can rent new and well-maintained motorbikes from a reputable company called X Motorbike Rentals, right in the heart of the city.
Public Transport in Surat Thani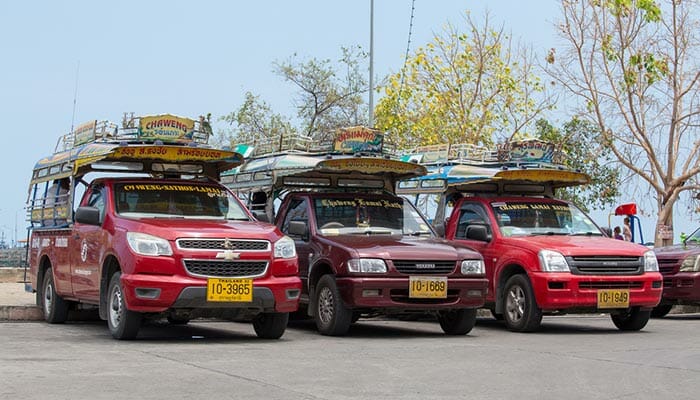 Being a larger city than others in the region, there are local bus services and pick-up minibuses as well as songthaews and tuktuks to get you around the city too. Public transportation is cheap in Surat Thani, as it is across Thailand, so this is a good option if you want to cover a longer distance and don't want the expense of a taxi.
Be aware that Surat Thani has three bus stations, so getting around can be a little confusing. There is the bus station outside of the city center that handles long distance buses. If you're arriving here you can then get a local bus into town. The local buses are orange and non-air conditioned so they're not the most comfortable, but great for a short distance!
Top Attractions and Activities in Surat Thani
Ask most people who are familiar with Southern Thailand what you should see and do in Surat Thani and they will probably tell you 'nothing'! As we said before, Surat Thani is best known as a hub for the nearby islands, and many people only pass through the city very quickly on their way elsewhere. But, while Surat Thani doesn't hold a lot of attractions, it provides tourists with a far more authentic look at the real Thailand, so if you have time to spare, check it out and experience what Thailand is like off the main tourist path.
No, this isn't a joke – it is actually a college for training monkeys and yes, we are talking about monkeys of the cute hairy variety! Countries in Southeast Asia often have a bad reputation when it comes to caring for animals, so when you come across a place like this, it's nice to support them by visiting. The monkeys are being trained to collect coconuts and the training seems to be done in a way that's not at all detrimental to the monkeys. There are no punishments if they don't succeed, only rewards.
Pra Cha Rat Floating Market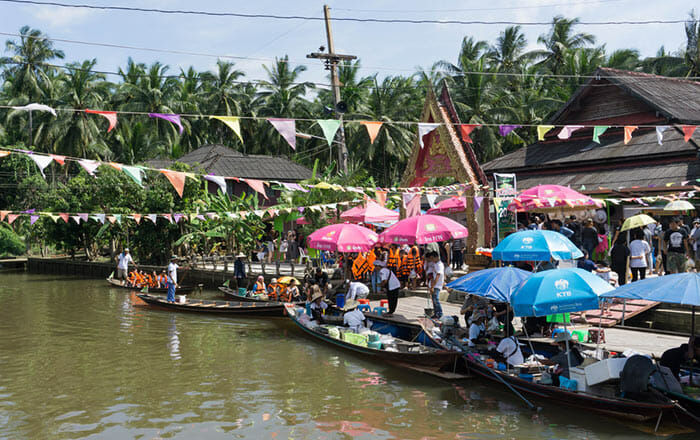 Surat Thani has many different night markets which are highly recommended for great food and an assortment of affordably priced items, but for something a little different, go to the Pra Cha Rat Floating Market. It gives visitors the chance to experience more of that authentic Thai life and culture we were talking about! The vendors are locals from the surrounding rural areas who come here to sell food, mainly, which is extremely cheaply priced. Be sure to also take a boat ride from here, along the river, to really experience where the locals live. Within no time at all you're floating through jungle with homes built right by the riverside.
Temples of Surat Thani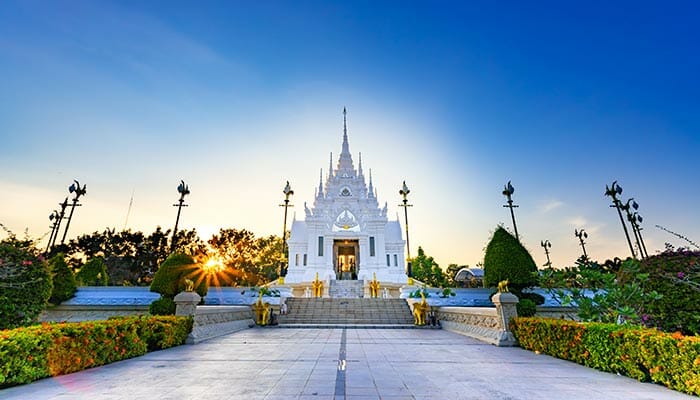 As with any city in Thailand, Surat Thani has many temples and shrines, some bigger and more impressive than others, but certainly worth exploring the city for. You can come across a temple in the most unexpected places, so really just walking around the city you're going to see many. Some of the highlights you may like to look for include Wat Tridhammaram. It's accessed via a small alley, so not immediately obvious, and is famous for its two giant Buddhas who are sitting beneath large, lush trees. There is also a Chinese temple, Sanjaojao Maeguan-im, and another must-see is the Surat Thani City Pillar Shrine. Also look for Phra That Si Surat because, if nothing else, this temple is at a higher elevation and provides a good view of the city.
Parks in Surat Thani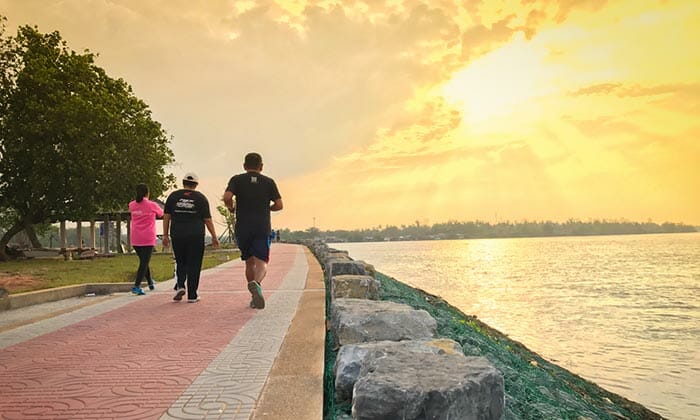 Set around a small lake, Rama 9 Park is a lovely place to take a walk away from the traffic and wander around its walking and cycling paths, especially if you're staying on the eastern edges of the city center.
Another park that is closer to the city is Ko Lamphu Public Park. Set on an island that's connected to the north side of the city via a bridge, this park is also set around a lake and again, makes for a lovely place to come and relax, amidst peaceful surroundings. There are landscaped gardens here as well as places for activity if you want to do some sports, like badminton, basketball or volleyball, or it's the perfect place to watch the locals enjoying themselves if you want to immerse yourself in more of Surat Thani's culture.
Best Places to Eat and Drink in Surat Thani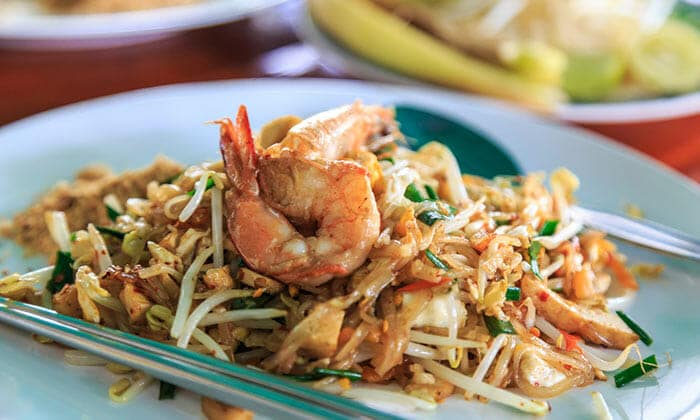 In case you hadn't already figured this out, Surat Thani is the perfect place to visit to experience the real Thailand! This isn't a city that you come to to hang out with fellow tourists – although there obviously will be some other tourists as well as expats in the city. And, don't come to Surat Thani for the nightlife – if that's what you're looking for, the island of Koh Samui will be calling you! But, do come to Surat Thani for some of the best food in Southern Thailand.
For the cheapest eats, and great tasting authentic Thai food, head to the night markets. These places are bustling with activity, and whether you want to shop or not, come out just to try some of the food and soak in the atmosphere. You'll get plenty of local favorites here including Pad Thai, and when you want something refreshing for dessert, you can get that here too!
Surat Thani also has many restaurants, from hole-in-the-wall places to upmarket offerings. So, this is a great city for tourists on any budget, as you can fill up for just a few dollars, but when there's a special occasion, or you just fancy sitting down in more luxurious surroundings, that's possible too. One thing you'll also notice is that there aren't too many international places to eat in Surat Thani, so you're less likely to find Western fare here; another indication that this is more authentic Thai, however, this does seem to be changing with a number of international fast-food restaurants appearing. Here are some of the top-rated restaurants in Surat Thani.
Milano Italian Restaurant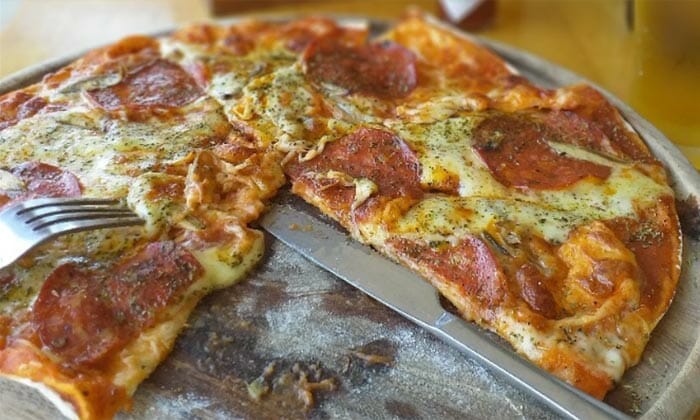 When you do want a break away from the traditional Thai food that's so frequently found in Surat Thani, try this Italian restaurant. Their specialty is pizza and pasta, with pizzas that are hand-made and stone baked, so more like the authentic Italian style than you would find in a chain pizza restaurant. It's usually busy here, probably helped by the fact that it's close to the pier so appeals to people waiting for a ferry and looking for somewhere to eat, but either way, Milano has good ratings and a choice of other international and some Thai dishes on its menu too.
Sweet Kitchen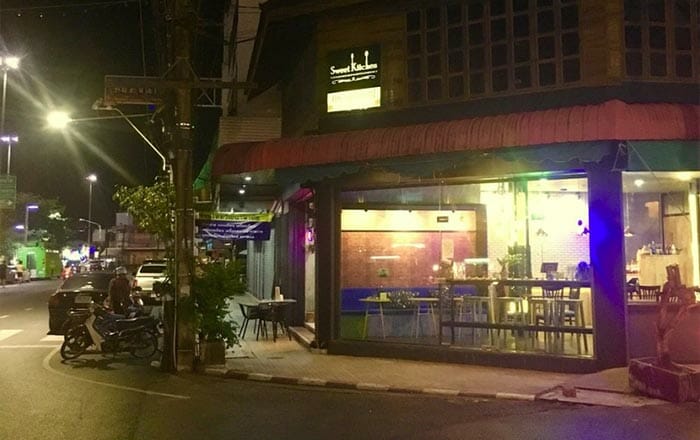 Sweet Kitchen is similar in a way to Milano, but their focus is on Thai food with some international dishes mixed in for good measure. They also serve pizza, but we'd recommend Milano if you want a pizza fix! Sweet Kitchen is better known for its Thai and Asian food with some great seafood dishes and more Thai traditional dishes than you could eat on your entire vacation! This little restaurant has a great vibe too, casual yet professional.
Day & Night of Surat Thani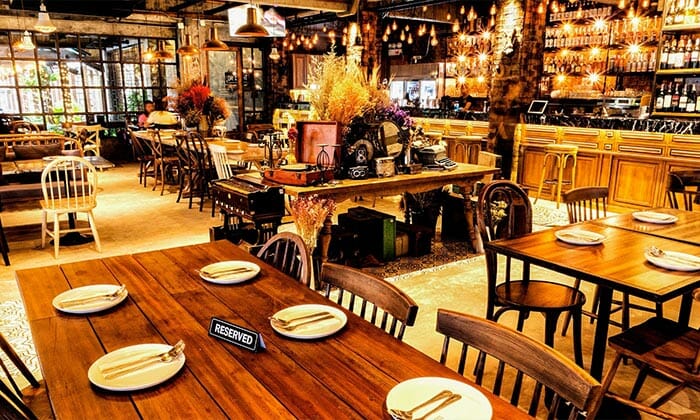 For the more fine dining, upmarket experience, try Day & Night. This smart restaurant is a fusion of many things: Thai, Asian, European, Café, and has the ambiance of an eclectic restaurant come brewpub that you might find on a street in New York!
Best Bars in Surat Thani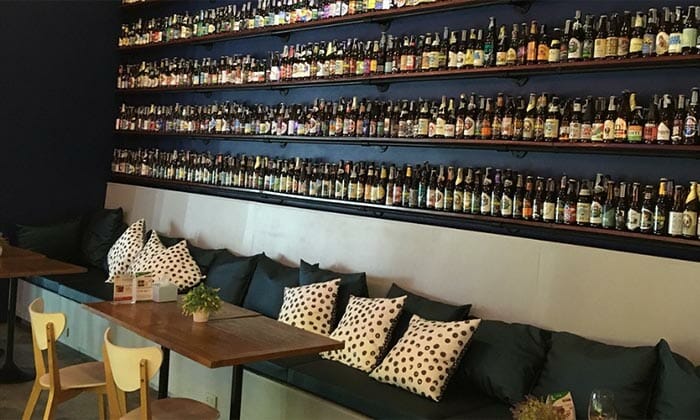 There isn't really much in the way of nightlife to speak of in Surat Thani but there are some great bars if you want to head out for a few drinks and an evening of socializing. One popular spot, especially on a Friday and Saturday night, is the ferry pier, Ban Don – the Night Boat Pier – where there are make-shift tables and chairs around the food stalls, and places you can buy a beer to enjoy while waiting for your ferry, or just come here to hang out for the atmosphere as it's not as touristy as you might expect.
If you want to actually go somewhere and sit down for the evening, there is mouth2mouth. It's reputed to be one of the most popular places for a drink in Surat Thani. It has a nice atmosphere but isn't exactly authentic Thai. This is a modern place with plenty of foreign and craft beers, and more Western cuisine on its food menu than you can find elsewhere in the city.