Out of the three popular Thai island destinations just off the east coast in the Gulf of Thailand, Koh Tao is the smallest, but don't let this fool you… size isn't everything! Packed full of incredible scenery, amazing dive sites, breathtaking beaches, great places to stay, and a hip and happening nightlife, this small island will keep you occupied if you're looking for activities, or provide the ideal place to relax if you want to take it easy. Meaning 'Turtle Island', Koh Tao is home to turtles and an abundance of other marine life. In fact, it's the dive sites and crystal clear waters that this island first became famous for in the 1980s. Today, it may not be so busy as the neighboring islands of Koh Samui and Koh Phangan, but Koh Tao has developed its own tourism industry with a great range of accommodation to suit all budgets, as well as restaurants and bars. Our Koh Tao travel guide will tell you about the best dive sites as well as all the other amazing things you can see and do on this island.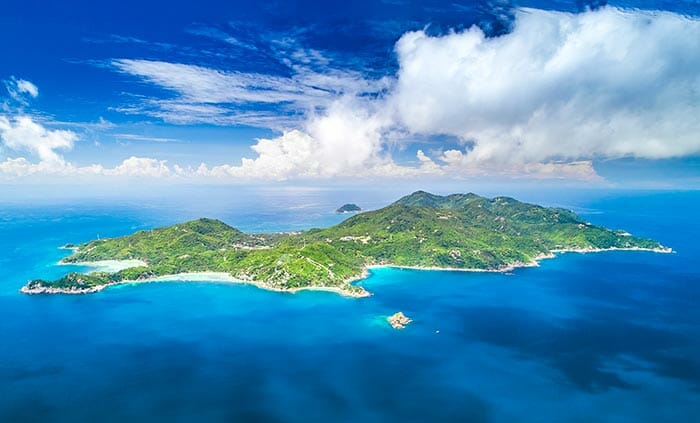 Best Times to Visit Koh Tao
With its hot weather, Koh Tao is a great place to visit at any time of the year, but some months are better for some activities than others. Bear in mind when the monsoons will hit, and what conditions will be like before and after that period as water levels change quite dramatically. This will affect how good the diving and snorkeling will be, or how good the beach will be for sunbathing.
The tropical climate on Koh Tao means that it's hot and humid all year and the best time to visit is during the dry season in January to May. You should expect to see some showers whenever you're here, but outside of the monsoon season the showers are usually short and sharp with the weather clearing up very soon afterwards. The monsoon can start as early as October and goes on into November and sometimes until mid-December too. Visiting at this time will mean you're having to contend with lots of rainfall but there will be sunny breaks too. The increase in rain means that water levels become higher around this time so if you're coming to Koh Tao for the diving, visiting from December through to March could be the best for you as all the bays where you can snorkel and enjoy the coral will be full of water.
February is usually the driest month on Koh Tao, and from about April to September, when the sea levels have gone back down again, the beaches are broader and the tides and waves are low. This makes it a great time for sunbathing and beach activities, and can be good for swimming if you prefer shallow and calmer water.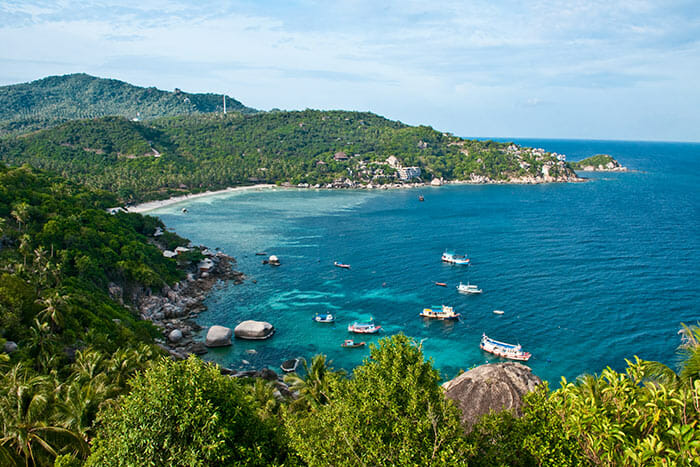 Koh Tao is situated roughly 73 kilometers (45 miles) off the coast of Thailand and is part of the Chumphon Archipelago in the Gulf of Thailand. Being just a small island it's not surprising that Koh Tao doesn't have its own airport, so this means the only way you can reach this idyllic island is by boat. The good news is that you're not restricted to just one type of boat or one route; there are actually multiple ways to get to Koh Tao depending on where you are starting from. The boat ride is shortest from Chumphon, but if you are on Phangan or Samui already, the boat trip will be short too.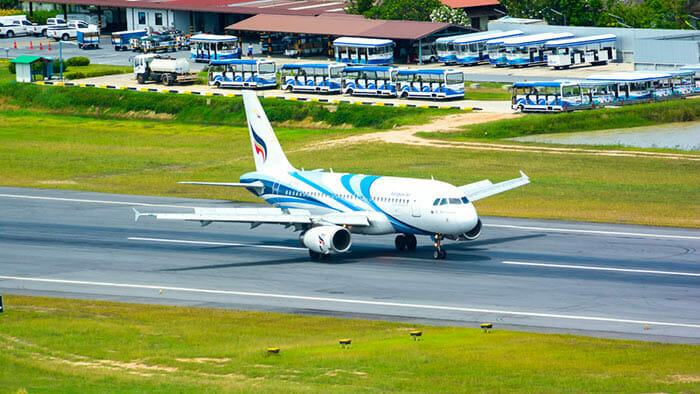 If you've spent some time exploring the bustling capital of Thailand, you're probably craving a place that's more peaceful. Traveling from Bangkok to Koh Tao is a popular route, and there are three different ways to do it.
You can fly as far south as possible from Bangkok before getting on a ferry. Flying to Koh Samui and catching a ferry from there is one option, but there are also other nearby airports on the mainland that will connect with ferry crossings to Koh Tao too. These are Surat Thani and Chumphon. If you opt for the second or third option, you can buy combined flight, bus and ferry tickets from reputable online booking websites such as 12Go.asia. Book your tickets all in one place and you get every part of your journey covered, leaving you with nothing to worry about on the day. Fly to Chumphon with Nok Air and you can connect onto a Lomprayah ferry, or go to Surat Thani with Air Asia and connect with a Seatran Discovery ferry.

If you're trying to save some money on your trip to Koh Tao, flying isn't usually the most affordable way to travel, but going by bus is! Because it's affordable this is also the most popular way to travel from Bangkok to Koh Tao, meaning there will always be plenty of options available to you for booking. We recommend visiting 12Go for these tickets also because you can get combined bus and ferry tickets with well known Thai companies, Lomprayah and Songserm.
A third option is to take a train from Bangkok to Koh Tao. The train doesn't get you all the way to the island, of course, but it will take you as far as Chumphon Railway Station. If you catch a sleeper train from Bangkok you can travel overnight and then catch the Lomprayah Catamaran. This should be cheaper than flying, but with long train journeys – and often delays on the railways – it can be a frustrating way to get from Bangkok to Koh Tao.
From Koh Samui to Koh Tao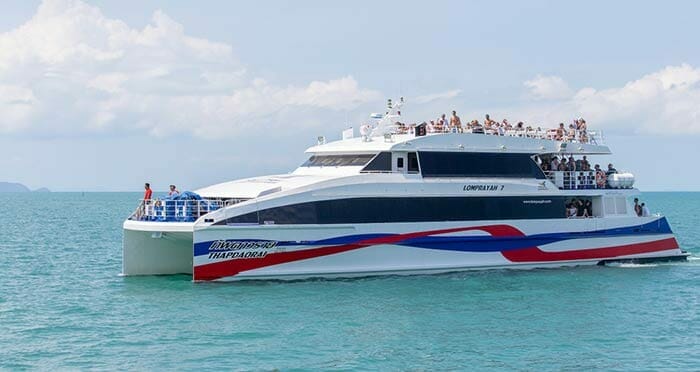 As the largest island in the group, and one of the top tourist destinations in Thailand, Koh Samui does have an international airport. You could fly here direct from a number of cities in Thailand itself, as well as from a select number of other Asian cities, but the main airline using Koh Samui is Bangkok Airways. There is a ferry pier very close to Koh Samui International Airport, but this one (Big Buddha Pier) does not have services to Koh Tao. Instead you would need to transfer to another pier, either Maenam Beach Pier (also known as Paralan Pier), or from Bangrak Pier. Services are faster from Maenam with Lomprayah operating their high-speed catamaran. From Koh Samui to Koh Tao takes about 1.5 to 1 hour 45 minutes. From Bangrak with Seatran it's going to take around 2 hours.
From Koh Phangan to Koh Tao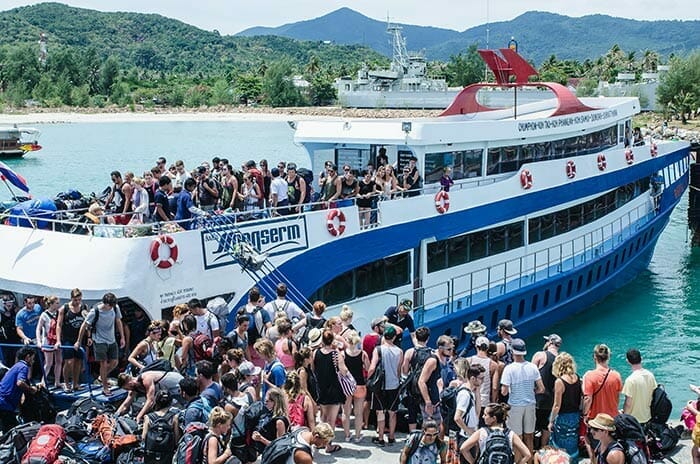 Koh Phangan is the closest island to Koh Tao and hence the ferry from here should be the fastest. The same ferry companies operate these routes as they do from Koh Samui and the mainland, so you can travel by Lomprayah on their high-speed catamaran and it should only take an hour. As this is the fastest way to travel it is also more expensive, so if you're looking for a cheaper alternative there is Seatran Discovery. Their high-speed ferry takes about 90 minutes. An even slower and cheaper option is with Songserm. You can save several hundred baht over the cost of traveling with Lomprayah but the journey will take double the time at 2 hours.
How to Get Around Koh Tao
Koh Tao is really quite a small island, so it wouldn't take too long to explore all of it! It covers an area of about 21 square kilometers (8 sq mi), and the interior is quite hilly and fairly dense with tropical vegetation. Expect plenty of unmade dirt roads, and those that have a harder surface will still be in bad shape.
There are no railways on the island, so getting around by road is your only option, unless you travel by boat. Even though the roads are the main way to get from A to B, don't expect any bus services as there's no public transport on Koh Tao. So, how do you get around then?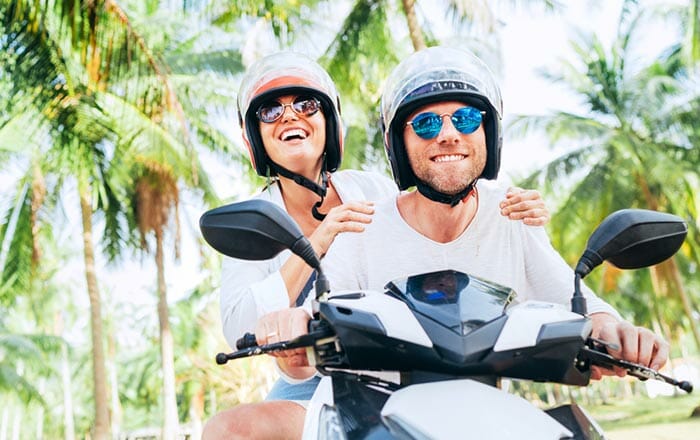 Renting a motorbike or an ATV is the best way to get around if you want to be independent, but do be careful. If you're not used to riding either of these, get yourself accustomed to how they feel before heading off around the island. Some roads are in such bad shape that you will essentially be off-roading, so drive slowly and carefully, and never drink and drive. Exploring the island by motorbike or ATV can be a great way to get to many different places, like a different beach or dive site, and if you make good use of it, the cost of renting one of these vehicles will quickly be cheaper than it would to get taxis everywhere.
If you're not feeling adventurous, or you've had a few drinks and need to get back to your hotel, there are taxis on Koh Tao but you'll usually only find them in the larger towns of Mae Haad and Sairee. For short distances they're not so bad, but if you try to take a taxi to the other side of the island, it can end up becoming costly. For this reason, unless you are renting a vehicle yourself, we would recommend taking a boat if you're heading to another beach.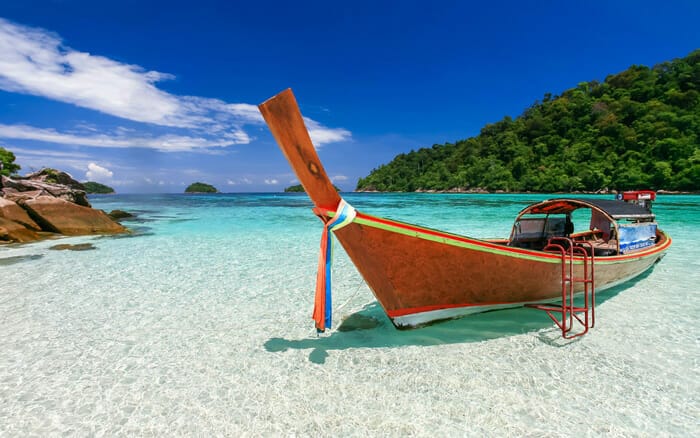 Longtail boats are an affordable, scenic, and relatively fast way to get around Koh Tao as it avoids you having to climb over hills on sketchy roads! There will be boat operators that take regular trips up and down the coast, but you can also hire a boat and driver to take you somewhere specific. It sounds as though this would be expensive, but it should be less than the cost of a taxi and the boats can take a group of people in one go, again saving money.
Top Attractions and Activities on Koh Tao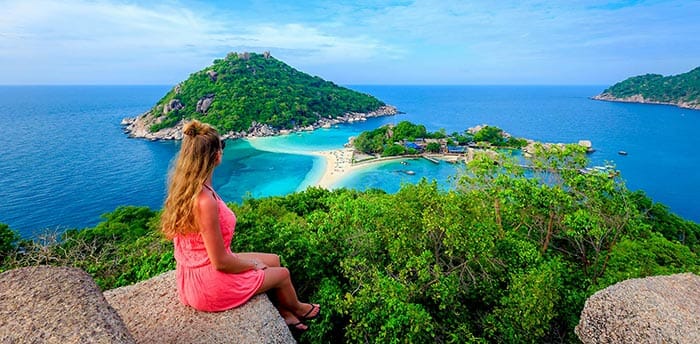 Compared to some of the other popular Thai islands and big cities on the mainland, you wouldn't necessarily come to Koh Tao to visit specific attractions as there really aren't many. That's not to say there's nothing to do here; on the contrary, the appeal of Koh Tao is its scenery and its diving opportunities, and it's a great place to come to simply relax! The beaches are among the best attractions, but when all the beaches are as gorgeous as they are on Koh Tao, it's difficult to choose just one or two to recommend over the others. All of Koh Tao's beaches are breathtaking, and just when you think you've found the most amazing piece of paradise, you'll come across another that's even better!
So, here's our guide to the best things to see and do on Koh Tao. Hint: there's quite a few beaches!
If you want to be close to the main town and all of its facilities, you'll want to spend time on Mae Haad Beach. White sand and palm trees, and a lovely bay makes this a very scenic place to spend some time, but unsurprisingly it's also one of the busiest beaches on the island. The big appeal is the fact that you can walk here from the main town and the ferry pier, and you'll never be far from the bars, restaurants and guesthouses.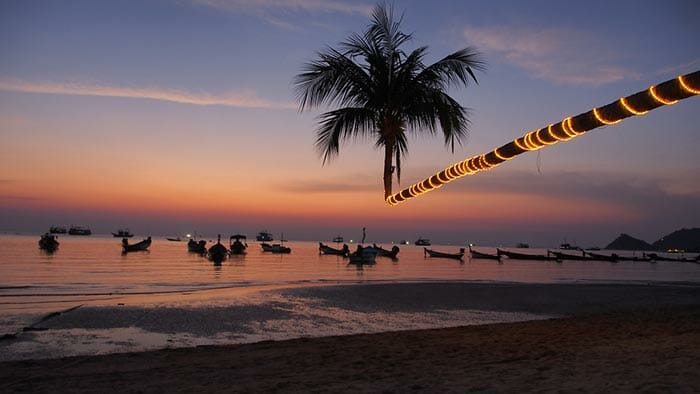 Just to the north of Mae Haad, and easy to get to from the main town, is Sairee and its beach. The soft white sand here is great for sunbathing or sunset walks on the beach before getting into Koh Tao's nightlife. This is where most of the island's nightlife is centered, on Koh Tao's longest beach, but because it's the best known beach on the island it will be busy too. Visit Jor Por Por at the southern end to see the rock formation where King Rama V carved his initials in 1899.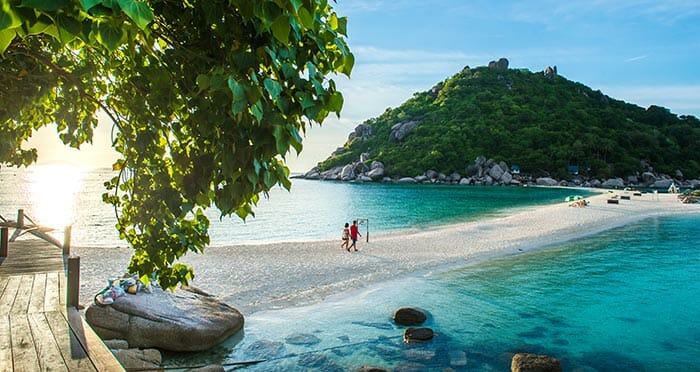 Just off the northwest coast of Koh Tao, and easily accessible for a small fee by boat, is a group of three very small islets called Koh Nangyuan. If you've seen photos of Koh Tao, the chances are high that you will have seen photos of this collection of islands that are linked together by a gorgeous sandbar beach. This is Koh Tao scenery at its best, and makes for a great half or full day visit from the island.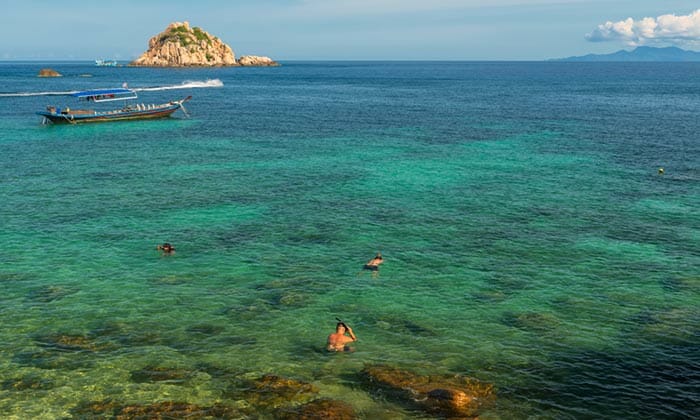 Snorkeling and diving are two of the most popular activities on Koh Tao, and without specialist equipment or guides required, snorkeling is the more accessible of these activities that can be done by anyone who can swim, including children. With coral reefs and marine life starting right off the coast of Koh Tao, you don't have to venture far from the beach to find coral reefs and marine life. You can swim with black-tip reef sharks at Haad Tien (also known as Rocky Bay or Shark Bay), or you can rent a kayak and venture to quiet bays where you can slip off your kayak into the water and swim with turtles and fish.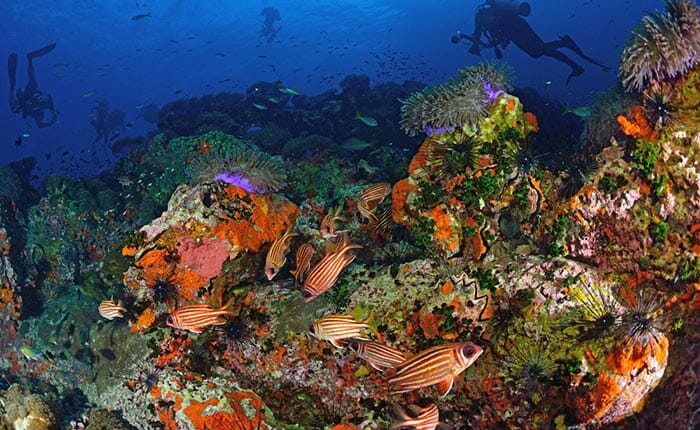 Once you've snorkeled in the waters around Koh Tao, you'll probably be tempted to take it a step further and try diving. Koh Tao is renowned as one of the best diving destinations in the world so you won't be surprised to hear that there are many dive shops and dive companies on the island, waiting to take you out to some amazing dive sites. Even if you've never scuba dived before, it doesn't matter as you can go out with experienced guides and take a course, and maybe you'll even end up getting an Open Water Diver qualification! There are many places to dive, but some of the best and most popular include the HTMS Sattakut wreck, Ocean Utopia, Japanese Gardens, Lighthouse Bay, and Chumphon Pinnacles, but there are many more than this too!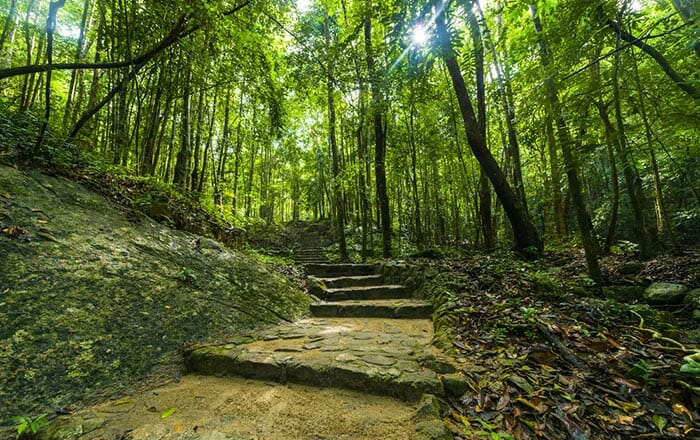 Koh Tao's appeal isn't only in the water; this island has some great hiking trails and scenery on land too. Most of the trails involve a climb up to a viewpoint, giving you a great hiking experience, and fabulous views. There's a circular hiking route that starts in Sairee if you want to hike a longer distance, or just pick it up in certain segments like the Two Views hike. This is one of the toughest viewpoint hikes but rewards you with amazing views of Sairee Beach and Tanote Bay. Mango Viewpoint is another that provides views of Sairee Beach as well as Mae Haad, or there's the John-Suwan Viewpoint. This is an easier climb to see views of Chalok Baan Khao Bay and Haad Tien.
Best Places to Eat and Drink on Koh Tao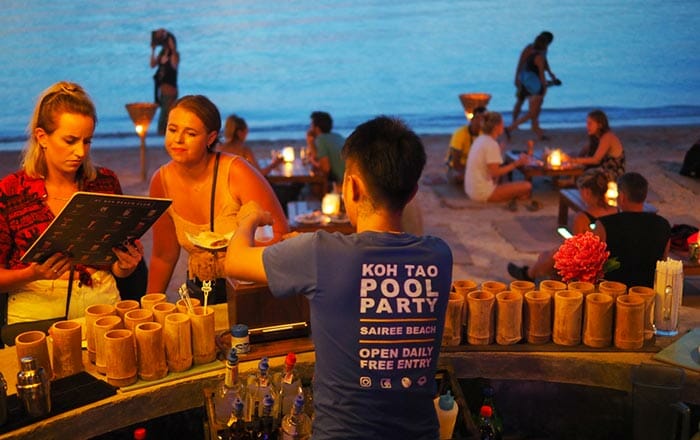 Koh Tao has a great selection of restaurants, as well as bars and clubs if you're coming here to enjoy the nightlife. If you're looking for more authentic Thai food, you're better off staying in or visiting one of the smaller resorts or villages, close to the quieter beaches. Here you're going to find plenty of seafood restaurants where fish is the main dish on the menu, but there will be a few other typical Thai dishes to choose from too. If you prefer to stick to the kind of food you're used to, staying around Mae Haad and Sairee Beach would be the better option for you as there's a good assortment of all kinds of cuisines here, from typical British pub food to Tex-Mex and fine dining, and many others in between.
The same can be said for the bars and clubs. On the smaller and quieter beaches there's really no nightlife at all. This makes these places great for couples on a romantic getaway, just wanting to relax and have a quiet evening. If there is any music or a good place to have a few drinks, it will be centered around the beachside restaurants.
There are plenty of bars in Mae Haad but if you're looking for the kind of nightlife that Koh Tao has become a little famous for, you're definitely going to want to be at Sairee Beach. The typical plan for a night out is to start at the beach bars at the northern end of this beach, then head to each nightclub you come to, working southwards. Here are a few recommendations for great places to eat and drink on Koh Tao.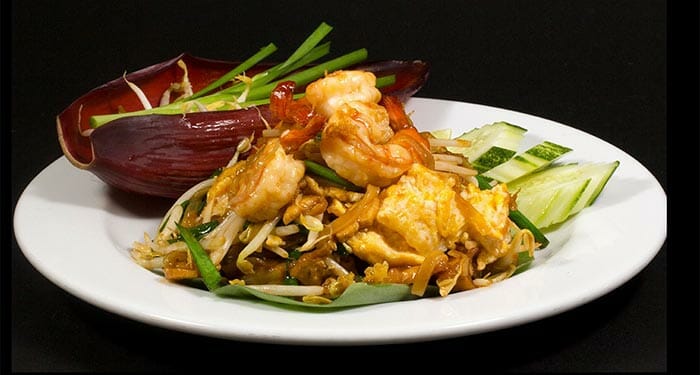 There are several thousand reviews of this excellent restaurant, located in Sairee Village, which has an overall rating of 4.5 out of 5. The Gallery is an upmarket Thai restaurant that has been described as serving the best Thai food in Thailand, so that's one of the reasons why we chose to feature it! A little more expensive than some restaurants on Koh Tao, the food here is still reasonably priced considering the quality and the overall atmosphere. There's an intimate feel in the main restaurant with its ambient lighting, and the food served is traditional Thai including dishes like Chu Chi Kung (prawns in hot red curry sauce), and Kana Moo Krob (crispy pork with fried Chinese kale).
As the name suggests, the restaurant is linked to a gallery where you can browse stunning fine art photography of Koh Tao, and admire the art on the walls of the restaurant too.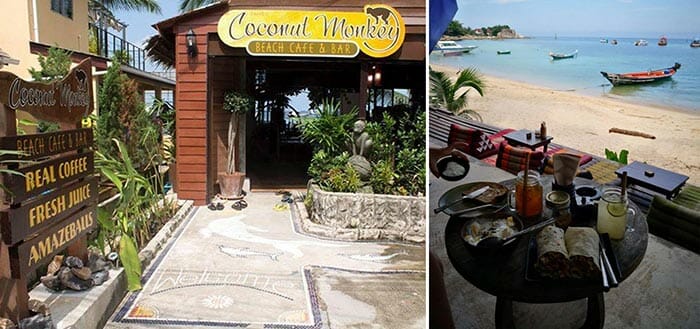 When you want a quick bite to eat, breakfast, lunch or dessert, try Coconut Monkey on Koh Tao. Right on the beach at Mae Haad, this European-inspired healthy food café serves all sorts of power foods as well as vegan and gluten free options, and coffee, of course! But there are also a few more naughty options on the menu like banana pancakes, quesadillas, and chocolate balls.
Best Bars and Clubs on Koh Tao
With so many bars and clubs on Koh Tao, it's difficult to choose just one to feature, so here are a few of the best. As mentioned above, most of the nightlife on Koh Tao is focused around Sairee Beach. Here you could visit Lotus Beach Bar where they put on an amazing fire dancing show every night. The Beer Masons is a different experience. Located in Sairee Village, this is more a place for sitting and socializing over a great beer as they have something like 100+ different craft beers!
Leaving Koh Tao? Read our guide Koh Tao to Phuket