You may know it as Ko Pha-Ngan, or Koh Phangan but whichever way you choose to spell it this is one of the most popular island destinations in Thailand! Situated in the Gulf of Thailand, close to the equally well-known Koh Samui and Koh Tao, Koh Phangan is best known as being home to the original Full Moon Party. Its roots as a tourist destination date back only a couple of decades when it became a top island for backpackers to come to, and the nightlife evolved around that. Today, it's still a great place for nightlife but Koh Phangan is also becoming a popular destination for families and for couples to enjoy its beaches and beautiful scenery, great selection of accommodation and many restaurants, bars and shops. If you're looking for things to do in Koh Phangan, read on for our complete travel guide to this amazing island!
Read about:
• Best Times to Visit Koh Phangan
• How to Get to Koh Phangan
• How to Get Around Koh Phangan
• Top Attractions and Activities on Koh Phangan
• Best Places to Eat and Drink on Koh Phangan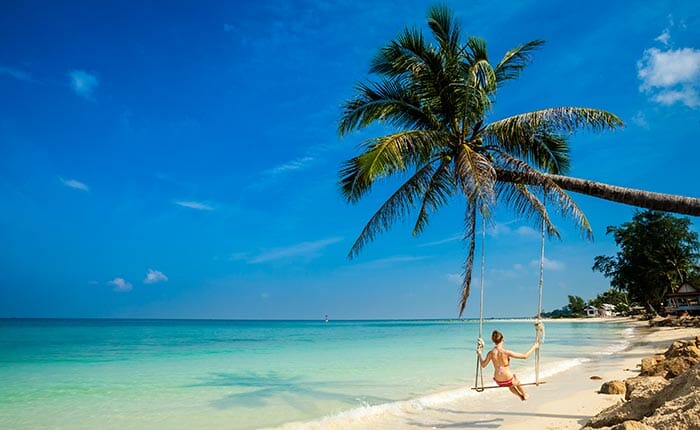 Best Times to Visit Koh Phangan
The weather in Koh Phangan is hot year-round, as you might expect. This means you could visit Koh Phangan at any time of the year if you're just in search of hot weather, but if you want to avoid rainy seasons and times when the beaches are not so great, you'll need to be more picky.
The daily high temperatures range from 30 to 35°C while the nightly lows are between 20 and 25°C, so there's really not a lot of variation across the year. That being said, there is variation in the amount of rainfall. The driest months are from January to April with rain increasing into May and June, then dropping a bit in July before going back up again and peaking in October and November.
High season for tourists to visit Koh Phangan is between December and March as this is mostly dry nice beach weather and also tourists from the northern hemisphere want to get some sun in the winter. July and August also get tourists because of school breaks in many countries even tho it is around 15 rainy days on average per month.
If you're coming to Koh Phangan for a Full Moon Party you should easily be able to find the dates for all the parties coming up, so arrange your trip to coincide with one. If this isn't your thing, try to avoid visiting during a Full Moon Party. At other times you can find cheaper accommodation, the beaches are far quieter, and Koh Phangan is more like it once was, with a relaxing, laid-back atmosphere.
How to Get to Koh Phangan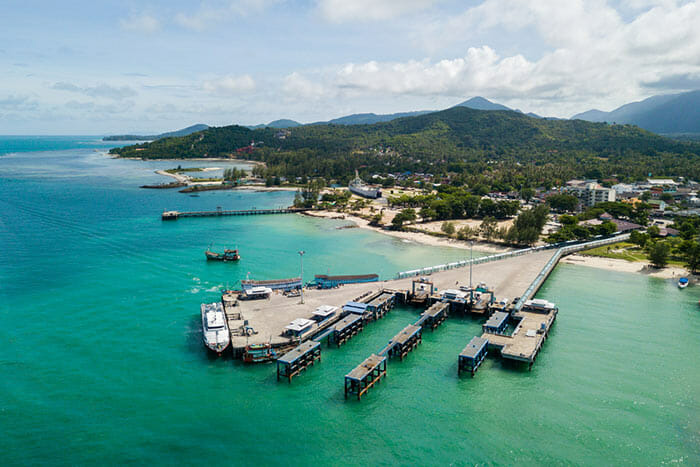 While Koh Phangan is not as quiet as it used to be, there is a plus-side to the island getting more visitors: it's now even easier to travel to Koh Phangan! There is no airport on Koh Phangan itself, but its sister island, Koh Samui, has an international airport if you're traveling here from other countries in Asia, or if you're heading south from Bangkok. There are also a few other airports in the vicinity, and you're likely to find cheaper flights to those than you will going to Koh Samui; great if you're trying to save money. However you choose to get here, you're always going to have to take a ferry ride to get you the final distance to Koh Phangan.
From Koh Samui to Koh Phangan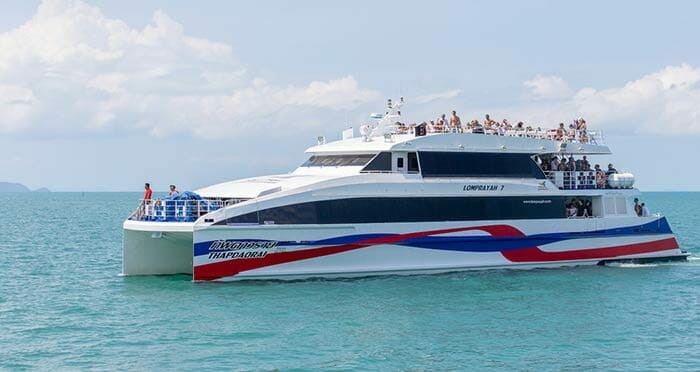 Whether you're visiting Koh Samui itself, or you've flown here from elsewhere, getting from Koh Samui to Koh Phangan is easy as there are frequent ferries making the trip. The Big Buddha Pier is only a short distance from Koh Samui Airport and there will always be transport readily available to take you there. There will be a selection of different ferries crossing to Koh Phangan – it's best to look for the fast ones as these are safe and reliable, taking about 30 minutes. Depending on the time of year, the last departure from Koh Samui to Koh Phangan is usually around 6:30pm, but during a Full Moon Party, there will be ferries darting back and forth throughout the night.
From Bangkok to Koh Phangan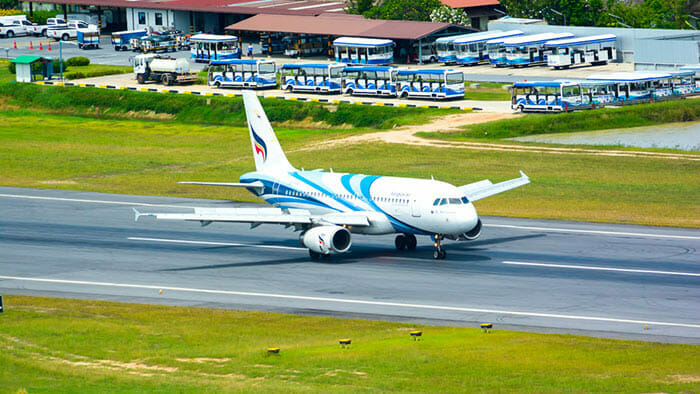 Flying is a fast option to get you from Bangkok to Koh Phangan but it's also far more expensive than other forms of transport. You can fly from Suvarnabhumi Airport in Bangkok to Koh Samui with Bangkok Airways. The flight takes about an hour. There are several other options for flying though, as mentioned above, as you could also fly from Bangkok – Don Mueang Airport – to Surat Thani Airport or to Nakhon Si Thammarat Airport. The flights will all take roughly an hour, but going these routes will add some time as your journey may involve taking a bus and a ferry, and the ferry trip will be longer. If you're trying to save money though, flights to these two airports will be cheaper than to Koh Samui and you can buy combined tickets for your entire journey through the travel website, 12Go.asia. Search online and they will give you all the best options for getting to Koh Phangan.

Save even more money and opt for a bus from Bangkok, then a ferry. This is the cheapest way to get to Koh Phangan but also one of the longest. Catching a train from Bangkok can take even longer as trains don't travel at high speeds, but you could spend the night on the train and save yourself an additional night in a hotel.
How to Get Around Koh Phangan
Koh Phangan is not a very large island, coming in at about 125 square kilometers (48 sq miles) and with a perimeter of about 40 kilometers (25 miles). This means it's quite quick and easy to get from one town or resort to another. The main town on the island is Thong Sala as this is where the ferries arrive to, so you'll no doubt be starting your visit to Koh Phangan here. There are basically just three ways to get around Koh Phangan: songthaew, motorbike, or boat.
Songthaew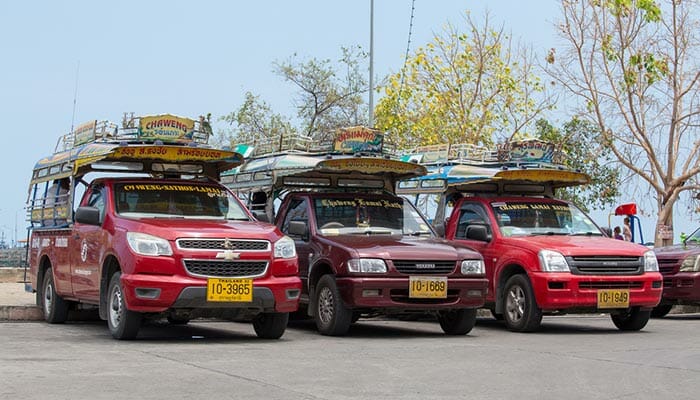 The songthaews are basically pick-up trucks that can hold several people. These are the only 'taxis' on the island, so if you want to get around and don't wish to rent a motorbike, there are no public buses, just songthaews. Prices for individual journeys are quite reasonable, but if you're using a songthaew multiple times, the cost will quickly add up.
Be aware that prices should be fixed at around 100 baht a ride but if you pick up a songthaew from the pier, they will try to charge you more, taking advantage of unsuspecting tourists. Once you get off the ferry, walk just a short distance towards Thong Sala and you can pick up a cheaper songthaew from the taxi station there.
Motorbike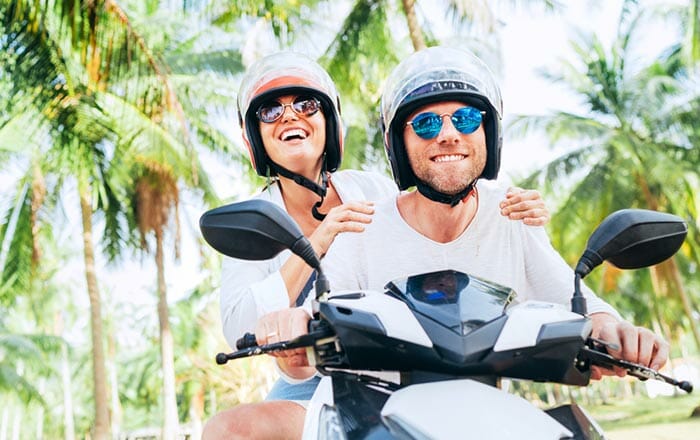 With affordable motorbike rental rates, many tourists choose to rent a motorbike in Koh Phangan for one or more days because it's so flexible, and could actually end up saving you money over taking songthaews everywhere. You'll see more motorbikes than anything else on Koh Phangan, used by locals and tourists, and being that these are low powered vehicles it's pretty easy to pick up how to ride one. The cost benefit also comes if you're traveling with someone else, as you can usually fit two people to a bike, saving money over having to rent two, or paying for taxis all the time.
You just need to use caution: don't drive too fast, be aware of changing road conditions (roads can be quite pot-holed at times), wear a helmet, perhaps try to avoid riding at night, and certainly do not drink and drive.
Boat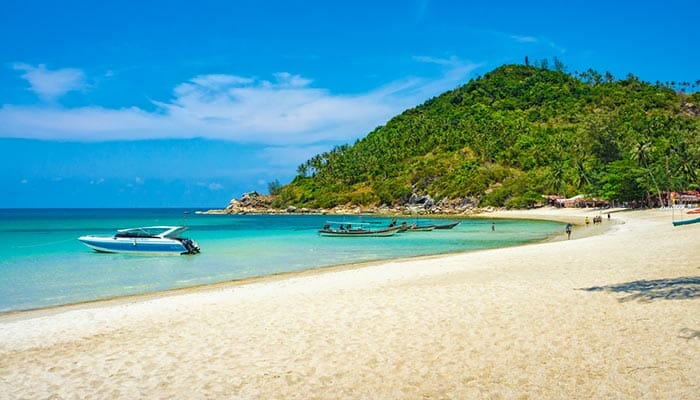 It may sound a little funny to be able to get around an island by boat, but this is actually a really good way to travel! Going by boat you can get to some of the best beaches in Koh Phangan far more easily than you can by road. Getting over the Haad Rin hills for example, can be quite a challenge on a motorbike, and there are plenty of dirt roads that you would probably like to avoid to. There are taxi boats so don't worry about having to charter a private boat, as taxi boats will ferry passengers to and from the most popular beaches for a reasonable fee, if you want to head to a different beach for a day.
You can also use boats to tour the entire island. Join a group of other tourists, or charter a boat yourself to take you to the best beaches and dive spots. Traveling by boat is a great way to see the island from a different perspective.
Top Attractions and Activities on Koh Phangan
Now that you know how to get to Koh Phangan, and the best ways to get around the island, you're going to want to know what attractions and activities you should not be missing! Here are some of the best things to see and do on Koh Phangan.
Full Moon Party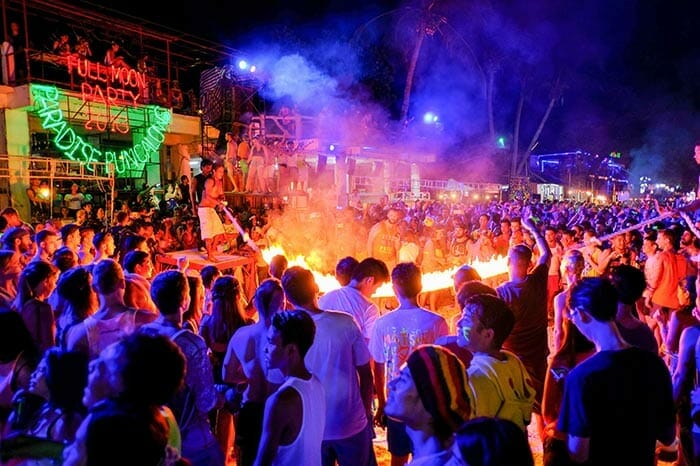 Dancing the night away on a beach with thousands of intoxicated strangers may not sound like your idea of fun but the Full Moon Party is what led to Koh Phangan becoming such a popular destination. Up to 30,000 (mostly) tourists can frequent Haad Rin's (Hat Rin) Sunrise Beach and the bars and clubs that line it, so if you're into the type of music they play here – which can include dance, R&B, trance, house, reggae and more – you're probably going to have a great time!
There's no doubting that going to a Full Moon Party on Koh Phangan is on many backpackers bucket lists, and its popularity led to a variety of other 'parties' on the island too, such as the Half Moon Party. With such a large number of people drinking and some doing drugs, Thai officials are trying to market Koh Phangan to appeal more to a family crowd so there may come a time when these parties are canceled altogether. If a Full Moon Party is on your bucket list, arrange your trip to Koh Phangan sooner rather than later to avoid disappointment!
Than Sadet-Ko Pha-ngan National Park
Unspoiled scenery can be seen all over Koh Phangan, but one of the best places is within the Than Sadet National Park. Here you can see a series of gorgeous waterfalls and the river, flowing down to where it spills into the sea. The national park was established in 1983 and the park is named for the River Than Sadet, meaning Royal River, because King Rama V loved coming here so much in the late 1800s. His name, and the name of several other kings who visited after him, can still be seen carved into rocks near the estuary. Come to this Koh Phangan attraction to see the waterfalls, the pools which are great for swimming in, the river, the rocks and the nice sandy beach.
Nam Tok Phaeng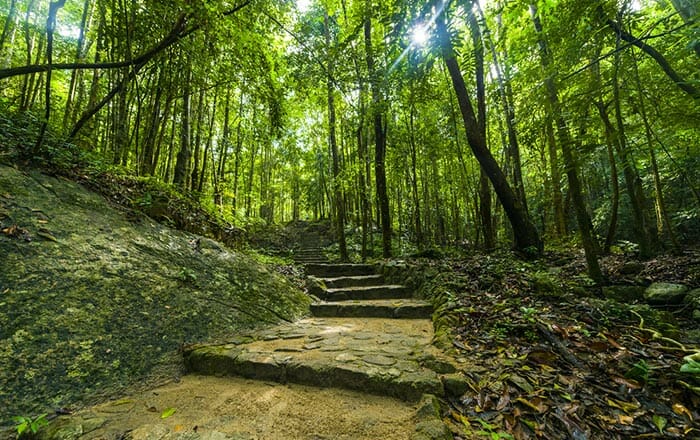 Nam Tok Phaeng waterfall is very beautiful but will only be flowing during and just after the rainy season. You can reach Domsila Viewpoint from here after a 15-minute or so hike up a trail. The views over the island are well worth the short climb, giving an amazing panorama of Koh Phangan.
Guanyin Temple
Wherever you are in Thailand there is almost always the opportunity to visit strikingly beautiful temples, and here on Koh Phangan is no exception! Guanyin Temple is a pleasant surprise, set amongst the trees slightly elevated above Chalok Lam Bay and providing great views. This Chinese Buddhist temple is dedicated to Guanyin, the Buddhist Goddess of Mercy and is a very colorful temple, well worth the visit.
Scuba Diving and Snorkeling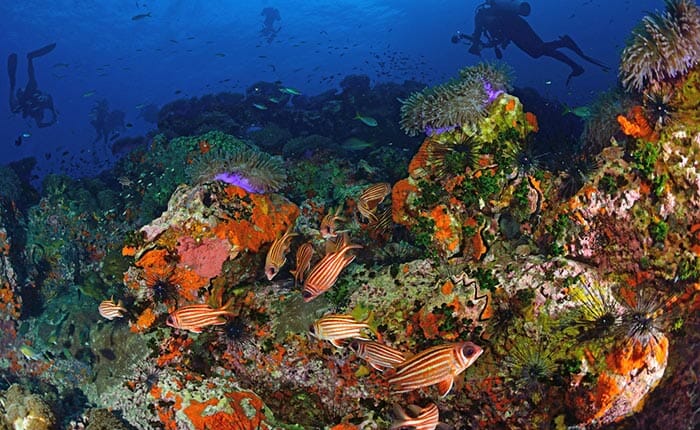 There are many great sites to go diving around the coast of Koh Phangan, and you don't have to be an expert to enjoy them as there are places suitable for beginners too. See corals, fish and other marine life just off the coast, or take a boat and venture further to secluded coves or the famous Sailrock dive site. You could also take a boat to nearby Ang Thong National Marine Park where there are many coral reef sites to explore.
The Beaches of Koh Phangan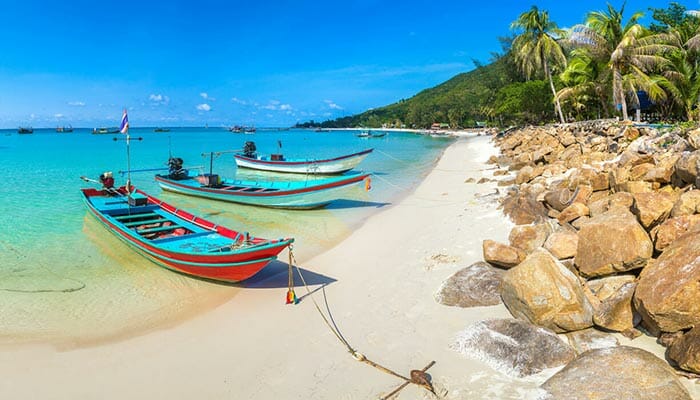 With so many amazing beaches on Koh Phangan, it's difficult to recommend just one or two. Obviously Haad Rin is good if you want to experience the Full Moon Party, but there are many smaller beaches that are more difficult to get to, making them quieter and great for relaxation. Of the beaches that are easier to get to, Salad Beach is lovely. It doesn't have loud bars fronting it, so does offer a quieter atmosphere, but there are nice restaurants and places to stay. Watch Thai fishermen come and go and soak in the more rustic ambiance.
Best Places to Eat and Drink on Koh Phangan
Choosing which are the best places to eat and drink on an island where there are ample restaurants and bars is a difficult task as everyone has different tastes. Are you looking for a lively atmosphere where you can rub shoulders with other tourists from around the world while dancing the night away, or do you prefer to find those quieter spots where the locals eat and drink?
There are some excellent food carts around the island and this is where you will find many Thai people eating. Food carts provide a more authentic Thai cuisine, and it's very cheap too. Try to avoid restaurants around Haad Rin if you're looking for the more authentic Thai food. Thong Sala, for example, has many of those food carts. There are plenty of restaurant reviews online and many different types of cuisine available in Koh Phangan. If you want an actual restaurant (as opposed to a food cart) and authentic Thai food, try Siri's Island Café.
Siri's Island Café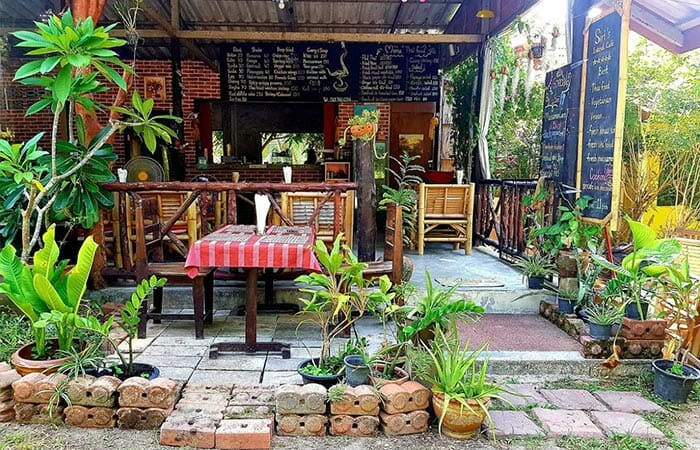 This cute place has a rustic vibe with its open-sided buildings. They serve lunch and dinner and focus on Thai food as well as some European and other Asian dishes. Reviewers say that the food is tasty and fresh, and reasonably priced, and the service is very friendly. Siri is the owner and chef, and she's always happy to come and talk to guests, or she'll welcome you as you arrive!
This top-rated Koh Phangan restaurant is close to Thong Sala in Moo 4 and is open until 11pm for dinner and 1am for drinks.
Satimi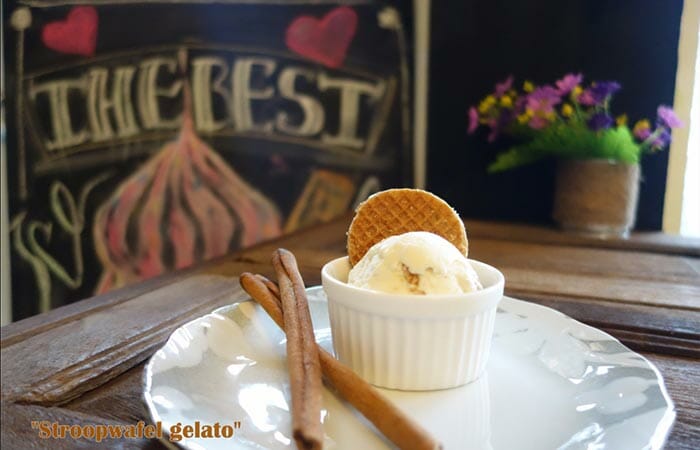 When you want a quick bite, a coffee, dessert or ice cream, there are many places on Koh Phangan to get these but we would recommend Satimi. Located right in Thong Sala, near the pier, this is a great place to head to once you get off the ferry and are looking for somewhere to sit and relax for a bit. They have vegan options and many different flavors of ice cream with a lot of the fruits coming direct from their own garden!
All over Koh Phangan there are numerous places to drink as well, if you're looking for a bar as opposed to a restaurant and bar. Again, if you want a more authentic experience try to keep away from the bars close to the most popular beaches and those within hotels as there will only be foreign tourists here. Bars close to quieter beaches give you a local, laid-back vibe and will be cheaper too. A lot of the bars are themed, so you can find different places to go depending on your mood, or on what you enjoy.
The Jam Bar Koh Phangan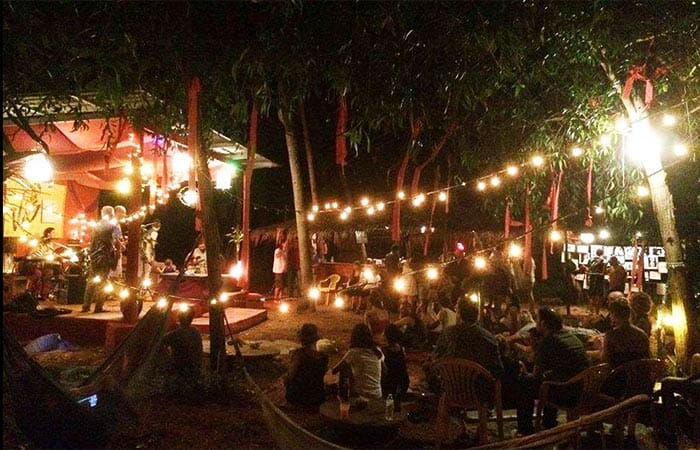 Nothing to do with the sweet stuff that you spread on bread, The Jam Bar is actually a place where musicians come to jam! This live music venue is always a fun, friendly and entertaining bar where anyone is welcome to go up on the stage with an instrument or just their voice, and join in with everyone else. There are often dancers and fire shows going on too and reviewers say that it's one of the best places on the island to meet new people.
If you want the vibrant, more typical club type atmosphere, you can easily find this on Koh Phangan too. On an island known for its clubs and beach parties, finding somewhere with loud music where you can dance the night away is not difficult!