The Vietnamese coastal city of Nha Trang may surprise you with its fantastic assortment of attractions, offering something for the whole family… it has historic landmarks such as the Ponagar Cham Towers and Long Son Pagoda; it has a beautiful white sand beach, set on a bay of turquoise water with tropical islands just off the shore, and one of them is linked via 3,320 meter long gondola lift! There are beachside hotels and restaurants, a promenade, a Walking Street, and great nightlife too, as well as a water park and amusement park for the families. After having so much to see and do, you may be looking for somewhere quieter to spend a few days, and the beach resort town of Mui Ne could be just the place! Its palm-lined beach is popular for water sports and it's generally quieter than Nha Trang. Be sure to visit its towering sand dunes and hike through the Fairy Springs!
Read about:
• Nha Trang to Mui Ne by Bus
• Nha Trang to Mui Ne by Taxi
• Nha Trang to Mui Ne by Train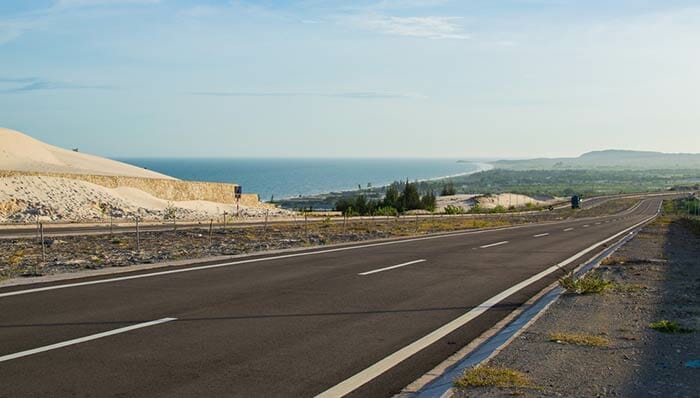 Options for Travel from Nha Trang to Mui Ne
When you want to experience these two contrasting Vietnamese beach resorts, you'll need to set aside at least half a day to get from Nha Trang to Mui Ne. The shortest road distance is about 220 kilometers (137 miles), but these aren't particularly fast roads you'll be traveling on, so even in a car the journey could be close to 4 hours. Buses and private taxis are popular ways to get from Nha Trang to Mui Ne, but there is also a train option if you prefer to leave the roads behind and take an even more scenic trip. Going by train will not save you any time, and will in fact add an extra leg to your journey, but it's a pleasant experience all the same!
Nha Trang to Mui Ne by Bus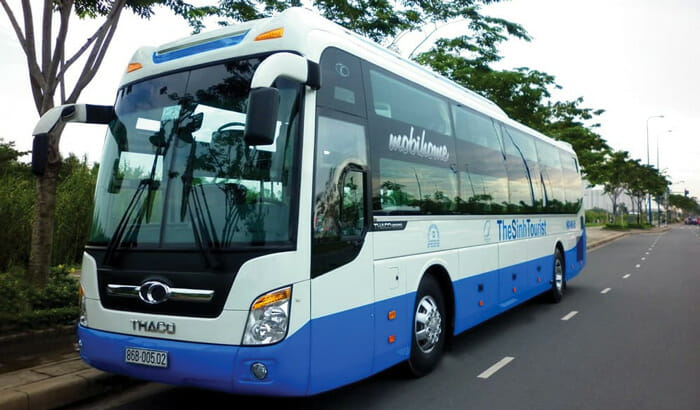 Traveling by bus in Vietnam is generally a safe and reliable way to get around, but the biggest advantage with catching a bus from Nha Trang to Mui Ne is the cost. Bus travel is easily the most affordable way to travel between these two towns, and when you're not covering a really big distance the buses are certainly comfortable enough for the length of the journey. There are two bus companies who regularly operate buses from Nha Trang to Mui Ne: Hanh Café and The SinhTourist. Both will usually have two departures per day so this gives you a total of four options when it comes to catching a bus. These will include an early morning departure, or an evening departure, and with Hanh Café you're looking at a journey time of around 4.5 hours.
Think about the best departure time for you as there are drawbacks to both the morning and evening departures; if you get the morning bus, you'll be traveling through some of the hottest times of the day. With air conditioning in the bus this shouldn't be a major problem, but it could still get a little sticky in there! Of course, the advantage with traveling through the day is that you will get to see the scenery as you're driving along. The other advantage is that you will arrive in Mui Ne at a sensible time of the day. A bus with Hanh Café arrives in Mui Ne at 12:30pm so you'll have the entire afternoon to settle in and start exploring.
If you opt for the evening bus, you'll be departing from Nha Trang to Mui Ne at 8:30pm and won't arrive in Mui Ne until 1am. Traveling at this time of day will give you more pleasant temperatures for traveling in, but you won't have as much daylight in which to see the scenery, and you'll arrive in Mui Ne at quite an unsociable time.
You can book bus tickets for Nha Trang to Mui Ne with Hanh Café through the travel website 12Go.asia where you can also read passenger reviews to see what other passengers thought of the journey and the service.
Nha Trang to Mui Ne by Taxi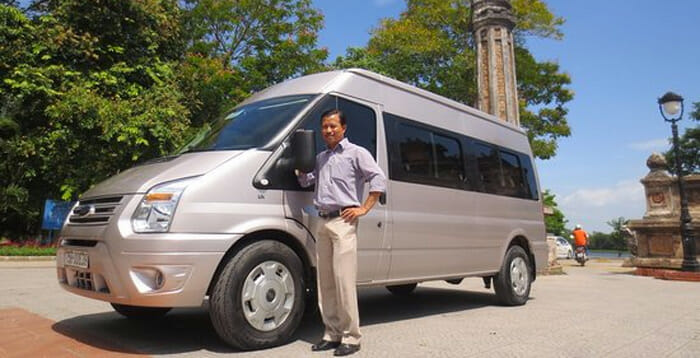 The other option, if you want to travel by road from Nha Trang to Mui Ne, is to take a private taxi. These taxis can also be booked online through 12Go, so you can compare the costs and the benefits all on one search page. As you would expect, the biggest issue with a taxi is the cost – you will be looking at a cost that is roughly ten times more than the bus, but you do get numerous advantages when traveling by taxi.
For us, one of the biggest advantages is that you can book a taxi from Nha Trang to Mui Ne at whatever time of day you would like it. This means you'll no longer have to fit your schedule around a morning or evening bus departure, but can instead decide on the exact time you would like to leave. Taxis are also great because they can come and pick you up wherever you are, whether that's a hotel in Nha Trang, or the airport, or right in the heart of the city, and when you get to Mui Ne you have the same advantage, as the taxi can drop you right at your hotel.
While taxis do cost more, they are actually very economical if you're traveling with your family or as a group because you can book up a vehicle as large as a 12-passenger van and when you divide the cost between 12 people, it actually works out the same cost as the bus!
Nha Trang to Mui Ne by Train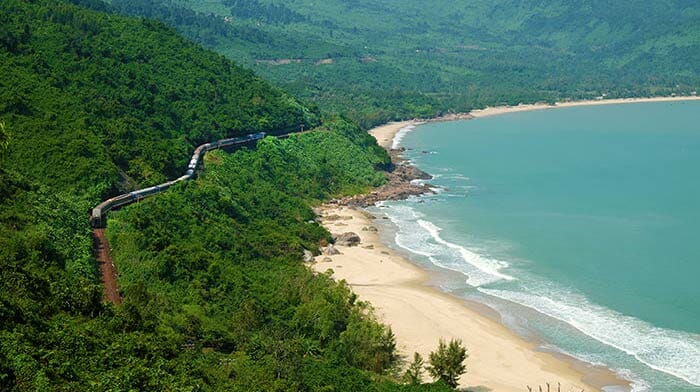 The final option for getting from Nha Trang to Mui Ne is to take a train. The train is not quite as good an option as buses or taxis because there is no railway station in Mui Ne itself. Trains depart from Nha Trang and on this particular line, the closest station to Mui Ne is Binh Thuan which is about an hour by taxi from Mui Ne. Because you have to transfer onto a taxi this does add time to your journey, giving a total journey time of somewhere around 5 hours. There is also the cost to consider because once you add the taxi ride on, this does become more expensive than the bus, but you could argue that traveling by train is more comfortable and more of an experience.
If you're looking for the easiest way to travel from Nha Trang to Mui Ne we would recommend booking a private taxi, but when cost is a limiting factor, the buses are definitely the most economical way!
Did you find this guide useful?
Click on a star to rate it!
Average rating: / 5. Vote count: