Traveling around Vietnam you have three main options for getting from city to city: airplane, train, or bus. While planes are the fastest, they can be more expensive and, let's be honest, you're not actually going to get to see much of this scenic country from 35,000 feet! Trains run almost the entire length of Vietnam and provide amazing views of the coast as you chug along at low speeds, but they're best for getting from one major city to another, not for visiting some of the smaller and more rural places. So that leaves the bus. Bus travel in Vietnam is a very popular way to get around because it's so affordable and it's great for anyone trying to see the far-reaches of this country because the network is so extensive. Getting to grips with traveling by bus in Vietnam can be daunting, but a quick read of our guide should have you on your way in no time!
Read about:
• Where to Buy Your Tickets for Bus Travel in Vietnam
• Local Buses in Vietnam
• Interprovincial Buses in Vietnam
• Sleeper Bus in Vietnam
• Vietnam Open Bus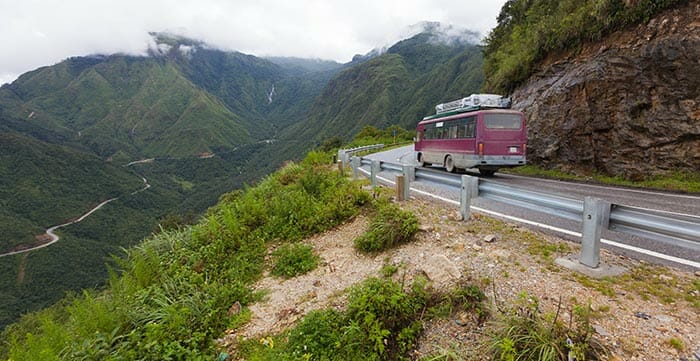 Is it Safe to Travel by Bus in Vietnam?
Many Asian countries have bad reputations when it comes to road conditions and erratic drivers, and unfortunately Vietnam is no exception. Don't allow this to put you off of bus travel entirely though. The condition of the roads across Vietnam has improved a great deal in recent years, and if you're traveling on the major routes your journey should be quite smooth. It's when you get out into the more rural areas that the roads will deteriorate somewhat.
And then there's the drivers – traveling by bus within Vietnam's cities can be quite a hair-raising experience as buses, cars and a plethora of motorbikes all compete for road space. On the inter-provincial buses (so that's the long distance ones) you can expect a calmer drive. These are operated by private bus companies and they will use the main highways except when going into cities for bus station pickups and drop-offs. Even on the main highways, the average speed is not fast. Expect it to be somewhere around 50 to 60 km/h (30 to 37.5 mph), which means it can take an excruciatingly long time to get anywhere.
Where to Buy Your Tickets for Bus Travel in Vietnam
Where you buy your tickets for bus travel in Vietnam depends upon what type of bus you're using, so let's talk about the different bus options right now.
Local Buses in Vietnam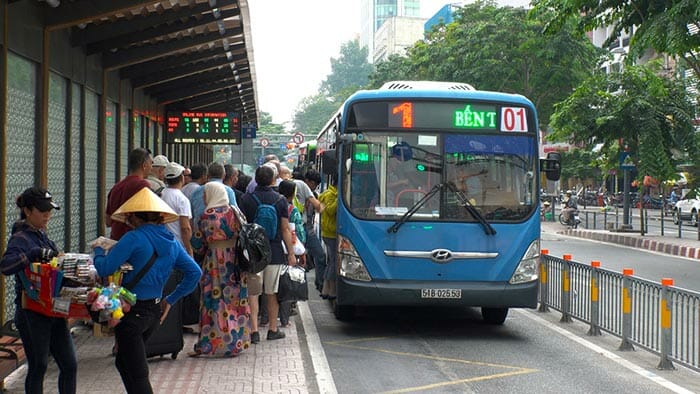 If you're traveling around a city or going a short distance from one town to another, local buses are what you'll use. Jam-packed and not particularly comfortable, even when you're sitting, these buses are frequented by locals but not so much by tourists. For one thing, they travel around picking up as many passengers as possible along the way, regardless of whether there are any spare seats onboard. It's very likely you will be standing, and, as a foreigner it's likely the conductor will over charge you as well. Tickets for local buses in Vietnam can be bought as you board the bus, so this makes it easy if you're hopping on, and they should be very cheap, even if you are overcharged. Overcrowding and uncomfortable conditions (such as being too hot) are problems though, so we wouldn't recommend using these buses often – maybe only when you can't find any other alternative.
Interprovincial Buses in Vietnam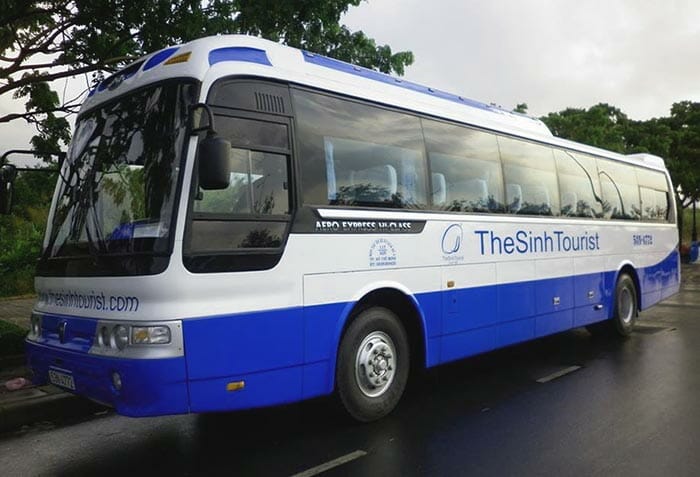 The Interprovincial buses are a different story. These are high-end buses which are larger and way more comfortable, and you won't encounter overcrowding as tickets are sold by allocated seat. Known by some as 'deluxe buses', they provide more space and may have reclining seats, or even beds – see below for more information on Sleeper Buses. They are also non-smoking and should have air conditioning, plus a few other services could be included such as onboard wi-fi, TVs, toilets, and steward service.
Deluxe Buses depart from the major bus terminals in big cities and there are routes to all major cities and popular tourism destinations across the country, such as Hanoi to Sapa. They are obviously much faster than the local buses because they don't stop everywhere to pick up passengers, however, they most likely will stop at the major cities along the way, as well as for meal breaks.
There are a number of reputable private bus companies operating across Vietnam, including Hoang Long, The Sinh Tourist, and Mai Linh Express. You can buy tickets for these and other companies direct from the bus terminal or from the bus company's offices, but if you find this a little daunting, we would highly recommend using an online booking service such as 12Go. Not only can you compare the different bus companies via their website, but you can also check out the other ways in which you can travel the route you want. 12Go also has reviews from customers who have booked through them so you can read honest feedback on the booking process and feedback on what the buses were like to use.
Although you won't always have to book your tickets in advance, we would always recommend that you do so, whenever possible. Booking through 12Go you can plan your trip weeks ahead knowing that you have the tickets organized already, but, during particularly busy periods – such as during Tet; late January or early February – booking as far in advance as possible is a must as thousands of locals will be traveling long distances to visit family or to spend vacation time.
Sleeper Bus in Vietnam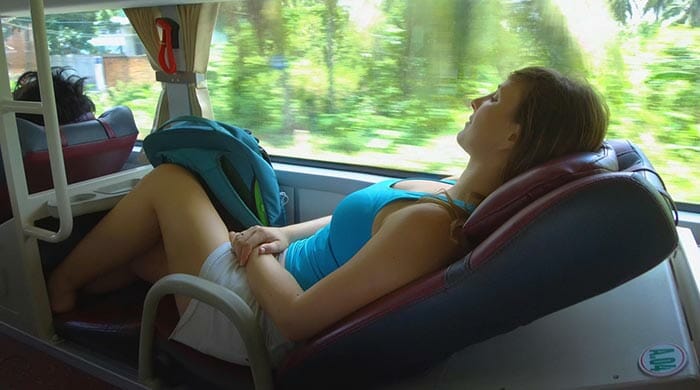 A good alternative to trains with sleeper berths, sleeper buses connect major cities in Vietnam providing a more comfortable way to travel the long distances. If you are traveling a long way, we strongly recommend buying a ticket for a sleeper bus as opposed to a regular deluxe bus because you will have more space, should be more comfortable, and you're more likely to get some sleep.
Sleeper buses are different to regular deluxe buses because they have an upper and a lower bank of 'beds', similar to bunk beds, often three across. So, there will be two narrow aisles between the three rows. While they are not completely lie-flat beds, the backs are reclined at a fixed angle and there's enough space to stretch your legs out flat, unless you're especially tall. Travelers have remarked that the sleeper buses are actually more comfortable than regular buses, particularly for taller people, because you do have that option to stretch your legs out; something you cannot do in a regular deluxe bus.
Traveling by Sleeper Bus in Vietnam is very affordable too. Prices are comparable to a second class seat on the train, but on the bus you're essentially getting a bed for your money. Overall, comfort levels probably aren't as high as a sleeper berth on a train, but then you're saving a substantial amount of money compared to a train sleeper berth. You're also saving money because you're missing a night in a hotel by traveling overnight.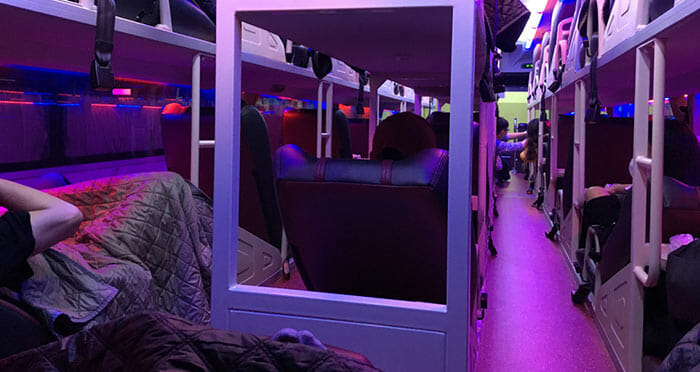 Tickets for the Sleeper buses, like the regular deluxe buses, can be bought online through 12Go where you can also see photos of a typical interior, giving you a better idea of what you're paying for. Of course, you can get these tickets from the bus companies or from the bus terminals as well.
Vietnam Open Bus
Another option for traveling long distances by bus in Vietnam is what's called an Open Tour Bus. Don't let the name confuse you – it's not an open-top tour bus like you get in cities for sightseeing, and it's not exactly a standard tour bus in that you won't be getting a running commentary about the places you're passing! The 'open' part of the name basically means you get an open ticket and you have the option to get on or of the bus at numerous points along the route.
These are particularly popular with backpackers because they're relatively comfortable air conditioned buses that are reasonably priced, and, good because of the flexibility they offer in terms of being able to stop at numerous big cities along the way. Although they can be good value for money, you do need to be careful when booking these tickets because the more times you get on and off the bus, the more expensive it will make the ticket. In terms of flexibility though, they're great. You can stop off in a city and decide how long you want to spend there. It could just be a few hours, to several days or even a week or more, but it's advisable to try to book the next leg of your trip on the Open Ticket bus at least a day in advance to be sure you get a space.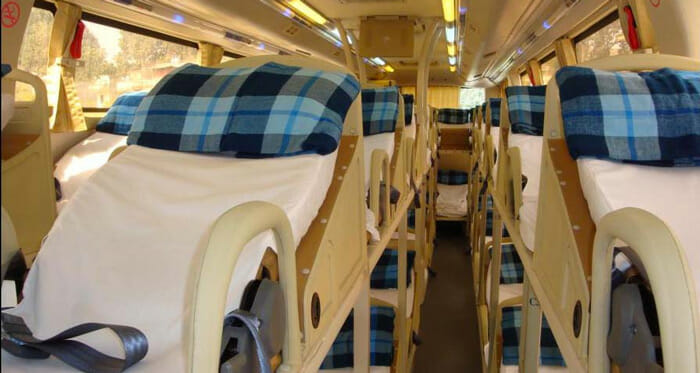 With lots of stops the Open Bus may not end up being the most economical way to travel, but as we said above, it's great for flexibility and also gives you the option to change your plans along the way.
As these are a little different to the local buses and interprovincial buses, you don't have as many options for buying tickets. The main route is from Hanoi to Ho Chi Minh City, so check budget cafes in these two cities for tickets, or visit one of the bus company websites or offices. The Sinh Tourist is a good option, for example.So, in terms of speed, taking a bus in Vietnam won't necessarily get you to your destination any faster than a train will, but you can be almost certain that it will cost you less than the train. Sleeper buses can be a good and comfortable alternative to train sleeper berths, while the Open Bus in Vietnam offers great flexibility to those travelers who aren't certain where they want to go and how long they want to go for.