Still widely known by its former name of Saigon, Ho Chi Minh City is today Vietnam's largest city and the most visited city in the country. Filled with grand architecture that reflects its varied history as a French colonial city, Ho Chi Minh also played an important role in the more recent Vietnam War and offers visitors plenty of war-related attractions but it's also a bustling place filled with culture and tasty food served right from its roadside food stalls. After experiencing the hustle and bustle of Ho Chi Minh, the far smaller city of Hoi An could be a welcome relief. Known for its exceptionally well-preserved trading port and historic district, Hoi An offers a step back in time as well as beaches to relax on, and has a pleasant laid-back attitude.
Read about:
• Flight from Ho Chi Minh to Hoi An
• Train from Ho Chi Minh to Hoi An
• Bus from Ho Chi Minh to Hoi An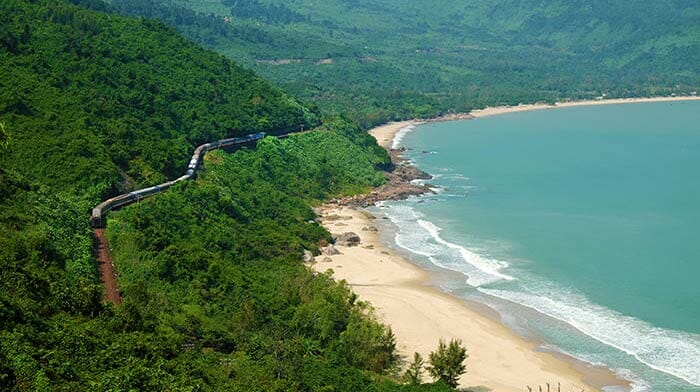 Options for Travel from Ho Chi Minh to Hoi An
As two of Vietnam's most popular tourist destinations, the route between Ho Chi Minh to Hoi An is one that's well traveled! Even so, it's a long way and depending on how you chose to travel it could take you an entire day to make the journey. Luckily there are a number of different transportation options to choose from, and they're priced to suit a range of different budgets too. Flying is a great option for anyone pushed for time, getting you from Ho Chi Minh to Hoi An in by far the fastest time, but for those of you who prefer to take things slower and enjoy the scenery and maybe some cultural interactions along the way, there are also trains and buses. The shortest route by road is around 850 kilometers (530 miles) so do be prepared for a long journey if traveling by road, and equally long if going by train.
Flight from Ho Chi Minh to Hoi An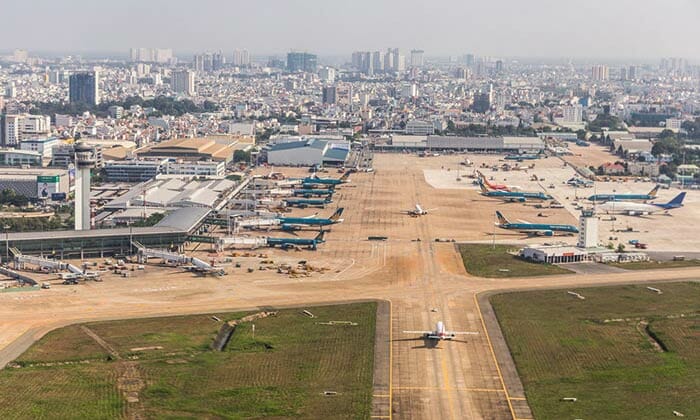 Let's start with the fastest way to get from Ho Chi Minh to Hoi An, by air. We would definitely recommend traveling by air when covering long distances like this, but often the cost of a plane ticket can be prohibitive to anyone traveling on a budget. Surprisingly though, going from Ho Chi Minh to Hoi An by flight isn't as expensive as you might think so it's definitely a mode of transport you should consider, especially if you don't have a lot of free time in Vietnam and wish to get to Hoi An as fast as possible.
The cost of flying from Ho Chi Minh to Hoi An does vary depending upon which airline you choose, so do be sure to shop around rather than settling on the first price you see. If you travel with Vietnam Airlines you're going to be spending a lot more on the airfare than you would if you opt for one of the budget airlines such as VietJet Air. Their prices are easily the cheapest for this route, but you could also consider flying with Jetstar Pacific. Their tickets cost more than with VietJet Air, but generally less than with Vietnam Airlines.
When comparing prices do take a look at what you're getting included in with the price of the ticket. Vietnam Airlines includes a 20kg baggage allowance whereas the other two airlines do not, so look into how much it would cost if you have checked baggage. Also be sure to compare days and times of travel as traveling at the less sociable times of the day will usually save you a lot, while avoiding weekends can save you money as well. And, remember to book as far in advance as you an because the closer to the day of the flight, the more expensive it is likely to be.
Check out the travel website 12Go as they give search results for all three airlines offering flights from Ho Chi Minh to Hoi An so you can easily compare prices and departure times.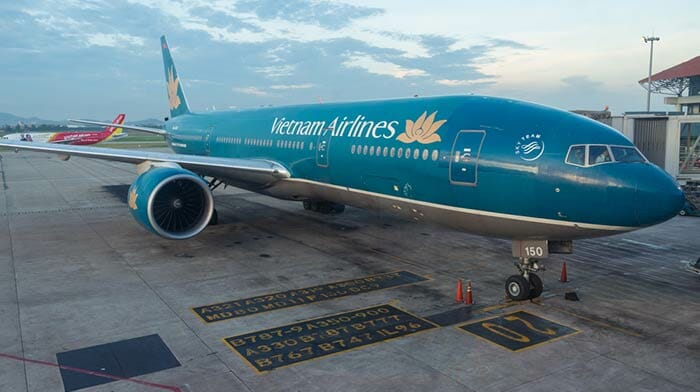 While flying is the fastest way to get from Ho Chi Minh to Hoi An there is a disadvantage you need to be aware of: you will not be flying direct to Hoi An itself as there is no airport there. Instead you will fly to Da Nang Airport which is about 30 kilometers (19 miles) to the north of Hoi An. You can catch a bus but you will first need to take a taxi to the bus stop as it doesn't go to the airport. Still, it shouldn't take long to get from the airport to Hoi An, and overall you will still be saving time over the train or the bus.
Ho Chi Minh to Hoi An by Train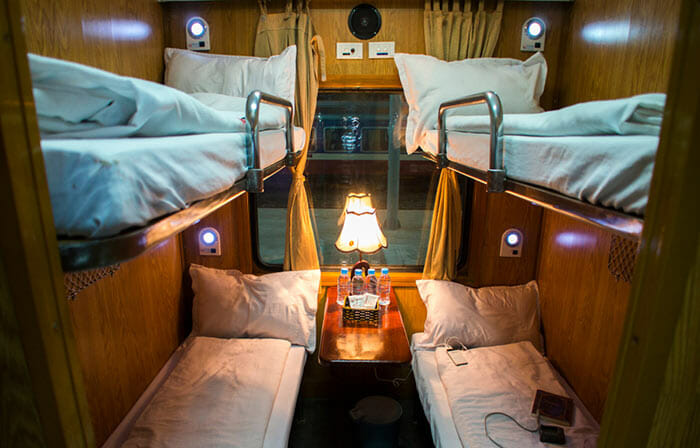 Traveling in Vietnam by train is quite an experience, in a good way! The main downside really is the length of time it takes as trains travel at very low speeds, but the cost is reasonable and the best thing about getting from Ho Chi Minh to Hoi An by train is the scenery you will see along the way. This is a very scenic route, and while you're chugging along at those slow speeds you'll have plenty of time to sit and watch the world go by. We also love traveling by train because of the cultural interactions you can enjoy along the way; you'll be sitting with locals and while you may not understand what they're saying, it's interesting just to see how everyone interacts.
Vietnam Railways is the state operator for all the railways in Vietnam so prices are kept at a reasonable rate. You'll have several different options depending on your budget and preferences, from the cheapest 2nd Class seats, through to 1st class sleepers, or choose the middle ground and opt for a 2nd class sleeper.
As with traveling from Ho Chi Minh to Hoi An by plane, there is a disadvantage to traveling by train in that there is no train station in Hoi An itself. The train will arrive in Da Nang and from there you'll have to make your way to Hoi An. This isn't difficult though as there are options, and if you book your train tickets through 12Go you can also book your transfer to Hoi An through them, traveling by bus or by taxi.
Bus from Ho Chi Minh to Hoi An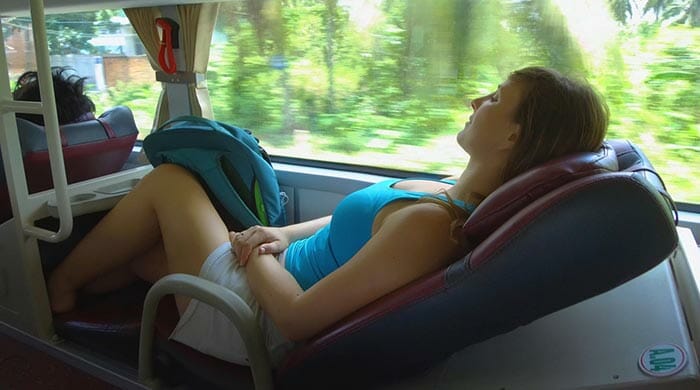 The final option for getting from Ho Chi Minh to Hoi An is by bus, however, we wouldn't recommend traveling this way when you have two other good options to choose from. Bus journeys are very long and not good for anyone who doesn't do well in cramped spaces, however, there are semi-sleeper buses available which allow you to stretch out a bit more. If you're interested in saving money then the bus may be a good option for you, but other than the cost saving it won't save you any time or hassle by going this way as you'll still have to get from Da Nang to Hoi An.
Flights from Ho Chi Minh to Hoi An are great for anyone wanting to save time and explore the sights of Hoi An as soon as possible, but if you have time to spare, take the train from Ho Chi Minh to Hoi An and enjoy the journey!
Did you find this guide useful?
Click on a star to rate it!
Average rating: / 5. Vote count: