The resort town of Dalat is sure to surprise you! It's the capital of the Lam Dong Province in the Central Highlands of Vietnam, but it's not what you would usually expect from a Vietnamese city… set in the highlands and surrounded by pine-clad hills, Dalat feels more like a city in the foothills of the Alps than Vietnam, with its temperate climate, lakes, waterfalls, golf course, and ample greenery. After exploring the highlands, plan a trip to the coast of Vietnam. The smaller beach resort town of Mui Ne is a great choice for spending time on the beach and relaxing, or enjoying the many water sports that are available here. As a popular weekend getaway for residents of Ho Chi Minh City, Mui Ne does have a louder side with hotels, restaurants, bars and shops, but it's far from being busy and overcrowded.
Read about:
• Dalat to Mui Ne by Bus
• Dalat to Mui Ne by Taxi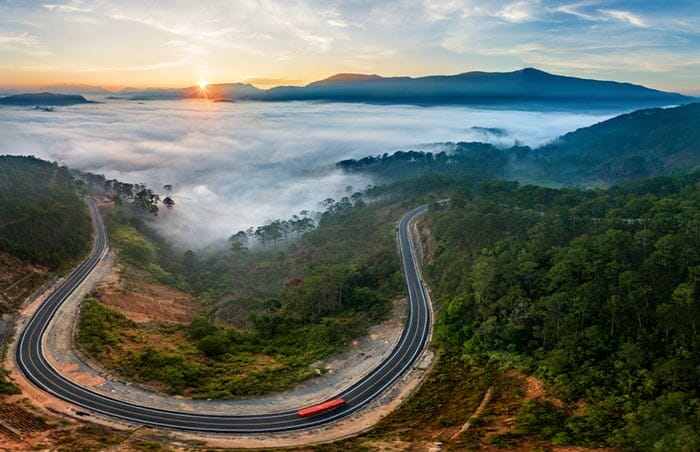 Options for Travel from Dalat to Mui Ne
Looking on a map, it doesn't seem very far from Dalat to Mui Ne, traveling almost directly south from Dalat to the coast. True enough, the shortest road route is around 155 kilometers (97 miles), which would not take long to travel if you were driving on major highways, but, the road must pass through mountainous regions where there will be many elevation climbs and drops, on roads that can be incredibly winding with multiple switchbacks to navigate. For this reason, getting from Dalat to Mui Ne by road takes far longer than you might expect. Unfortunately, going by road is the only choice as there are no good options for flying, and there are no trains connecting these cities either. Luckily, you won't have to navigate these roads yourself as there are regular buses from Dalat to Mui Ne, as well as private taxi services.
Dalat to Mui Ne by Bus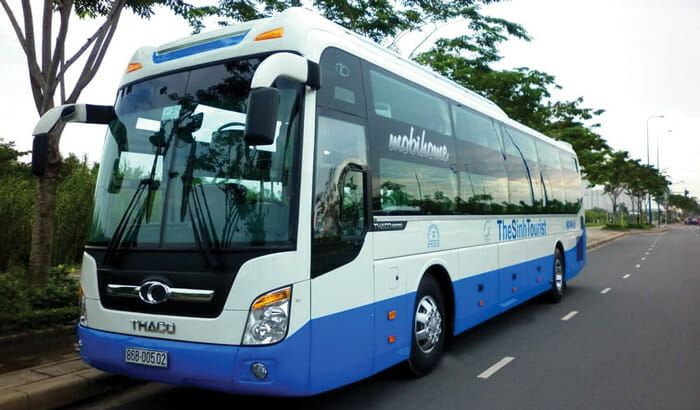 Due to the affordable prices and good availability of buses from Dalat to Mui Ne, going by bus is the most popular way for tourists to travel this route. There are two bus companies to consider for the trip, The SinhTourist, and Hanh Café, and both are well known and trusted in Vietnam, and, to make life easier, you can book your bus tickets online through the travel website 12Go.asia. Search for your date of travel and you'll see the options available for both bus companies, allowing you to easily compare their services and book online.
There is not much to separate these two companies – the buses are very similar; they are standard buses with air conditioning but no other facilities on board. So, the seats will be regular seats that do not recline. This is fine for most people, but if you are a little taller than average, you may find that legroom is a bit tight for you. However, with this being a 4 to 5 hour bus ride, comfort shouldn't be too much of an issue.
Buses from Dalat to Mui Ne with The SinhTourist tend to cost a few dollars more than they do with Hanh Café, and according to their schedules, The SinhTourist will get you from Dalat to Mui Ne in 4 hours, whereas Hanh Café states that it will take 5 hours. Count on it being somewhere in that region with both bus companies as it should take about the same amount of time.
Their departure times are very similar too. There are two departures each day: The SinhTourist leaves from their offices in Dalat at 7:30am and 1pm, while Hanh Café leaves from their offices in Dalat at 7am and 12:30pm. If you can manage to get the earlier bus, this is recommended as it gets you into Mui Ne for lunch time, giving you plenty of time to check in to your hotel and start exploring the town.
Dalat to Mui Ne by Taxi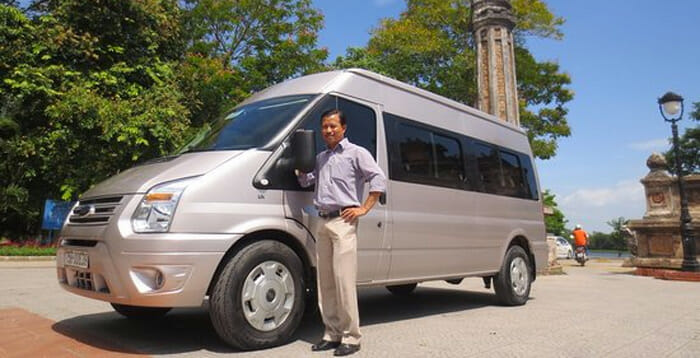 The only other sensible way to get from Dalat to Mui Ne is to take a private taxi. Private taxis do have a number of advantages over traveling by bus, the main one being that they are completely flexible and can be booked to suit any schedule you want. This is great if you don't want to be restricted to catching a bus at a set time, if, for example, you wanted to do something in Dalat that morning, and then not have to rush back for the later bus, you can book a taxi to come and pick you up from your hotel or attraction at whatever time you like.
There's also that added convenience of being able to specify where you want to be picked up and dropped off. Unlike the buses, which travel on a set route from A to B, taxis can drop you right at the door of your hotel in Mui Ne, saving you the trouble of having to get to and from the bus stop.
Traveling from Dalat to Mui Ne by taxi also saves you time because smaller vehicles are able to navigate the mountainous roads much easier than buses are. The travel time varies with the different taxi companies – some specify that they take much longer than others, but they may just be allowing time for extra traffic or for stops long the way. You could get from Dalat to Mui Ne as fast as 2.5 hours.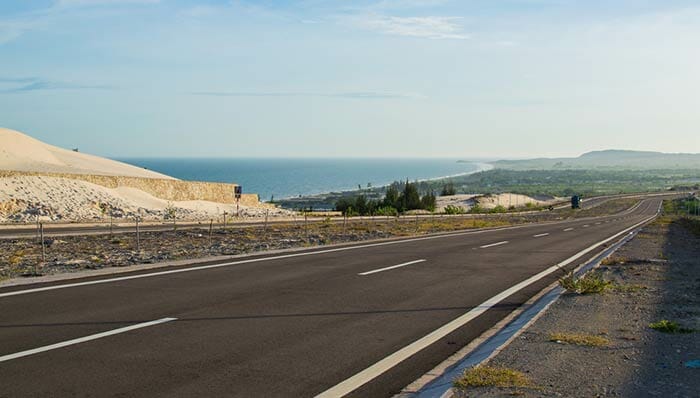 Private taxis can be booked online just like the buses can, through 12Go. Compare prices, vehicle types, and travel times on their search page so you can make an informed decision. You'll see that traveling by taxi from Dalat to Mui Ne is far more expensive than it is by bus… you may decide that the advantages are worth the extra cost, or you could decide to book a larger vehicle that carries more passengers and split the cost between you. Taxis will generally carry just two passengers, but minivans or SUVs for four passengers are available, as well as vans that carry up to nine passengers. When you split the set cost for a 9-passenger van between everyone, it ends up being quite a reasonable price considering you're getting a private transfer from door-to-door.
While taking a taxi from Dalat to Mui Ne may not necessarily save you much time, it will be far more convenient as you can book it for whatever time you want to leave. Even so, taxis are far more expensive than the bus from Dalat to Mui Ne, so when traveling on a budget, the price of a bus cannot be beaten!
Did you find this guide useful?
Click on a star to rate it!
Average rating: / 5. Vote count: