Nha Trang is your typical coastal resort city which just happens to be in Vietnam! Beaches, diving sites, a promenade with seafood restaurants, and even an amusement park, but more than this, Nha Trang also has some beautiful temples and pagodas that make it a uniquely Vietnamese city. After enjoying the busier atmosphere in Nha Trang, you may be craving some peace and tranquility. Travel inland and you'll come to the city of Dalat. Set on a lake and a golf course, Dalat sounds like another resort city but it's surrounded by pine forested hills, with lakes and waterfalls making this an incredibly beautiful place to visit with a more laid-back atmosphere than coastal Nha Trang.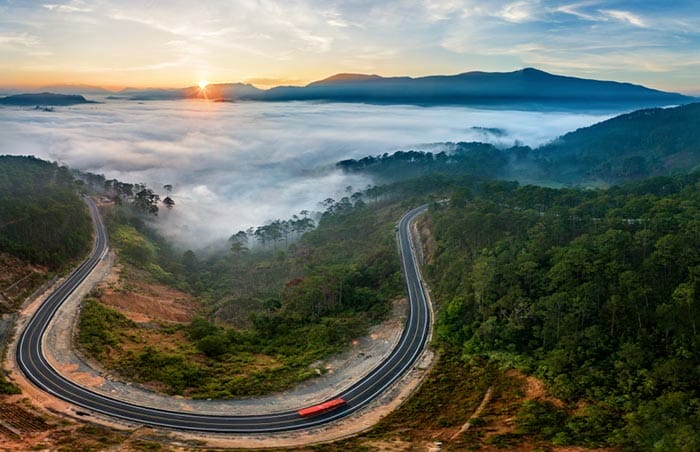 Options for Travel from Nha Trang to Dalat
By the shorter road route it's about 135 kilometers (84 miles) from Nha Trang to Dalat. This doesn't sound like much, but Dalat is situated to the southwest of Nha Trang, across a mountainous region, so the road is incredibly winding, and driving will take longer than you might think. Going by bus, private car, or private taxi are really the only options you have for traveling from Nha Trang to Dalat as you cannot fly directly between these two cities, and there are no direct trains either. You could catch a flight that goes via Ho Chi Minh City, but with the connecting time and the time it takes to get to and from the airport, this really wouldn't save you any time and it certainly wouldn't save you any money!
Nha Trang to Dalat by Bus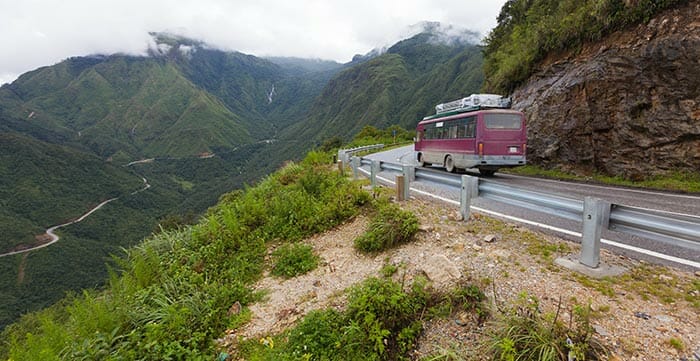 Traveling from Nha Trang to Dalat by bus is a tried and tested service that's used by hundreds of tourists every month. It's popular because it's a cheap and easy to travel this way, and it's easy to book if you get your tickets online through a travel website like 12Go.asia.
There are a couple of bus companies who offer this route from Nha Trang to Dalat: The Sinh Tourist, and Hanh Café. Both are well known and respected in Vietnam, and they're reliable too. You can book tickets with Hanh Café through 12Go, traveling on a standard bus with air conditioning, choosing one of two departures per day – at 7:30am, or at 12:30pm. Both departures are scheduled to take 4 hours to get from Nha Trang to Dalat, so although the bus doesn't have much in the way of facilities it's not usually a problem for most travelers as it's not an especially long journey.
If you opt for the earlier departure you'll arrive in Dalat before lunch, around 11:30am, while the later departure will get you there in time for dinner, around 4:30pm. With Hanh Café, the buses depart from their offices in the center of Nha Trang and arrive to their offices in central Dalat.
The best thing about traveling by bus is that it's very affordable – this is easily the cheapest way to get from Nha Trang to Dalat.
Nha Trang to Dalat by Taxi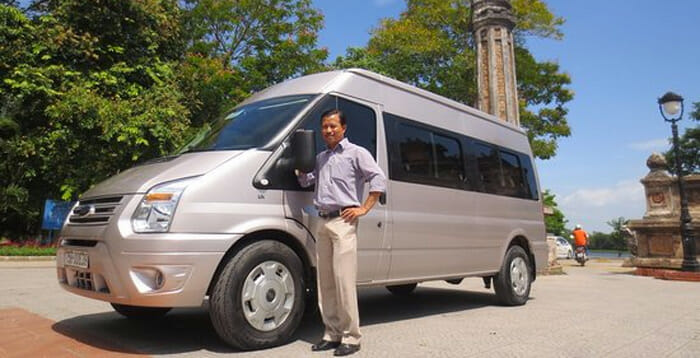 Private taxi services, sometimes called limousines, are another good option for getting from Nha Trang to Dalat. Taxis have several advantages over traveling by bus – first, you can book your taxi for any time of the day, so this means you get the flexibility to travel whenever you want to and you can work around any schedules that you already have figured out rather than having to leave when the bus dictates it. There's also another layer of flexibility with taxis – they can pick you up from your hotel and drop you off wherever you want to go. This makes life easier than having to check out of your Nha Trang hotel and then find your way to a bus station or bus company offices, and it saves you the cost of doing that also. The taxi will pick you up from your hotel (or wherever you choose to be picked up from) at the time that you specify, and drop you directly to your next hotel in Dalat.
Taxis will get you from Nha Trang to Dalat faster than the buses do too, giving you yet more added convenience! You can expect the taxi to take around 3 hours but they will often make the trip faster than that so you're saving at least an hour compared to the bus journey.
Private taxis can be booked very easily too using 12Go. They will arrange a taxi from Nha Trang to Dalat for you with DichungTaxi or Mui Ne Sky Travel, and there's instant confirmation with both of these companies. Of course, the reason why more travelers don't use taxis from Nha Trang to Dalat is because they are a lot more expensive than the bus. The prices do vary according to the vehicle type – you could choose a sedan if there's only two people traveling, or you can go for a minivan or an SUV if there are four of you.
Taxis really make a lot of sense if you're traveling as a larger group or family though because you pay one price for the taxi which you can divide between all of the passengers. You can have as many as nine passengers in a larger van which brings the cost per head right down. Still more expensive than the bus, but you could argue that a private taxi is more comfortable and more convenient, and you may get more facilities onboard too – such as wifi – so it may be worth spending the extra.
While most tourists will opt for buses or taxis some do make their own way from Nha Trang to Dalat by renting a motorbike or a car. Unless you're quite familiar with driving in a foreign country and are confident on winding roads, we wouldn't recommend that you do the driving and instead leave it to a professional. This way you can get to enjoy the scenery while somebody else does the driving for you!
How useful was this post?
Click on a star to rate it!
Average rating / 5. Vote count: