Located in Southeast Asia, Malaysia is a beautiful country that is both multi-cultural and multi-ethnic; perhaps two reasons why the people of Malaysia are so welcoming and friendly! Set over two land masses that are actually quite a distance apart, Peninsular Malaysia sits to the south of Thailand, while East Malaysia (also known as Malaysian Borneo) forms part of the island of Borneo. East Malaysia has amazing scenery, but it's much quieter than the western parts of the country and not as frequently visited by tourists. Here, there is only one railway line, operating in the northern state of Sabah, so trains aren't great for getting around the rest of Eastern Malaysia. On Peninsular Malaysia it's a different story though – there are several railways lines up and down the country, making train travel a great option for getting from one city to another. In this guide to traveling by train in Malaysia, we'll focus on train services on Peninsular Malaysia only.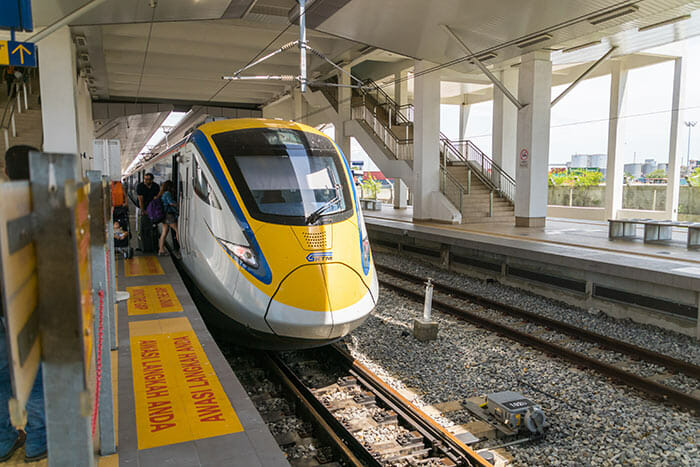 Is it Safe to Travel by Train in Malaysia?
Do a quick search online to see whether traveling by train in Malaysia is considered to be safe, and you'll discover that the general consensus is 'yes, it is safe'! As with traveling anywhere by public transport, you should remain vigilant and keep your belongings close as there will always be incidents of petty crime such as stolen wallets and purses. But these thieves are very opportunistic, so if you don't give them the opportunity, they should leave you alone. On the whole, traveling by train in Malaysia is considered to be very safe from a personal point of view, but also in terms of track record safety. There have been incidents involving bus crashes in recent years, but traveling by train is always safer as there are less variables, considering the train travels along a designated track. Take the train and you'll experience a safe, comfortable and fun trip that allows you to get to see tons of places that you just wouldn't see if you were on a long-distance bus, or flying thousands of feet up in the air!
Types of Trains in Malaysia and Ticket Classes
Like many other countries, Malaysia has a variety of different train types, depending on how far you're traveling and where you are traveling. There are local services such as commuter rail, light rapid transit, mass rapid transit, and even several monorail systems, as well as airport rail links for the major cities, which you're quite likely to use when first arriving in Malaysia. On the whole, as a foreign tourist wanting to see as much of Malaysia as possible, you're probably going to be using long-distance railway services. These do cover most of the eleven states that exist in Peninsular Malaysia, as well as linking with the Thai Railway in the north, and to Singapore in the south.
There are two main lines here: the KTM West Coast Line, and the KTM East Coast Line, with KTM standing for Keratapi Tanah Melayu, which is owned by the Malaysian government. So, in a sense, it's a state operated railway.
KTM West Coast Railway Line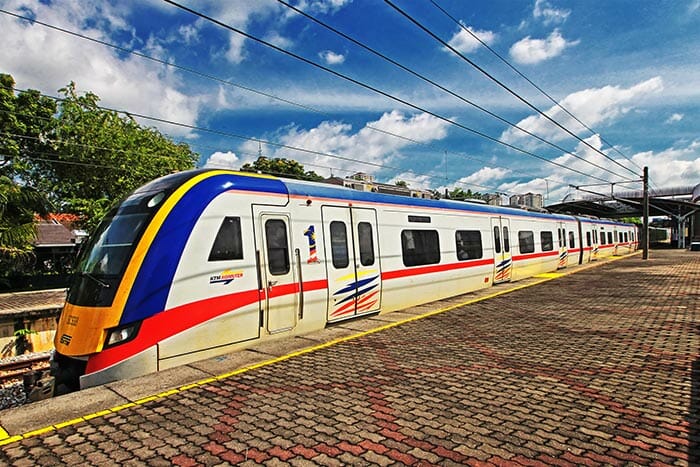 Running the length of the west coast of Malaysia, the West Coast Line is busier than that of the east because it covers more heavily populated areas and has a variety of different passenger train services operating on it.
The entire line is 1151 kilometers (719 miles) which was all just single track, meter gauge lines until upgrades were made. Now, there are double-track and electrified lines covering 759 kilometers (474 miles), alongside the original single track sections, which can carry much faster trains, allowing you to get to places by train in Malaysia far quicker than you used to be able to.
The West Coast Line runs from Padang Besar Railway Station in the north, close to the border with Thailand, right down to the Woodlands Train Checkpoint in Singapore, so you really can travel the entire length of Malaysia on this line! Mostly, you'll come across Express Trains running along this line, especially on the sections that have been modernized with electric. The trains that run here are called ETS electric trains and they can operate as fast as 160 km/h (100 mph). These are, as you would expect, modern trains with air conditioning, and there two different trains: Platinum and Gold. A Platinum service is the fastest, stopping only once or twice between destinations and at the highest speeds, while Gold trains have a few more stops at the more popular train stations along the route.
There are then also ticket classes that you can look for. These are 1st, 2nd and 3rd class, also known as Premier, Superior and Economy. There are less sleeper trains now than there used to be as the trains can run at higher speeds and hence get you to your destination much faster, losing the need for sleepers. But there are still a few available if you really want to travel overnight.
KTM East Coast Railway Line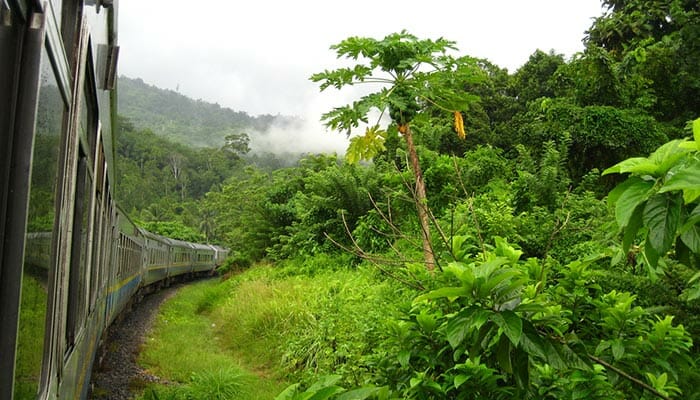 On the East Coast Line, the entire track is just single track, so taking a trip on this line will take longer to cover the same distance. Don't be misled by the name of the railway line, because although it's called the East Coast Line, it really doesn't travel along the coast at all, instead getting to the coast and the South China Sea only when the line ends at Tumpat Station. The line actually runs through much of the interior, traveling through dense jungle hence the nickname, the Jungle Railway.
Despite being slower and not passing through as many major cities or attractions as the West Coast Line does, tourists still find this East Coast Line very appealing because of the fact that it travels through the jungle, and hence provides great sightseeing opportunities for anyone on board.
The East Coast Line runs from Gemas Railway Station in the state of Negeri Sembilan, to Tumpat Railway Station in Kelantan. With the original single track, non-electrified along this line, the trains are Local Trains which means they will stop practically everywhere. This, and the slower speed of the trains, means that getting anywhere on the Jungle Railway takes a long time!
Where to Buy Your Tickets for Train Travel in Malaysia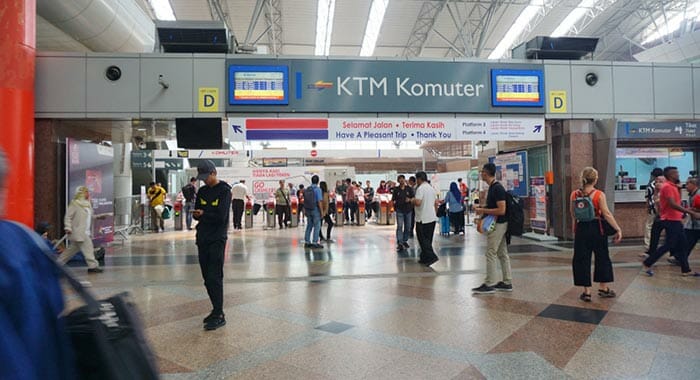 First, you'll need to be aware that reservations for long-distance trains in Malaysia are compulsory, so you will have to buy your tickets in advance. The reservation window opens 30-days before departure, so you'll need to work out exactly when you want to travel and book your tickets as much as 30 days in advance. Of course, it's not compulsory to book this far in advance, but it's recommended that you do buy your tickets as early as you can, just to be on the safe side. Trains can get booked up during Malaysian holidays, and some routes, such as Kuala Lumpur to Penang are more popular than others, so again, take this into consideration.
If there are seats left you can get your tickets right up until the time that the train leaves, but we certainly wouldn't recommend taking this chance. You can therefore get your tickets at the departure station, and you can also buy them online. KTM has its own website where you can book online: www.ktmb.com.my but it's not the easiest website to use. As an alternative we would recommend booking through 12Go.asia as their website is very easy to use. They can show you live availability, prices for the different trains, and instant confirmation, and you'll be able to read passenger reviews to see what previous customers thought of the entire service. You also have the option to choose your specific seat in advance and you'll get an e-ticket with your 12Go voucher. With prices being comparable to what KTM sells tickets for themselves, it makes sense to book through 12Go as it's far easier.
When you make a reservation, do remember that it is for a specific train on a specific date. Tickets are not flexible in this way and they do not give you the option to get on and off trains whenever you feel like it. If you want to stop at certain cities along the way, you'll have to buy individual tickets for each section of the journey. This also applies if you're traveling beyond Malaysia on the train – you cannot buy one train ticket that gets you from KL all the way to Bangkok, for example, but you can book all legs of this journey through 12Go, saving you the hassle of having to look up timetables and make bookings on multiple websites.
With the faster electric ETS trains now running along large sections of Malaysia's West Coast Railway Line, getting from city to city in this country is now a lot faster than it used to be, and there are more upgrades and improvements being made all the time. Trains tickets in Malaysia are affordably priced, usually saving you money over the cost of flying, and traveling by train is a great way to get to see the countryside of this beautiful place, far more so than you would from a bus on a highway, or from an airplane.