Penang, the second smallest state in Malaysia, has beaches, gardens and a national park, but is best known for the state's capital George Town, with its historic and cultural attractions dating back to the time when this was a British crown colony. George Town, and most of Penang's attractions, can be found just off the mainland on Penang Island, which is connected to the mainland via two road bridges, while the remainder of the state is set on the mainland itself. Visit historic Fort Cornwallis, Leong San Tong Khoo Kongsi – a Chinese temple and museum – and the 19th century Buddhist temple Kek Lok Si, then venture up Penang Hill for amazing views.
After you've explored all that Penang has to offer, head south and a little east to the city of Ipoh. Gateway to the Cameron Highlands and fantastic scenery, Ipoh is like a more sedate version of George Town with its British colonial architecture and mix of buildings that hold an aging charm. Venture into caves, temples, a ruined castle, museums and parks, in this city that surprises everyone with its variety of things to see and do.
Read about:
• Penang to Ipoh by Train
• Penang to Ipoh by Bus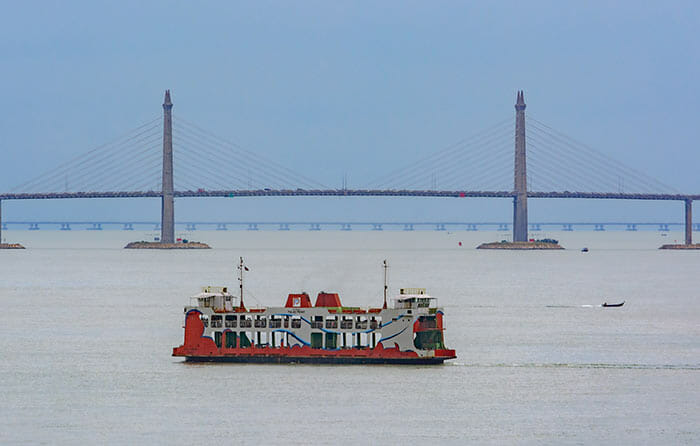 Options for Travel from Penang to Ipoh
By road, the distance from Penang to Ipoh is around 160 kilometers (100 miles) when traveling from George Town, and therefore a little less if you're on the mainland, so it's not at all far between these two destinations. For shorter distances, traveling by bus is always a good option, and there are ample bus services available for traveling from Penang to Ipoh, which are incredibly cheap too. Going by train from Penang to Ipoh is also a possibility. It will cost more than the bus, but the trains are fast and more convenient in many ways. Although Ipoh has its own airport, there are no flights from Penang to Ipoh because it's such a short distance, so flying is not an option.
When you start looking at ticket options for your journey, remember that you could be departing from either Penang Island, or from the mainland. On Penang Island, the main departure point will be from George Town, with different bus companies offering a variety of pickup points. On the mainland, the main departure point is the city of Butterworth. If you're traveling by train you will have to get to Butterworth first, or if you're traveling by bus you can decide whether leaving from George Town or Butterworth would be best for you.
Penang to Ipoh by Train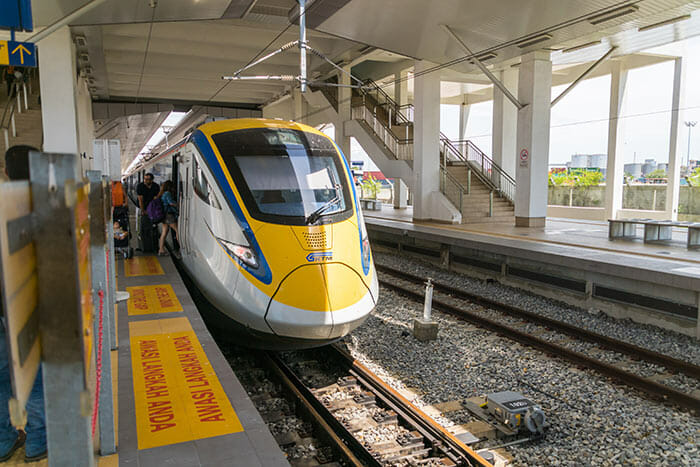 With the modern ETS (Electric Train System) in place across some parts of Malaysia, traveling by train between cities is now faster and easier than it was before. The good news is that Ipoh is on the ETS system, so there are fast trains from Penang to Ipoh every day.
As we mentioned above, the train departs Penang from Butterworth Railway Station, which is on the mainland. You can book tickets usually as much as a couple of months in advance, online or in person. Online, you can make use of the travel website, 12Go.asia, where you can compare both train and bus ticket prices and book through their website. It's a convenient way to check schedules, prices, and reviews of customers who have used these services in the past, so you can decide which form of transport would be best for you.
If you leave buying your tickets until only a day or so before departure, you can risk finding that the trains are full, so booking in advance is highly recommended. Sometimes you don't always know what your plans are going to be, so you may be forced to wait until the last minute. If this is the case, and you're buying tickets a day or two before traveling, luckily you don't have to travel to Butterworth Railway Station to get the tickets as there is an office in George Town.
Ticket prices vary depending on the particular type of train from Penang to Ipoh. There are Silver, Gold and Platinum services. Silver trains stop at every station along the way, so because these take longer to get from Penang to Ipoh, they will be the cheapest. Gold trains stop at just the main stations, so this means far fewer stops, while Platinum trains could have no stops at all and hence will cost the most. Usually there are mostly Gold and Platinum services running between Penang to Ipoh, and they start operating as early as 4:45am, with the last train of the day departing Penang at 6:33pm. Journey times vary with the particular train and time of day you're traveling, but expect it to take around one hour and forty minutes.
If you're staying in George Town, the train from Penang to Ipoh may seem inconvenient as you have to first get to the mainland, however this isn't a problem as you can easily get across by ferry to Butterworth, or take a local bus service, and, when you get to Ipoh, the Ipoh Railway Station is in the Old Town, so its quick and easy to get to your accommodation.
Penang to Ipoh by Bus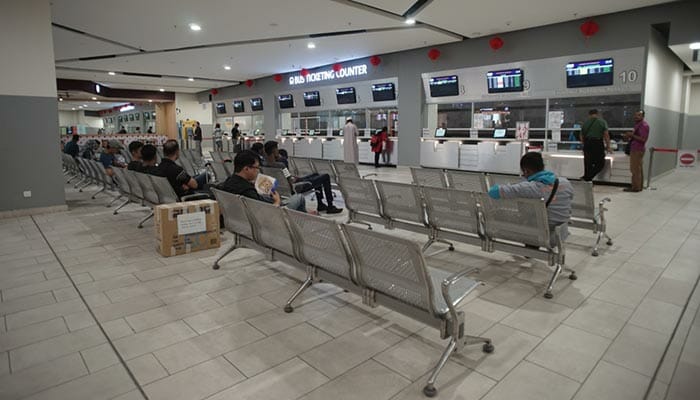 Traveling from Penang to Ipoh by bus will save you money, but not time, and is arguably a little less convenient because all buses will drop you at the Amanjaya Bus Terminal which is about 10 kilometers (6 miles) from Ipoh Old Town. This leaves you with the challenge of getting from the bus station into the city center, which you can do either by public local bus or by taxi. Although there will be buses and taxis available, it just adds an additional element to your trip that you may prefer not to have as it increases the cost, time and hassle.

Despite this inconvenience, traveling by bus from Penang to Ipoh is ridiculously cheap, and there are far more buses making this trip each day than there are trains. Book online through 12Go who sell tickets with many of the reputable bus companies, including StarMart Express, Sri Maju Group, Perak Transit Ekspres, Transnasional, New Asian Travel, and Unititi Express. Ticket prices will vary a little across the companies, and depending on what service you choose – Economy, Express or VIP. Also, be sure to double check the departure points; many will depart right from George Town, but there are options from Butterworth also, with journeys taking between 1.5 to 2.5 hours.
If you're traveling on a budget, going by bus from Penang to Ipoh will likely save you money, but do remember to add in the cost of the transfer from the bus station into the center of Ipoh, as well as the time this will add to your journey. Trains do cost more but they are fast, and they conveniently arrive right into the heart of Ipoh.
Did you find this guide useful?
Click on a star to rate it!
Average rating: / 5. Vote count: