Long and narrow, Vietnam hugs the eastern coastline of the Indochina Peninsula, giving this country an enviable coastline on the South China Sea that runs for 3,444 kilometers (2,140 miles). Filled with impressive beaches, lush jungles, and bustling cities, Vietnam has a great contrast of things to see and do, making this the ideal touring destination. Traveling from one city to another is usually considered to be fastest by plane, but air travel has its drawbacks. It's expensive and really you don't get to experience the beauty of this amazing country, and, when you add everything up, getting between cities is not always significantly faster by plane. For these reasons and more, train travel in Vietnam is highly recommended!
Read about:
• Is it Safe to Travel by Train in Vietnam?
• Where to Buy Your Tickets for Train Travel in Vietnam
• Classes on Trains in Vietnam
• Private Cars
• Sleeper Train in Vietnam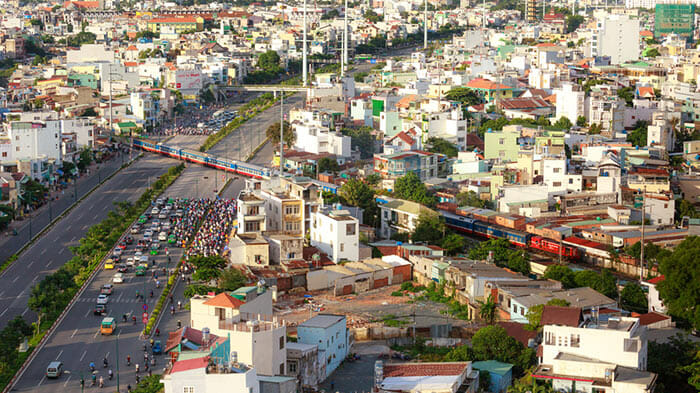 Is it Safe to Travel by Train in Vietnam?
Trains, their lines, and the railway stations are all operated by the national carrier, Vietnam Railways, and although the entire system is getting old it is considered to be a safe and reliable way to travel around Vietnam. And it's comfortable and relaxing too; with air conditioning as standard, much of the train line runs along the coast, providing its passengers with wonderful views of the coast itself, and a look at both rural and urban life across the country… something you certainly cannot experience when traveling by airplane! And there's the cultural immersion too, as you'll have the chance to travel alongside local Vietnamese people.
There's an interesting twist to travel by train in Vietnam, because although the system is owned and operated by the government, private companies are allowed to operate luxury cars that attached to the state trains. So, although it's still a state-operated train, there could be one or more luxurious cars attached to it which is great if you want a higher level of comfort. More on those below.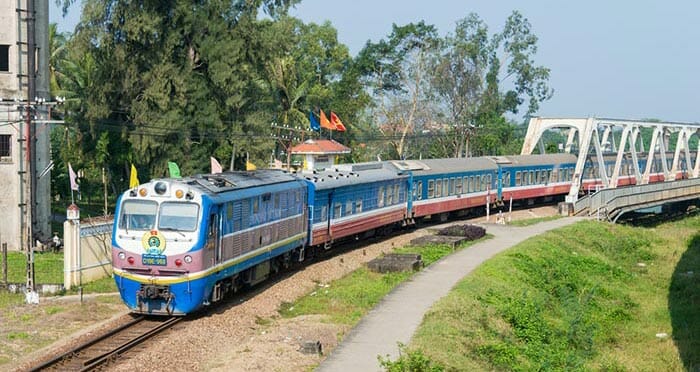 And if you're wondering whether your belongings will be safe onboard, the answer is yes, generally they will be as petty crime is uncommon. To be on the safe side, some passengers do lock their luggage up by using a bicycle lock for example, and attaching it to the seat or rack.
Where to Buy Your Tickets for Train Travel in Vietnam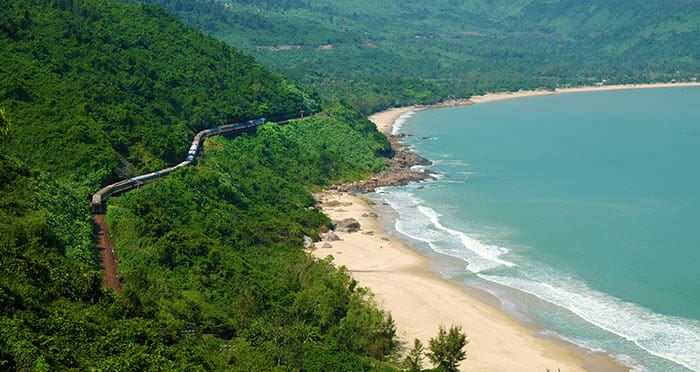 There are several options available to you when buying your Vietnam train tickets. You can go direct to Vietnam Railways, whether that's buying them at the station or online, however, there are some issues with this. First, we would not recommend buying direct from the station if you are traveling within a few days. Not all trains will become fully booked, so there's a good chance that you will be able to find a space but, it may not be exactly what you wanted. During holidays however – especially Tet which is around the end of January beginning of February – you must book in advance as the trains do get fully booked weeks ahead. During this period, tickets can go on sale as early as November, while the norm for advance ticket sales is between 30 and 60 days.
Vietnam Railways also has an online booking website, but problems with using foreign (i.e. non-Vietnamese) credit cards have been reported, so you may not be able to book using their website. If you do take a look at their website be aware that there are several similar sites that are actually operated by travel agencies, so be sure you're in the right place. It should be www.vr.com.vn.
Our recommendation would be to use 12Go. They charge a very minimal service fee to cover their operating costs, but for that slight extra cost you're getting a great service. 12Go shows live availability and tickets can be booked as and when Vietnam Railways opens reservations for each journey. And, as well as selling standard Vietnam Railways tickets, they also have many of the privately-run luxury cars available for sale as well. This is a great service to use if you like to compare all the options and different costs before booking, as you can clearly see what's available and what it will cost you.
Classes on Trains in Vietnam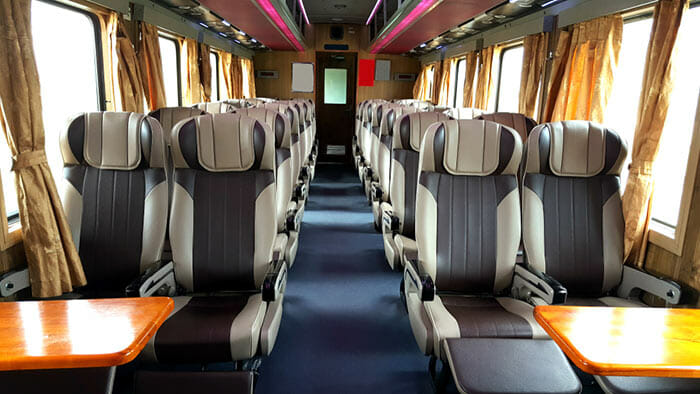 As mentioned above, all of the trains are operated by Vietnam Railways but some will have private cars on them for a more luxurious travel experience and although these do offer roughly the same as each other, there will be some slight differences. If you're keen to book a berth on one of these private cars, you can see all of the options available to you on 12Go where the level of service and comfort will be clearly described and you'll have the chance to see what other passengers have commented.
Private cars aside, the cars operated by Vietnam Railways will generally fall into four main ticket classes. These are: hard seat, soft seat, hard sleeper and soft sleeper, and there may also be the option to pay for air conditioned, or non-air conditioned. As you would expect, the harder seats and berths are always cheaper, but if you're going on a lengthy journey, the softer ones are highly recommended. One drawback with hard seats is that because it is the cheapest option, these cars are usually crammed full of people and can be very smoky.
Air conditioning will probably not be available on slower trains – those categorized as TN, while the SE trains are the nicest and fastest and will have air-con.
Private Cars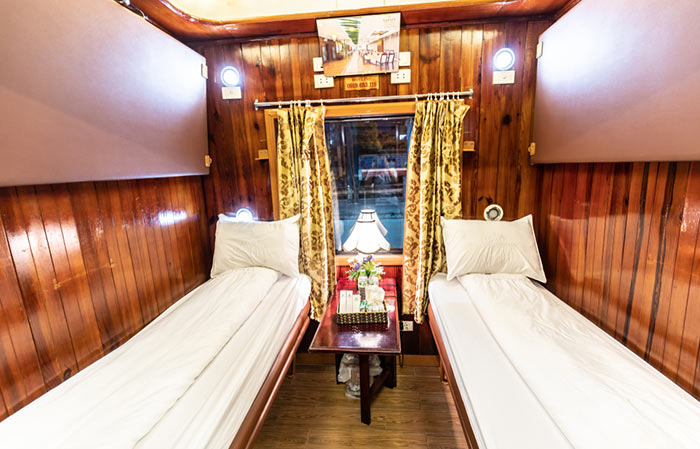 Of course, if you opt to travel on a private car you'll get quite a different experience. There are several major companies operating on the longer train routes in Vietnam including Orient Express Trains, Livitrans, and Violette, and you can book them as you would any other ticket on 12Go. Livitrans and Violette are known for being more affordable than Orient Express, so do check the differences in price when booking. As well as being more comfortable, the private cars have more facilities onboard, including a steward and food.
Sleeper Train in Vietnam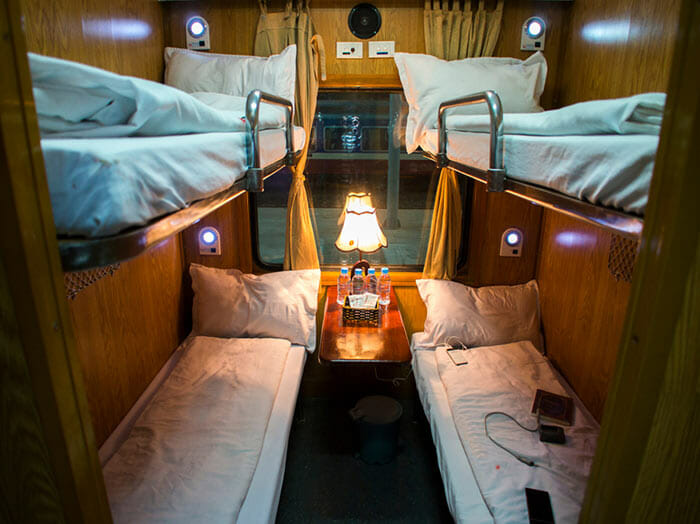 Sleeper Trains are quite common in Vietnam because of the long distances between cities. Hanoi to Ho Chi Minh City, for example, is a particularly popular route which, even on Express trains takes somewhere between 32 and 35 hours. You have the option to purchase just a seat for that trip but we really wouldn't recommend it. Opt for a sleeper berth, whether it's in one of the private cars or a standard First or Second class Vietnam Railways car and you'll have a lot more space and comfort and a far better chance of getting some sleep along the way!
You should also be aware of the difference between First and Second class berths. In First class you will get a 'soft' bed usually in a cabin with 4 berths. If you're traveling alone this likely means you will be sharing your cabin with strangers, but if you're traveling as a family or a group you can request the same cabin for all four of you.
Second class sleepers have 'hard' beds and there will be six per cabin. The cabins are air conditioned, as in First class, but they do feel more cramped. If you're someone who prefers a bit more space around you, or you're taller than average, you may be better going for First class or private berths. Bed sheets and pillows are provided in both classes, but for extra comfort you may want to bring something of your own to sleep on.
Sleeper Trains in Vietnam are a very popular way to get around and prices can vary quite a lot, even when comparing tickets for a single train. For example, there's sometimes only a few dollars difference between First Class and Second Class Sleepers, so paying just a little more for First class could be a good idea, and, there are sometimes great prices on the private sleeper trains as well, so be sure to check carefully when you're booking.

Travel by train in Vietnam is a great way to get around the country and it's reasonably priced too when you consider you'll be saving the cost of a night in a hotel if you're on a sleeper train. With trains being more direct – city center to city center – you could also argue that traveling by train is more convenient than flying as it avoids you having to transfer from the airport into the city. And then there's the cultural immersion that you just don't get on a flight, and the amazing scenery you'll get to see up close and personal. Book your train travel in Vietnam today and get ready to start your next adventure!