The island city-state of Singapore is an eclectic mix of culture and architecture that's home to a global financial center, towering over its historic buildings and parks. Founded as a trading post for the British East India Company, Singapore's long British connections are still easy to see in its cricket pitch and colonial core but it's not only the British who influenced the development of Singapore – there's a Chinatown and a Little India too with great little shops, or head to the giant malls for a real shopping-fix! If it's the colonial heritage that you enjoy, you're also going to love visiting Penang. This Malaysian state includes Penang Island and its capital George Town. It's Malaysia's second largest city and its historical core is a World Heritage Site, but, like Singapore, Penang also features high-rise modern buildings and attractions too.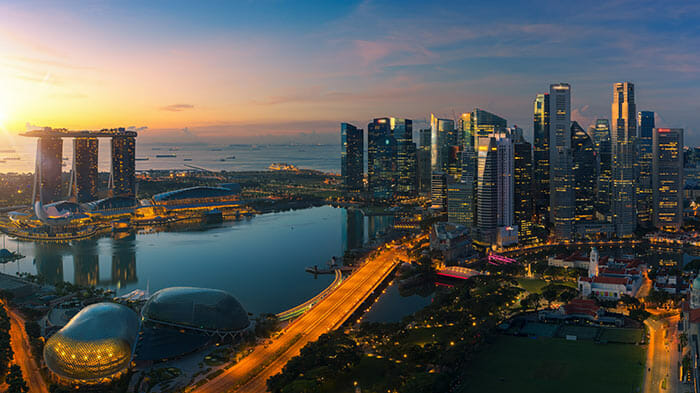 Options for Travel from Singapore to Penang
As the airplane flies, it's almost 600 kilometers (375 miles) from Singapore to Penang, while road traffic has to take an even longer route between these destinations, adding on another 115 kilometers (72 miles) to an already long journey. But, don't let this put you off; traveling from Singapore to Penang is a popular tourist route, and there are several different ways that you can make the trip. Flights are a good option because they're fast, but if you're not bothered about getting to Penang quickly, you could look into the buses as an alternative. Trains were also once an option as there was a daily train from Singapore to Penang, which was very convenient, however, that service was canceled. You can still go by train but it involves several changes and a an even lengthier travel time than on the buses, making this an unfeasible option.
Flights from Singapore to Penang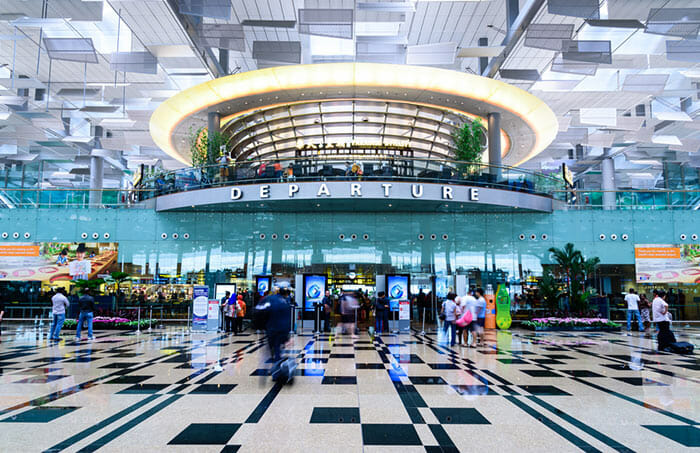 When traveling long distances flying is nearly always the fastest option, but, with that increased speed comes an increased cost, making flights the most expensive way to travel too. Take Singapore to Penang as an example – if you do a quick search for flights you could find some that cost hundreds of dollars, but these aren't the only options! There are several different airlines operating flights from Singapore to Penang and the cost of tickets varies dramatically, making it important to always shop around before buying.
Check online at 12Go.asia for a good, easy comparison between airlines. Their search results clearly show you what's included in your ticket price and you get instant confirmation when booking through them. Singapore Airlines always seems to come out as the most expensive option but their tickets do include a 30kg baggage allowance for checked baggage. Their early morning flight also seems to cost a lot more than flights later in the day, so if you can be flexible in your travel time and day of departure, this is a good way to save some money.
The other airlines flying from Singapore to Penang aren't as prestigious as Singapore Airlines but when you're only in the air for around an hour and twenty minutes, you don't exactly need luxury! You can save a lot of money traveling with Jetstar Asia, AirAsia or Scoot, and even though their quoted prices don't include a checked baggage allowance, you can add bags on to your booking for a reasonable price if you are traveling with more than just hand luggage.
If you do fly from Singapore to Penang you'll be departing from one of the world's best airports! Singapore Changi Airport is a very nice and very busy airport that was designed with great links to Singapore, making it easy to get to and from the airport via Mass Rapid Transit, bus or taxi.
Singapore to Penang by Bus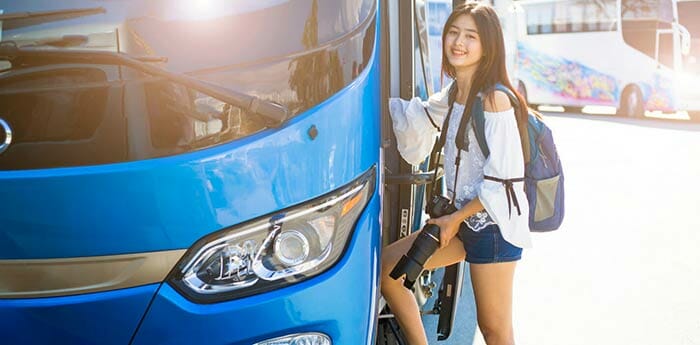 If you're comparing prices on 12Go you'll discover that flying from Singapore to Penang is more expensive than taking a bus, but not considerably more expensive. Buses traveling between Singapore to Penang are usually the VIP 24 type which means they're quite luxurious with just three seats per row, giving you more space than you would have on an airplane. The buses include TVs, snacks, and steward service, and they do of course have air conditioning, but there are no toilets onboard as per Malaysian law. Don't worry though, there will be several stops along the way for breaks!
The main bus operator serving Singapore to Penang is StarMart Express, and they have several different pick-up points in Singapore that you can choose from, including Golden Mile Tower, City Plaza, and Boon Lay, as well as a few different arrival points in Penang too, so do check where it will be most convenient for you to get on and off the bus, depending on where you're staying.
While the buses will save you some money over flying, you're going to have to weight up the pros and cons of traveling by bus. There are two advantages to taking the bus Singapore to Penang – first it's cheaper, and second you're going to get to see way more scenery through the windows of a bus than you would on a flight.
The major downside to the bus is how long it takes. Singapore to Penang by bus is almost 10 hours – so this is a very long time to be on a bus, even when you factor in several stops along the way.
Remember that whichever way you choose to travel, you are going to be crossing an international border, so be sure to look into any visa requirements before booking your tickets to avoid any time delays or additional stresses when crossing into Malaysia. You'll need to know the requirements whether you are going by bus or flying. And, it's always recommended to book your tickets in advance because it can save you money and you're more likely to find the seats you want if you book them further in advance.
How useful was this post?
Click on a star to rate it!
Average rating / 5. Vote count: