Set on the southeast coast of the island of Negros in the central Philippines is the charming city of Dumaguete. Small by some standards, but large enough, Dumaguete has the feel of a city on the Mediterranean with its European architecture and beachside promenade, and it has plenty to see and do from days on the beach and exploring the streets, to tours from the city to nearby mountains, lakes, waterfalls and more where you can hike and make the most of the beautiful scenery. From here, it's also just a short hop across the water to the island of Siquijor. This stunning little tropical island has a mystical feel thanks to its long-standing tradition as a place of magic and healing. Whether you're attracted by these traditions or just want somewhere to come to relax, spend time on the beach, diving, or exploring the scenery, Siquijor has it all.
Options for Travel from Dumaguete to Siquijor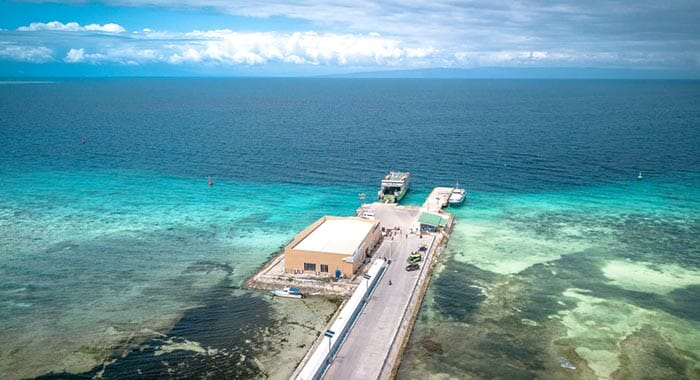 In a straight line it's only about 20 kilometers (12.5 miles) from Dumaguete to Siquijor so it's not a long way. Traveling across the water you'll need to add some mileage to that as the ferries aren't able to go exactly in a straight line, but even so, it shouldn't be more than about 35 kilometers (22 miles) all told. And, because you'll have to cross the water, the only way to travel from Dumaguete to Siquijor is by ferry.
Ferry from Dumaguete to Siquijor
Traveling by ferry is a great opportunity to get out on the water, enjoy the ocean breeze, and admire the scenery, and that's definitely what you're going to be doing when taking a ferry from Dumaguete to Siquijor! This popular travel route is covered by several different ferry companies, so you have a few options when it comes to working out your schedule.
Montenegro Lines runs three ferries per day from Monday to Saturday, and just one ferry on a Sunday morning from Dumaguete to Siquijor. Aleson Shipping Lines is another option, operating every day, four times per day. Then there's GL Shipping Lines who have five different ferries but they do not operate on a Saturday.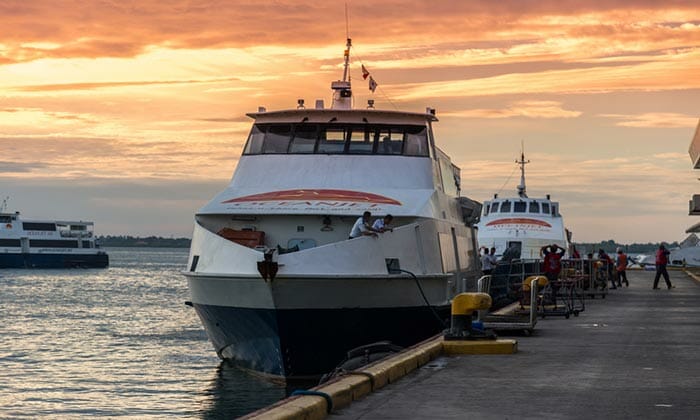 For the best choice of times and days, and for a reliable and comfortable service, we would recommend booking with OceanJet. They have five ferries per day, every day of the week, spread out at good times of the day. You could leave from Dumaguete to Siquijor as early as 7:20am, or get out of bed a little later and opt for the 9:40am. There are also ferries at 12:20pm, 2:40pm, and 5pm, and because the ferries only take around 50 minutes, you'll arrive at Siquijor with time to travel on to a hotel, or go out for a meal, whichever ferry you opt for.
You can buy ferry tickets at the port, but there are restrictions as to when you can buy them as ticket sales close about an hour before departure for some of these ferry companies, and check-in closes 30 minutes before departure, so you must make sure you get to the port in plenty of time. You can avoid having to buy tickets at the port, and the risk of finding that your chosen ferry is full already, by booking online. This can also sometimes save you money over the cost of buying tickets at the ferry counter.
Book online using 12Go.asia and you can buy tickets for the OceanJet ferries from Dumaguete to Siquijor. There are two ticket types: Tourist Class and Business Class, with Business Class tickets adding a few dollars on to the cost. To be honest, the service really isn't that different between these two classes; basically, you get more comfortable seats if you opt for Business Class, but when you're only on the ferry for about an hour, this shouldn't make much difference anyway.
Ferries depart from Dumaguete Port, arriving at Siquijor Port after about 50 minutes of sailing time, although in rougher waters this can be increased as the ferries will have to travel at slower speeds. Remember to book your tickets online in advance for the best prices and the best availability of ferries rather than leaving it to chance on the day!
Did you find this guide useful?
Click on a star to rate it!
Average rating: / 5. Vote count: