Sri Lanka's capital, Colombo, is a melting pot of different cultures and of old and new. Now transforming into a cosmopolitan city, Colombo is one of the places in Sri Lanka that should be on your must-see list. From its historic architecture to its fine restaurants and galleries, parks and museums, and a burgeoning modern skyline. By contrast, the city of Jaffna, is smaller and quieter, although it wasn't always that way; formerly the second largest city in the country, Jaffna has been colonized by the Portuguese, the Dutch and the British, and has suffered greatly through war. This is what helps to make this such an interesting city to visit today, with a number of historic sites including Jaffna Fort, and colonial homes and buildings on leafy streets, Jaffna shows a different side to Sri Lanka as well as a popular beach.
Read about:
• Colombo to Jaffna by Bus
• Colombo to Jaffna by Train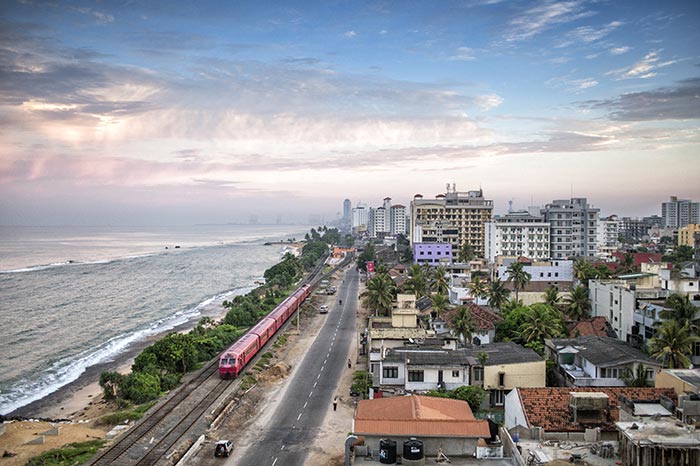 Options for Travel from Colombo to Jaffna
Jaffna is located right near the northern tip of Sri Lanka while Colombo is three quarters of the way down the west coast of the island, so the journey by road or by train is around 395 kilometers (247 miles). This may not sound like a lot, but with the condition of roads across Sri Lanka, the journey does take a long time if traveling by bus. Trains are generally faster, although more expensive than bus travel, or a third alternative is a charter flight, if money is not a problem for you! Several small airlines offer charter flights from Colombo to Jaffna, including Cinnamon Air, Millennium Airlines, Air Senok, and FitsAir. Being private charters, the cost will be high, so it's not an option that most travelers would be interested in, but, if you'd like to consider traveling this way, contact the airlines directly to find out more.
Colombo to Jaffna by Bus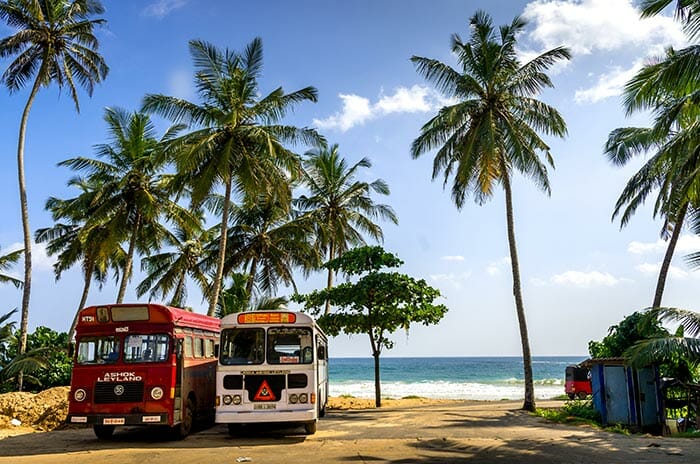 Traveling by bus from Colombo to Jaffna is the slowest way to get there, but with the slower speed you do get a few advantages. First is the cost saving, because traveling by bus is the cheapest way to go, and although it does take a while you will be traveling on a fairly modern and comfortable bus.
You have a couple of different booking options for buses from Colombo to Jaffna. Go to 12Go.asia and book through them if you prefer to ride on a private bus. They have tickets with Avro Travels and Tours who operate a modern fleet of VIP buses. If you've been on VIP buses in countries such as Thailand before, where the comfort levels and facilities onboard are very good, these VIP buses in Sri Lanka are not quite as high-class but they are air conditioned. Stops will be made along the way for bathroom breaks and the chance to stretch your legs, and you should definitely take advantage of these stops because the scheduled journey time is around 11 hours from Colombo to Jaffna.
There are a few different departure points for these buses such as from Wellawette in the south of Colombo, or Galleface which is closer to the city center. Booking through 12Go you will have extra peace of mind as you receive instant confirmation of your booking. These buses mostly travel overnight, which is another advantage, as you will be saving yourself the cost of a night in a hotel, and hopefully you'll be able to get some sleep along the way to arrive in Jaffna around 9am the next morning, ready to explore.
A second option for traveling by bus is to use the services of the National Transport Commission. This is a public service so the prices are usually cheaper, and there may be a few different bus types you can get tickets for, ranging in comfort levels. For a journey of this length we would always recommend opting for the more luxurious buses so that you're not traveling uncomfortably. Tickets for these buses can be booked through the NTC website directly, but if you're looking for the easiest booking option, we would recommend going through 12Go and booking a private bus from Colombo to Jaffna.
Colombo to Jaffna by Train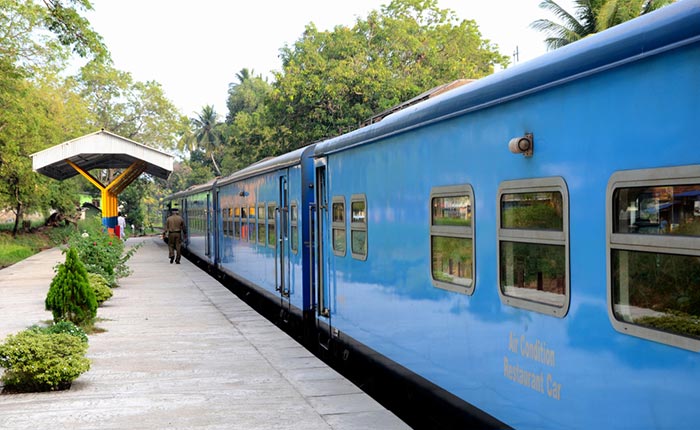 Aside from the buses, trains are a popular option for getting from Colombo to Jaffna. Trains have the advantage of getting you there faster, and you could argue that they are more comfortable because you have the freedom to get up and move around; something you cannot do on a bus.
For the faster journey time and better comfort levels, you will have to pay more, but when compared to the price of a ticket on the private bus, traveling by train is not significantly more expensive and does depend on what class of ticket you decide to buy. 1st and 2nd class seats are available, but to be honest, there is not a great deal to separate the two. First class seats will be slightly more comfortable than those in Second class, but regardless of which class you choose you will still have air conditioning as well as access to washrooms.
What we like best about traveling by train is that the journey from Colombo to Jaffna is faster and you get to see some beautiful scenery along the way. There's also a romanticism to traveling to train that you just don't get on a bus! Depending on which train departure you choose, the journey could be as fast as 6 hours, or as much as 8 hours, but either way, you will still arrive faster than you would be bus.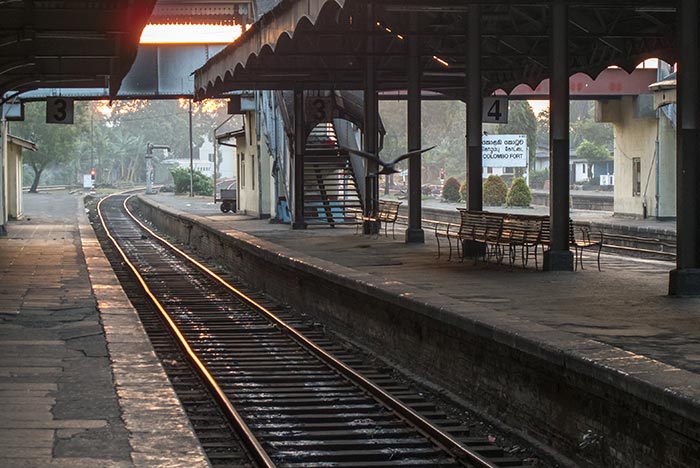 Trains are operated by Sri Lankan Railways and depart from Colombo Fort, arriving at Jaffna Train Station. As with the private buses, you can book your train from Colombo to Jaffna through 12Go, where you can compare the train schedules and ticket prices, and read other passenger reviews.
With several good options for traveling from Colombo to Jaffna, make your decision based on whether you want to save time or save money. The trains are a nice experience and get you there faster, but at higher cost, while the buses could save you the cost of a night in a hotel.
Did you find this guide useful?
Click on a star to rate it!
Average rating: / 5. Vote count: