The Philippines is full of beautiful islands with gorgeous beaches that are good enough to rival even the best of its neighboring countries. One of the best known is the little resort island of Boracay. It's among the most visited destinations in the Philippines thanks to its stunning sandy beaches and clear waters. It's the perfect place for a relaxing vacation on the beach, and has plenty of dive shops, restaurants, hotels and bars to enjoy too. Although it's an island, Boracay is easy to reach from its neighboring island, Panay, where the 'barangay' of Caticlan provides a gateway to the area.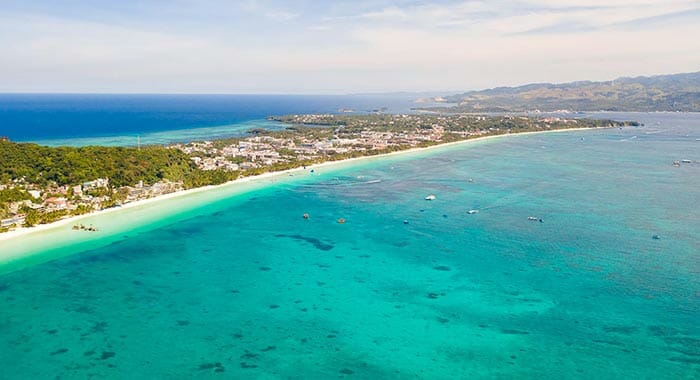 Options for Travel from Caticlan to Boracay
Caticlan is right at the northern tip of the much larger island of Panay, which is only about a kilometer (0.6 miles) from the coast of Boracay at its closest point. This makes getting from Caticlan to Boracay quick and easy, although it does involve crossing a small stretch of water to get there. Caticlan is one of the major gateways to Boracay. There is the Caticlan Airport – officially named the Godofredo P. Ramos Airport – which helpfully connects Boracay to Manila, the capital of the Philippines, by air, so there's a good chance you will be coming to Boracay via this airport. From the airport you can book a transfer by van that includes the ferry crossing, and even a transfer to your hotel of choice one you arrive on the island of Boracay.
Caticlan to Boracay by Ferry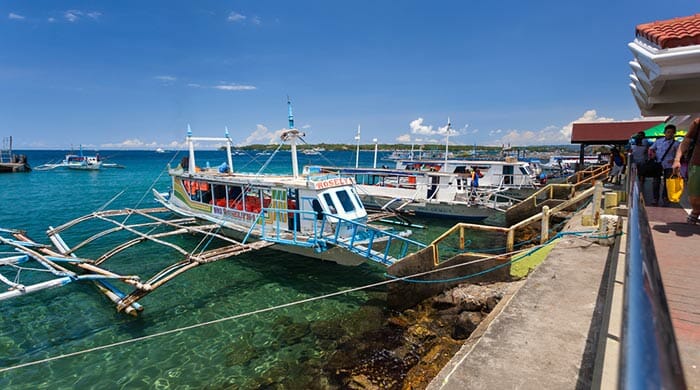 Although it's just a small stretch of water that separates Caticlan from Boracay, you will have to get on a ferry to make this crossing as there are no road bridges or other means to get you there. You can choose to travel independently and buy your own ferry tickets at Caticlan Jetty. There are two options for the ferry: a small boat, named a Bangka, will save you some money, but being quite a small boat, traveling this way may be a bit unnerving for anyone who is afraid of the water. These Bangkas operate usually between 5am and 9pm so they are plentiful and affordable if you don't mind going this way.
The second option is a larger boat, more like what you would expect from a passenger ferry! This is the Boracay Express, and because it is more comfortable and arguably more stable than the smaller types of boats, it does cost more. The crossing will take only around 15 minutes whichever boat you take, so it's not a long journey.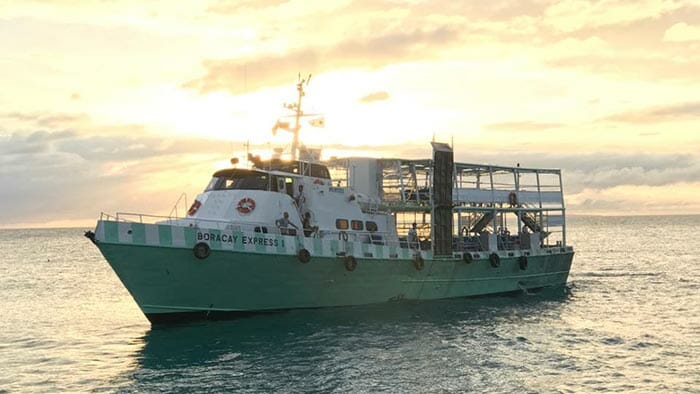 The good news is that you can buy a combined ticket that gives you a complete package. If you're arriving at Caticlan Airport you can book a package transfer in advance through the travel website 12Go.asia which includes your entire trip: transfer from the airport by van to the ferry jetty; the ferry crossing; and an additional transfer from Cagban Jetty on Boracay to your hotel. These packages are good value for money and they save a lot of hassle that is involved in trying to put all these segments of your journey together independently. Book your combined tickets at 12Go and you pay one price for all three legs of the trip, giving you a door to door service right from Caticlan Airport to the door of your Boracay hotel.
These package tickets are sold for the travel company, My Boracay Guide, and they're very reasonably priced considering it is a door to door service. Choosing to travel this way may add a little time onto your journey as the van will be picking up other passengers at the airport too, and dropping them at other hotels on Boracay, but it should take only around an hour altogether.
There are departures from the airport every two hours on the hour from 9am until 7pm, so you may find that you will have to wait a little while in between arriving at the airport and getting picked up, but again, it does save you the time of having to make your own way to the ferry jetty.
Another advantage of booking a combined ticket is that if your flight is delayed, this company will arrange alternate transportation for you, or wait for you to arrive if the flight is not delayed by much.
Choosing a combined van, ferry and taxi ticket from Caticlan to Boracay makes sense for a variety of reasons: good value for money, easy to book in advance, guaranteed pickup, and a door-to-door service!
Did you find this guide useful?
Click on a star to rate it!
Average rating: / 5. Vote count: