Transnasional is a leading Malaysian transport company that provides express inter-city bus services all over Peninsular Malaysia and parts of Singapore. While there are several other bus companies operating in Malaysia and Singapore, Transnasional is the largest and often the most affordable too. If you're planning a trip around Malaysia, you're going to come across this company a lot simply because they offer so many different routes, making them a great choice for multiple trips across the country. In fact, they serve over 200 destinations and have roughly 1,000 daily departures, so this really is a big company! Transnasional may be big, but does this mean they're good at what they do? We aim to give an honest review of Transnasional and the services they offer.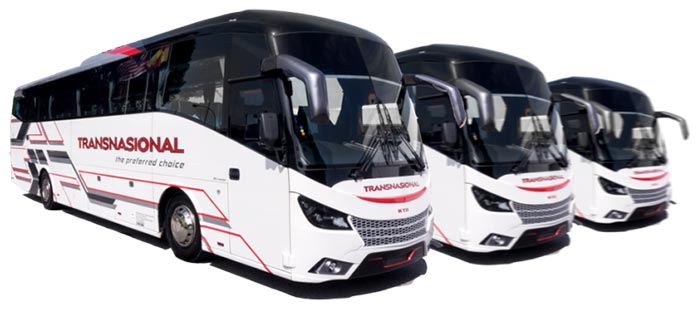 The main reason why Transnasional is such a large company is because it's part of an even bigger parent company, Konsortium Transnasional Berhad (KTB)! KTB is one of the largest public bus operators in Malaysia, and Transnasional is the name of their main intercity express service. They also operate the Plusliner express buses, and luxury buses under the Nice brand, in addition to stage and local services, so they really are massive.
KTB itself was established in 2007, so they have been in operation for over 10 years. During that time, the Transnasional brand has rapidly expanded to cover pretty much the whole of Peninsular Malaysia as well as many services in Singapore too. In fact, as mentioned above, they have somewhere in the region of 1,000 bus departures per day, which is quite staggering for one company, and they serve over 200 different destinations.
Transnasional is proud of their large fleet of buses which include over 100 new buses that joined the fleet in recent years. You're more likely to ride on these ultra-modern buses if you're traveling on one of their more popular inter-city routes, while slightly older and maybe slightly less comfortable buses will be used on less traveled routes. Even so, their website boasts buses with comfortable seating, individual air conditioning, USB charge ports, and reading lights, and depending on the level of service you opt for (whether it's standard, VIP or Business) you may have other services onboard too such as snacks, stewards, washrooms and TVs.
Transnasional also claims to be very safety-oriented. There are seatbelts provided in their buses, and their drivers adhere to speed limits or are notified by a buzzer if they do exceed the limit. Buses are also tracked by a central team that monitors each bus by GPS, and their buses are regularly given routine checkups.
Transnasional Customer Reviews

If you believe everything that the Transnasional company website says, it seems as though this is the ideal company to use for bus travel across Malaysia and Singapore. The only way to know for sure is to read through customer reviews of Transnasional to discover what actual passengers have said about the service.
A good place to read recent reviews is on the travel website, 12Go.asia. You can book tickets for Transnasional bus travel through 12Go, as well as being able to compare their schedules and ticket prices with other bus companies who offer the same routes. Thousands of customers have booked tickets for Transnasional through their website, and several hundred have left reviews. Of the 250 reviews that are present at the time of writing, 31% of those gave a 5 star rating, and 30% gave 4 stars. The overall rating is 3.6 out of 5, which is brought down by 14% of reviewers giving only 1 star. One of the recent reviewers said that the bus was not clean; another stated that it was too cold – this is a common problem on buses in Southeast Asia as the AC is always cranked up too high! Some other reviews mentioned that the bus arrived late to its destination – this is also a common problem when traveling in Southeast Asia and we recommend you do not book other travel plans without leaving a good gap between the scheduled arrival time of one bus, and the departure of another.
Positive Transnasional reviews mentioned that the service was good, comfortable and clean, while others said the bus was modern and spacious.
Should You Travel with Transnasional?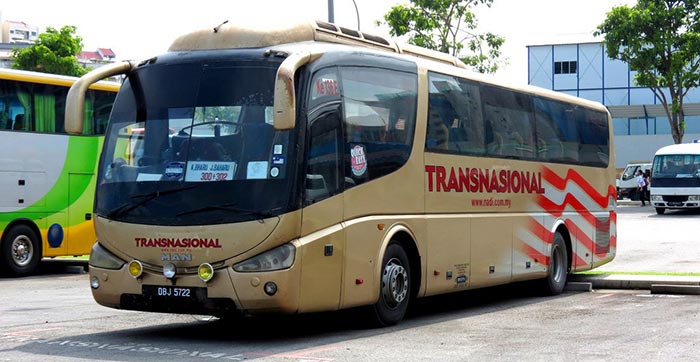 As with any company operating this many buses on this many routes, it would be impossible for every single journey to go without a hitch. As mentioned above, delays to schedules should be expected, as should buses that are too cold because of the AC, but everyone is entitled to travel on a bus that is safe and clean, and the majority of Transnasional reviews appear to suggest that this was the case.
Transnasional has one of the largest fleets of buses and largest networks of routes across Malaysia and Singapore, meaning that they should be able to get you to places that some other operators cannot. This, combined with the fact that their ticket prices are comparable to other bus companies, leads us to say that we can see no reason why you should not travel with Transnasional.