The city of Sihanoukville sits on the coast of the Gulf of Thailand in Cambodia and is home to some of the country's best known beaches. Come here to enjoy those beaches, whether you like swimming and sunbathing, nightlife, or messing around on the water, there's something for everyone. The city's markets are also a popular spot for tourists, and there's a scenic national park not too far out from the city. Sihanoukville is also a popular setting off point to get to some of Cambodia's islands, like the country's second largest island, Koh Rong. Known for its sandy beaches, coves, and coral reefs, Koh Rong will give you more of the beach-life experience, as well as some great nightlife, while inland this island features dense jungles and places to zipline.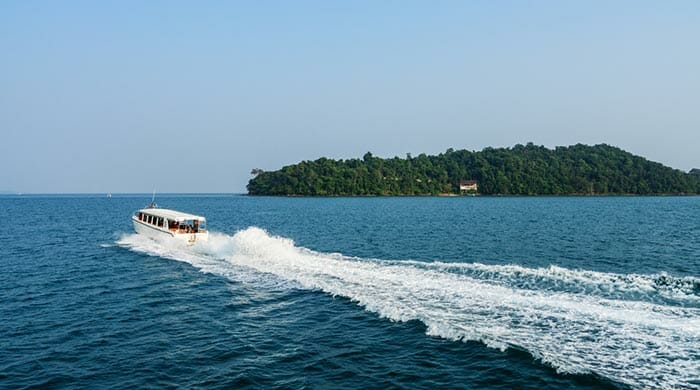 Options for Travel from Sihanoukville to Koh Rong
You're pretty limited when it comes to transport options from Sihanoukville to Koh Rong as there is no airport on the island, so this means you'll have to take a ferry from the mainland. This isn't a problem though as there are plenty of ferries each week, and the crossing time is quite short. In a straight line it's only about 34 kilometers (21 miles) from Sihanoukville to Koh Rong, as the island is just a little north west of the city. In terms of ferries, there are two options: high-speed ferry or speedboat.
High-Speed Ferry and Speedboat from Sihanoukville to Koh Rong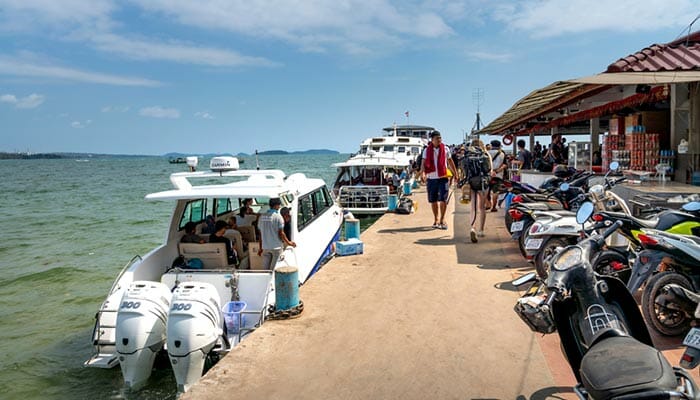 The ferries and speedboats from Sihanoukville to Koh Rong depart from Sihanoukville Port, which is towards the southern end of the city, at one end of Serendipity Beach, making it an easy place to get to. Boats depart throughout the day, starting as early as 8am and leaving roughly every 2 hours after that, with the last high speed ferry departing at 4pm, and the last speedboat departing at 5pm.
Although they're advertised as a high-speed ferry and a speedboat, both of these boat types are essentially the same. They are smaller boats, not like what you would expect to see if you heard the term 'ferry', and they do travel at high speeds which means the crossing can be quite choppy.
There are a few different companies running these ferries from Sihanoukville to Koh Rong, and you can book with both of them on the travel website 12Go.asia. GTVC Speedboat is one company – ironically, even though the company name includes the word 'speedboat' they say they use high-speed ferries, just to complicate matters a little more! The second company is Buva Sea Cambodia, and they say that they use speedboats. In the end, it doesn't make too much difference as the speedboats and high-speed ferries from Sihanoukville to Koh Rong take roughly the same amount of time.
The crossing time is more impacted by sea conditions, because if it's rough, the boat will have to travel at slower speeds. Schedules are also impacted by where you are getting off the ferry as both companies do give the option for a few different arrival points on Koh Rong, such as Thansur Beach, Long Set Beach, Koh Tock Beach, or Coconut Beach, so you're looking at a sailing time of somewhere between 35 minutes and an hour and fifteen minutes.
If you book online using 12Go, you can search for all the ferries from Sihanoukville to Koh Rong on the day you want and it will give you multiple different options. Look for the different arrival points so that you can plan to arrive closest to where you're staying on Koh Rong. There is a little variation in the price depending on arrival point, but it's just a dollar here or there so well worth the slight extra expense to get you where you need to be rather than having to worry about a taxi or similar at the other end.
12Go also provides customer reviews of the different services, so you can see what previous customers thought of the boats, the service and the crossing, and make your decision from there.
How useful was this post?
Click on a star to rate it!
Average rating / 5. Vote count: