Kalibo is best known as the main transportation hub for tourists visiting the resort island of Boracay, a small island set just off the north coast of the larger island of Panay. As such, most people coming through Kalibo will do just that – come through on their way to Boracay and not give Kalibo itself a second glance. While you may be rushing to get to Boracay and start relaxing, Kalibo certainly does have some attractions of its own. It puts on a massive festival every January, called Ati-Atihan which is definitely worth sticking around for. It has nice scenery too, in the shape of its semi-urban mangrove forest, and there's the Bakhawan Eco-Park to see as well.
Once you do get on your way to Boracay, you'll be looking forward to its gorgeous, palm-fringed sandy beaches and turquoise waters, water sports opportunities, including diving, fun and low-key nightlife, and some great restaurants, all of which will prove to you why the tiny island of Boracay is the most popular tourist destination in the whole of the Philippines!
Read about:
• Kalibo to Boracay by Package Van, Ferry and Taxi
• Kalibo to Boracay by Bus and Ferry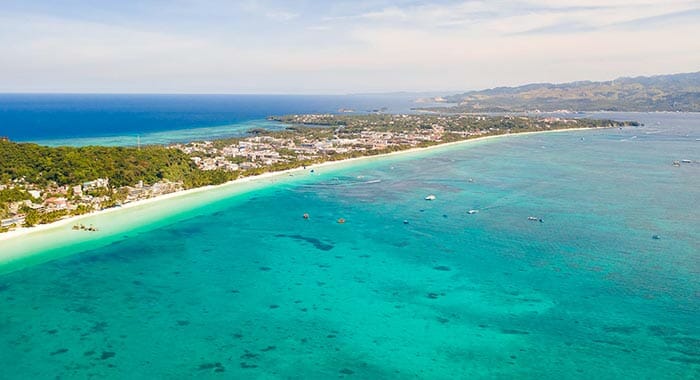 Options for Travel from Kalibo to Boracay
Kalibo, and its international airport, sits on the northern coast of the Philippine island of Panay, and by road it's about 75 kilometers (47 miles) between Kalibo and Boracay. You can travel by road between these two destinations, but, remember that Boracay is itself an island and it is situated about 2 kilometers (1.2 miles) off the northwest tip of Panay. There is no road bridge connecting Boracay with Panay, so for the last little bit of the journey you will need to take a ferry across the water. This is no problem at all because you can buy combined tickets that cover the entire journey from Kalibo to Boracay, allowing you to pay one price for a ticket that includes a van, then the ferry, and even a taxi transfer to your hotel on Boracay. This makes traveling from Kalibo to Boracay very easy and hassle-free, and it's cost effective too.
Kalibo to Boracay by Package Van, Ferry and Taxi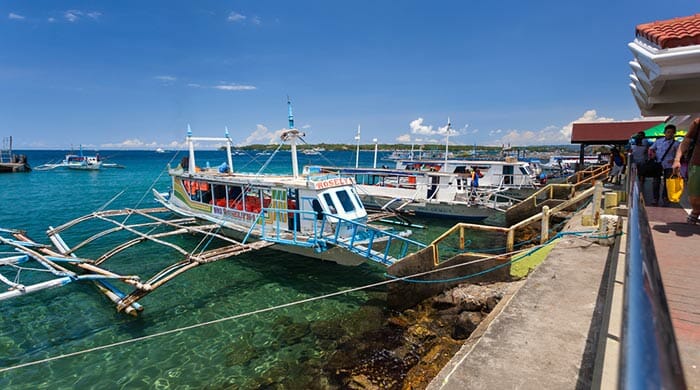 You can choose to be more independent in your travels and take each leg of the journey separately (more info on this below), but we would recommend booking a package from Kalibo to Boracay. As we mentioned above, it's so much easier to be able to book just once and have it cover all three legs of the trip. You pay one amount and you don't have to worry about anything as there will be staff members there to take care of you if you're not sure where you need to go. Booking in advance obviously has other benefits too – you know that you have your transportation organized already so no stressing about missing buses or the ferry while you join a long line to buy your tickets. Buying in advance allows you to pay a fixed price which you know is reasonable, rather than worrying about a middle-man over-charging you.
These combined packages for traveling from Kalibo to Boracay by van, ferry and taxi can be purchased online through the travel website 12Go.asia. Vans pick you up from Kalibo Airport and drive you to the Caticlan Jetty where you then get on the ferry for the short sea crossing. Once at Cagban Jetty on Boracay you'll catch a private taxi that will take you all the way to your hotel. This is a great door-to-door service and considering you're getting such a good service, the cost is very reasonable.
Booking through 12Go you'll be traveling with My Boracay Guide. This reputable transfer company provides a few nice perks as well that also make this a very worthwhile booking. Passengers are given a guidebook and map to Boracay and even a local sim card, and, if your flight happens to be delayed they will organize alternative transportation for you, or wait, depending on how long the delay is. So, for peace of mind, booking with them is highly recommended.
Vans leave Kalibo Airport six times per day and the journey takes somewhere between 2 to 3 hours usually, depending on where your hotel is located on Boracay.
Kalibo to Boracay by Bus and Ferry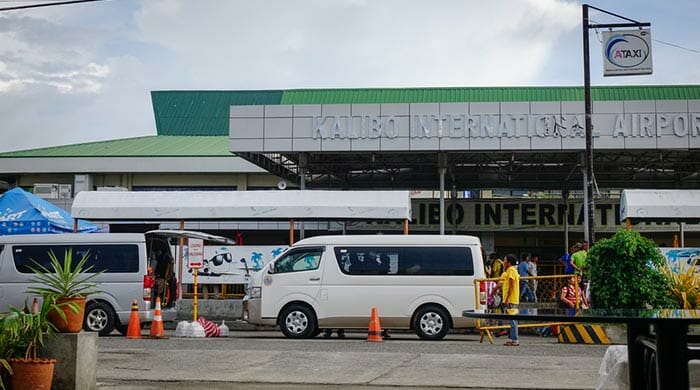 Sometimes it's nice to be independent and make your own way between Kalibo to Boracay. The main benefit in traveling this way is that you may be able to save yourself a few dollars, but when the cost of a combined ticket is not particularly expensive anyway, you'll need to decide whether traveling this way to save a bit of money is really worth the extra hassle.
Once you come out of Kalibo Airport there are public vans and buses that can take you directly to the Caticlan Jetty. This takes about 1.5 hours as these vans and buses will tend to drive faster than the package tour ones. Once you get to Caticlan Jetty you're on your own and will have to buy your ferry ticket, and, once you arrive on Boracay you'll need to arrange a transfer to your hotel too.
Getting one of these vans from the airport is cheaper than the package ones, plus you can save even more money if you travel by public/local bus. These are not available right at the airport but you can get a cheap tricycle ride from the airport into town and catch a bus from Kalibo bus terminal. Because these are designed for locals, these buses are cheaper than any other option and will take up to 2 hours to reach the jetty. However, do remember to add in the time it will take to get to Kalibo first, then wait for the bus, travel by bus to the jetty, buy tickets for the ferry, take the ferry crossing and then find a way to get to your hotel. With all of these segments added together, you're certainly not going to be saving any time traveling from Kalibo to Boracay this way, but you likely will save some money.
Although more expensive, a van, ferry, taxi package from Kalibo to Boracay is the best way to travel because everything is taken care of for you and you will arrive on Boracay faster and feeling refreshed when you book this package ticket in advance!
Did you find this guide useful?
Click on a star to rate it!
Average rating: / 5. Vote count: