Often known simply as Bangkok Airport, Suvarnabhumi Airport is the main international gateway to Bangkok and the rest of Thailand, so if you're traveling from overseas, this is probably where you'll arrive. It's a large and modern airport that was only opened in 2006 as a replacement for the smaller and aging Don Mueang Airport. That one closed for a period while being refurbished and was later opened as a second airport for Bangkok, dealing mostly with regional and domestic flights. If you're arriving at Suvarnabhumi Airport and don't want to travel too far to get to a beach, great nightlife, golf, theme parks, cultural sites, and shopping, Pattaya should be your next destination!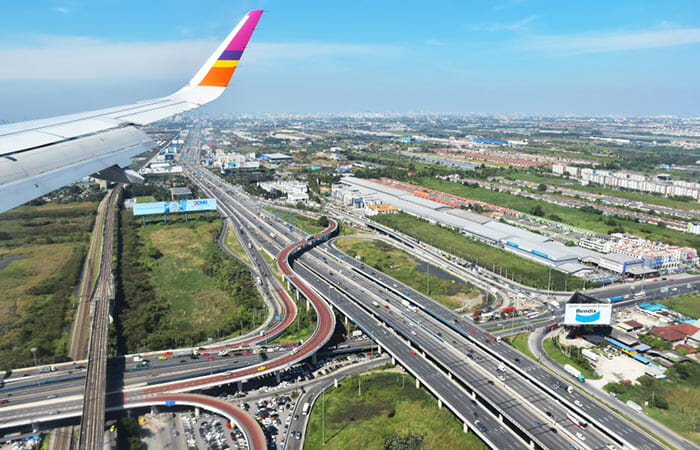 Options for Travel from Suvarnabhumi Airport to Pattaya
To get from Suvarnabhumi Airport to Pattaya it's just a quick 120 kilometers (75 miles) drive, which could take as little as an hour and 30 minutes. There are direct buses and taxis from Suvarnabhumi Airport to Pattaya that will save you the trouble of first having to go into the center of Bangkok, and because the airport is on the east side of the city, you won't have to worry about encountering Bangkok traffic either, as Pattaya is to the south of east of the capital, making this an easy and stress-free journey.
Suvarnabhumi Airport to Pattaya by Bus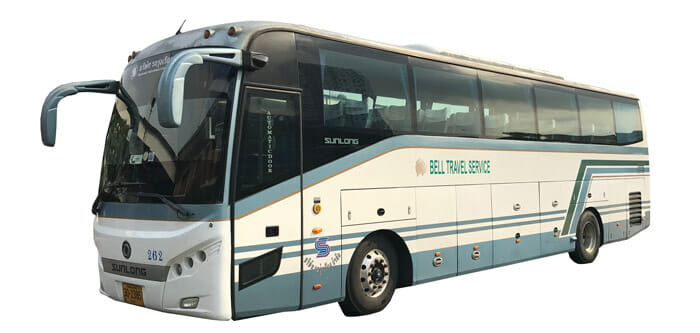 When you don't have a long way to travel, going by bus in Thailand is always a great option because it's usually the most affordable way to get from A to B. The bus from Suvarnabhumi Airport to Pattaya is no exception – it's the cheapest way to get to Pattaya, and it's quite fast too, taking maybe half an hour more than it would if you were in a taxi; scheduled travel times for the bus are just 2 hours. Perhaps the only real drawback with catching a bus from Suvarnabhumi Airport to Pattaya is that you may have to wait a little while after getting off your flight. Buses with Bell Travel, for example, leave Suvarnabhumi Airport every two hours, starting from 8am and the last bus departing at 6pm, so you have six departures to choose from. Hopefully you'll be able to coincide your bus with your flight arrival and not have to wait for long.
The bus from Suvarnabhumi Airport to Pattaya can be booked online through 12Go.asia, giving you the peace of mind of being able to book your seat in advance. So, when you get off your flight and pick up your luggage, you can go straight to the buses without having to worry about buying tickets or finding your way around.
The buses are the Express type, so they're comfortable and have air conditioning, which is all you really need for just a 2 hour ride. With Bell Travel you'll be dropped off at Pattaya Bus Station, which is quite close to the center of the city. From here you'll have options for getting to a city hotel, or for traveling on to the famous Jomtien Beach, if that's where you're heading.
Suvarnabhumi Airport to Pattaya by Taxi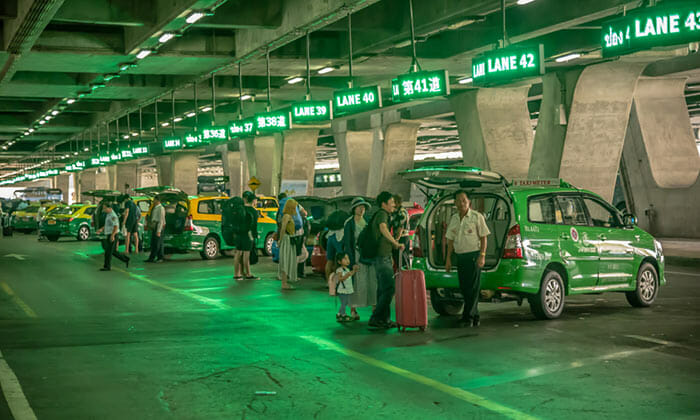 Unless you're planning to rent a car and drive yourself from Suvarnabhumi Airport to Pattaya, your only other option aside from the bus is to get a taxi. You could walk outside of the Arrivals terminal and easily find a public taxi – there will always be dozens of them waiting – or you can opt for a private taxi which you can book in advance through a travel website such as 12Go. Prices should be quite similar between these two options, so really it just comes down to your personal preference – if you prefer to know that you have everything organized in advance, booking a private taxi is a great idea; it saves having to worry about language barriers because the driver will already have the instructions as to where to take you, whereas you may have some trouble getting a public taxi driver to understand.
The other advantage with private taxis is that you can choose the type of vehicle you would like to have. This is especially important if you're traveling as a group or with family and you need a larger vehicle such as a 4-passenger SUV, or a 9-passenger van as you will be able to specifically book these types of vehicles depending on how many people you're traveling with. At the airport, public taxis tend to be suitable for up to 3 passengers maximum, so do bear this in mind. The private taxis from Suvarnabhumi Airport to Pattaya will also give you an extra level of comfort as the cars may be larger, newer and more luxurious than a standard taxi.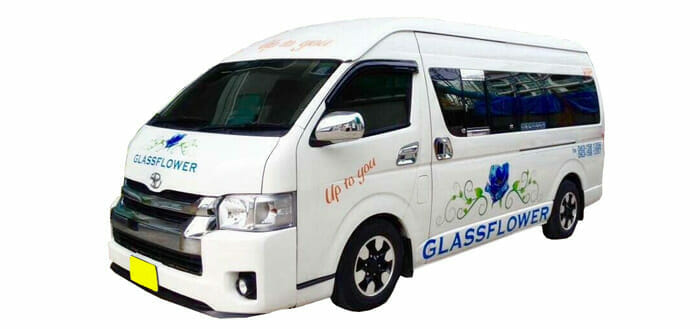 If booking online, there are quite a few different private taxi companies that you can book through 12Go, so you can compare the prices and vehicle types easily on their website. Stated travel times do vary across the companies too, but in reality they should all take roughly the same amount of time, depending on where in Pattaya you are staying. Taxis always have the benefit of a door to door service after all, dropping you right at your Pattaya hotel, and, unlike the buses you can get a taxi at any time of the day or night. This is great if you are on a flight that's arriving late at Suvarnabhumi Airport and you need to get to Pattaya. The last bus will have already gone, so taxi would be the only option unless you wanted to wait until the morning.
Taxis from Suvarnabhumi Airport to Pattaya are of course more expensive than the affordable buses, but do shop around and compare the prices. If you're traveling alone, the bus will definitely save you money, but if you're with friends or family the taxi could work out to be an affordable option too. Taxis aren't going to get you to Pattaya particularly faster than the buses do, although they do take you to exactly where you want to go, saving you the hassle of finding your own way to your hotel, so consider this too.
How useful was this post?
Click on a star to rate it!
Average rating / 5. Vote count: