Like most cities in the world Bangkok offers a great selection of hotels and other accommodation choices for visiting tourists. Unlike most cities in the world this selection encompasses all price ranges and budgets, from the cheapest hostels to the luxury 5 star hotels that are among the best on earth. This is great news for anyone visiting the city on a small budget, and if this includes you, read on for our list of the best 10 cheap hotels in Bangkok.
First, let's get one thing straight: cheap does not necessarily mean nasty. Yes, Bangkok does have its own share of cheap and nasty hotels but we're not interested in those ones. For our list we've scoured the internet to bring you a comprehensive list of 10 cheap hotels in Bangkok. Putting them into an order was challenging as they all have great things going for them such as location, comfort, amenities, and of course price, so any of these would make a great choice for a traveller on a budget.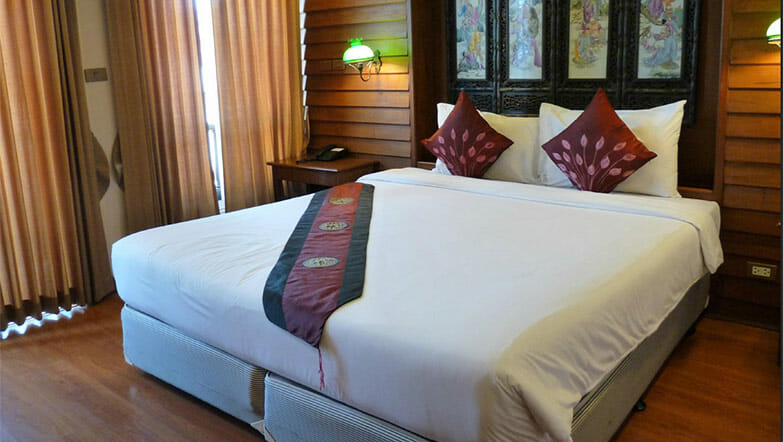 Out of all the cheap hotels in Bangkok this is by no means the cheapest, but it is affordably priced. The reason why Lamphu Tree House made our list is because it has a good location, a swimming pool, nice breakfast and comfortable rooms.
The location gives you the best of both worlds. It's about 10 minutes walk from Khao San Road so it's really quick and easy to get to shops, nightlife and restaurants, yet Lamphu Tree House is set within a more residential area so it's surrounded by traditional Thai architecture, not high-rises, and it's quieter here. For a boutique hotel at the budget end of the scale there really are a lot of amenities and services offered. Most days a fairly large buffet breakfast is put on – though don't expect Thai dishes as they are mainly Western. There is a nice swimming pool, perfect for unwinding after a day of sightseeing, and the staff are friendly and amiable, mostly speaking good English. Free wifi is another nice touch and though the rooms are on the basic side they are comfortable and inviting.
Lamphu Tree House, 155 Wan Chat Bridge, Prachatipatai Rd, Phanakhon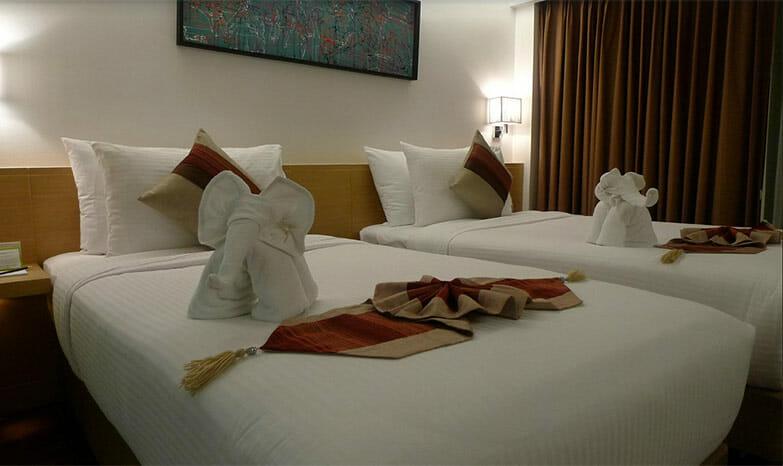 With only 30 rooms, all of which are non-smoking, City Point Hotel has a boutique feel. Again, this is not the cheapest of the cheap hotels in Bangkok but considering its location and how nice it looks the prices are very reasonable.
For the size and price of City Point Hotel you probably wouldn't expect to see find such a modern and sleek interior. Fresh and natural furnishings contrast beautifully with the natural stones throughout the common areas that include a bright lobby and a funky restaurant/bar. The guest rooms are sleek and contemporary too and include cable TV, free wifi, complimentary bottled water, air conditioning, minibar, tea and coffee making facilities, and a modern bathroom with walk-in rain shower. You'll also enjoy a free breakfast. It's great to see a cheap hotel in Bangkok that is concerned for their impact on the environment. They have water saving technology in the bathrooms.
Location-wise this hotel is secluded enough to be a little quieter than some yet it's only a 2 minute walk to the BTS Skytrain and MRT Subway stations. Soi Cowboy is only 3 minutes walk and Terminal 21 shopping centre is 2 minutes walk.
City Point Hotel, 6/22 Asoke-Sukhumvit Intersection (Opposite Exchange Tower), Klongtoey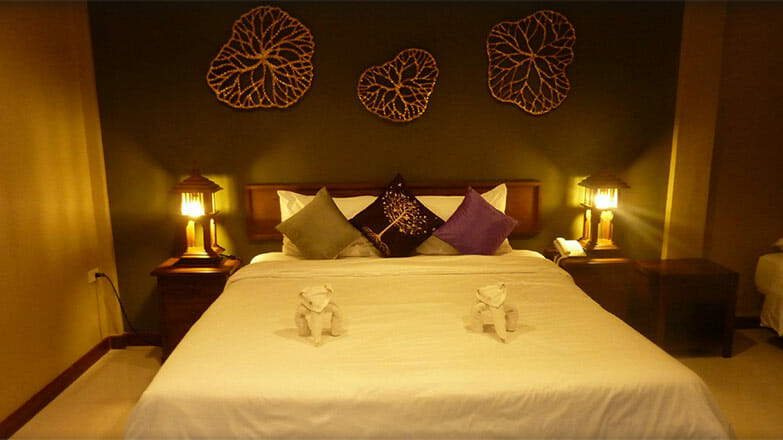 The Lullaby Inn made it to the Trip Advisor list Travellers' Choice 2014 for Bargain Hotels in Thailand so reviewers definitely consider this to be one of the cheap hotels in Bangkok! For quality, comfort, service and price this is one of the best places you could stay, however, the location won't be for everyone.
If you like to get around by taxi it's a longer drive from the Lullaby Inn to the main attractions, but you can take a roughly ten minute walk to the Skytrain for access all over the city. The Silom location gives this hotel a quieter setting than more central hotels in Bangkok, which can be an advantage. Free wifi is a bonus and the complimentary breakfast is good quality, if a little small in selection.
Lullaby Inn, 18-20-22 Decho-Silom Road, Bangrak, Silom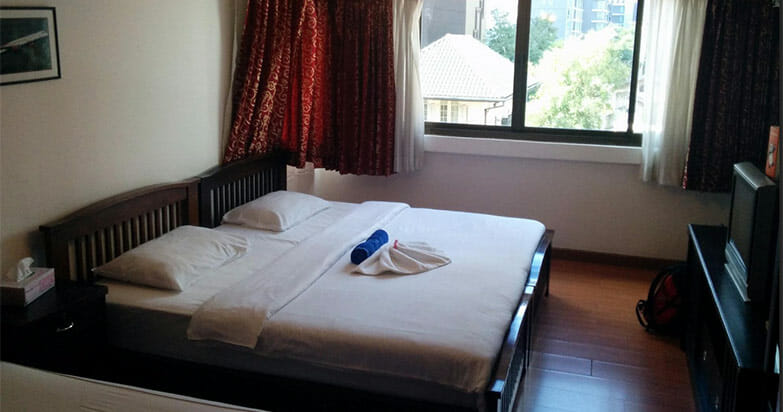 What we liked about the MHC Guesthouse was the location and the fact that they give everyone a friendly welcome. These smaller guesthouses can be excellent places to stay when looking for cheap hotels in Bangkok. It may not be furnished or decorated in the most modern way but the important thing about MHC Guesthouse is that it is clean and comfortable, and of course affordable.
Situated on a cul-de-sac of residential homes the location is quiet and safe yet only minutes to attractions and transportation. Sukhumvit Road is only steps away and the BTS Skytrain station a 5 minute walk. You don't have to travel far to get to restaurants either, with a selection of international cuisines all within walking distance. Some of the features that are highlighted by many guests include the spacious size of the rooms and how clean and comfortable they are. It's also great that rooms have free wifi, air conditioning, a fridge, TV and a modern bathroom, and there's a nice bar area where you can get together with other guests.
MHC Guesthouse, 8/4 Sukhumvit Soi 28, Khlongtoey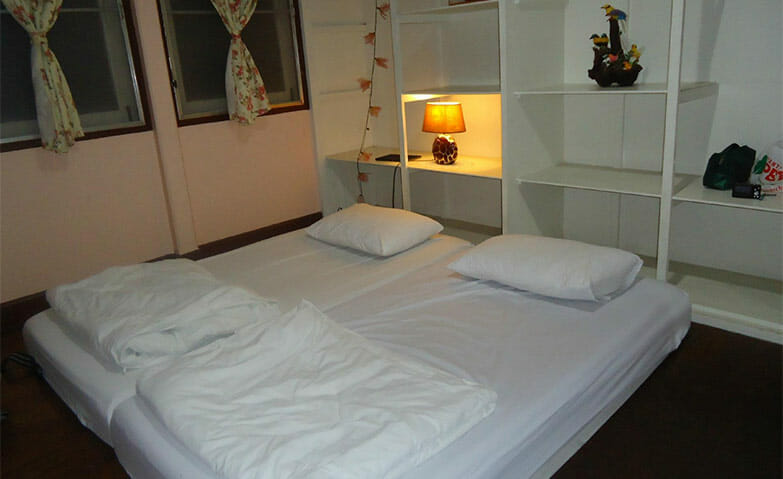 The sign outside Khaosan Baan Thai says "Cheap, Clean and Cozy" and they're not joking! This place certainly is affordable though it doesn't make the top of our list because the rooms do not have private bathrooms. Even so, the shared bathroom is always very clean and maintained to a high standard so if you're looking for cheap accommodation and don't mind a shared bathroom this is a great place to stay. It's debateable though whether this should be on a list of hostels or cheap hotels in Bangkok because it does have a hostel feel to it.
Putting that argument aside, the location is very good, about ten minutes walk from Khao San Road, and this walk shouldn't be a problem after eating the free and filling breakfast every morning!
Khaosan Baan Thai, 11/1 Samsen Soi 3, Phranakorn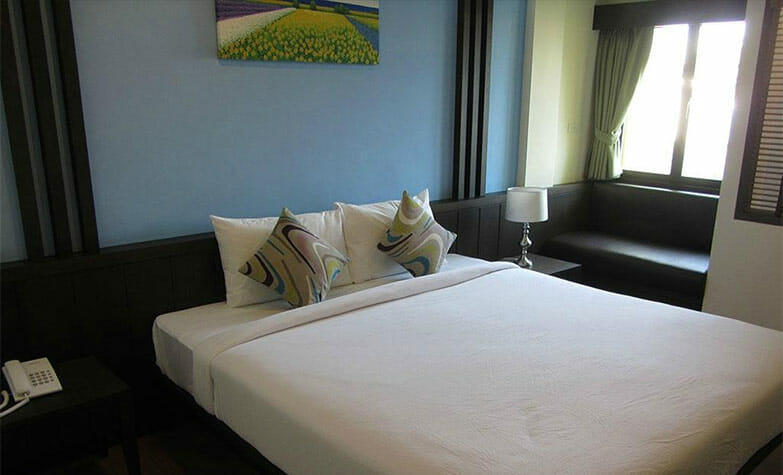 Tara Place is located within the old city, though the hotel itself is firmly planted in the present with all the mod-cons you would expect from a new hotel (opened in 2012). What you might not expect to find is such a nice looking place on a list of cheap hotels in Bangkok, but Tara Place does have the benefit of combining modern furniture and decorations with an affordable price tag.
The rooms are clean and comfortable and are all non-smoking. They have a TV, fridge, free wifi, safe, and air conditioning, and for a few baht more you can book your room with breakfast included. What many guests like about Tara Place is the hotel's free tuk-tuk service – they will take you to many of the nearby attractions including the Grand Palace, Wat Pho and Khao San Road, or you can walk to the heart of Khao San Road in about ten minutes. Their location means you'll enjoy relative peace and quiet when you want it, but you're close enough to all the attractions to be able to get around easily.
Tara Place, 113-117 Samsen Road, Phranakorn
4 – The Moonite Boutique Hotel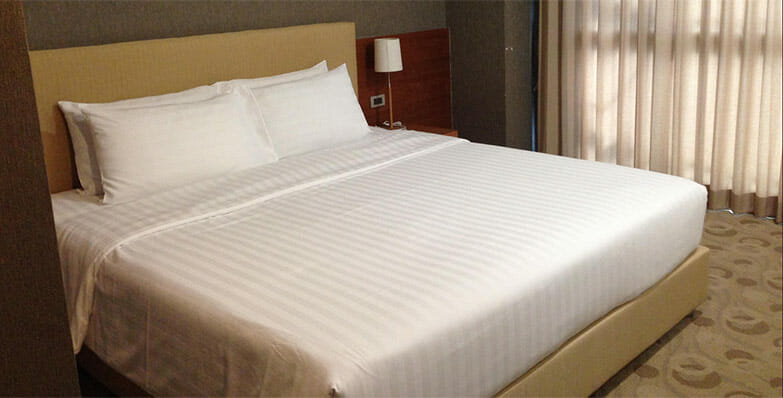 Cheap hotels in Bangkok are usually located a little farther out of the way and are not at all suitable for business travellers; not The Moonite. Its location on Wireless Road, right in the central business district of Bangkok, makes this affordable little hotel the perfect choice for business travellers and a great choice for leisure tourists too. It is walking distance to the Skytrain, restaurants and shopping, and is situated amidst many 5 star hotels that have the price tags to show for it.
The Moonite Boutique Hotel has free wifi and a tasty breakfast, and the whole hotel is modern and comfortable. There's no swimming pool but the Sky Garden up on the roof is a really nice touch if you want some fresh air and a comfortable place to sit. The only drawback with this hotel is the size of the rooms – the standard rooms are compact so if you want a room with more space opt for one of the suites.
The Moonite Boutique Hotel, 5/3-6 Wireless Road, Lumpini
3 – Feung Nakorn Balcony Rooms and Café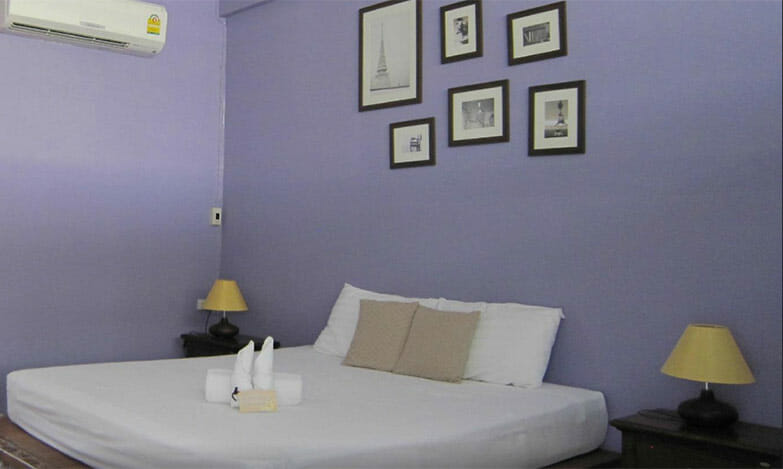 This is another hotel that isn't the cheapest in the city, but for its location, amenities and service the price is excellent. We really like the way this hotel has been designed with the building curving around a central courtyard garden, it gives a sense of being somewhere quiet and peaceful even though you're steps away from the busy Bangkok streets. Some other nice features of this budget hotel are the generously sized rooms with air conditioning and comfortable beds, the nice breakfast – and the fact that they will happily pack you a to-go bag when heading off on an early morning tour – and free wifi.
Some cheap hotels in Bangkok do not have a restaurant but Feung Nakorn does. This saves guests the trouble of having to find somewhere to eat after a long day of sightseeing, though the only drawback is an early closing time in the evenings so it's not so good if you're back late. The location is great – about ten minutes walk to the Grand Palace and Khao San Road so there are plenty of places close by.
Feung Nakorn Balcony Rooms & Café, 29 Soi Feungthing Feungnakorn Rd, Watradchabophit, Phranakorn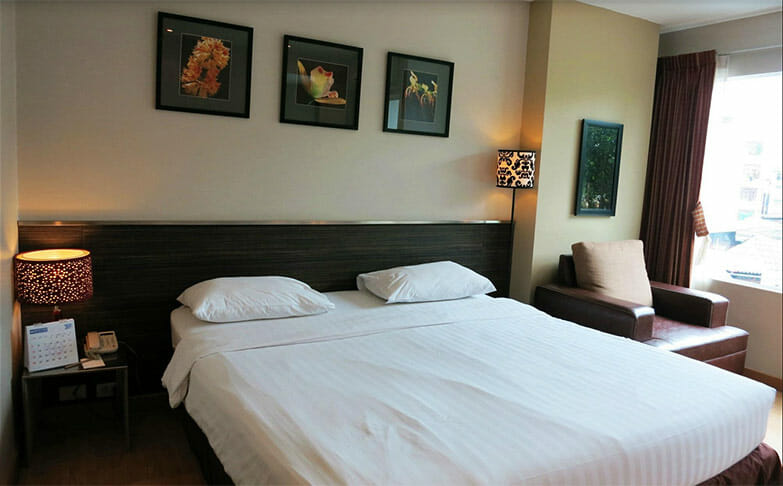 Like the Lullaby Inn, the Bangkok Loft Inn also made it onto Trip Advisor's Travellers' Choice winning list of budget hotels for 2014, so we know for sure that this is one of the best cheap hotels in Bangkok. Location-wise Bangkok Loft Inn is on the newer side of the city, close to the central business district so it's not as handy for some of the attractions as other entries on our list, however, it is just a 5 minute walk to the Skytrain so all the city's attractions can be reached with ease.
The biggest factor in favour of this hotel is the price. The Bangkok Loft Inn is cheap and cheerful – it has everything you need for a comfortable and pleasant stay but it is very affordably priced. The boutique style gives this hotel a more upmarket feel than the price reflects, and although the rooms are fairly basic they are modern and stylishly decorated and furnished.
You'll get a complimentary breakfast and free wifi, and surprising for this rating of hotel there is also room service and a full restaurant. One of the biggest selling points is the airport pick-up so you don't have to worry about taxis or buses.
Bangkok Loft Inn, 55 Somdet Phra Chao Taksin Rd, Bangyeerua, Thonburi
1 – Phranakorn-Nornlen Hotel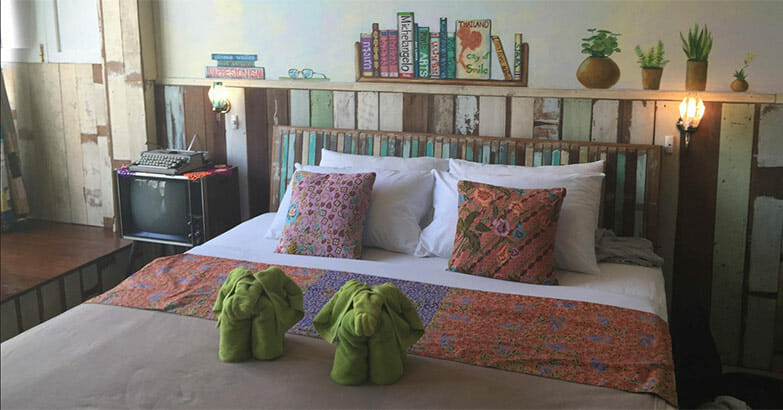 And so to our number one entry – the top place on our list of cheap hotels in Bangkok is Phranakorn-Nornlen Hotel! This is another place that was on the 2014 Travellers' Choice for bargain hotels, so again, we know that this hotel scores high marks for its affordability. The reason why we chose this as our top cheap hotel in Bangkok was the uniqueness of the place and its proximity to all the attractions of the old town.
This hotel really is lovely – it's as independent as they come and will hence appeal to travellers looking for something a little different. Quirky decorations and furniture, complimentary bottled water, free wifi, organic and vegetarian breakfasts, and welcome drinks when you arrive, plus they also serve lunch and dinner. Their homemade natural mosquito repellent is always raved about! All in all, this is a wonderful place to stay if you're looking for a cheap hotel in Bangkok.