With so much to see and do in Bangkok it can be difficult planning your stay. Bangkok day tours offer a great way to see some of the city's most important sights while learning far more about what you're seeing from an experienced tour guide. So now the difficulty is choosing which Bangkok sightseeing tour you want to take but we've made this easier with our own list of eight of the best Bangkok day tours!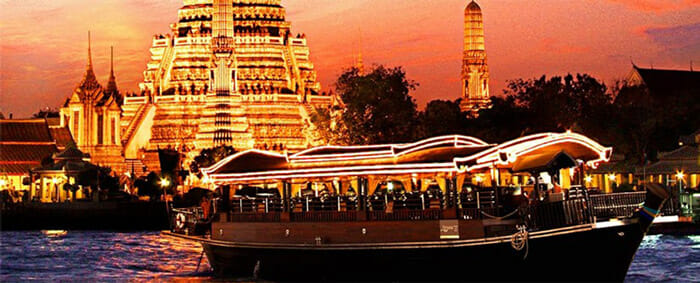 Strictly speaking this isn't a Bangkok day tour but it is a great way to end a day of sightseeing! The Apsara Dinner Cruise by Banyan Tree is the perfect way to finish your day, combining a cruise on an authentic Thai boat right, through the heart of this great city, with a delicious sit-down dinner. It is the ideal way to cruise along the Chao Phraya River.
There are other river cruises you could choose but this one stood out for us because it's a smaller boat with a more intimate atmosphere than others. Here you enjoy a full service meal as opposed to the buffet dinners available on other cruises, and there's a sightseeing commentary as opposed to loud music and a party atmosphere. This makes the Apsara Dinner Cruise the perfect choice for a romantic evening.
The cruise departs from River City next to the Sheraton and you can either make your own way to the dock or go to the Banyan Tree Hotel and take a free shuttle from there. A nice touch is that you are shown the menu before boarding and given the chance to let them know if you have any special dietary requirements and how spicy you like your food. In total the cruise lasts 2 to 2.5 hours and after dinner you will stop at some of the city's major landmarks such as the Wat Arun Temple for the chance to take photos.
Nok Thai Tour – Private Day Tours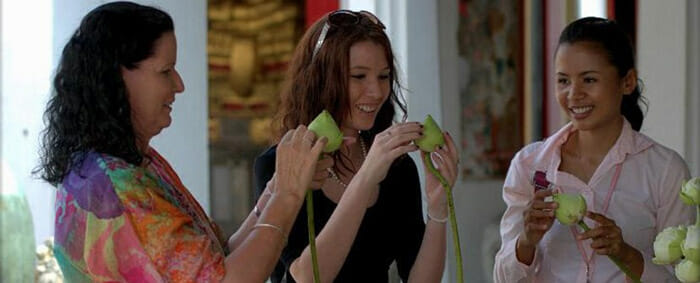 Private tour guide Nok is one of the top rated tour guides in the city, offering personal guided tours without the groups. She has a selection of "pre-made" tours you can choose from for the best in Bangkok sightseeing, or you can customise a tour depending on the specific sights you'd like to visit. Out of Nok's pre-made day trips the one that stands out for us is the Ayutthaya Tour. You're probably thinking that this isn't a Bangkok day tour because Ayutthaya is in fact 80 kilometres (50 miles) north of Bangkok, but, this is a place you won't want to miss.
The old city was once the capital of Thailand and has been wonderfully preserved. It is now a UNESCO World Heritage Site, famous for its stunning temples and palaces. A tour with Nok takes you to the best of Ayutthaya including the Summer Palace and three beautiful temples before visiting and interacting with elephants then spending some time at the floating market. This is a full day tour with a suggested hotel pickup time of 8 am and drop off around 8 pm.
Expique – Bangkok Walking Tour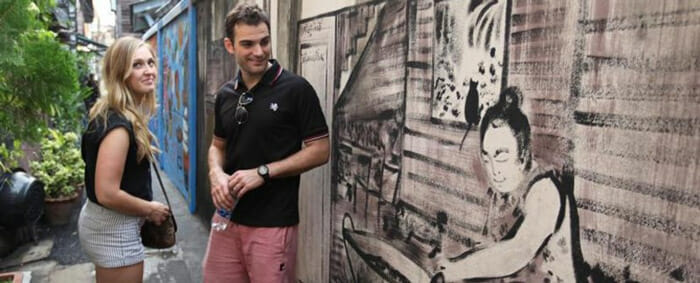 While many of the Bangkok day tours will shuttle you around all the main sights where all the other tourists head to there are some tour companies that try to offer something a little unique. Expique is one of those! Their Bangkok sightseeing tour is done on foot, visiting backstreets of the city that tourists usually wouldn't get to explore on their own. The tour has a cultural slant, wandering along the riverbank on the Thonburi side of the city you will see neighbourhoods where numerous different cultures and religions have lived together in harmony for hundreds of years. Thai temples stand alongside churches, mosques and Chinese shrines, and this informative tour provides stories as to how these different groups of people came to be here.
The tour covers a distance of about 3.5 kilometres (2 miles) and takes around 3.5 hours to complete.
ABC Amazing Bangkok Cyclist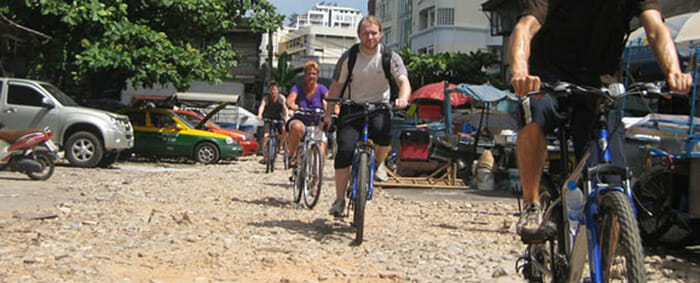 From foot power to pedal power, our next Bangkok sightseeing company uses bicycles to get around the city. ABC has been providing guided bike tours of Bangkok since 1989 so they really know what they're doing. The great thing about this Bangkok day tour is that it is suitable for all ages and fitness levels so the entire family can join in the fun. The tours are relaxed and entertaining with no rushing around, so you get to see the city sights without rushing past them all.
The company offers several different tours so you can choose whichever suits you best. The full day tour is our favourite. You'll be out for 5 hours though it's not cycling the entire time as the price includes lunch, drinks, bike rental and a long-tail boat trip. You won't be riding on busy city streets but backstreets and quieter trails that take you places you would never usually visit. This is the chance to see how the locals live, to experience the quieter side to Bangkok and to see greenery and typical Thai style houses.
ABC also has morning tours, afternoon tours, weekend tours, dinner tours, and private tours if you prefer to go cycling in a much smaller group.
Taste Of Thailand Food Tours

You may think a food tour is just for foodies but the fact is, this Bangkok day tour combines great food with a tour in parts of the city you probably wouldn't otherwise see. Yes, you'll get to discover everything you wanted to know about Thai cuisine and you'll get to sample a great variety of dishes from street food to fine dining. But who wouldn't want to see some of the quieter side to Bangkok while enjoying its food?
The Village of Love Food Tour is a walking tour that takes you into neighbourhoods where you can wander among the locals, all the while benefiting from the knowledge of an experienced tour guide. Food tours are suitable for all ages and with group sizes a maximum of 10 people the tours feel intimate and special. In all you should allow somewhere between 3.5 and 4 hours and you'll probably want to skip breakfast because you're going to be eating 15 distinct food and beverages over the course of the tour!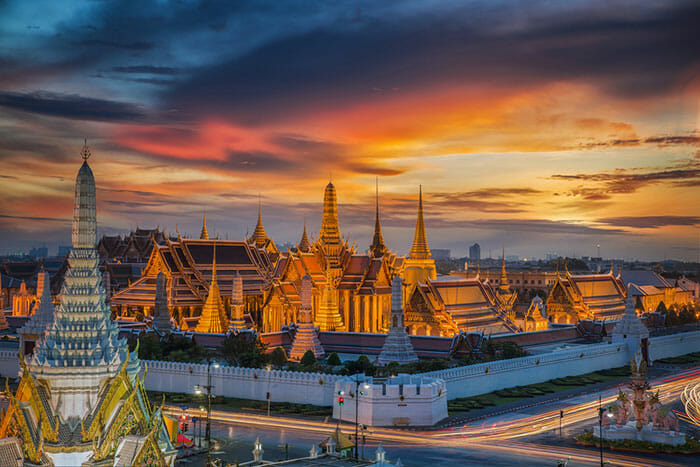 If you're pushed for time the best way to see the city is on a highlight tour as these take in the major sights including all those places you really must visit. Bangkok sightseeing tours are offered by many different companies but we chose this fun highlight tour with LJ Biz Soft Adventure & Cultural Day Tours because of their excellent reviews. You can customise a tour or go with their suggestions for the perfect Bangkok day tour that includes travelling by boat on the Chao Phraya River, visiting the flower market, then a tour of the Emerald Buddha Temple.
We liked the fact that lunch is not included because this means you can use the expert knowledge of the tour guide to find a really nice place that's just right for you. Tell them your budget and your tastes and they will recommend, and take you, to the most appropriate place. After lunch you can take a tuk tuk to Wat Pho or the Reclining Buddha, and the famous Temple of Dawn, Wat Arun. The company can also arrange an optional trip on the river in a long-tailed boat which is a lovely way to end a day of Bangkok sightseeing.
Grand Palace & Wat Phra Kaew with BKK Tours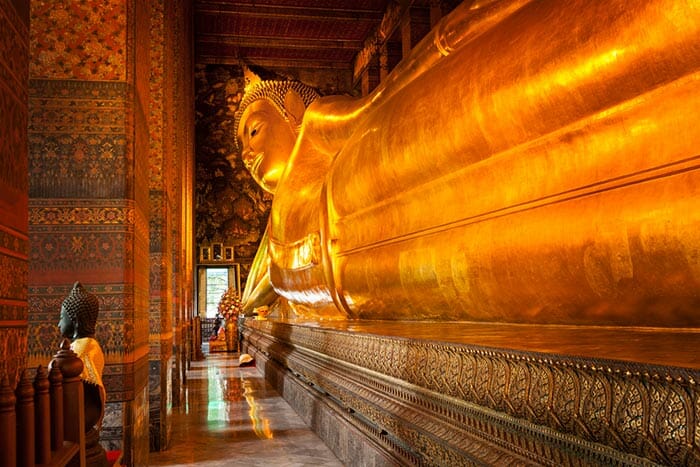 BKK Tours is another small company that offers both personal custom tours and pre-arranged tours of some of Bangkok's top tourist attractions. You could get in touch with BKK Tours for all your Bangkok day tours but the one that we liked best is their Grand Palace and Wat Phra Kaew private tour.
If you've ever visited any of the temples or the Grand Palace in Bangkok on your own you'll know that there are often hawkers outside trying to get you to go to other places or trying to sell you guiding services. When you already have a private tour guide this isn't a problem – you get to enjoy the Grand Palace and Wat Phra Kaew with the benefit of your own personal tour guide. Even if you have visited these landmarks before the private tour is a wonderful way to learn more about them with local insight and knowledge provided by your guide.