Bangkok is known as the home of delicious food, supplied by both street vendors and a wide selection of multi-cuisine restaurants. If you like your food but would like to do something a little different for an eating experience, there are several Bangkok food tours that will take you on a culinary journey at various times of the day or night.
You may be wondering why a tour is such a good idea. There are several reasons why it may be a good option for you. If you're new to Bangkok then you probably won't know the city very well. On a tour not only will you get to see some of the more familiar sites of Bangkok but you'll get to sample food at some eateries that you may never find if left to your own devices. Tours are also a great way of meeting and socialising with other tourists from all over the globe. You get a perfect combination of sightseeing, people and food. We're going to introduce you to five of the most popular tours and tell you what to expect and what is so special about them.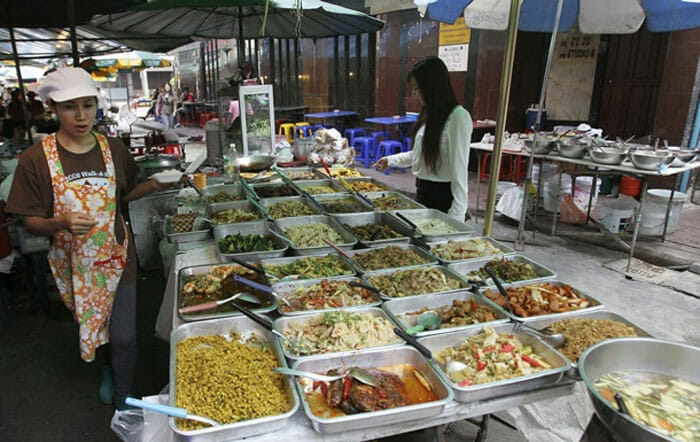 Ask people who have been on this tour and they all mention the wonderful native lady Olive. The guide is very important to the success of a tour and Olive seems to garner a lot of compliments. This tour is three hours long and you should be prepared to get a real taste of what the Thai capital has to offer. It's one of the best Bangkok food tours to get your taste buds tingling.
Foodies will love all of the in depth information about Thai food that you get on this tour; you'll learn lots of new facts. You will also get to try lots of local dishes using traditional eating methods. Remember not to be shy as everyone on the tour is taking part in the same experience; you can relax and enjoy all the new encounters together even if they are initially outside of your comfort zone.
As you wind your way through the streets of Bangkok you'll learn how much rice really does feature in the Thai diet, how fish sauce is a popular addition to many dishes, and how the spoon is the most used eating utensil. You'll get to sample such Thai delicacies as fish ball noodle soup, yum pla dook foo (crispy catfish and salad) and green custard buns.
If you decide to join this tour remember to take two things, a comfortable pair of walking shoes and a sense of adventure!
Best Eats Midnight Food Tour by Tuk Tuk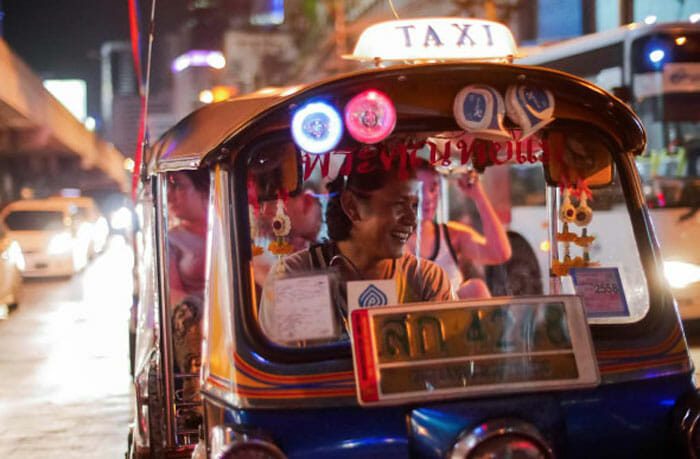 If you like your food after sunset this tuk tuk tour is definitely one of the best Bangkok food tours for you. You get a completely different perspective of the Thai capital in the evening. The tour actually starts at 8pm and runs right through to midnight as you travel the streets of Bangkok by foot and on the traditional three wheel tuk tuk.
The best thing about this tour is that it takes you off the usual tourist trail as you sample amazing Pad Thai and visit a local temple where you feel the unique evening aura. All of this is done under the watchful eye of a fully licensed tour guide who is friendly and knowledgeable and will happily answer your questions about the local sights and culture as well as all of your food queries.
During the tour you'll visit the wonderful flower market as well as having at least seven stops for food and drink tasting. One of the stops is in a "secret bar" where you will experience incredible views of Bangkok at night while resting your feet and enjoying complimentary Thai beer or soft drinks. At the end of the tour, if you're staying in a city centre hotel, a drop off is included in the cost of the tour.
Bangkok Bites and Bike Tour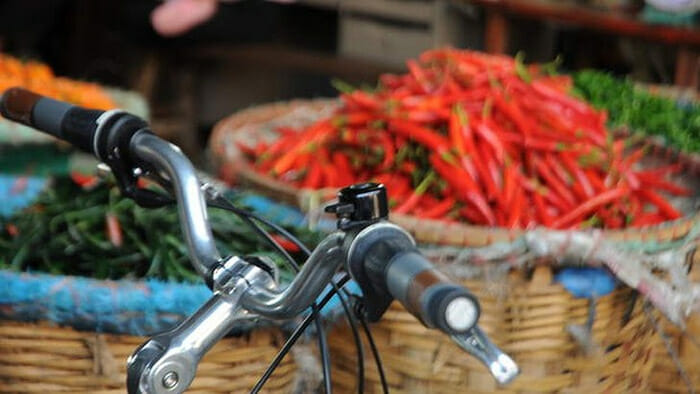 Those who have already taken this tour have described it as being a wonderful way to explore Bangkok. You may be wondering whether it's a little awkward travelling around eateries with a bike. Well it could be, but this Bangkok food tour is split in two.
In the morning you travel around various local restaurants and speak to the people who own them. They tell you all about their life with food, and people they have encountered over the years. Of course you also get to taste the food; there are 15 tastings included through the day. You get all the benefit of being accompanied by a local guide who is fully licensed and knows all about the sights of the area, as well as the food you will encounter.
In the afternoon you take to your bike for a leisurely ride around the streets of Bangkok, including a visit to the colourful flower market; a helmet is included for your safety. This tour provides an excellent combination of activity; you can really savour the tastes of Bangkok in the morning, then work off all of those extra calories with the afternoon bike ride!
Bangrak Food Tasting and Culture Tour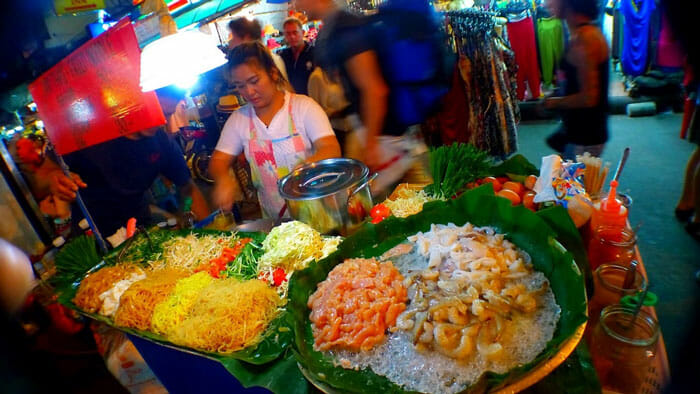 If you're not already aware there is a district in the city called Bangrak meaning "village of love", and if you love food you'll love the tour of this traditional Bangkok neighbourhood. It's a tour that takes you around the traditional family eateries where you get to talk to the owners as they tell you all about their life and traditions. For three and a half hours you'll travel away from the tourist trails as you sample more than a dozen food and drink samples at five venues. It's a relaxing route that's easy to walk but it's still a good idea to make sure you wear something comfortable on your feet. You'll definitely have a lot of fun on this culinary adventure accompanied by a friendly and fully qualified tour guide.
Offbeat Floating Markets Food Tour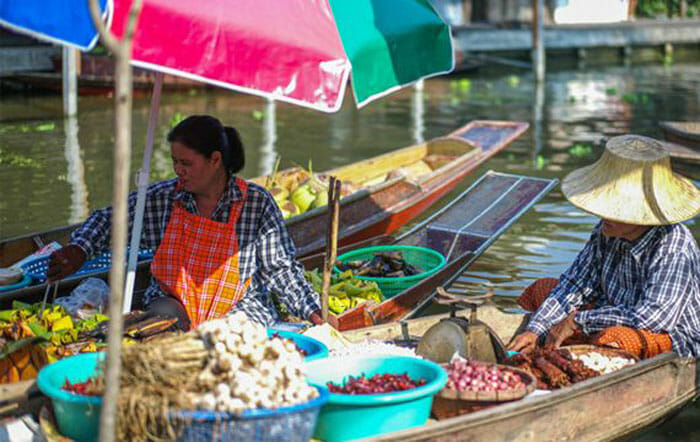 If you want to travel a little further afield for your foodie experience this Bangkok food tour will take you outside of the city to see some of the best floating markets where you can see and interact with the vendors selling goods from their boats. It's a full day experience and you travel from Bangkok in a private van with a fully qualified tour guide.
At Tha Kha floating market you get to see local farmers exchange their products and you take a boat ride through a coconut farm where you learn about coconut sugar making. You also get to taste such local delicacies as mackerel fried rice. At Amphawa floating markets you have plenty of time to sample some snacks before a visit to the train markets where you get to witness the only train track market in the world.
All of your travel during the tour is included and it's an excellent way to see some of the Thai countryside outside of Bangkok city, as well as tasting a lot of the local produce.
If you're visiting Bangkok then you only have to walk down the street to sample the culture you are immersed in but taking one of these Bangkok food tours can help you to really appreciate Thai cuisine, and the culture behind it. You get to take a step away from the traditional tourist spots and speak to people who have lived in Bangkok all their lives and who have been producing delicious food in the city for many years. Of course it's not just about the food either; food tours are an excellent way to learn about the sights of Bangkok and to get to know your way around. Of course the tasty cuisine is a very welcome accompaniment!