When planning your trip to Bangkok, probably the most important thing to consider is the weather. Arrive at the wrong time of year and you could ruin your trip with washed-out days when you could have been wandering around the city exploring its many amazing attractions. Of course, like any other city, Bangkok does have some indoor attractions and there are advantages to coming during the rainy season – flights will be cheaper, excursions and organized tours will be cheaper and you'll find better rates at the hotels, so these are all things to consider. If you're planning your own trip to the city, read on for our guide to the weather in Bangkok as we attempt to answer the question: when is the best time to visit Bangkok.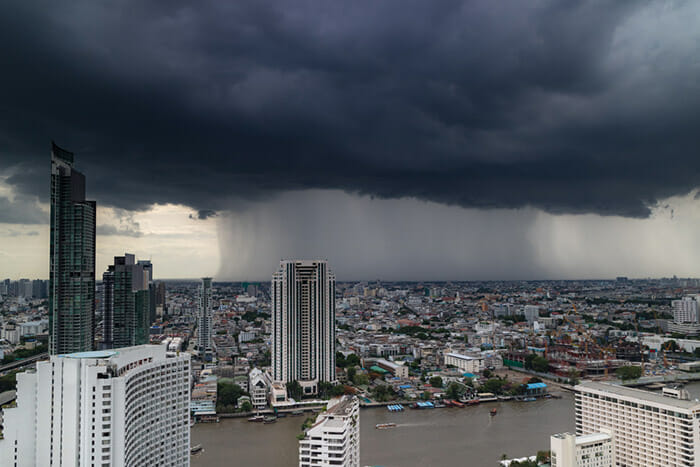 The first things to bear in mind are the seasons. Here in Bangkok there's no winter, spring, summer or fall as Bangkok's climate is categorized as "tropical savanna", like much of the rest of this part of the world. This means there are three seasons: hot season, rainy season and cool season. But, even the season names can be misleading because Bangkok's weather is never exactly "cool". It remains hot throughout the year with average high temperatures varying by only a few degrees between the hot season and the cool season, so don't expect balmy weather if you're coming during the supposed cool season!
So when do these seasons happen? Bangkok's hot season is from March to June. The rainy season is from July to October and the cool season is between November and February, though bear in mind that there is some overlap between the three.
The Hottest Time in Bangkok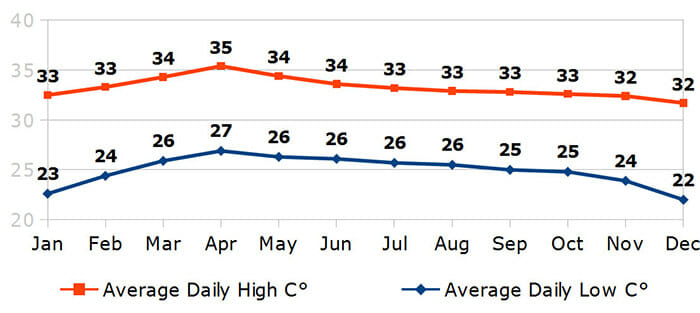 During the hot season, from March to June, the weather in Bangkok is (surprise, surprise) hot! Average high temperatures during this time range between 34.3 C (93.7F) and 35.4 C (95.7F) but remember that those are the averages which means that the actual daytime highs will frequently be above that, measuring in the mid to high 30's Celsius. Then there's the humidity. Right across the year Bangkok's climate is humid so when you add this to the high temperatures you can guarantee you'll be sweating as you explore the city's sights! Another thing to bear in mind about the hot season is that it won't necessarily be dry. The weather is generally dry but if you're visiting during the hot season, be prepared for occasional summer storms.
There are some good reasons to visit Bangkok during the hot season. You can blend days spent lounging around your hotel swimming pool with sightseeing and exploration, and if you visit in mid-April you can join in the fun and festivities of Songkran, the Thai New Year's festival. For three days (between April 13 and 15) take part in the city's massive water fight which is fun and it's a great way to beat the heat!
The Wettest Time in Bangkok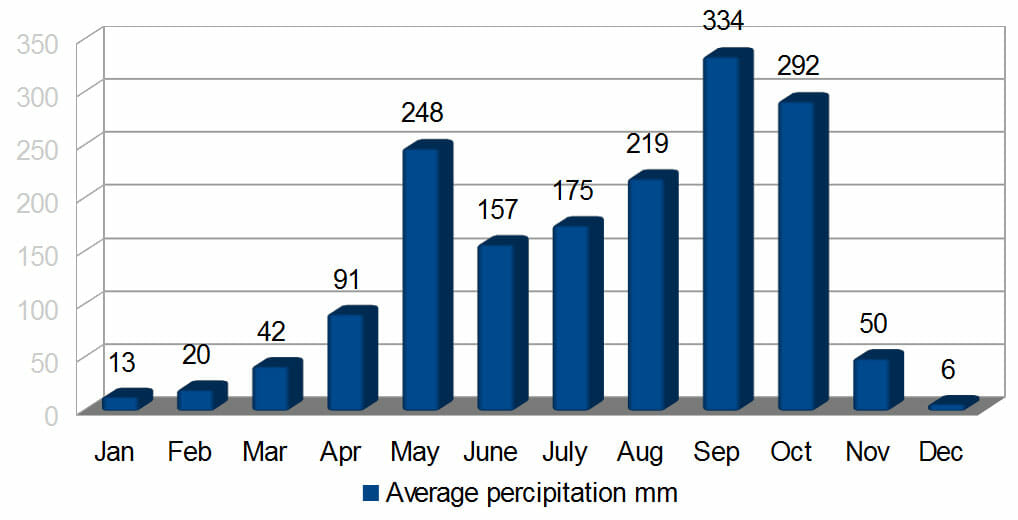 It's difficult to say exactly when the rainy season in Bangkok will begin as it does vary according to the arrival of the southwest monsoon, but it's from about mid-May, and by the time June comes it's usually well and truly underway. August, September and October all have significantly high levels of rainfall, but September is by far the wettest month, so this may be a good time to avoid a trip to Bangkok.
Despite the high levels of rainfall, visiting Bangkok during its low season can have a number of advantages. For starters it doesn't rain all day, every day. You may have prolonged periods of light rain; there may be torrential downpours that last only 30 minutes; and some days it may not rain at all though it will be cloudy and humid. If you don't like humid weather, avoid Bangkok in September and October as these are typically the most humid months of the year. As mentioned above though, there are other advantages to visiting Bangkok during the rainy season – because this is the city's "low season" there are less tourists around so there's less demand for tours, services and accommodation. You can find yourself some great deals on all of these things during this time and if you prefer a quieter atmosphere, now is also the best time to visit Bangkok.
In terms of temperature it's still plenty warm enough during the rainy season with average high temperatures sitting around 32 to 33 C (around 91 to 92 F).
The Coolest Time in Bangkok
So now to the "cool" season. As mentioned above, the climate in Bangkok cannot exactly be described as cool at any time of the year, but when a city is this hot a drop of just a few degrees can make a real difference. November to February are the coolest and the driest months which makes this the "high season" for tourism in Bangkok. It's during this time that the most tourists will plan their trips to the Thai capital because you can rely on weather that is largely settled and consists of blue skies almost all of the time. Humidity levels are at their lowest during the cool season and there's very little in the way of rain. You also get some respite at night as temperatures drop to the low 20's C which makes sleeping and relaxing a little easier.
In terms of daytime temperatures in Bangkok, the average high during the cool season ranges from 31.7 C (89F) in December (which is overall the coolest month) to 33.3 C (92F) in February.
When is the Best Time to Visit Bangkok
Now that you know more about the weather in Bangkok you can make your own decision as to when is the best time to visit. If you don't like it hot, avoid the hot season, but if you don't like crowds and you prefer to get great deals on your travel expenses try the rainy season. If the best weather is what attracts you, then opt to visit during Bangkok's cool season.