Let's face it, Thailand's railway network has never been something to particularly brag about, with its slow trains, sometimes questionable safety levels, and aging railway stations, but all that is about to change with the opening of Bangkok's amazing new railway station, Bang Sue Grand Station! This train station is the flagship for the State Railway of Thailand. It is Bangkok's newest and most impressive, and is the largest in Southeast Asia, aiming to take the country's railway services into the future with safer, more comfortable, and more efficient services across Thailand.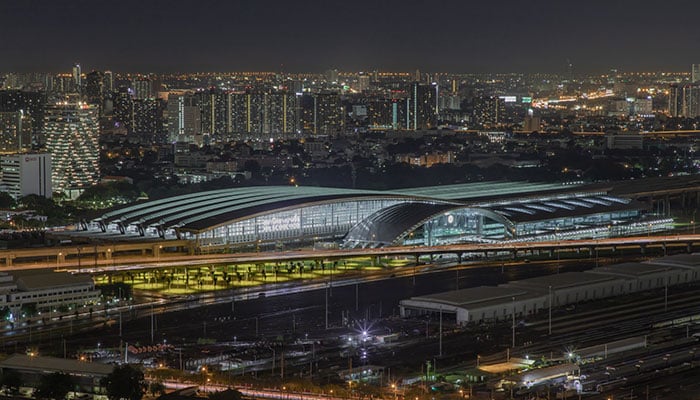 About Bang Sue Grand Station
The existing Bangkok Railway Station, known as Hua Lamphong, has served its city well since opening in 1916. Large and impressive for its time, Hua Lamphong has handled an increasing number of trains and passengers across its decades, peaking at around 60 to 70,000 passengers per day, but, the aging railway station and central location in the heart of Bangkok – once a positive feature – convinced the government that something had to be done and in 2010, the idea for Bang Sue Grand Station was born.
Hua Lamphong is located in Chinatown, in central Bangkok, in a place where it made the most sense when it was opened in 1916. The developers never anticipated so much traffic though, and similar to what has happened with many bus stations around Thailand, the plan was put in place to move the main terminus for Bangkok outside of the city center. This would help to ease congestion in a very busy part of the city, not only with vehicles dropping off and picking up, but easing wait times at railway crossings where vehicles would have to wait a long time for the slow moving trains to pass through. With an existing Bang Sue Railway Station to the north of the city already handling many of the intercity trains, and three out of four of those intercity train lines running through it, building a newer, larger and better Bang Sue Grand Station in that location made a lot of sense.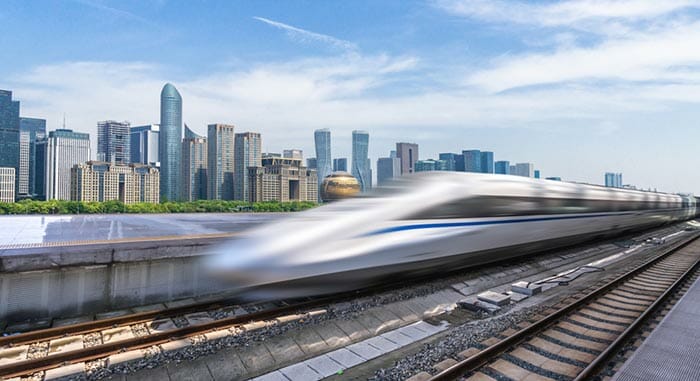 Future High-Speed Trains in Thailand
Building Bang Sue Grand Station was not only to ease city center congestion though; it was built to future proof Thailand's railway systems and to connect to future high-speed train services that are planned to run all around South Asia and link many of the region's major cities. The design of the terminal is therefore ahead of its time both in terms of Thailand's railway system and regional/international ones.
If the high-speed railway from Bangkok to Nakhon Ratchasima opens in 2024 as planned, Bang Sue Grand Station will be able to handle that train line and all its passengers, however, the next link in the high-speed network, connecting Nakhon Ratchasima to Vientiane in Laos has not even been started yet, so it could be many years before Bang Sue Grand is really put to the test, and Bangkok is better connected internationally as part of the Pan Asia Railway Network.
The Design of Bang Sue Grand Station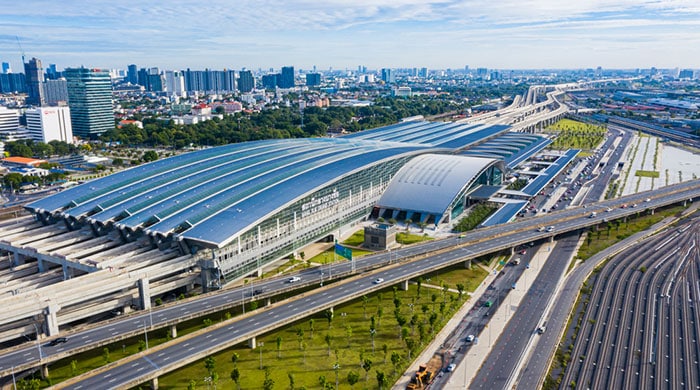 In the meantime, passengers using this newly opened train station will be able to enjoy its bright and open architecture and modern feel without having to deal with over-crowding. The train station was built to be able to handle several hundred thousand passengers per day, which is quite a leap up from the 60,000 that Hua Lamphong handled. But, at current passenger levels, the State Railway of Thailand will have to do a lot to convince thousands more people to use the trains rather than the affordable long-distance and international bus services. High-speed intercity lines will definitely help, and improving comfort levels on the trains as well as accessibility to the train stations themselves will also help.
Largest Railway Station in South East Asia, Bang Sue Grand Station Parking
The design of Bang Sue Grand Station includes some impressive statistics: its usable floor space is a massive 274,192 square meters, making this Bangkok train station larger than KL Sentral Station in Malaysia and winning the prize for the largest train station in South East Asia. The cavernous terminal building includes four levels and has 26 platforms, some of which are as long as 600 meters. To ease traffic congestion outside the terminal, there is an underground parking lot that can house over 1600 cars, and along with the terminal, maintenance depots were built on the adjacent land to keep everything running smoothly.
How to Get to Bang Sue Grand Station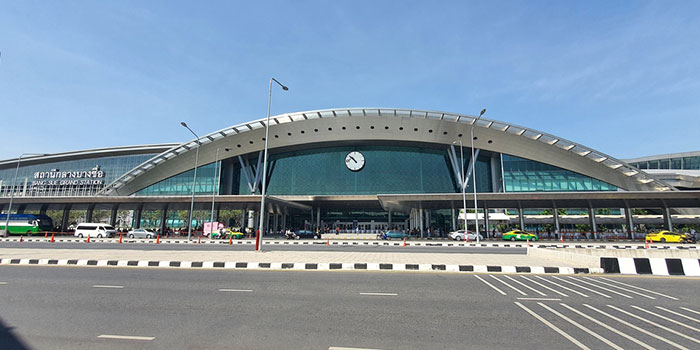 In Thai, Bang Sue Grand Station translates as Bang Sue Central Station, and while this railway station is not centrally located like Hua Lamphong was, it is 'central' because it will be Bangkok's main train station and terminus for all long-distance railway services.
Bang Sue MRT Station, Mo Chit Bus Terminal and SRT Commuter Lines
Bang Sue Grand is located in the Chatuchak area of Bangkok, north of the center. Chatuchak is a familiar part of the city for anyone who travels regularly as this is where one of the city's three main bus terminals is also located, Mochit Bus Terminal. Connecting all the different transport options together was important when the location of Bang Sue Grand was chosen so that not only long-distance trains but SRT, MRT, airport links and bus links could all access Bang Sue easily. To this end, Bang Sue Grand Station is connected via an elevated walkway to Mochit Bus Terminal and there are other connections, such as an underground walkway to Bang Sue MRT Station.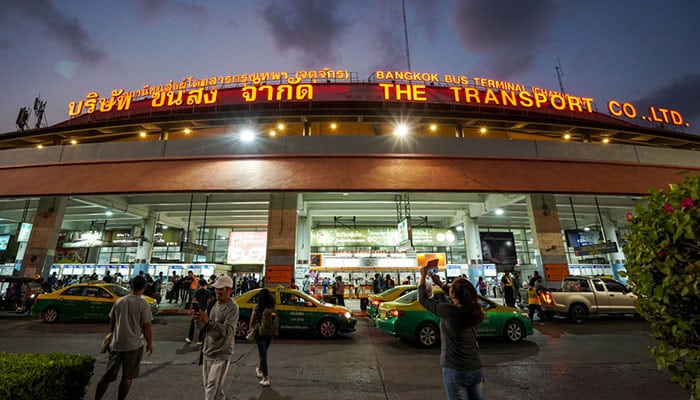 Bang Sue Grand Station Does Not Have Many Bus Options Yet
The station is about 11 kilometers outside the heart of Bangkok, off junction 2-06 of the Sirat Expressway and just to the west of the Chatuchak Weekend Market and Chatuchak Park. Because demand for use of Bang Sue Grand Station has not peaked yet, there are very few pubic buses that go to the station directly so getting there by bus is not the best idea. But, with those connections being added in to other transportation, there are other options available if you're coming from the city center.
The MRT Blue Line Has an Underground Walkway to Bang Sue Train Station
The MRT is probably the best option right now for getting to Bang Sue Grand from central Bangkok as the MRT Blue Line Bang Sue Station is right next to Bang Sue Grand and is connected via an underground walkway. The Blue Line runs a circular route around Bangkok from Tha Phra to Lak Song, traveling via Bang Sue and also via Hua Lamphong.
The SRT Red Line is Connected to the Railway Station
The new SRT Red Line is another option if you're staying outside of central Bangkok. This is actually a commuter line and an electrified service that has two lines, with much of the system still in construction and currently terminating at Bang Sue. When complete, the two lines will run from Thammasat University's Rangsit Campus to Maha Chai in Samut Sakhon Province, and from Salaya in Nakhon Pathom Province to Hua Mak in Bangkok.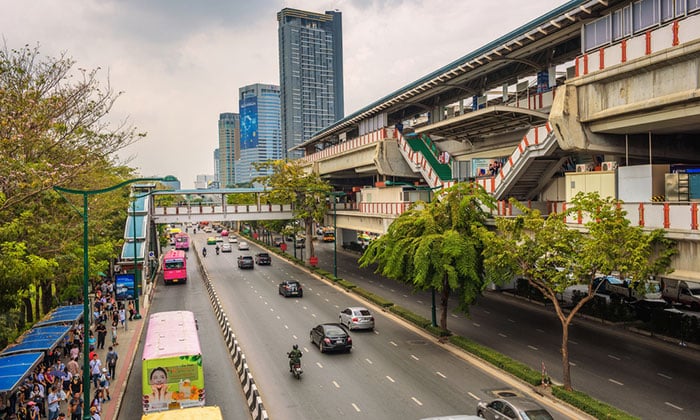 The BTS Skytrain to Bang Sue Railway Station
The BTS Skytrain is not currently connected to Bang Sue Grand Station so the closest you can get on the BTS is Mo Chit BTS Station. From here you could walk, but it's quite a long way and not a very direct route, but it is possible to interchange to the MRT Blue line Chatuchak Park Station and get get off at Bang Sue Station or to take a taxi direct to Bang Sue Grand Station.
Taking a Taxi to and From South East Asia's Largest Railway Station
Talking of taxis, you can always catch a taxi to Bang Sue Grand Station from wherever you are in Bangkok. It's convenient but is of course more expensive, and if you have arrived at Bang Sue and want to go somewhere else within the city, there is a taxi rank on the eastern side of the station.
Bang Sue Grand Station Schedule and Destinations
After Bang Sue Grand Station opened, officials said that Hua Lamphong, Bangkok Railway Station, would be closing very soon and that all services would be operating out of Bang Sue. That announcement was made in early 2021 yet it seems that so far they have not followed through with closing Hua Lamphong. This may be because there was a massive outcry from locals who use the train station, and the inconvenience it would cause them having to get to Bang Sue rather than Hua Lamphong, so perhaps the decision was made to delay closing while better connections were put in place. In the meantime, timetables for trains departing from Bangkok still have the trains leaving from Hua Lamphong and traveling through Bang Sue, however, this is the older Bang Sue Station, Bang Sue Junction, which is close to Bang Sue Grand but not exactly the same place.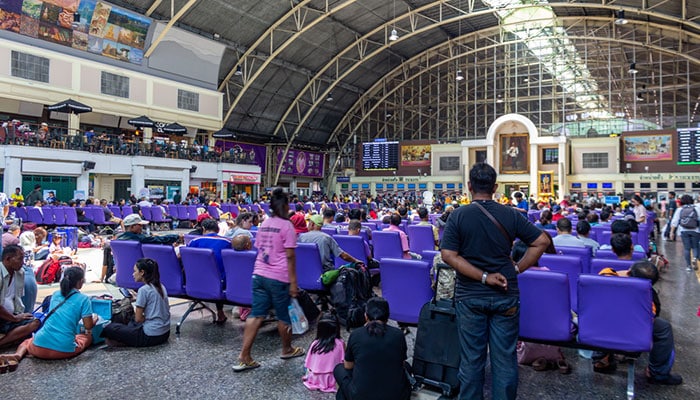 Hua Lamphong Railway Station is still the main Station in Bangkok
Popular routes from Bangkok by train are therefore still operating from those two older stations, even though Bang Sue Grand is open and operational. Going from Bangkok to Chiang Mai, for example, there are several trains a day from Hua Lamphong via Bang Sue Junction. Really, you can travel pretty much anywhere in Thailand when starting on a train from Bangkok, including Bangkok to Chumphon, Bangkok to Surat Thani, Bangkok to Nakhon Si Thammarat, and many more.
As of now then, there are only three services that are actually using Bang Sue Grand Station. These are all suburban railways, not long-distance: the MRT Blue Line, SRT Light Red Line, and SRT Dark Red Line.
The MRT Blue Line is an underground service connecting Bang Sue Grand Station to destinations within the city center including Hua Lamphong Station, and it connects with the BTS overhead services and Airport Link too.
The SRT Light Red Line runs west to Taling Chan, while the Dark Red Line goes north to Rangsit and includes a stop at Don Mueang Airport, and they operate from the second level of the station.
Bangkok - Chiang Mai
฿ 883–1,862
10h 17m – 14h 20m
→ 

2nd Class AC seats only

08:30, 09:13

→ 

2nd Class Sleeper AC

13:45, 18:10, 19:35, 20:23, 22:00, 22:50

→ 

1st Class Sleeper

18:10, 18:55, 19:35, 20:23

→ 

2nd Class Ladies Only

18:10
Bangkok - Surat Thani
฿ 744–1,560
10h 45m – 11h 35m
→ 

2nd Class Sleeper AC

17:05, 17:35, 18:30, 19:30

→ 

1st Class Sleeper

17:05, 19:30

→ 

2nd Class Sleeper Fan

17:35
Bangkok - Nakhon Si Thammarat
฿ 668–1,663
12h 37m – 16h 20m
→ 

2nd Class Sleeper AC

14:45, 17:35, 18:30, 19:30

→ 

2nd Class Sleeper Fan

17:35, 18:30

→ 

1st Class Sleeper

19:30

→ 

2nd Class Fan seats only

17:35
Future Services from Bang Sue Grand Station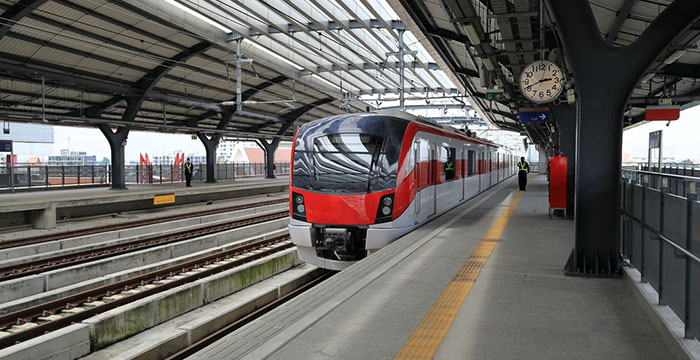 As well as the Red Line services operating out of the second level of Bang Sue Grand Station, intercity trains will be using the other 10 platforms on this level.
Future High-speed Railway
Level 3 will be where high-speed, electrified trains operate from. Aside from the city services that use electric trains, Thailand does not have an electric railway system as of now, so the third level of Bang Sue will remain quite empty until the first of those goes into operation, the Bangkok to Nakhon Ratchasima high-speed railway which is being constructed.
Don Mueang to Suvarnabhumi to U-Tapao High-Speed Railway
Bang Sue Grand will also be a hub for the Airport Rail Link, to and from Suvarnabhumi Airport, and will be part of the Don Mueang to Suvarnabhumi to U-Tapao High-Speed Railway. These services will also operate from the Third Level. It's a bit confusing as signs for the Airport Rail have already been installed even though those services could be a year or more delayed, so don't be fooled by those signs thinking that there is already an airport train as there is not one from Bang Sue Grand Station at this time.
Train Tickets and Reservations for Bang Sue Grand Station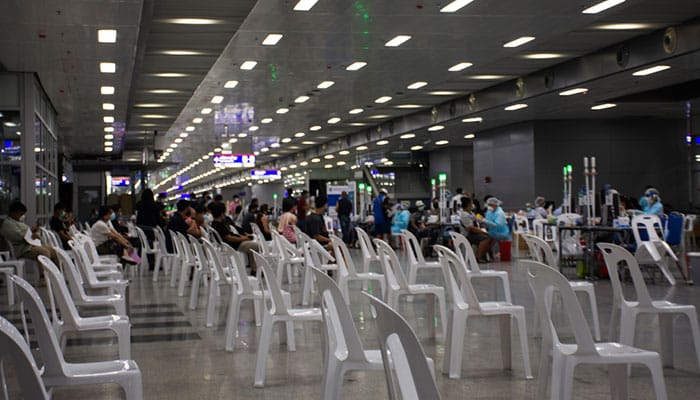 Without knowing when Bang Sue Grand will take over as the main train station in Bangkok, it is difficult to say with certainty about train tickets and reservations. Presumably there will be an announcement in the coming months, and services should be gradually moved from Hua Lamphong and Bang Sue Junction to Bang Sue Grand. The government has, in the past, made quick decisions when it comes to things like this, but likely local objections and the fact that Covid has drastically reduced passenger numbers, the decision was delayed. Until that announcement happens it is recommended that you plan on taking a train from Hua Lamphong.
The Future of Bang Sue and Hua Lamphong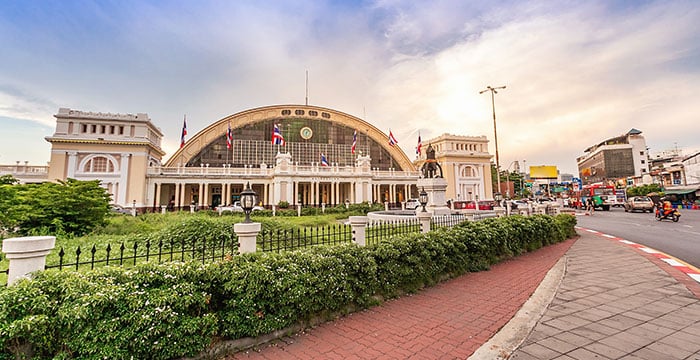 So, what is the ultimate future for Hua Lamphong and the existing Bang Sue station? As mentioned above, the plan is definitely to close Hua Lamphong, Bangkok's original Train Station, after it has been in operation for over 100 years. Hua Lamphong has provided a great service to the people of Bangkok and for thousands of visitors from around the world, but it is the train station's central location that prompted the government to decide on a much larger train station outside of the city center in order to ease congestion in one of the world's busiest cities.
The original plan for Hua Lamphong was for the train station to remain standing and to become a museum. It is an important part of the city's history after all, and features the grand architectural style of Italian Neo-Renaissance, built between 1910 and 1916. Right now its unclear when, or even whether this will still happen.
Bang Sue Junction was also planned to be closed when services moved to Bang Sue Grand Station. The original Bang Sue opened way back in 1898 and was part of Thailand's original railway from Bangkok to Ayutthaya. It was separated into two train stations in 1989, Bang Sue 1 and Bang Sue 2, sitting about 200 meters apart from each other. Bang Sue 1 was for Northern and Northeastern services and Bang Sue 2 was for Southern Lines. But, in preparation for the new Bang Sue Grand, Bang Sue 1 actually closed to make way for the new station in 2016. Services are still using this train station for the time-being, but the long term plan was definitely to close Bang Sue Junction.
Facilities at Bang Sue Grand Station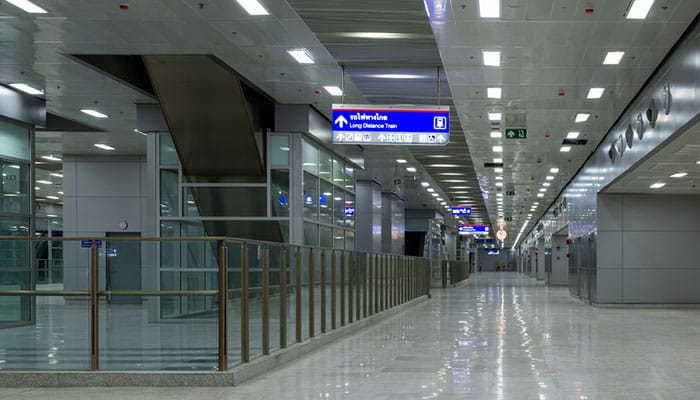 You would expect such a large and modern railway station to have many different services and to be a bustling place but unfortunately that is not the case with Bang Sue Grand Station. Yes, there will come a time when this train station does have many services and facilities to offer passengers, but as of now, there is basically nothing here; it is pretty much deserted a lot of the time and with so few passengers traveling through Bang Sue you can understand why there are so few facilities.
If you do find yourself here at Bang Sue Grand Station there are toilet facilities at least but nowhere to buy snacks, drinks or meals except for a few odd vending machines you could use. The future plan is to have a large commercial space filled with shops and services, but when the station was being constructed they were not able to lease any of these spaces. It will definitely be an impressive train station once it is being fully utilized, and no doubt there will be all the usual facilities on offer then including a food court, left luggage, coffee shops, convenience stores and more.
Right now, if you are here and you need to buy refreshments other than what is available in the vending machines, your best bet is to head outside the station to the existing Bang Sue Railway Station where they have an assortment of stalls on platform 1 selling food and drinks.
Tourist Attractions Near Bang Sue Grand Station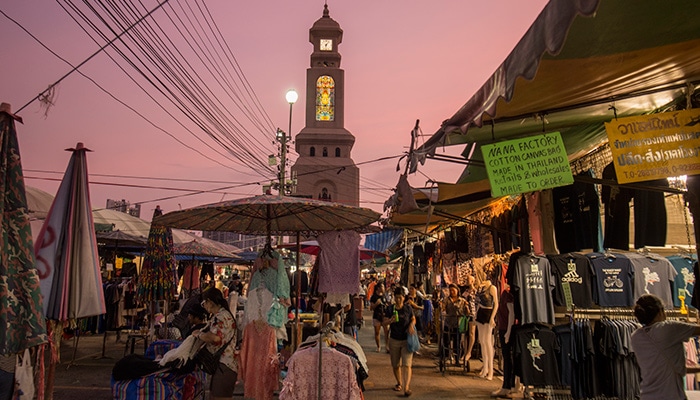 Situated in the Chatuchak area of Bangkok, by far the biggest tourist attraction near Bang Sue Grand Station is the Chatuchak Weekend Market. This massive market is the largest in Thailand, home to over 15,000 stalls selling anything and everything, from pets to clothes, food, books, homewares and much more. There are actually 27 different sections divided by the goods that they sell, and the market attracts around 200,000 visitors every weekend.
If you're not visiting at the weekend, you can still enjoy some great shopping close to Bang Sue Grand Station as JJ Mall is also situated very close by. This large shopping mall has 3 floors for parking and 4 floors of shops and services adding up to around 1,200 stores, and includes an international food court.
Chatuchak Park is also close by. As well as being a nice place to walk around to get away from the traffic and noise of Bangkok, the park is home to the Children's Discovery Museum and the Bangkok Butterfly Garden and Insectarium. The park is further split into smaller parks with different zones for activities such as a sports center with outdoor swimming pool, tennis and other ball courts, a skate park, areas for running and jogging, and many trails criss-crossing the park for a peaceful walk.
Bang Sue Grand Station Hotels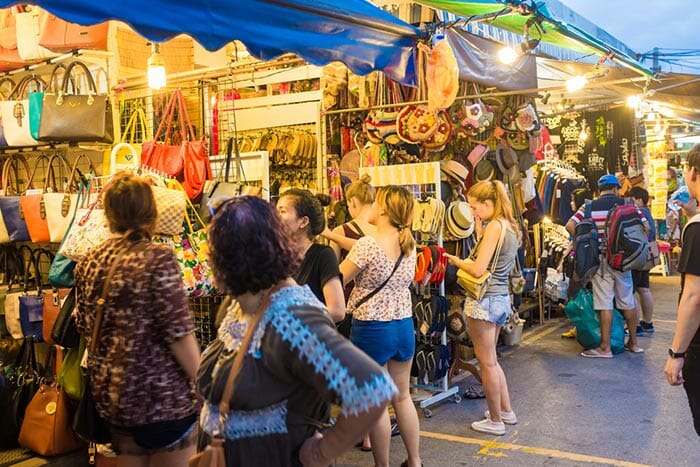 As of now, with the station not running anywhere near its full capacity, there are no hotels or lodging services right at Bang Sue Grand (although this will likely change in the future with increased demand) but there are many all within a few kilometers if you need to find somewhere to stay. In the area just south of Chatuchak Market and JJ Mall there are many places to stay. These include 2, 3, and 4 star hostels and hotels that will suit every budget, and while they are probably not walking distance, they are close enough to jump in a taxi to get to Bang Sue Grand Station.
How useful was this post?
Click on a star to rate it!
Average rating / 5. Vote count: