Thailand's biggest island hardly seems like an island at all. It's got its own airport (a large one, at that) and a bridge connecting it to the Andaman coast on the mainland of the Land of Smiles. The upshot? This one's a buzzy, bustling place to holiday, with thousands of visitors flocking in to enjoy the easy-to-access beaches and resorts and beer bars. The best sands string down the western edge of Phuket, going from the lively strips of Patong to the villa-speckled hills around Kata Noi Beach. Elsewhere, you can explore intriguing Sino-Portuguese districts in Phuket Town and hop out to nearby islands in wonderful Phang Nga Bay.
Airbnb in Phuket is becoming an increasingly popular choice on the accommodation front. With all sorts of rentals up for grabs, it's a one-stop portal for searching five-star hotels, sleek modern condos, cute beachside cabanas, and a whole load more. This guide runs through all the best neighborhoods where you can score Airbnb and comes with top tips on the standout listings on the island.
In this Airbnb guide to Phuket: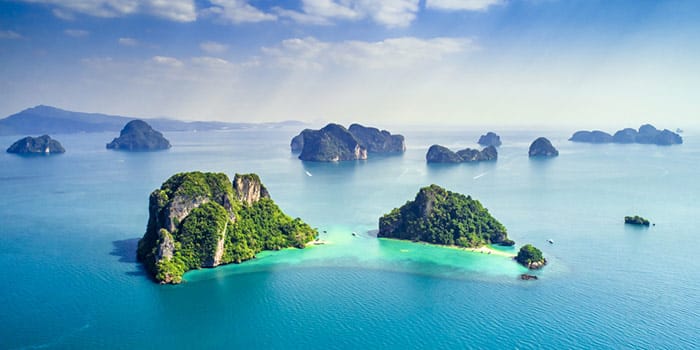 Is Airbnb legal in Phuket?
The situation with Airbnb in the Land of Smiles is a little bit confused right now. Officially, renting out property direct from an owner isn't allowed. It goes against the 2004 Hotels Act, which says that only registered establishments can offer short-term contracts to travelers. However, despite a few reports of punishments being levied against condo owners, Airbnb in Phuket seems to have carried on as normal. You can still search myriad listings between the beaches and jungle-covered hills. You can still book for any period of time you'd like, whether that's a couple of days or a whole month.
We'd say it's worth being aware of the law and checking that everything will be okay ahead of time with your host. They may say that stays of under 30 days simply aren't feasible. Or, they may have all the necessary documents for the whole thing to be above board. On top of that, hotels, hostels, or resorts listed on Airbnb in Phuket typically comply with the Hotels Act anyway, so there's usually nothing to worry about when it comes to pads like that.
Where should I stay in Phuket Airbnb?
Phuket is Thailand's largest island. It measures 30 miles from head to toe, and includes frenetic market towns as well as beautiful tropical beaches. The best of the latter string down the west coast, starting with sugary Surin (1), then going through hedonistic Patong (2), family friendly Karon (3), and the hidden honeymooner enclave of Kata Noi (4). On the southernmost tip comes the earthy mix of Muay Thai wresting arenas and fish markets that is Rawai (5). Up from that, you'll encounter the diving mecca of Chalong (6), which is joined at the hip to historic Phuket Town (7).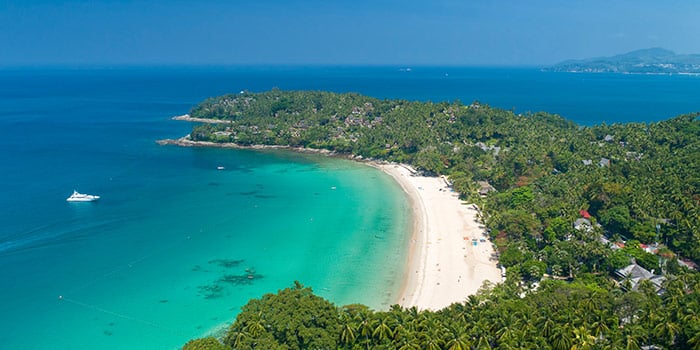 Surin
Pros
Some seriously luxurious Airbnbs
A gorgeous beachfront location
Fun place for watersports
Cons
Perhaps a tad expensive
Stormy waters in the low season (May-September)
Just one glimpse at Surin Beach and you'll be glad you booked your Airbnb on this stunning corner of Phuket. A 700-metre-long stretch of white-yellow sand, it's enfolded by headlands topped by coconut palms and comes with some of the clearest blue water on the island. To the north and south of the beach itself are excellent snorkelling spots. Just behind are sleek resorts and glitzy Mediterranean-style beach clubs. Expect an abundance of high-class rentals thanks to the proximity of so-called Millionaire's Row on next-door Kamala Beach.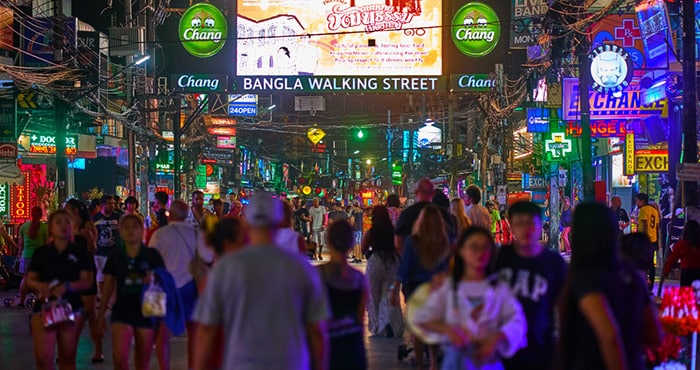 Patong
Pros
One of the most happening nightlife scenes on the island
Loads of watersports
International and Thai dining options abound
Cons
Can be very busy
A tad sleazy after dark
Relax by day, party by night – that's usual mantra in Patong. Arguably the liveliest resort in Phuket, this one comes replete with go-go bars and pumping Chang outlets, all of which hit a zenith on Bangla Road late at night. The shoreline is a hubbub of sunbathing bodies and watersports outfitters – lots come to Patong to whiz across the Andaman on jet skis and try parasailing and the like. Airbnb wise, there's all sorts, from budget hostel dorms to luxurious multi-room villas.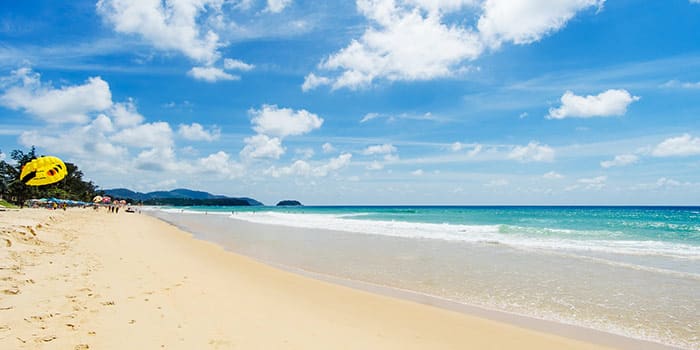 Karon
Pros
Great for families
Lots of space on the beach
Some high-quality resort options on offer on Airbnb
Cons
Rough waters and rip tides in low season
Everything is quite spread out
Clocking up 5,000 metres in length as it rolls beneath hills topped by the famous Big Buddha, Karon is one of the more spacious and open beaches on the west coast of Phuket. The north end especially is a secluded place where you can often spread out for a day's sunbathing. What's more, fewer jet skis make it a doozy for families, but only during the calm-water months between October and March. Expect accommodation options to be mainly midrange to top-class resort hotels unless you go a few roads back from the shoreline.