The bright lights and shimmering sands of Pattaya have made it one of Thailand's favourite party meccas. Millions flock to its big bay on the azure Thai Gulf each year in search of hedonism and happening nightlife, which plays out in the neon-lit go-go bars of Walking Street and the thumping soi (narrow alleyways) until the early hours. But when you're not glugging Chang beers and bucket cocktails, Pattaya also offers up some beautiful – if heavily developed – stretches of coastline and a bout of enthralling Buddhist religious sites.
Airbnb in Pattaya pepper every corner of the resort town. You'll find them in tall high-rise condo blocks with sweeping views of the gulf coast. You'll catch them in stylish modern villas with infinity pools. But there are also self-contained flats and houses near to the major party districts and the beach.
In this Airbnb guide to Pattaya: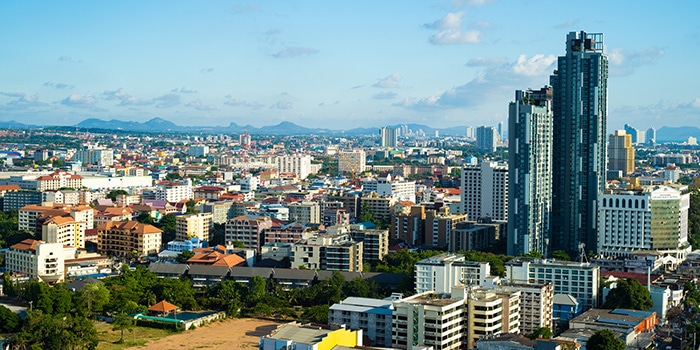 Is Airbnb legal in Pattaya?
To put it simply: No. Airbnb isn't strictly legal in Pattaya. However, there's a hefty grey area hanging over the law when it comes to short-term lets. Basically, it's not okay to run a hotel without a license anywhere in Thailand. That eliminates most all Airbnbs, which are usually rented direct from the owner of a private property. Simple.
Well…not quite so simple. The reality on the ground is that Airbnb continues to operate virtually as normal amid the party-mad streets of Pattaya. Some hosts stipulate that they'll only rent for a minimum of four weeks (which means it's then officially classified as a short-term let). Others hope to fly under the radar. What's more, punishments for Airbnb lettings are famously rare and usually fall on the side of the host, not the traveler. Still, we'd say only rent if you've done your research and are aware of the risks.
Where should I stay in Pattaya Airbnb?
Pattaya spreads out along a wide bay on the eastern side of the Thai Gulf. Starting at the top, you get the golden beachfront of Wong Amat (1), separated only by a headland of palm trees and little boulders from the main strips. Those are then connected by Beach Road (2), which runs southwards to the lively Walking Street (3) that's also near the popular condo area of Pattaya Sai 2 Rd (4). Finally, Jomtien (5) is even further south. It's got one of the top beaches in the area, along with villas and seafront eateries.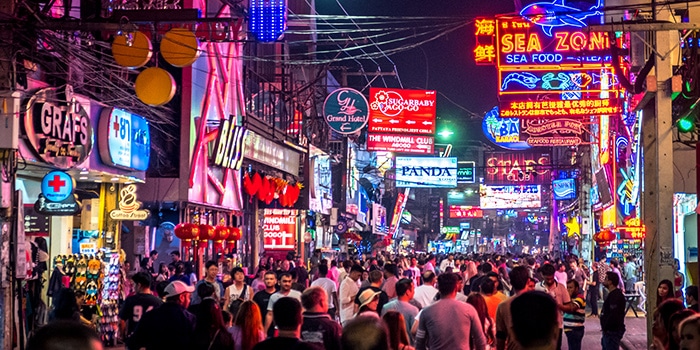 Walking Street
Pros
The thick of the action
Loads of places to eat and party right on your doorstep
Close to the beach
Cons
Noisy both night and day
Very busy with other travelers
Walking Street is Pattaya's most infamous nightlife quarter. Running for just under a kilometre from the south end of Beach Road, it's a heady haze of red-light go-go bars and sleazy "massage" parlours. It's one of the top places to be if you're looking to partake in the town's sleepless party venues and unashamed 'sex tourism' spots.