Krabi has become a byword for the beauty of the Andaman region. Wedged into a wide estuary on the eastern edge of Phang Nga Bay, the town of Krabi itself is a bustling, gritty port with night bazaars and loads of ferry connections out to nearby islands. You can stay there to get a feel for the buzz of a lived-in coast town, but most travelers will have their eyes set on one of the nearby beaches. They come in the form of Ao Nang, Railay, and the backpacker-favourite of Tonsai, which are all spots imbued with those iconic spires of jungle-clad rock, white-sand beaches, and glimmering seas.
Airbnb in Krabi has become a major option for holidaymakers. It offers a real hodgepodge of accommodation types, ranging from private rooms in honeymoon-ready hotels to budget traveler dorms close to the ports of Krabi Town. This guide runs through all the top areas where you should be looking when it comes to scoring an Airbnb in this much-loved corner of the Land of Smiles.
In this Airbnb guide to Krabi: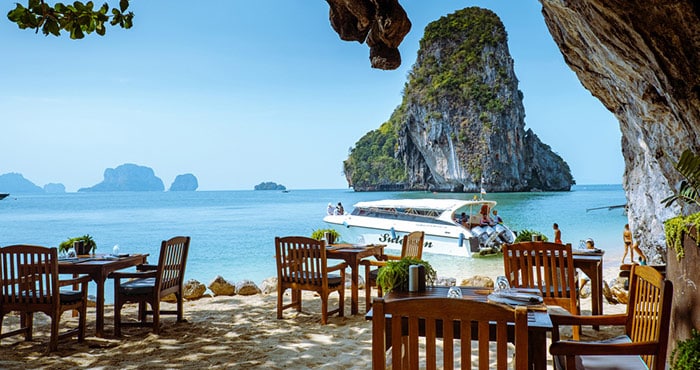 Is Airbnb legal in Krabi?
A recent court case ruled against two condo owners in Thailand after they used Airbnb to rent out their places on a short-term basis. Everyone started wondering if that meant that the platform was no longer in action in the Land of Smiles. The truth is that Airbnb continues to operate all over the country, including in Krabi, virtually as normal. There are some new restrictions about what you can do with flats as a private owner, but there's been little effect for travelers in practice.
Airbnb as tool for finding accommodation is 100% fine. It lists countless properties of all shapes and sizes across Krabi, and there's considered little risk to visitors, even with that new court precedent against landlords. That said, it's probably a good idea to check that your stay is totally above board with any prospective host before you book, just to be safe.
Where should I stay in Krabi Airbnb?
Krabi Town (1) is the anchor to a whole region of stunning Thai beaches and bays. A short 25-minute drive from the markets there and you can be setting foot beneath the scented casuarina trees of Ao Nang (2), one of the area's most happening resorts. Harder-to-get-to Railay (3) and Tonsai (4) require a trip on a traditional long-tail boat, but offer something a little more secluded and chilled between the famous Andaman cliffs. A dash further north is Nopparat Thara (5). That's considered to be one of the more burgeoning tourist areas, with bargain hotels and rustic bungalows right by the shore.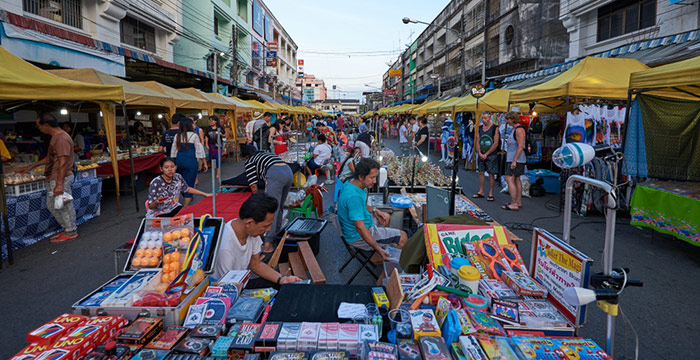 Krabi Town
Pros
Authentic and energetic place
Lots of ferry and bus connections to great islands and beaches
Tends to be cheaper than the nearby resorts
Cons
It's a little ugly
Very busy with travelers in the high season months
There's grit and energy in Krabi Town. This is the main transport hub and commercial centre of the whole Krabi region. Its where countless ferries arrive after linking up with famous islands like the Phi Phis and Koh Lanta, which means a huge amount of through-flow travelers and backpackers. That, in turn, feeds buzzy night markets with sizzling noodle and fish stalls, some lively bars, and a good selection of cheap accommodation. This is a great spot if you're watching the baht and want to feel the vibes of a working Thai port.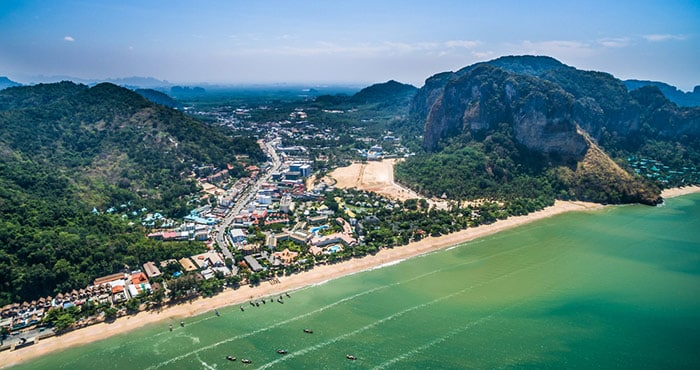 Ao Nang
Pros
Loads and loads of accommodation choices
Easy access to the beach from pretty much anywhere
Loads of dining and drinking establishments
Cons
This is one of the busiest spots in Thailand!
It's not Thailand's – or Krabi's – best beach
If you've seen a postcard of Krabi's famous beaches, the chances are you've seen a postcard of Ao Nang. Sat over the headland to the west of Krabi Town, this is the most famous and built-up resort in the region. It's known for the rugged walls and club-like towers of rock that loom all around, but also boasts a nice beachfront that's shaded by ironwoods and dotted with massage parlours. Loads of hotels mingle behind the shore, along with night markets toting Chang vests, and all sorts of eateries, from Indian to Thai to English pub grub.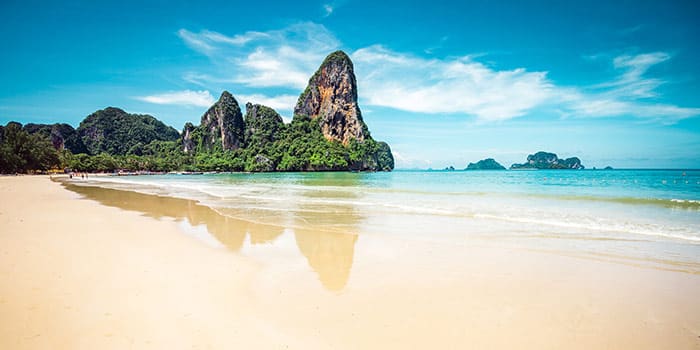 Railay Beach
Pros
Gorgeous beach
Clear water
A photographer's dream
Cons
Quite expensive these days
Gets busy
You have to hop on a boat to reach the small enclave of gold-tinged sand and soaring cliffs that is Railay Beach. It's a stunner – there's no doubt about that. Over the last few decades, its popularity has steadily risen, taking it from hippy escape to chic wedding and honeymoon destination. Cue the luxurious resorts and clusters of bungalows found on the main beach today. West Railay is the place to go for R&R. East Railay is mainly a longboat dock in the middle of mangroves.