Swirled by coral gardens and fish-teeming waters in the heart of the Thai Gulf, Koh Tao is considered the diving mecca of Southeast Asia. It's now replete with PADI schools and snorkelling outfitters, with opportunities for everyone from first-time divers to scuba pros in the surrounding seas. However, Koh Tao isn't just for the underwater adventure. Lush jungles cover its hills. Coconut palms shade its picture-perfect beaches. Oh, and there's a hint of happening nightlife a la Koh Phangan to be had in some quarters.
Today, a cascade of Airbnbs in Koh Tao offers myriad accommodations. There are basic dorm beds in dive hostels for those keen on chasing encounters with corals and turtles. There are deluxe penthouses with decks that gaze across the gulf and the beaches. This guide has all the know-how you need to pick the right part of the island this year…
In this Airbnb guide to Koh Tao: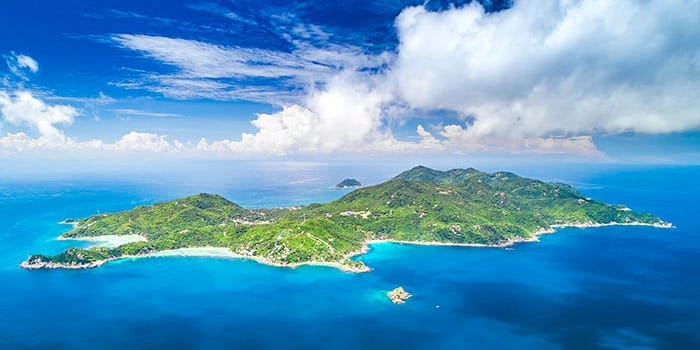 Is Airbnb legal in Koh Tao?
Technically speaking, short-term rentals made directly with the owner of a property (the sort you often find on Airbnb in Koh Tao) aren't legal in Thailand. That's because all hotels and resorts need to register if they want to offer stays of less than 30 days at a time. In reality, services like Airbnb still run virtually as normal on the ground…
There have been some recent reports of fines against landlords, along with stern messages in the lobbies of condominiums to warn off fly-in guests. However, it looks as though the punishments have – so far, at least – been reserved for owners of properties. Meanwhile, thousands of travelers continue to enjoy stays in Airbnbs between Koh Tao's beaches and jungle-covered hills without any problems. If in doubt, we'd recommend checking ahead with your host to see that they have the necessary documents and that there'll be no issue with your booking.
Where should I stay in Koh Tao Airbnb?
First thing's first – wherever you choose to book that Airbnb in Koh Tao, you can rest assured it will be darn beautiful! Even the bustling town of Mae Haad (1) – the main dive centre and port – is set around a gorgeous horseshoe bay with forested hills behind. The bulk of travelers will base themselves north of that, on the even-nicer sands of Sairee Beach (2). Romantic couples often prefer to escape south to Thian Og (3) or Chalok (4). Meanwhile, Ao Tanote (5) on the east coast, is for seclusion and snorkelling with baby sharks!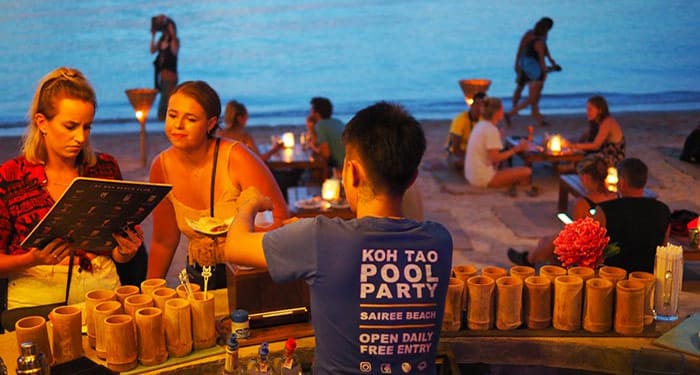 Sairee Beach
Pros
Great nightlife
Loads of other travelers to meet
An overload of places to eat
Plenty of Airbnb choices
Cons
Quite busy
Not the best beach on the island, but still lovely!
Sairee Beach is where Koh Tao channels a little bit of Koh Phangan. Long and lovely, its quintessential Thai Gulf stuff, with coconut trees bending low to meet colourful long-tail boats. At night, a medley of chilled beach bars start issuing reggae into the starry skies, and you can dance the evenings away with other backpackers and travelers. Sairee also comes laden with dining options – it's possible to intersperse those Thai stir fries with French cuisine and Italian pizzas.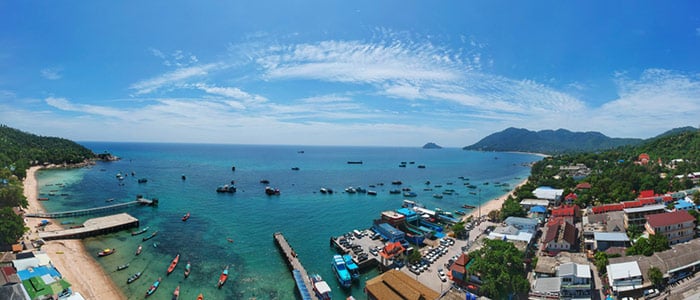 Mae Haad
Pros
The place to be for diving
Cheap
Easy to get to from the ferry pier
Cons
Not a nice beach
Always busy with boats and people
Probably the most built-up corner of Koh Tao clusters around the port of Mae Haad. Don't be fooled by the pictures – the beach here isn't really for swimming. It's not the spot for long days of sunbathing, but rather for planning those PADI dives. One of Thailand's biggest arrays of dive schools awaits close to the docks, along with cheap and cheerful hostel accommodation that will never break the bank.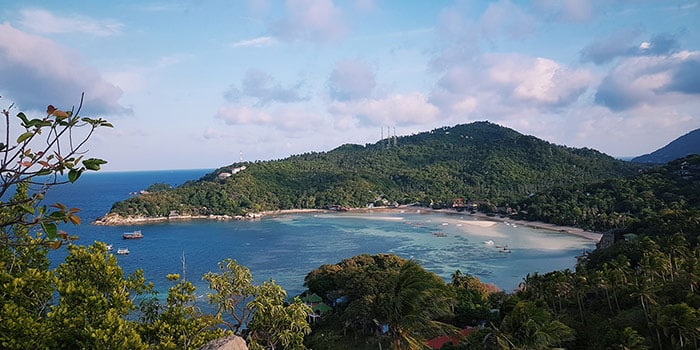 Chalok Bay
Pros
Simply stunning beach
Excellent resorts and luxury Airbnbs
Fantastic swimming and snorkelling
Cons
Far from the main nightlife
Can be pricy
Chalok Bay gives a nice balance between energy and natural beauty. Home to the third-largest beach on the island, it's huddled between two rocky headlands on the southern end of Koh Tao. The snorkelling is simply wonderful thanks to those pockets of pristine reef. The sands are cotton-tinted, and the swimming is in bath-warm gulf waters. You do sacrifice a little nightlife being in these parts, but the top-quality resort hotels and Airbnbs make up for that and then some.