Koh Samui is the quintessential Thai island. Washed by the waters of the gulf just off the Surat Thani coast, it's a sparkling jewel of jungles and sun-bleached beaches. Backpackers and sun seekers and yogis have been flocking here ever since the 1970s. In the decades that followed, the sands of Chaweng and Lamai, the fisherman's village of Bophut, and the pine-backed stretches of Mae Nam have all become favourites on the traveler's circuit around the Land of Smiles. Adding to the beaches are coconut-infused Thai curries, world-class dive sites, backcountry waterfalls – the list goes on.
As you might expect, hotels are in abundance on Koh Samui. However, Airbnb options also abound on this glorious island. Whether you're after a cosy and remote bungalow surrounded by banana trees and swaying beach palms, or a modern condo overlooking the more developed resort towns, there will surely be something on the menu to suit.
In this Airbnb guide to Koh Samui: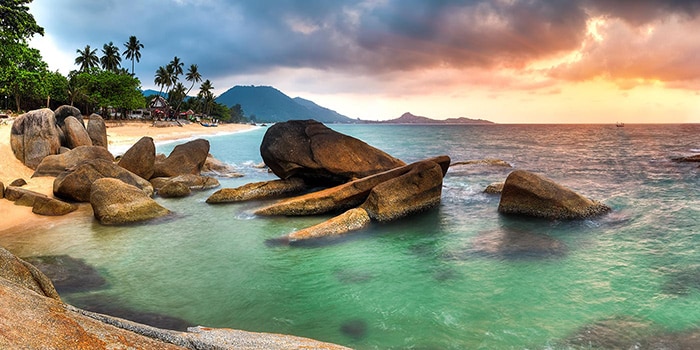 Is Airbnb legal in Koh Samui?
Airbnb in Koh Samui is booming. There are hundreds and hundreds of rentals that you can browse and book at just the click of a mouse. They're all over the island and come in all shapes and sizes, from private rooms in established resorts to standalone residences and bungalows. The first of those is considered perfectly fine in Thailand. There's nothing wrong with registered hotels offering their suites via the platform. However, there is something of a legal grey area when it comes to lettings made directly with the owner…
The Hotels Act of Thailand specifically states that non-registered rentals for periods of under 30 days at a time are illegal. That said, the vast majority of travelers won't notice any difference in the Airbnb service on Samui. For the most part, it still operates freely, and flat owners are still willing to offer their places for less than a month at a time. There have been some reports of fines being issued in recent years, but they've fallen to landlords, not tenants. Generally speaking, we'd say check ahead that all is okay with your host and only rent if you're totally happy with the slight risks that come with Airbnb on Koh Samui. 
Where should I stay in Koh Samui Airbnb?
Koh Samui might be the second-largest island in Thailand, but it's still relatively easy to navigate. Good roads and taxi connections link up all the major spots on the north and north-east coast, from the main resort of Chaweng (1) to the quieter enclaves of Bophut (2) village and Choeng Mon (3). Further west is the lesser-known getaway of Mae Nam (4), where lazy days on the beach are backed up by beautiful sunsets and romantic accommodations. Alternatively, you can venture down the eastern shores to the rock-dotted coves of Lamai (5), or go to the port of Lipa Noi (6), with its ferry piers and long stretches of golden sand.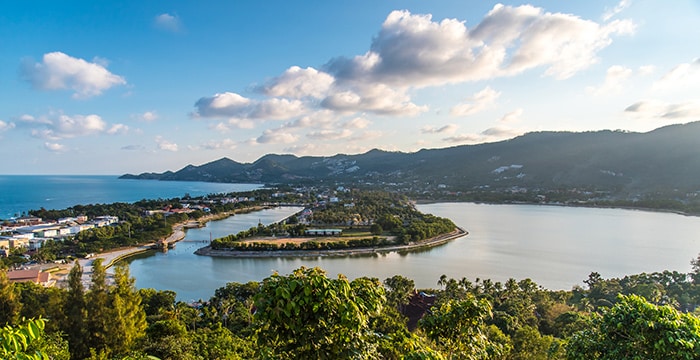 Chaweng Beach
Pros
One of Thailand's liveliest beaches
Loads of places to eat and drink
One of the best selections of Airbnb on the island
Easily accessible from the airport
Cons
Gets really busy in the high season
The beach isn't the cleanest in the country
Chaweng could easily be considered the main hub of Koh Samui. It's a bustling, vibrant beach town where you'll find all the sand-top restaurants and lantern-lit cocktail bars you could want. By day, sun lovers soak up the rays and swimmers splash in the wavy seas. By night, there are DJ parties aplenty and cocktail bars with awesome sunset views. North Chaweng tends to have more affordable and backpacker-orientated Airbnbs, while South Chaweng boasts the stylish apartments with infinity pools that gaze over the Thai Gulf.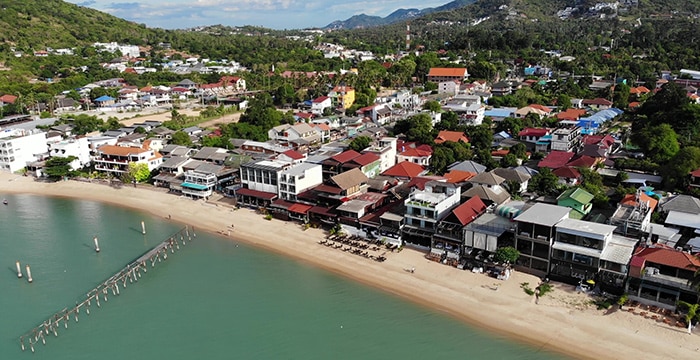 Bophut
Pros
Fantastic seafood dining
Cheap Airbnb options
Cute shops and boutiques to enjoy
Cons
Not the prettiest beach
Other beaches are a drive away
The salty seafood stalls and soy-scented night markets of Bophut are a real joy for anyone interested in seeing the more authentic side of Koh Samui. Once a ramshackle fishing village, the place is slowly entering the 21st century with sleek condos and condominium complexes, many of which can be seen on Airbnb. The beach isn't the best on the island, but there are loads of places to enjoy traditional Thai food and settle in for a drink at night.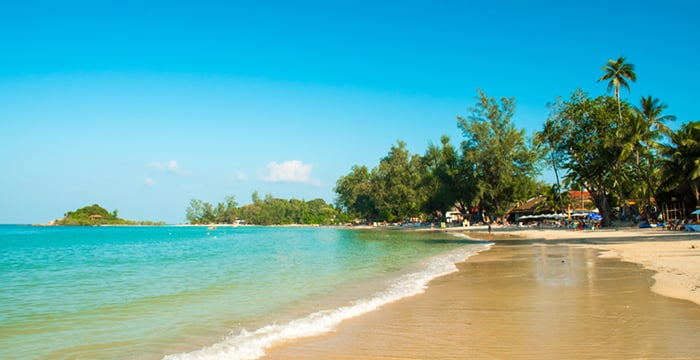 Choeng Mon
Pros
Really chilled
Clean, white-sand beach
Some lovely group villas nearby
Cons
The beach can feel crowded by hotels and bars
Can be pricy
Choeng Mon spreads across a series of beautiful bays on the far north-eastern edge of Koh Samui. It's noticeably quieter than its neighbour of Chaweng and is known for its midrange resort hotels that spill out onto the white sands beneath the coconut palms and putat trees. If you're looking to chill out and crank up the R&R with days filled with seaside massages, this could be the perfect place to go a-searching for an Airbnb on Koh Samui.