Koh Phangan has garnered a reputation as Thailand's party mecca. And while the Full Moon blowouts that erupt on Haad Rin each month certainly are some of the biggest shindigs in Southeast Asia (be sure to bring the neon face paint!), there's actually much more to this tropical isle than you might think. Up north, secret beaches are threaded with coconut plantations and peppered with thatch-roof bungalows. Elsewhere are yoga schools nestled by bays of azure waters. Then come rugged shores that crumple into forested peaks where there's hardly another soul in sight.
If all that's stoked the wanderlust, then there's even more to come. Airbnb on Koh Phangan is a montage of tempting villas, cool condos with sea views, and sleek cabanas that open onto the sands. This guide delves into all the various areas of the isle, so you can be sure you're picking a pad in the place that suits you best.
In this Airbnb guide to Koh Phangan: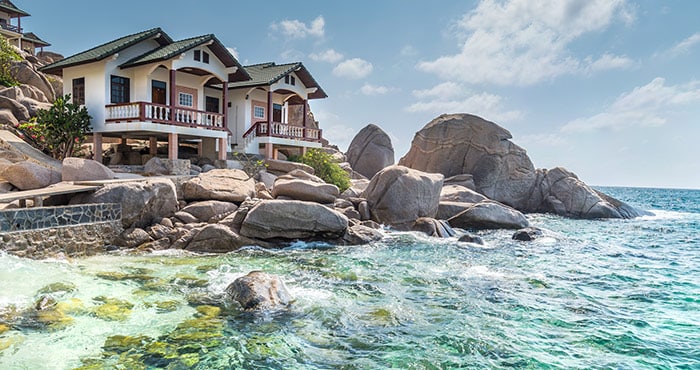 Is Airbnb legal in Koh Phangan?
There's a bit of a grey area hanging over the status of Airbnb in Thailand as a whole. Officially, private rentals of 30 days or less are against the law unless they are in a registered hotel or resort establishment. Unofficially, it seems as if the rules are hardly ever enforced. Only a few reports of fines have emerged, and they've been against the owners of properties, not the traveler.
Still, some listings on Airbnb in Koh Phangan might not have the right documentation to allow for vacation-style trips. If you're worried about the risk, it's always best to check ahead of time with your host. Alternatively, book for at least a month at a time, or go with listings that are in established hotels across the island. 
Where should I stay in Koh Phangan Airbnb?
Lots of people think of Koh Phangan as just the home of the Full Moon Party. The reality is that happens down on the white sands of Haad Rin (1). Simply move a little north-west to Baan Tai (2) and things calm down a lot. Move again to the east coast and you can discover the gorgeous double act of Panburi Village and Thong Nai Pan (3), where there's even more luxury and fewer crowds. Meanwhile, Haad Salad (4) is a yogi's and diver's haven on the west coast, while Thong Sala (5) is the bustling island capital and hub for the ferries.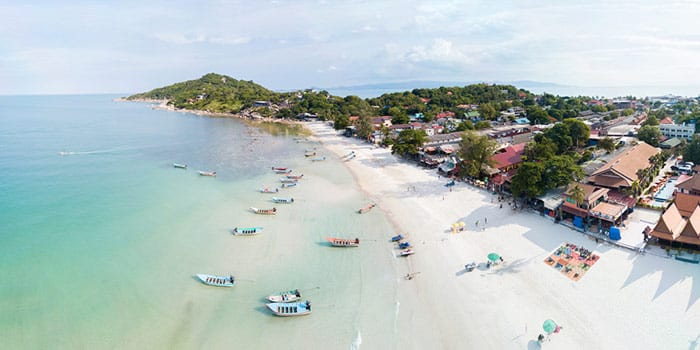 Haad Rin
Pros
Loads of music venues and pubs
Your chance to attend a bucket-list Full Moon Party
Pretty beach
Cons
Usually quite busy
Pricy when there's an event on
Anyone who's ever been to a Full Moon Party will know the legendary name of Haad Rin. This is the place where those great lunar nights began way back in the 1970s. It's where they still go on today, drawing upwards of 40,000 revellers per time. When the party is on, this place is rammed to bursting. When it's not, the beach is actually relatively quiet and clean. Either way, you'll get probably the most varied selection of bars, clubs, pubs, restaurants and hotels in this part of the island.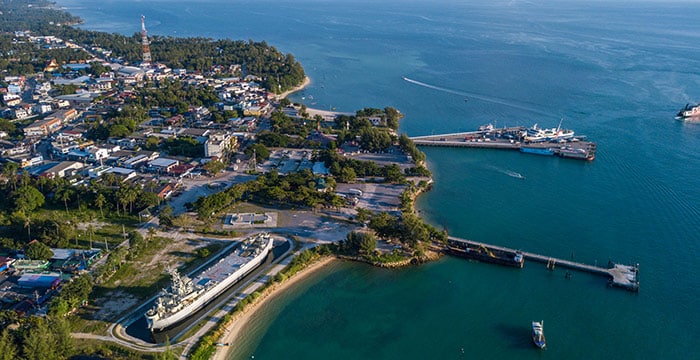 Thong Sala
Pros
Great transport links to the rest of the island
Easy to get to straight from the ferry
It's cheap
Cons
Not a great beach
A bit tacky
Thong Sala is likely to be your first port of call on the island of Koh Phangan. All the main ferry companies coming in from Samui and Surat Thani to Koh Phangan land here, so you can imagine a spot with all the bustle and grit of a transport hub. These days, there's also a down-to-earth selection of sports bars and international eateries (much-loved by the expats), not to mention excellent transport links going all around the island. This is also the pier you use to leave and go back to Surat Thani.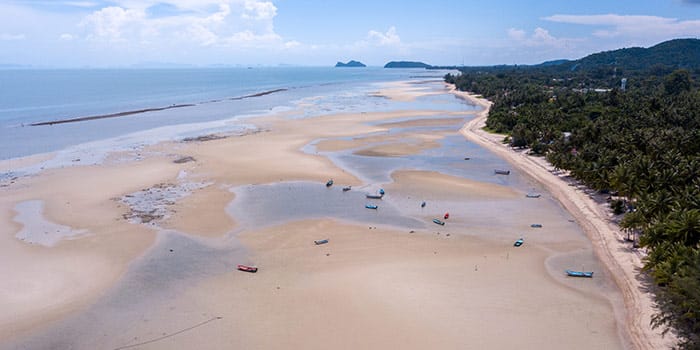 Baan Tai
Pros
Well linked to the port and Haad Rin
Amazing sunsets
Affordable Airbnbs
Cons
Quite busy
Everything's a little spread out
Baan Tai is a collective name for the multiple kilometres of beachfront that fringe the southern side of Koh Phangan. Facing the island of Samui, it's got a great view of distant jungles and mountains. On top of that, the region strikes a balance between affordability and connectivity. You can be in the Full Moon Party mecca of Haad Rin or the port at Thong Sala after just a quick tuk-tuk ride. The sunsets here are another highlight, and there are loads of fantastic open-air bars right by the sand to help you enjoy them with a cold Chang in hand.