Shh! Koh Lanta is one of the Andaman's best-kept secrets. Still, growing numbers of visitors are now hitting this gorgeous island that bends around the Thai coast with its mountains and mangroves. Most flock to the gorgeous western shoreline, which starts with the ramshackle port town of Ban Saladan and ends at the glorious white-sand bay of Kantiang, offering all sorts of coves and bamboo reggae bars as it goes. Rich Muslim and gypsy culture is still very much alive here, so get ready for somewhere palpably different to built-up Phuket and Krabi.
Aside from a medley of top-class beach hotels and resorts, Koh Lanta Airbnbs come in all shapes and sizes. You can seek out bungalows on the beach that open to visions of the lapping waves of the Andaman Sea. You can discover hilltop villas with room enough for the whole family and private pools where the sunset is stunning. And there are bargain choices, in backpacker guesthouses and hostels. Let's take a look…
In this Airbnb guide to Koh Lanta: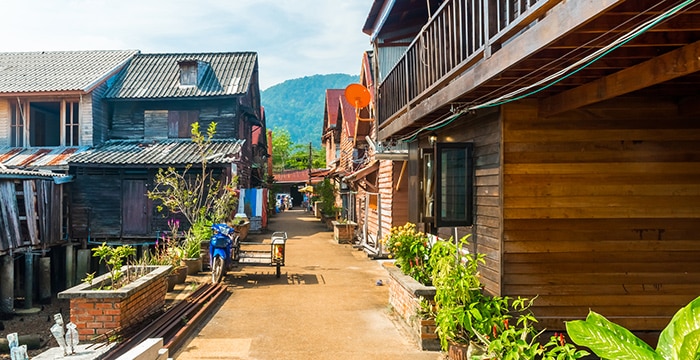 Is Airbnb legal in Koh Lanta?
The situation with Airbnb all across Thailand remains a little uncertain after some court decisions went against condo owners for offering short-term lets in non-registered establishments. Despite lots of discussion, the service is still basically working as normal on the island of Koh Lanta. You can scroll through countless listings, ranging from self-contained flats to full-on family houses with pools.
Basically, there's something of a grey area surrounding the legality of some stays of under 30 days. It's technically not allowed in any property that doesn't comply with the Hotels Act. However, little seems to be being done to enforce the law. Landlords all across Lanta and the Land of Smiles generally remain happy to advertise and receive bookings, and the risk of punishment is generally considered low to travelers themselves.
If you are worried about anything, we'd recommend contacting your prospective host and checking everything's above board before bagging that place by the palm-fringed beaches of this lovely island.
Where should I stay in Koh Lanta Airbnb?
Koh Lanta is best navigated from north to south. The first port of call is Ban Saladan (1), where the ferries pull in. From there, one main road wiggles through the coconut groves heading down towards Kantiang Bay (2) right at the far end of the island. Between them are vibrant Long Beach, the hedonistic backpacker hub of Klong Khong (3), and family favourite Klong Nin (4). The east coast conceals one last treat: The historic sea gypsy trading port of Old Town (5).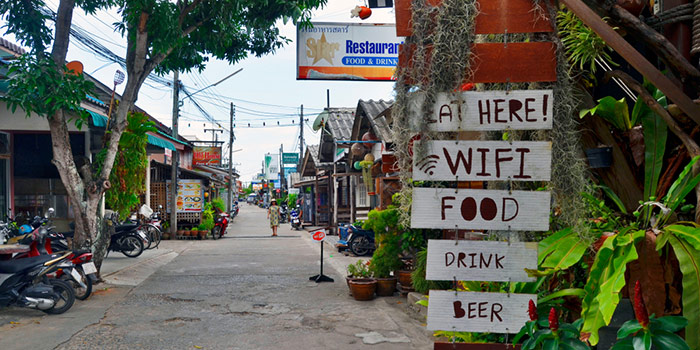 Ban Saladan
Pros
Super-easy to get to from the boat – this is the port!
Cheap for accommodation
Loads of spots to eat at
Cons
Ugly town centre
Erosion on the local beach
Everyone steps off the ferry into the ramshackle streets of Ban Saladan. This is the port of Lanta, found capping off the island right at its northern end. The town is brimming with soy-scented food options and enticing eats, ranging from Indian curry to local seafood joints. There are pharmacies and 7/11 shops, not to mention perhaps the largest concentration of tour providers going (scuba diving, anyone?). The local beach at Laem Kho Kwang is okay, but suffers from a big tidal change and some hefty coast erosion.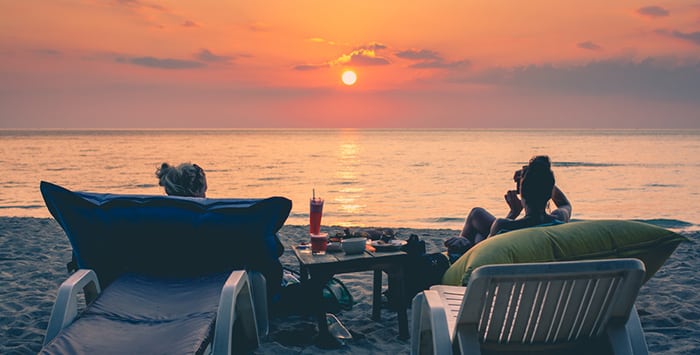 Long Beach
Pros
It's got something for everyone
Fantastic array of accommodation
Wonderful sunsets
Lively bar scene
Cons
Hard to walk around
Can be expensive during high season
Getting busier
Look at Long Beach as the safe bet; the jack of all trades that fuses stunning shoreline with accomplished family hotels and a little dash of backpacker energy. Running – as its name implies – for nearly three kilometres down the side of the west coast, it starts off in a medley of bungalows before offering up reggae bars and bike rentals. There are some fantastic family and international eateries, serving Thai noodles and Italiano pizzas alike. The south end of Long Beach has the famous Lanta Animal Welfare centre, along with a gorgeous bay known as Secret Beach (but don't tell anyone!).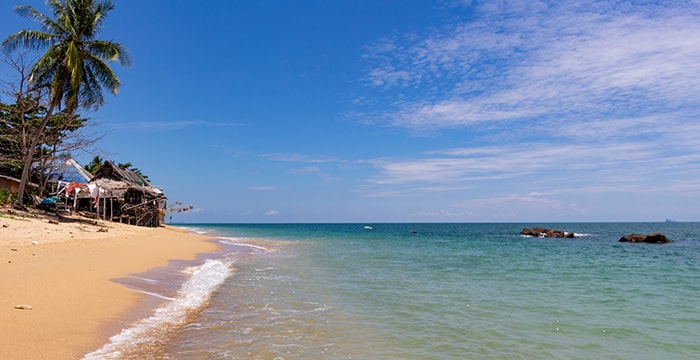 Klong Khong
Pros
The best nightlife on the island
Fantastic Thai food on the main road
Loads of budget accommodation
Cons
Ugly beach
Gets busy with backpackers
The backpacker's haven of Klong Khong is where you'll find the bumping neon bars, the late-night bucket parties, and the ramshackle reggae dives of Koh Lanta. It's the out-and-out party hub of the island, and you'll find that revellers ride tuk-tuks up from Kantiang and down from Long Beach to get involved when there's a big event on (usually once a week, at least). The beachfront is rocky and has brown-tinged sand, but you're here for the cheap rates and nightlife, remember?