You could say that Hua Hin is where it all started for Thai beach tourism. Way back in the 1920s, long before the yogis were prospecting for hidden islands in the gulf, this was a royal getaway for the luminaries of the country's leading family. Fast forward to the 21st century and it still has a distinct appeal. Miles and miles of beachfront start with the busy sands of Hua Hin Beach itself, before the headland gives way to Khao Takiab and its rocky inlets. Nearby, the karst mountains and lagoons of the Sam Roi Yot National Park draw adventurers, while the centre brims with craft exhibits, exotic spas, and enthralling night markets. What's not to love?
Hotels are perhaps the traditional way to go when picking accommodation in this classic resort. However, Airbnb in Hua Hin offers another tack. It's awash with uber-stylish villas by the beach, simple condos, urban townhouses, and charming cottages for couples. Tempted? Let's take a look…
In this Airbnb guide to Hua Hin: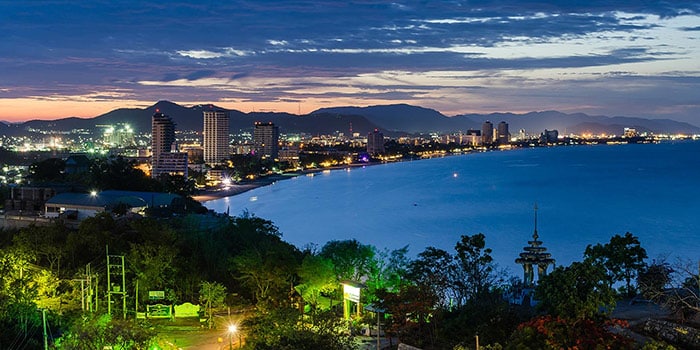 Is Airbnb legal in Hua Hin?
Using Airbnb is perfectly legal in Hua Hin, and across the rest of Thailand. However, there have been some questions raised about the legality of certain rentals listed on the platform. A recent court case found two condo owners guilty of circumventing the Hotels Act, which states only registered establishments may offer short-term lettings. They came away with hefty fines and there's been a bit of uncertainty hanging over the service ever since.
The verdict seems to have had little practical effect. Just check out the resort's Airbnb page, where you'll find more listings than you can shake Chang beer at! That said, you might find that some owners only offer contracts of 30 days or more (which are allowed under the Hotels Act), while other rentals are part of a hotel or villa complex that has all the necessary documentation. Generally speaking, risks for tenants are considered low, but we'd still recommend checking ahead of time with your prospective host.
Where should I stay in Hua Hin Airbnb?
Folded between the mountains and the Thai Gulf, Hua Hin centres on its train station, which is where you'll catch the happening walks of the Bintabaht (1) nightlife precinct and the Night Bazaar food stalls. The closest beach is Hua Hin Beach (2), where the Airbnbs often come with tantalising views of the sand and the sea. Further south, you can venture out to the temple-topped beachfronts of Khao Takiap (3), or go even further to find the pristine shores of Pranburi (4). Up north, Cha-Am (5) is the most accessible part of the resort if you're heading in from Bangkok.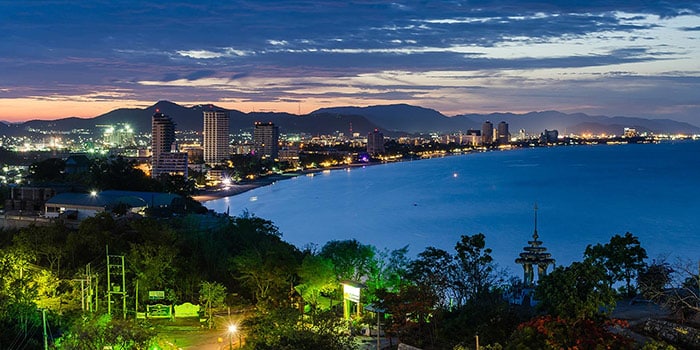 Hua Hin Beach
Pros
Direct access to the sand from your rental
Close to the nightlife of Hua Hin
Great swimming and lots of Airbnbs with swimming pools
Cons
This is one of Thailand's busiest beaches
It's probably the most expensive part of town
Most travelers with their hearts set on a Hua Hin vacation will look to the main city beach. It's a long run of white-tinged sand that goes for several kilometers. That allows for lots of room to spread out all the resorts and Airbnbs, which are invariably attractive villas and condo complexes with swimming pools right by the sea. The main draw? Well…that has to be walking access to the coast from your bedroom, right?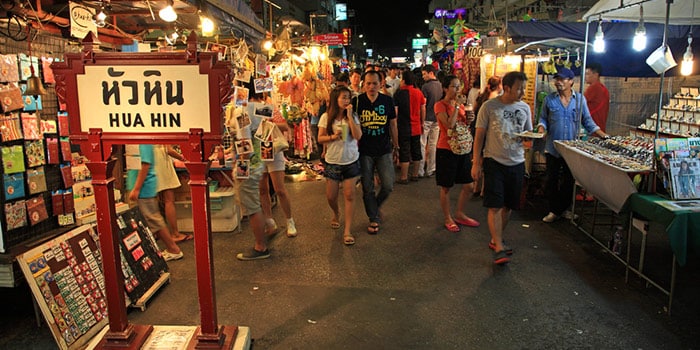 Bintabaht & The Night Market
Pros
Really close to the train station
Great nightlife
Fantastic shopping
Cons
Very busy
Not close to the best parts of Hua Hin Beach
Bintabaht is the lively heart of Hua Hin town. A street where fishmongers mingle with rowdy bars, where karaoke joints rub shoulders with noodle-sizzling street vendors, you can come here to get your fill of nocturnal Thailand. The Night Market is right next door, coming alive with jewellers and fashion shops each evening. This is also the area to be if you're keen to check off the major sights, from the Hua Hin Clock Tower to the local train station.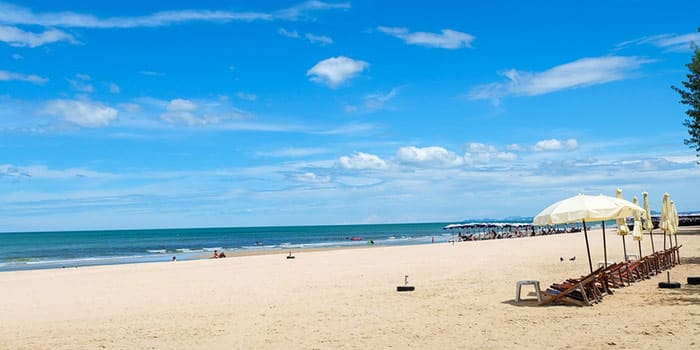 Cha-Am Beach
Cons
Not a whole load to do
Not great for nightlife
Cha-Am sits a little further north of Hua Hin on the wonderful Thai Gulf coastline, which means it's more easily accessible from the capital of Bangkok. Guests who come are greeted with a relatively undeveloped stretch of shoreline that's got sea vines sprawling out from rows of swaying casuarina trees. A handful of resorts and water sports outfitters help to add a dash of energy to the place, with their boat tours and inviting beach bars on the sand.