There's no city in the world quite like Bangkok. Straddling the snaking bends of the Chao Phraya River, it expands in a mass of food markets and gold-tipped Buddhist temples and heady streets where tuk-tuks hurtle this way and that. For decades, it's been a major stop for backpackers on the hunt for parties down gritty Khaosan Road. More recently, a tech boom has sprouted skyscrapers and edgy café districts, sleek hotels and modern shopping malls. The result is a metropolis of stark contradictions; a feast for the senses where soy noodles sizzle in pans next to soaring condo blocks.
There's a vast selection of Airbnbs in Bangkok these days, too. Some listings are a ticket to the cool boutique hotels and stylish hostels of the traveler areas down by the river. Others are for sleek high-rise condominiums with big pools and gym facilities, perched above the skyline down in Silom and Sukhumvit.
In this Airbnb guide to Bangkok: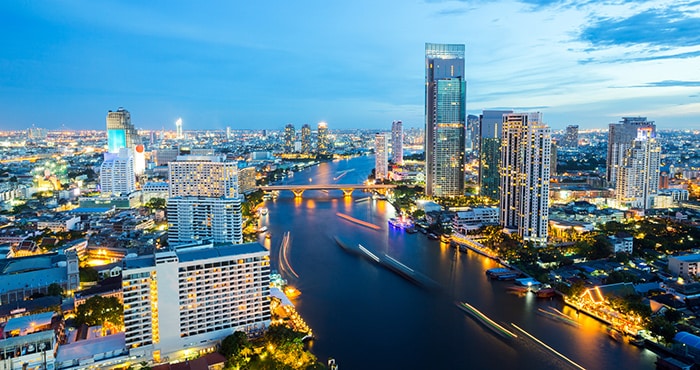 Is Airbnb legal in Bangkok?
Well…yes, and no.
Thailand has a Hotels Act that says all short-term rentals of any property without an accommodation license are outside of the law. Now, you might find that the place you like on Airbnb in Bangkok is part of an establishment anyway. That's quite common in the buzzing capital of the Land of Smiles, where a lot of the top-rated hostels and resorts near the river and the major sights use the service to list their suites and rooms. But that's not always the case…
There will be some Airbnb lettings in BKK that take you direct to a private owner. In those instances, only rentals of 30 days or more are supposed to be allowed. The reality on the ground is that punishments are very few and far between, and up until now have taken the form of fines against the owners only. If you follow all the in-house rules, keep the noise down and don't have parties, the risk is considered very low, even if you're in an Airbnb for less than a month at a time. 
Where should I stay in Bangkok Airbnb?
Bangkok is a vast city. Occupying a compass-dizzying 1,500 square kilometres of land in the very heart of the Land of Smiles, it's not one to navigate on foot. Its districts are anchored on the Chao Phraya River, which is where the famous bazaars and bars of Banglamphu (1) slosh with bucket cocktails and cold Chang beer. On the other side of the water is historic Ban Chang Lo (2) and the body-packed lanes of Wang Lang Market. Following the meanders of the water southwards means passing the frenetic blocks of Yaowarat (3) (Bangkok's atmospheric Chinatown) and then the steel-clad skyscrapers of buzzy Silom (4), a business hub.
Pushing further north and east from there, you'll soon arrive at the green parks of lovely Lumphini (5). Then there's Bangkok's upcoming hipster and digital nomad centres of Thonglor (6) and Ekkamai (7) – great for café culture – joined at one end to long and sleepless Sukhumvit Road (8). To the north of all that is Chatuchak (9), home to the largest market in the country.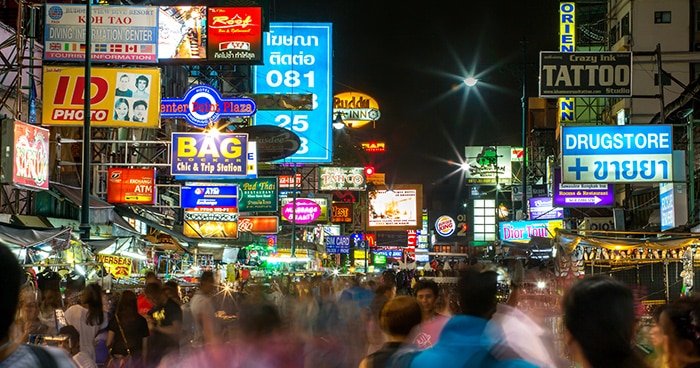 Banglamphu
Pros
Great nightlife
Loads of other travelers
Great choice of accommodation
Close to the Grand Palace
Cons
A little gritty
Very touristy
Expensive
Calling all backpackers! Banglamphu is the home of the (in)famous Khaosan Road, a long run of beer bars and DJ clubs, tailors and massage parlours that gets seriously wild after dark. The area is wedged between the river and the Grand Palace, so it also gets you close to many of the mainstay sights in the Thai capital. Airbnbs here tend to be private rooms in boutique hotels or shared dorms in cool hostels, although there are a few private apartments and houses up for grabs.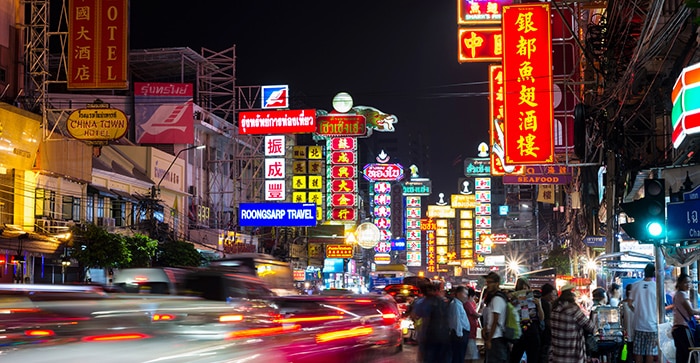 Yaowarat Road
Pros
A really energetic neighborhood
Great markets
Loads of people watching to be done
Connected by metro to the centre
Cons
Super busy
Quite loud
Not a park in sight
Once a hotbed of opium houses and brothels, the Chinatown of Bangkok is now one of the city's buzziest areas. It's centred on frantic Yaowarat Road. Off that, oodles of tight-knit alleyways shoot north and south, awash with bazaars filled with spices and exotic meats and pungent smelling root veg. Shoppers and people watchers and culture buffs will love it here, especially as there are some quirky Airbnbs hidden in old tenements.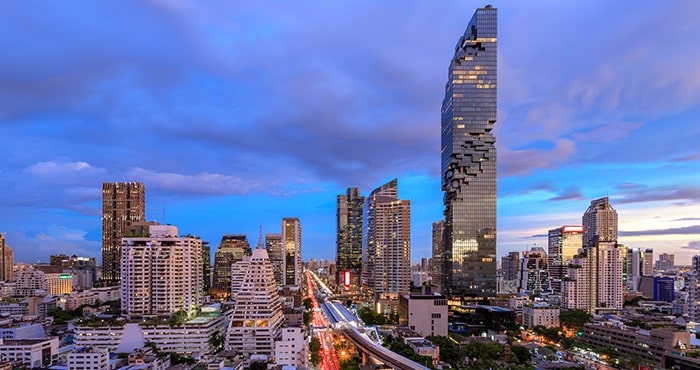 Silom
Pros
Fantastic nightlife scene
Luxurious condo Airbnb options
Brilliant rooftop bars in the area
Cons
A little far from the main cultural sights
Quite expensive
Silom is a district with two distinct faces. In the day, it's a workaday haven, where bankers and business folk chat trades and stocks in the cafes and skyscrapers. At night, a medley of Japanese ramen and Chinese noodle kitchens take over, before the crowds move on to the soaring sky bars above Sathorn Square and the rowdy Irish pubs below. Silom's Airbnb scene is a taste of luxury. You'll find plenty of upper-floor flats with access to infinity pools and rooftop gardens in these parts.